Earlier this year I had the chance to take a brief trip to Hawaii with a very special flyer. This review recounts my business class journey from Newark to Honolulu onboard the Boeing 767-400 in business class.
United Airlines 767-400 Business Class Review: Newark – Honolulu
When Tom Stuker, United's most frequent flyer, told me he was pushing hard for 23 million miles, I decided to join him on one of his frequent trips to Hawaii. Flying to Honolulu for the afternoon sounded like a lot of fun, particularly with the chance to do so in lie-flat seats on United.
Downgrade Snafu
But in my giddiness to fly with Stuker, I probably made a mistake in Newark.
I had assigned my seat in 8A, but when I showed up at the gate at Newark my name was paged and I was told that my seat was inoperative and to wait.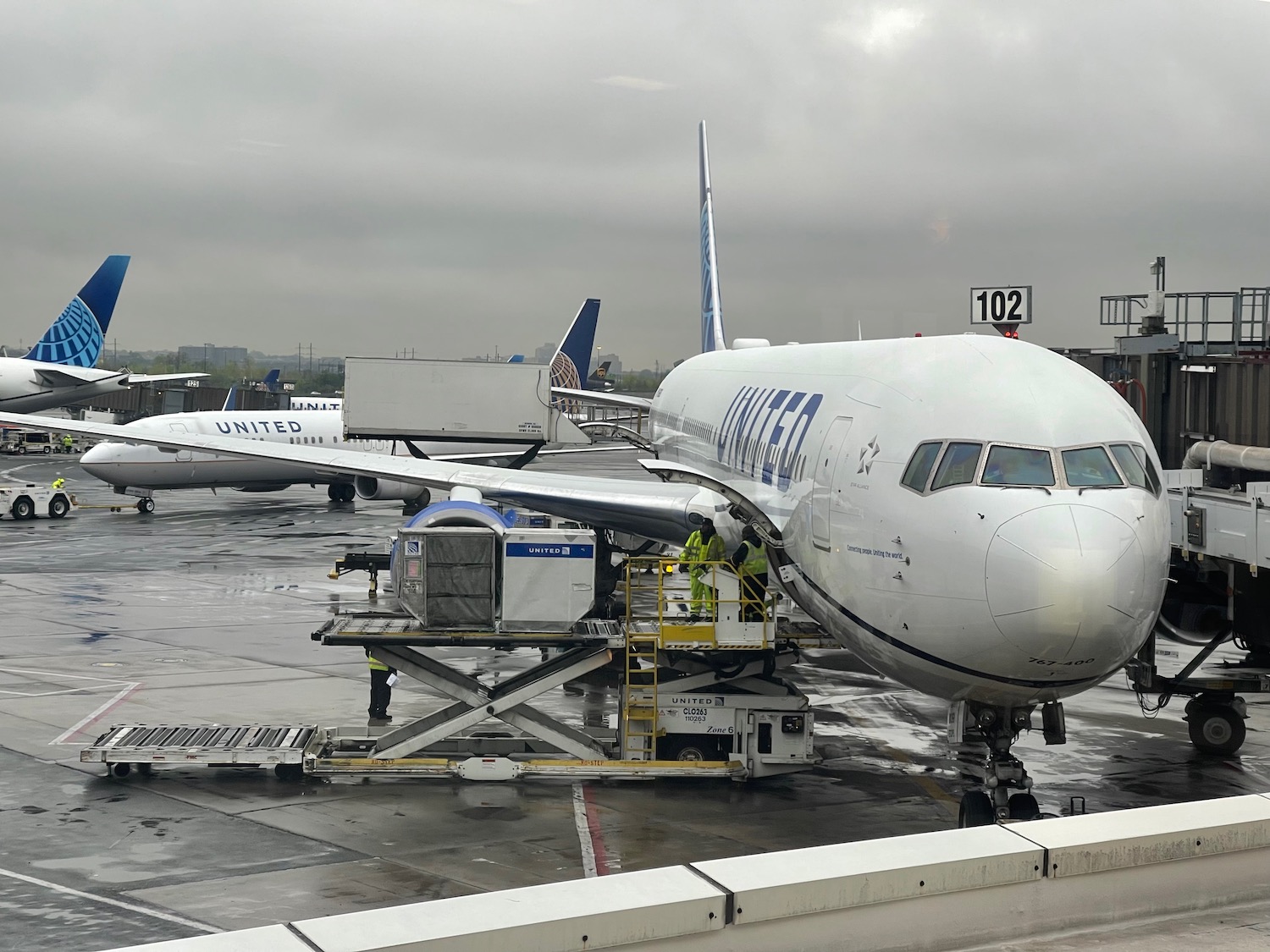 These flights to Honolulu sell out days or even weeks in advance and United faced a problem concerning my seatmate, who was also a MileagePlus Premier 1K member, and me: where should we go?
If I was thinking a bit more critically, I would have promptly offered to give up my seat in business class for a huge wad of downgrade compensation. But I was thinking about flying with Stuker, my chance to review business class, and the fact that this was a flight of nearly 11 hours….I didn't even ask.
And the gate agents didn't ask me either…
What ended up happening (though I am just guessing) is that one person did not show up and one person was involuntarily downgraded. How do I know? I got the first seat and boarded…this just left the other 1K in the gate area and he was starting to make a scene.
Fast-forward five minutes. A gate agent came onboard, came up to a married couple, and told them in the politest but firmest way possible that one of them would be downgraded to economy class (this aircraft has no premium economy class).
They both hit the roof, screaming like children about how long ago they had booked their tickets. They acted foolishly, but I still felt sorry for them. The man grabbed his bag and walked back to economy class with a huff.
Moments later, the other 1K who was originally seated next to me boarded and took a seat next to Mrs. Angry. I would have hated to sit next to her for 11 hours after "stealing" her husband's seat.
In respect, despite the poor behavior of the couple, I should have worked out a deal with the gate agent. That would have probably paid for a couple of my recent trips and left everyone happy…oh well.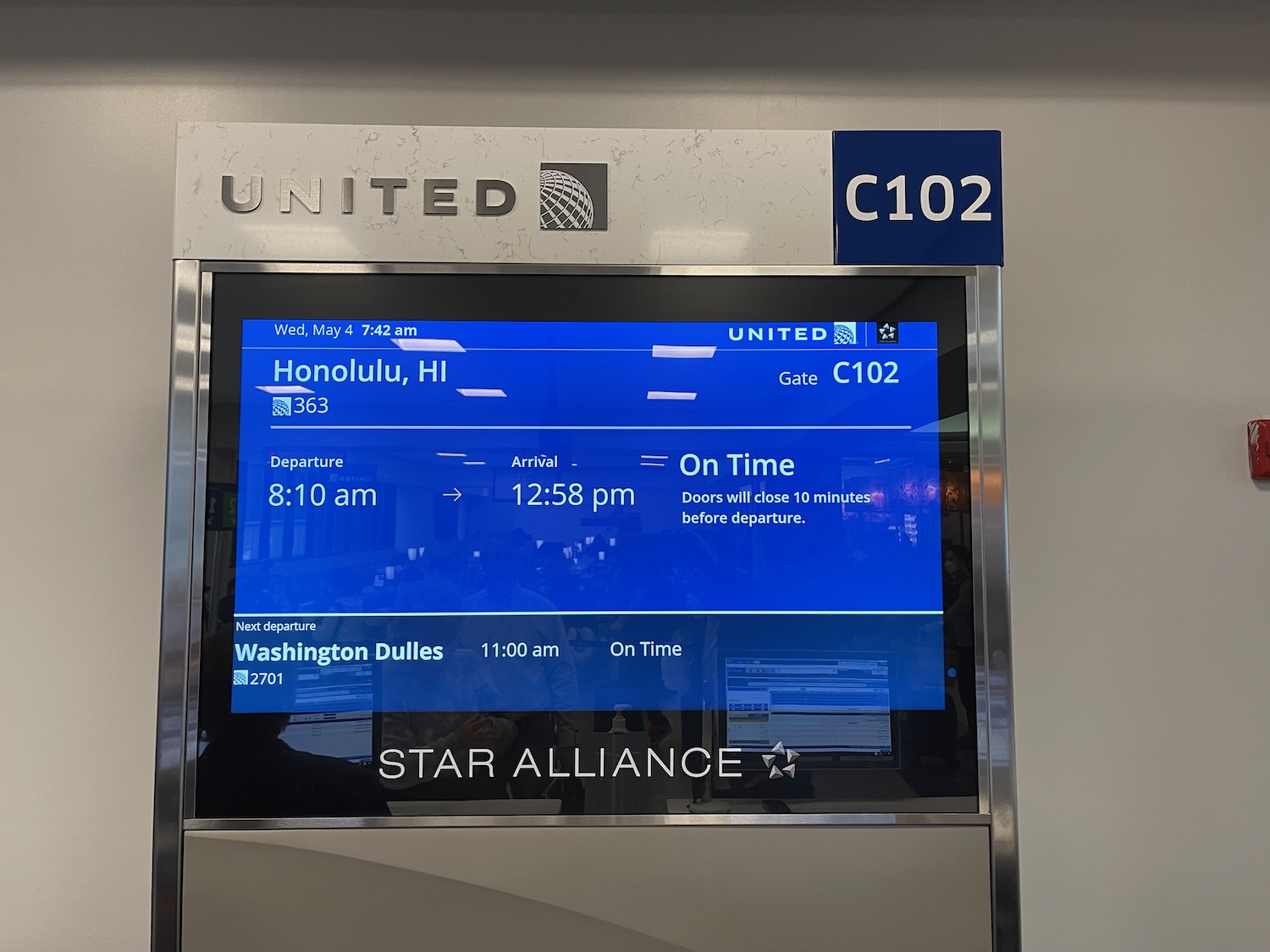 United 363
Newark (EWR) – Honolulu (HNL)
Wednesday, May 4
Depart: 8:10 AM
Arrive: 12:58 PM
Duration: 10hr, 48min
Distance: 4,962 miles
Aircraft: Boeing 767-400
Seat: 3K (Business Class)
I was one of the last passengers to board and found my seat in 4K, only to be immediately asked if I would be willing to switch to 3K so that a couple could sit next to each other. The request was reasonable and I was happy to oblige. I wound up right across the aisle from Stuker, who had reserved one of the "private" seats.
Seats
United uses different aircraft to fly from Newark to Honolulu. Unfortunately, my flight was operated by a 767-400. I say unfortunately because it is the last sub-fleet of aircraft in the United fleet to predominantly feature the old-school B/E Diamond seats. United is now in the process of retrofitting these aircraft to add the latest Polaris seats.
Onboard this aircraft they are arranged in a 2-1-2 configuration (I've reviewed this aircraft before from Barcelona to Washington Dulles).
Sure enough, my original seat was roped off and left vacant for the entire flight. Perhaps another solution would have been allowing the couple to sit in the broken seats under the condition that they could not recline them?
A pillow and blanket were waiting at each seat, along with a second cooling foam gel pillow. The footwell on my aisle seat was not as generous as the footwell in the window seat, though better than the very narrow space afforded to passengers seated in the solo seats in the middle sections.
For the most foot room, choose row one. Since there is no seat in front of you, there is additional room for your feet, creating a far less claustrophobic feel.
IFE + Wi-Fi
United offers wireless internet plus in-flight-entertainment at every seat. I love that United now only charges $8 for wi-fi for MileagePlus members ($10 for nonmembers) on every domestic flight, making the cost of staying connected less than $1/hour.
The IFE selection included movies, TV shows, looping audio, and games.
Theoretically, air traffic control (ATC) communications were also available, but as always seems to be the case, the pilot elected not to turn it on.
Those long-time pre-merger United flyers will chuckle over the fact that the handset shows channel 9 when tuned into ATC. Back in the day, when looping audio channels were available at each seat, ATC was always on channel 9.
Noise-canceling headphones were provided.
Food + Drink
I already dedicated a post to what I found to be the odd food and beverage service on this flight.
Shortly after takeoff, breakfast was offered. That included a croissant, fruit, yogurt, and a main course of egg whites with kale, potatoes, and sausage (other choice: French Toast). This is one of my favorite United Airlines dishes and I quite enjoyed the breakfast. Breakfast was served at 9:15 am.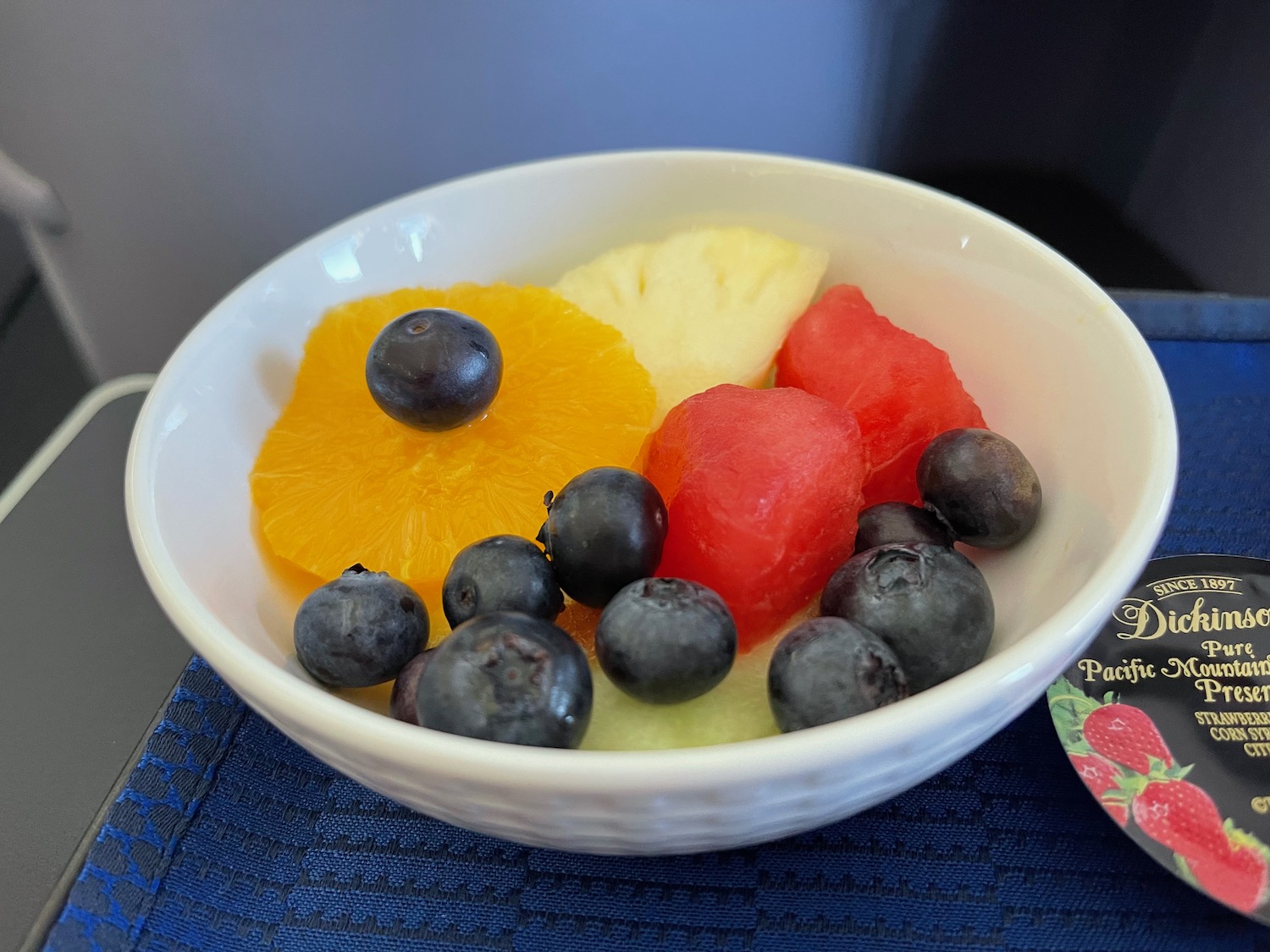 Since the flight is nearly 11 hours, a second meal is served before landing. Or in my case…three hours later even though there was still over 5.5 hours of flight time left before reaching Honolulu.
The second meal was a choice between a soba noodle salad or a hamburger with sweet potato wedges, a side of fruit, and a hot cookie. Hamburgers are always nice comfort food.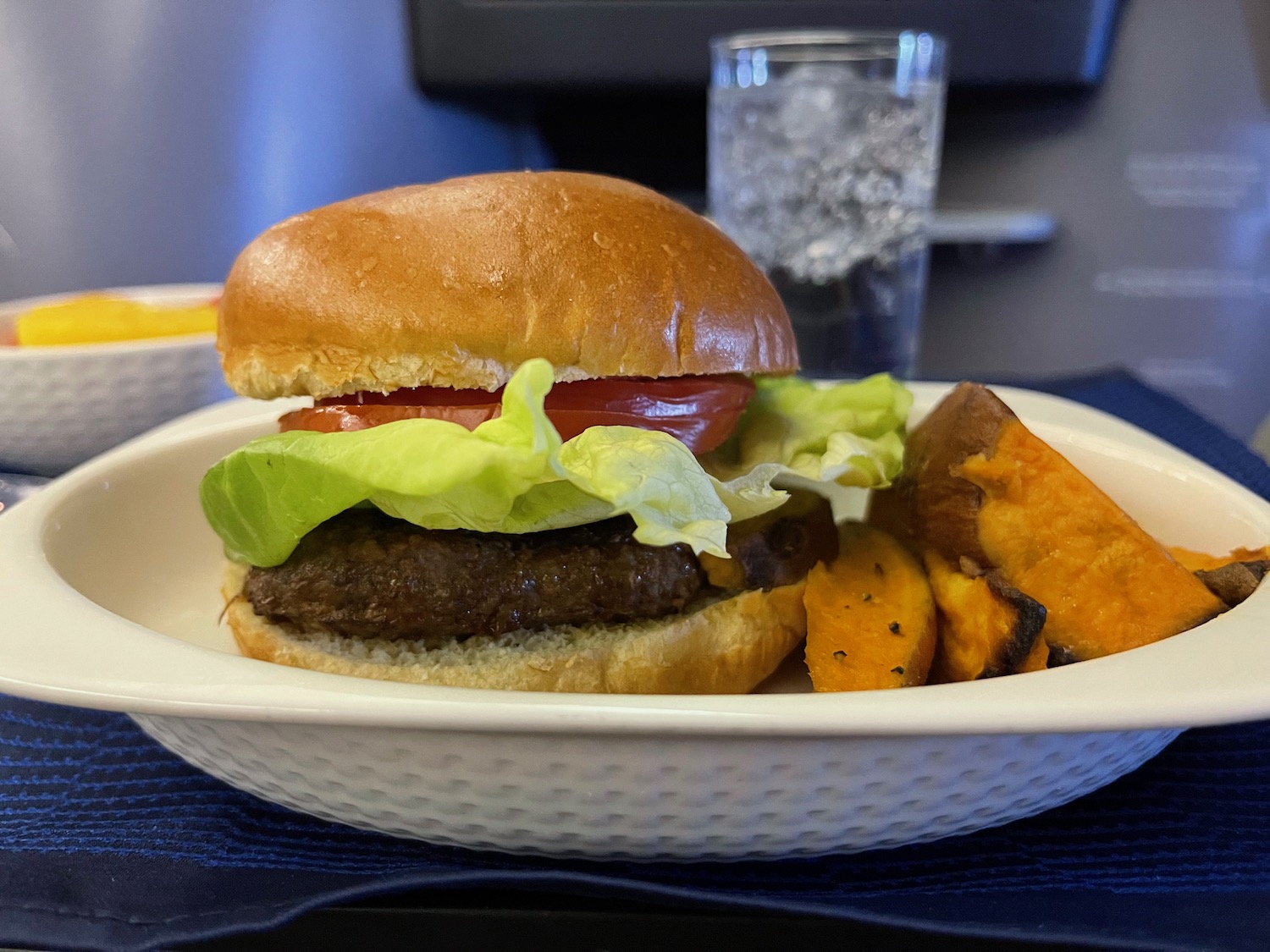 To me, it still makes little sense why the second meal was served so early, but as others have explained it to me, it coincided with lunchtime for East Coast passengers.
Snacks were also offered including chips, nuts, crackers, and gummy bears.
Before landing, I asked if there were any soba noodle salads left and was cheerfully offered one. It was much lighter and more refreshing than I thought it would be.
Sadly, United has not restored Mai Tais to its Hawaiian flights. I stuck with sparkling water to drink.
---
> Read More: My Odd United Airlines Flight To Honolulu
---
Lavatory
The 767-400 lavatories on United are standard Boeing issue. Garment groom from Murchison-Hume and face mist from Sunday Riley were available.
Service
Service was excellent onboard. The flight attendants were friendly and engaging (which quite frankly is not always the case for some of United's more seasoned flight attendants based in Newark) and frequently monitored the cabin.
One by one, several came up to say hello to Stuker during the flight.
One thing I will never understand is why so many passengers like to keep their window shades down during a daytime flight. Most of the flight was spent in darkness.
CONCLUSION
We landed on time in beautiful Honolulu. The 767-400 fleet is aging and currently undergoing retrofit, but was still quite comfortable for the long journey from the East Coast to Hawaii. United provided excellent service and nice meals on these flights, though I still think the timing of the second meal was way off. Flying nonstop certainly beats a connection on the West Coast en route to Hawaii.