United Airlines will offer a wider variety or pre-order meals and a refreshed menu of entrees in domestic first class starting tomorrow.
United Airlines Adds New Selections To Domestic First Class Menu
For many months, United has promised that it would continue to expand its preorder menu and bring new and fresher choices to its onboard meal service. Starting on March 1, 2023 the menu will rotate and several new choices will be available, especially to those who book early and pre-order a meal between five days and 24 hours prior to their flight.
Note that pre-orders are still only available on narrowbody flights.
Let's take a look at this month's menu.
Breakfast On United Airlines First Class
Up to five choices will be available for breakfast, though three of the five will be pre-order only, meaning if you clear a complimentary upgrade within 24 hours of travel your choices will remain the breakfast frittata (which I reviewed here) or a Belgian waffle.
Breakfast frittata
Breakfast frittata with red potatoes, chicken sausage, sautéed spinach, and cheddar cheese
Belgian waffle
Belgian waffle with caramelized apple and cranberry compote
Green chile frittata (pre-order only)
Green chile frittata with roasted cherry tomatoes, salsa verde, and queso fresco
Cheese blintz (pre-order only)
Cheese blintz with ricotta filling and blueberry-blackberry compote
Yogurt granola bowl (pre-order only)
Yogurt granola bowl with Greek yogurt, lavender honey blueberries and granola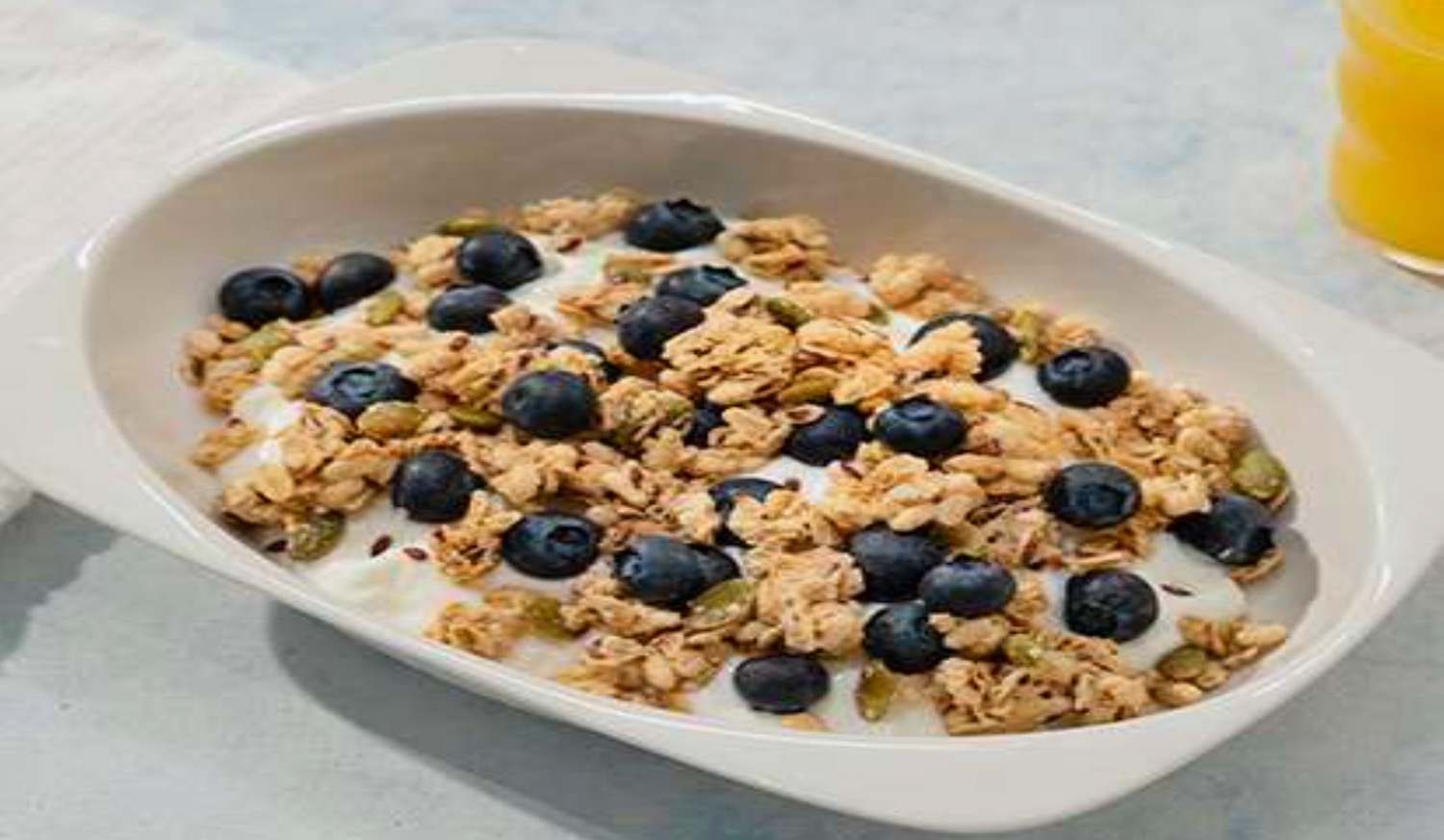 Breakfast will continue to be served with a side of fresh fruit, Chobani Greek yogurt, and a croissant.
Now let's turn to flights that depart at 10:00 am or later.
Lunch/Dinner On United Airlines First Class
While the breakfast menu is not changing much, the lunch and dinner entrees have been completely refreshed.
Lemon roasted chicken
Lemon-roasted chicken thigh with herb potatoes, broccolini and lemon-thyme jus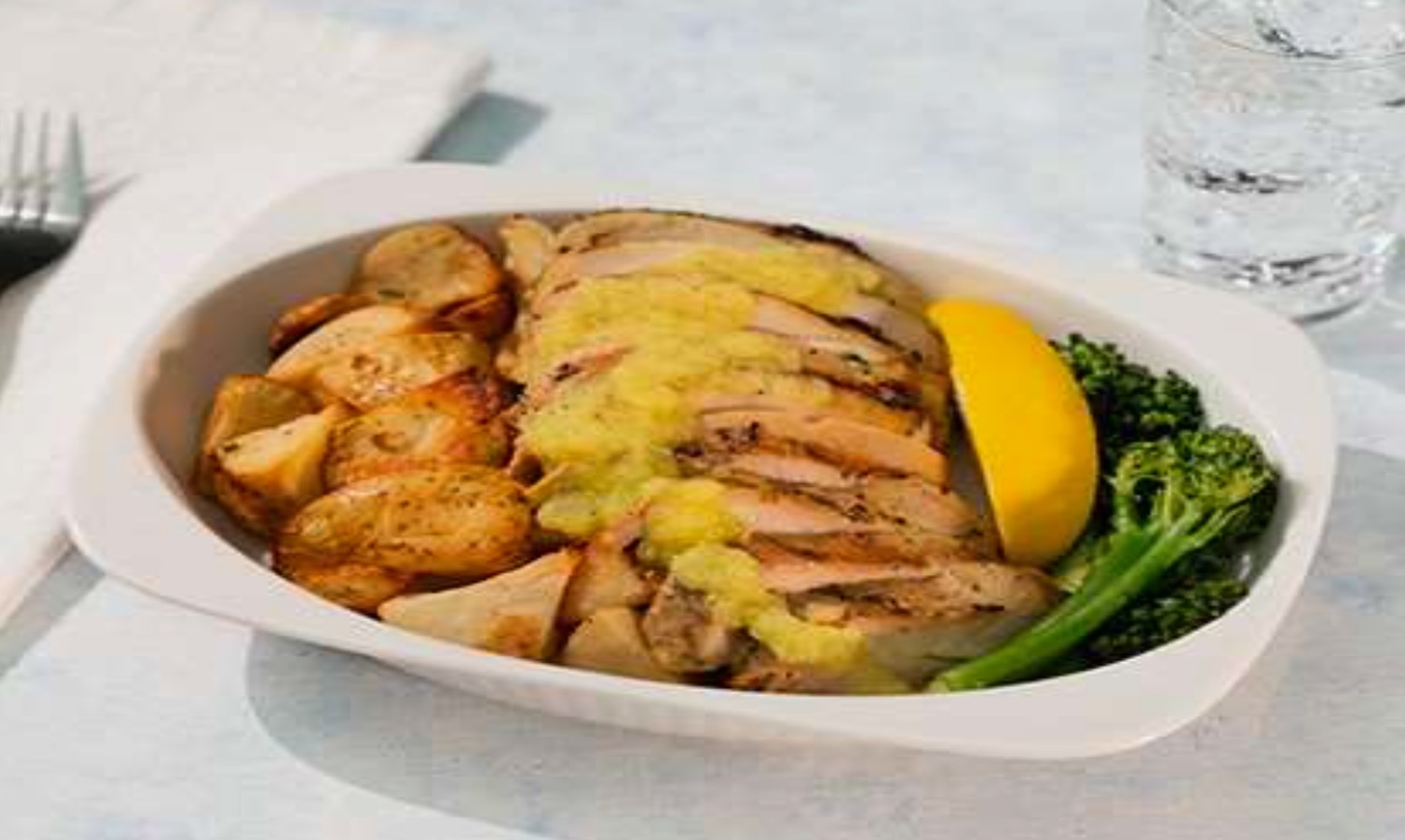 Chili-glazed Thai meatballs
Thai beef meatballs glaze with cilantro lime rice, stir-fried vegetables and red chili glaze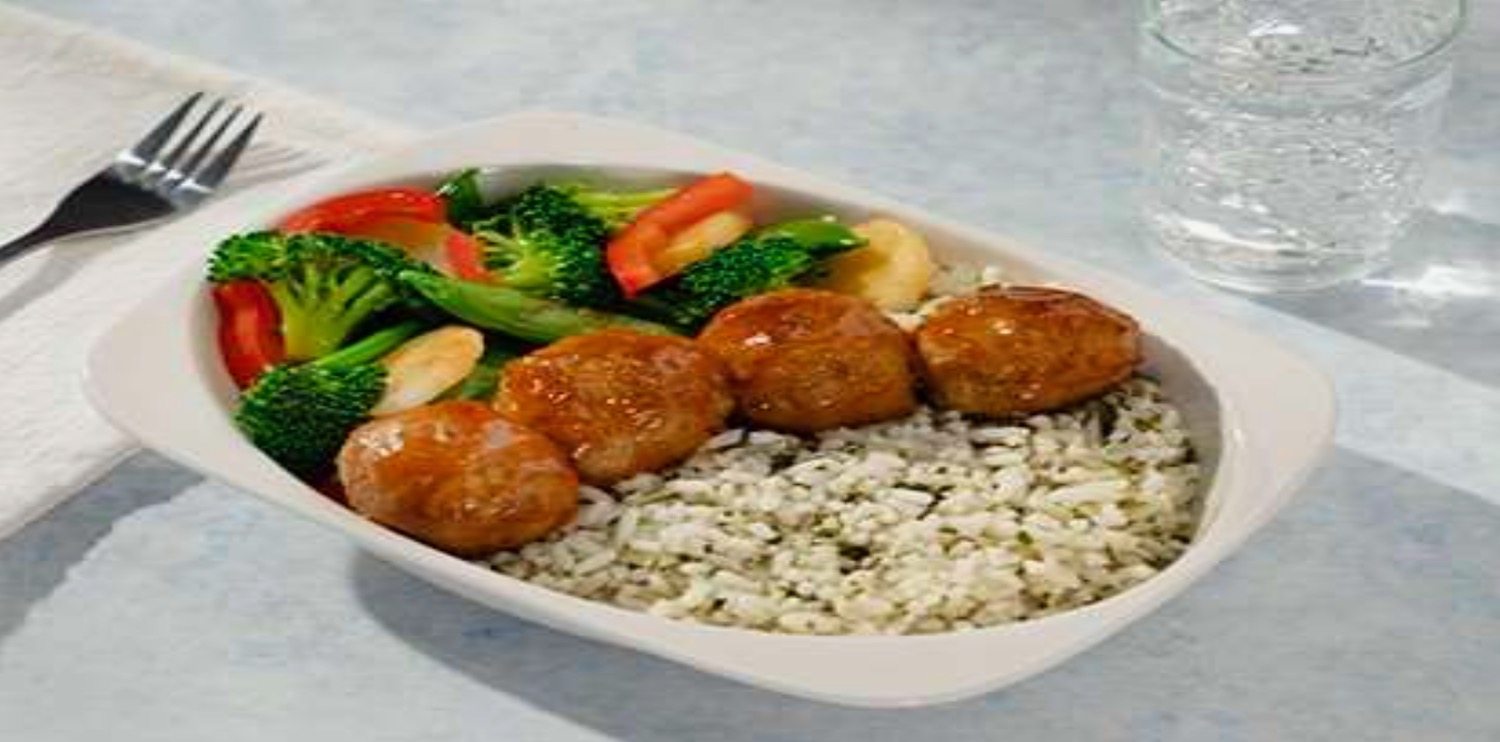 Herb Ricotta rigatoni
Rigatoni pomodoro with herb ricotta
Cheese enchiladas
Cheese enchiladas with Spanish rice, green chili sauce and street corn
Sweet chili-noodle salad with garlic-ginger beef
Sweet chili-noodle salad with jicama and cucumber, protein side optional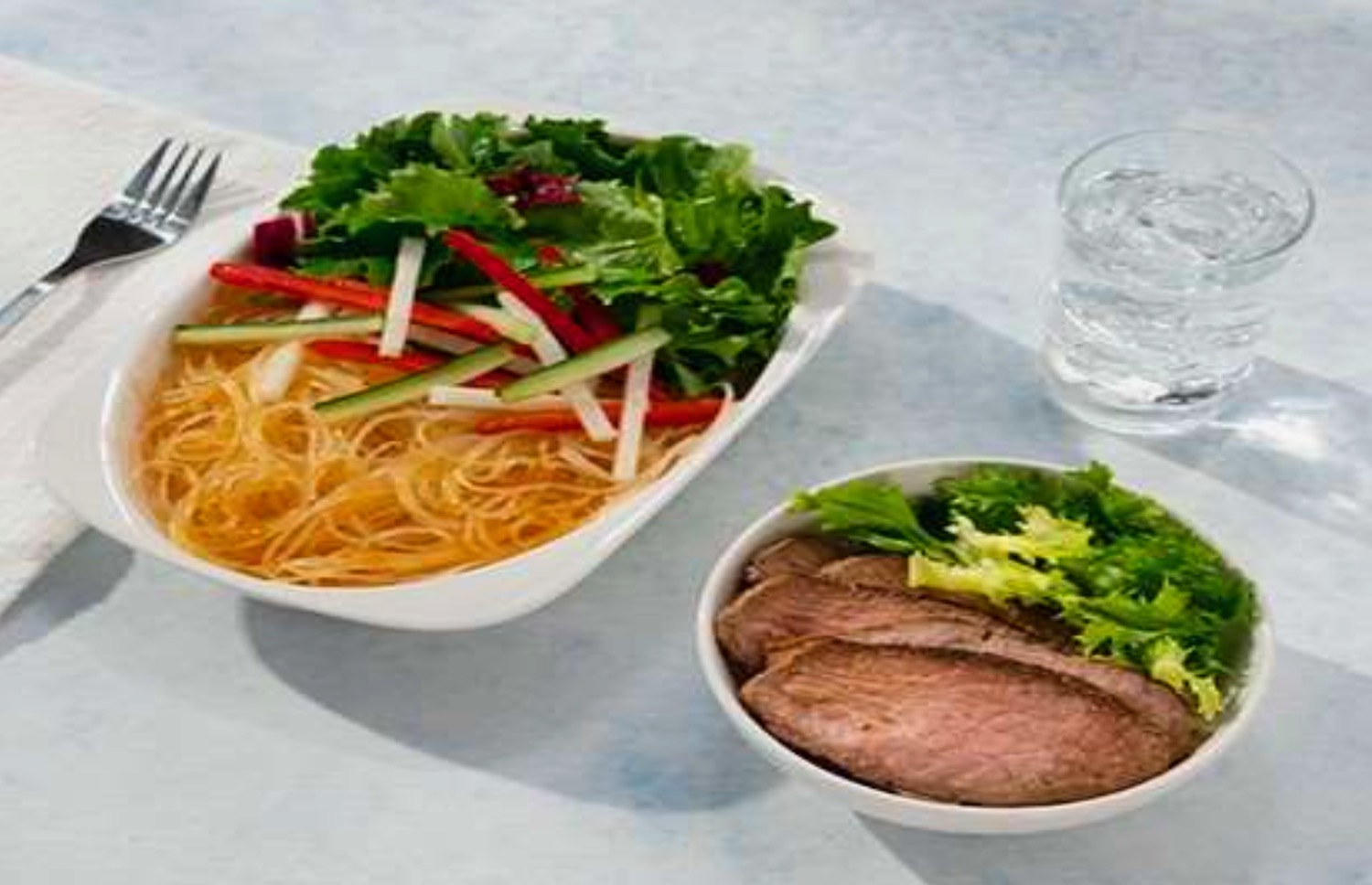 Ultimate cheeseburger (pre-order only)
Four-cheese skillet burger with caramelized onion and jalapeno
Beef and broccoli (pre-order only)
Beef and broccoli with white rice and sesame ginger sauce
Fruit and cheese plate (pre-order only)
Fruit and cheese plate with brie cheese, havarti cheese, smoked Gouda cheese, prosciutto, grapes,
strawberry, dried apricots and almonds
Lunch and dinner will continue to include a side bread roll, a "Southwest wheatberry salad" of roasted corn, wheat berries, cotija cheese, roasted poblano chile, red cabbage, cilantro and green onions, and a "Pie-In-The-Sky" cookie. Meals will now also include warm mixed nuts.
All of these options will not be available on every flight, even via pre-order. Selection will depend upon the station, with United returning to a more unique offering depending upon the airport (versus the same entree from every station during the pandemic).
Good News. Green Salad Please.
We will have to reserve judgment until we try (some or all of) these entrees, but this sounds like a nice improvement and at the very least, a nice change from the menu options we've had for many months.
United seems to be going for simplicity, which is a smart move. We don't need fancy meals, just edible ones and sometimes simple is best. To that end, I would also like to see the "Southwest wheatberry salad" (a grain salad) replaced with a green salad.
CONCLUSION
United Airlines is rolling out a number of new meal choices starting tomorrow (March 1st). If you are traveling on United this month in domestic first class or regional business class (to Canada or Latin America), expect to see these new choices on flights originating in the USA.
Premium transcontinental and Hawaiian meals will remain unchanged (except the tofu option will be replaced on inbound flights from Hawaii with another vegetarian option).
Let us know if you've tried the new entrees and what you think of them. I'll certainly be reporting on my own experiences later in the month.