Tomorrow, United Airlines will announced new international routes for 2022. Like last year, a video teases us with clues. Here are my thoughts and predictions.
My Predictions For New 2022 United Airlines International Routes
First, watch the video:
It's international route announcement time! ✈️ We've hidden clues to our new 2022 routes in this video. Can you spot them? 🧐 Reply with your best guesses using #UnitedSweepstakes for a chance to win seat on one of these flights. pic.twitter.com/bXNLlfQW2G

— United Airlines (@united) October 13, 2021
The video is filmed at LAX and features Patrick Quayle, United's Senior Vice President of International Network holding a cipher.
I think the MPQ is a red herring, referring to M. Patrick Quayle. MPQ is not an airport code.
For what it's worth, here are the corresponding letters and numbers:
A – 24
B – 17
C – 9
D – 4
E – 21
F – 8
G – 23
H – 11
I – 25
J – 13
K – 6
L – 2
M – 3
N – 20
O – 15
P – 1
Q – 7
R – 22
S – 19
T – 10
U – 17
V – 12
W – 26
X – 14
Y – 5
Z – 16
Here are some additional thoughts, in no particular order:
At 0:04, the passenger appears to tap NNT while using the United app – NNT is Nan Nakhon Airport in Thailand, which only services Bangkok. Could our long-awaited San Francisco (SFO) – Bangkok (BKK) route finally come to fruition? Or is she tapping something else?
Meet us at 0:04 for a clue. 🔎 pic.twitter.com/xedfjSZMIe

— United Airlines (@united) October 13, 2021
Unlikely.
Actually, if you have the latest version of the app and triple click the United logo, this will pop up: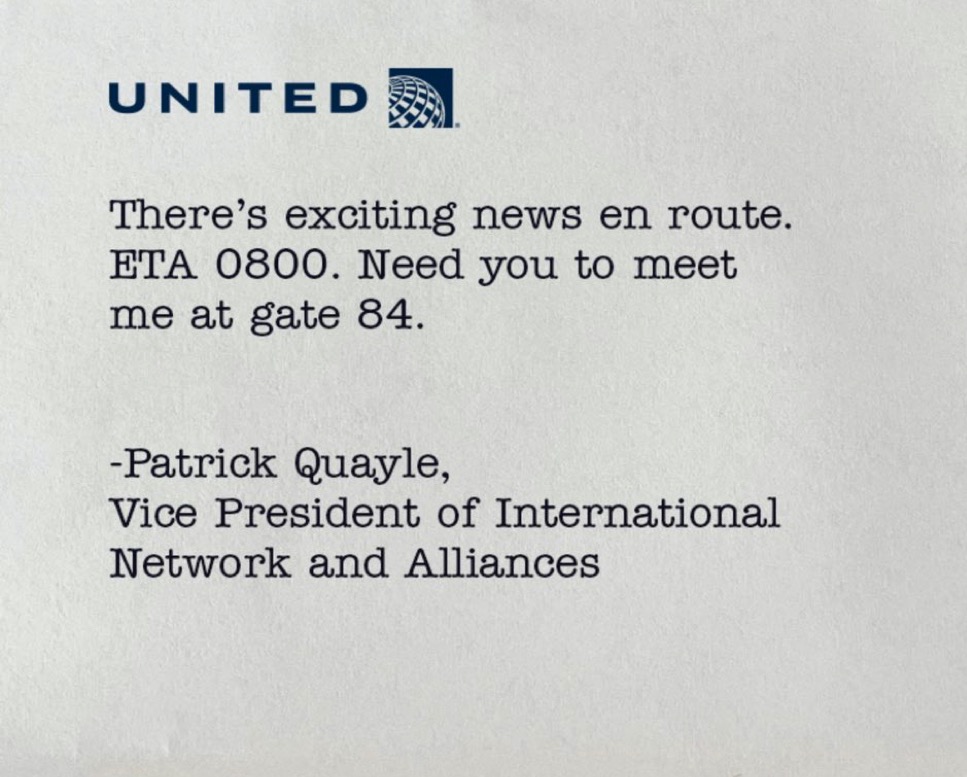 Could "Gate 84" signify Vietnam (country code +84) and new service from Los Angeles (LAX) to Hanoi (HAN) or Ho Chi Minh City (SGN)?
There's a Bavarian flag shown, so I would expect LAX – Munich (MUC) (or perhaps Denver (DEN) -MUC)
Pins on the backpack suggest:

Porto (my guess is service from Washington Dulles IAD)
Sweden (from Newark, Stockholm (ARN) would mark the resumption of a dormant route, so maybe Gothenburg (GOT)?)
Prague (again, I expect service from IAD to PRG)
Nice (from Chicago (ORD) or IAD)
A crossword puzzles contains the words:

Arsenal – reference to UK football club based in London? – but all hubs already have (had) London service and the BOS-LHR service has already been announced, so maybe new service to Scotland?
Bread – France – the new Nice service?
Curacao – new service from LA, part of United's growing Latin network from LAX?
Fernando – makes me sing that Alejandro song from Lady Gaga but perhaps a reference to ABBA's hit. ABBA is from Stockholm…
Lasagna – new service to Italy? See below.
Lye – an airport code in Jordan – not going to happen, but perhaps new service to Lyon, France?
Thorn –

no idea…north? Like Norway?
The United agent agent driving the buggy at LAX has the name Maximillian Patterson – he drives by the Washington Dulles sign – time for Washington – Milan (MXP)?
There are whales pictured over and over in the video – could United be starting service from Newark to Cardiff?
Quayle is holding a "Manila" envelope – could there be service from the West Coast to the Philippines?
Many unanswered questions remain:
The 102 and 324 combinations on the zipper are not particularly helpful – neither are country codes, as far as I can tell and put these numbers in the cipher does not bring anything.

Reader Jerry suggests we may have to read them backwards:

+42 is Czechia
+20 is Egypt – might we see new service from EWR or IAD to Cairo (CAI)?
+31 Netherlands – a new service from LAX or DEN?

The Dulles flight is listed as flight 15906, but looking at the cipher I cannot crack it.
What is scrawled on the coffee cup?
CONCLUSION
I love marketing tricks like this – free publicity over what the announcement will be before the announcement is even made. That's almost as clever as unveiling those supersonic planes a decade early.
What am I missing? We will know tomorrow morning at 8:00AM ET.