I enjoyed a quick jaunt down to San Pedro Sula, Honduras from Los Angeles nonstop on United Airlines onboard a 737-800 in business class.
Flight Review: United Airlines 737-800 Business Class Los Angeles – San Pedro Sula – Los Angeles
United has tried a number of nonstop routes from Los Angeles to Latin America, including San Pedro Sula (returning this winter), Guatemala City (seasonal), Belize City (seasonal), and San Salvador (seasonal). Tragically, United has abandoned its LAX – Mexico City service…
Competition is fierce and margins are limited on these routes and at LAX in general, hence I understand United funnels most Latin America traffic through Houston (IAH).
But I took advantage of a chance to fly nonstop to San Pedro Sula and back…for what amounted to a 24-hour trip.
This trip was during the pandemic in 2021 (a lost trip report…just skip it before you complain about how "old" it is), but you can expect similar meal service today and the other onboard elements were about the same. I'm actually reviewing the flight in both directions in a single post because there was so little that took place onboard.
I checked in online, but was unable to receive my boarding pass until my COVID-19 vaccination (or test) was checked at the counter….that part of the process is thankfully no longer in place. United offers complimentary space-available upgrades to its MileagePlus Premier members on many Latin America routes (exceptions include Argentina, Brazil, Chile, and Peru), including to San Pedro Sula.
After an army of wheelchairs boarded, it was my turn to board.
United 1850
Los Angeles (LAX) – San Pedro Sula (SAP)
June 2021
Depart: 12:30 AM
Arrive: 06:40 AM
Duration: 05hr, 10min
Distance: 2,286 miles
Aircraft: Boeing 737-800
Seat: 4F (First Class)
I won't review the particulars of the United 737-800 in first class…I've already done that here.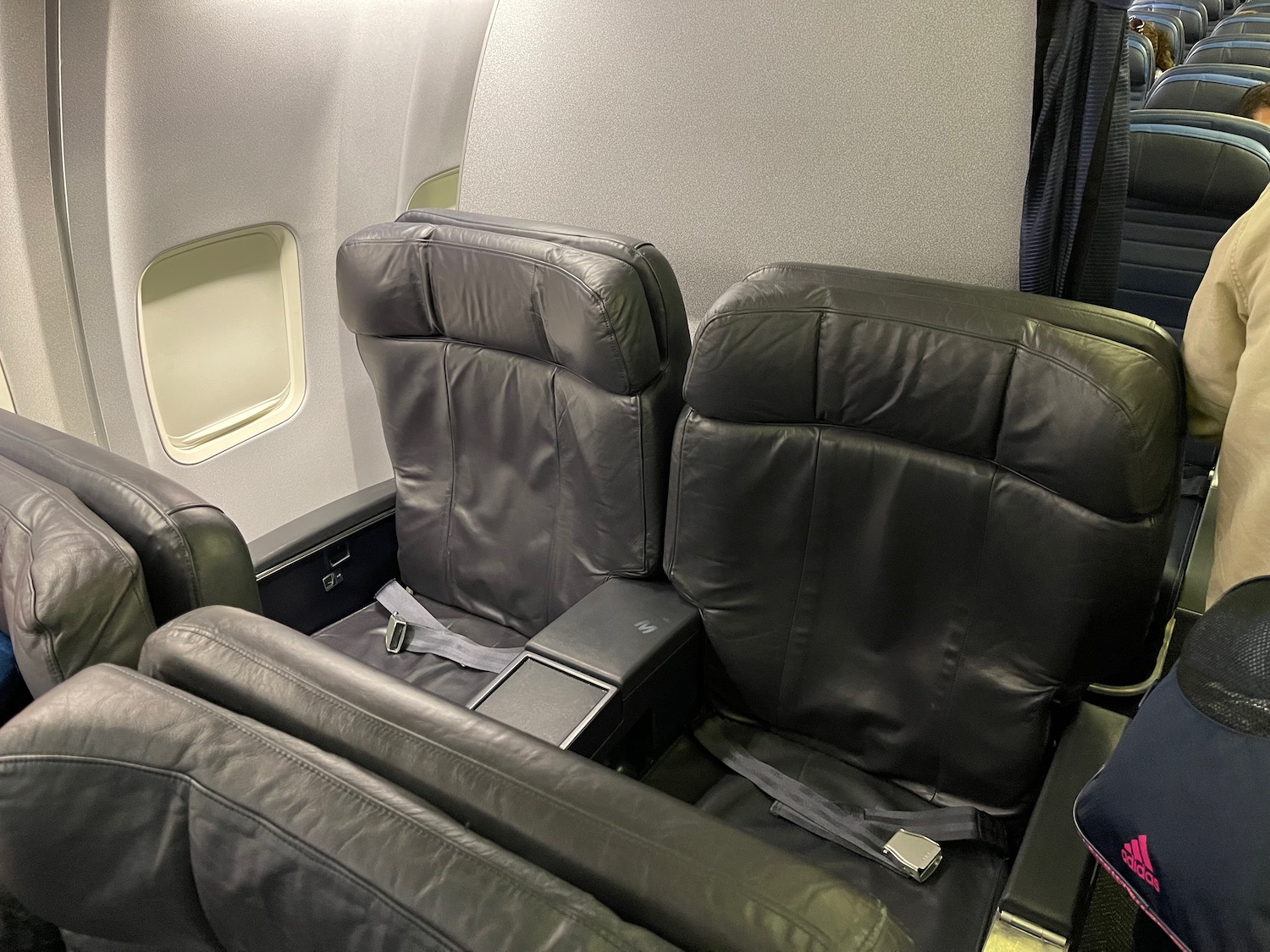 But the cabin was full on the outward journey…except for the seat next to me. Pre-departure beverages were offered, we pushed back on-time, and were soon the air…traffic was fairly light after midnight.
Dinner was served after takeoff, a surprisingly delicious chicken breast with peppers and lemon orzo. The grain salad on the side had beans and corn in it.
After dinner, I fell asleep…and that was the flight.
Immigration forms were handed out prior to arrival.
We landed ahead of schedule and I thought the approach was quite picturesque…it was very green out the window.
After a day in San Pedro Sula, I showed up at Aeropuerto Ramón Villeda Morales before 5:00 am to catch my return flight back to Los Angeles.
Check-in was a breeze and I enjoyed an excellent cup of coffee in the terminal before boarding my flight to LAX as the sun began to rise.
United 1036
San Pedro Sula (SAP) – Los Angeles (LAX)
June 2021
Depart: 06:30 AM
Arrive: 11:00 AM
Duration: 05hr, 30min
Distance: 2,286 miles
Aircraft: Boeing 737-800
Seat: 3A (First Class)
On the early flight back, the cabin was only booked 5/16, with no one across the aisle from me or behind me.
We took off just behind another United 737 bound for Houston and were soon in the air.
It was another picturesque morning with so much greenery outside the window.
A lovely flight attendant served the cabin, offering a choice of a cheese omelet with ham and grilled onions or pancakes with pineapples and raisins. Both were served with a side bowl of fruit (watermelon, pineapple, grapes), a muffin, and strawberry yogurt.
I asked the flight attendant if the cabin had been fully catered and she said yes, so I asked if I could try both breakfasts and she was very happy that I was "willing to help reduce waste." Yes, I'm the airline meal vacuum cleaner…
Both dishes were decent, though the omelet was the better choice.
Many of these older 737-800s have DirecTV onboard, but the internet and live TV only work over the Continental USA. So for much of the flight, the screens looked like this:
The moving flight map worked, so I just left it on that. Since the internet did not work either, I just leaned back and slept…it had been a very early morning.
A light snack was offered prior to landing (biscoff cookies and pretzels):
I usually sit on the starboard side very deliberately to see downtown LA as approach LAX, but it was nice to see Long Beach harbor and the sprawling suburbia of Los Angeles from the port side.
We landed on-time at LAX and after a quick taxi, reached the gate, where we were directed to immigration facilities in Terminal 6 (much easier than the Tom Bradley International Terminal).
CONCLUSION
These were uneventful flights, but I want to highlight the nonstop service from LAX to SAP in hopes that these flights will do better next season and maybe even become year-round. Good service, decent meals, and decent rest on both flights: I'm not sure I could ask for much more.