To begin our summer trip, we flew from Los Angeles to London on United Airlines in Polaris Business Class on the 787-9. In short: despite a three-hour delay, the flight was great, with superb service, edible food, and a good rest.
United Polaris Business Class Family Review
I'm thankful my three-year-old daughter seems to be over the hump in terms of being able to sit still on a flight. She's three years old, but can now keep herself entertained with the seatback entertainment. We avoid screen time at home, but when it comes time to fly she can watch as much as she wants.
I mentioned our three-hour delay (firmware update) and the amazing service of Captain Alberto Diaz, but let's start from the top. After enjoying lunch in the Polaris Lounge we boarded the flight on-time.
United 231
Los Angeles (LAX) – London (LHR)
July 2023
Depart: 12:55PM [4:03PM actual]
Arrive: 7:25AM+1 [9:31AM+1 actual]
Duration: 10hr, 45min
Aircraft: Boeing 789-9
Distance: 5,456 miles
Seats: 8A, 9A, 10A, 12A ("Polaris" Business Class)
The purser, David Leonard, warmly greeted passengers as we stepped onboard. Rather than be first to board, we were among the last: I did not want to rush through the Polaris Lounge nor spend unnecessary time on the plane with two restless children (little did I know then about the delay).
Seats
The 787-9 Polaris cabin includes 48 seats spread over two cabins and is arranged in a 1-2-1 format. Rather than take four seats across one row, I assigned us window seats, one behind the other, since everyone loves the window. Unfortunately, 11A was already taken, but that meant my wife Heidi got the last seat in the front cabin (8A) while the kids and I took the rear.
I could have asked 11A to swap with Heidi, but the odd-numbered Polaris window seats provide more comfort and privacy than the even-numbered ones. Since it was not an "even" trade I did not bother to ask.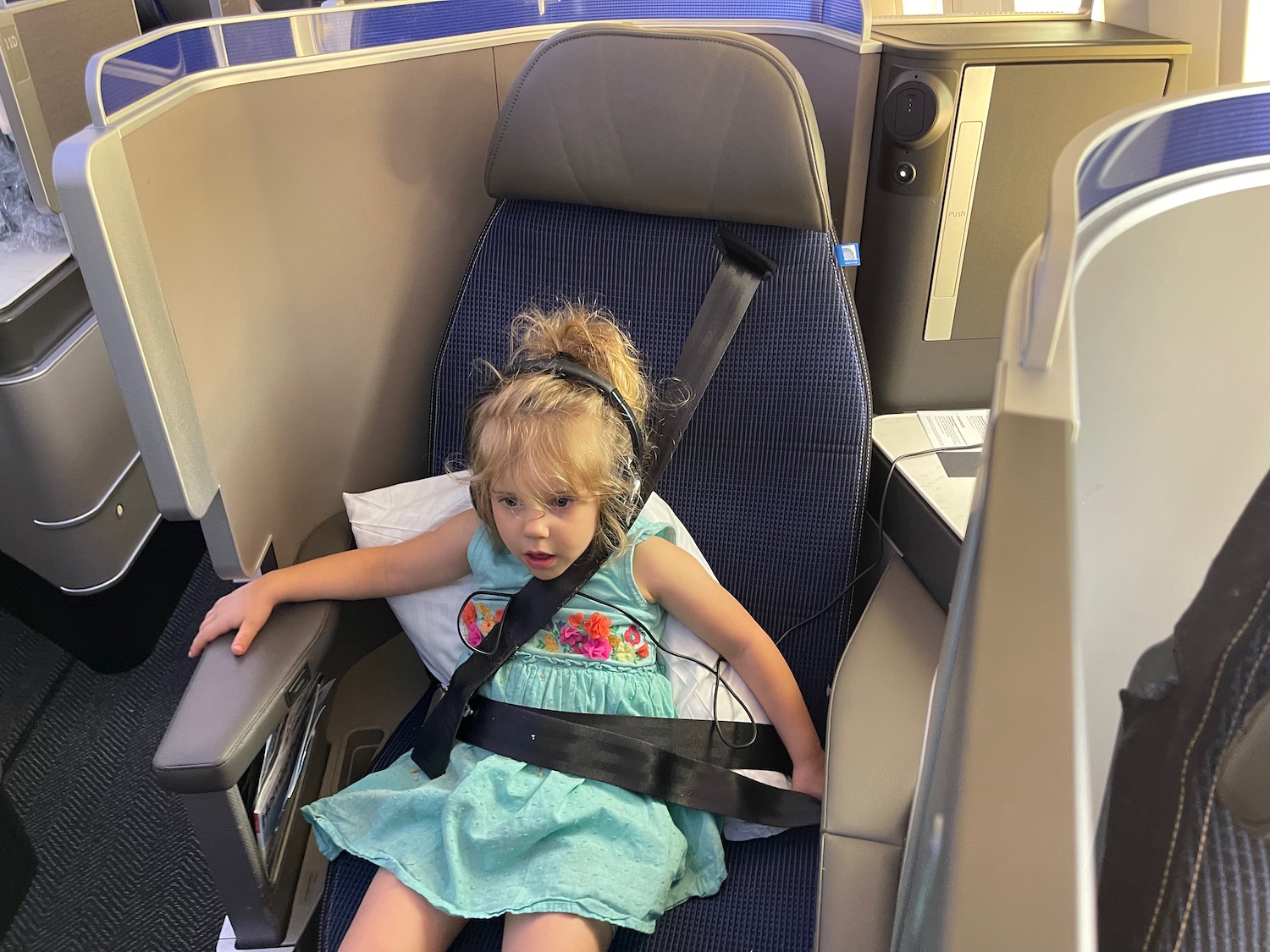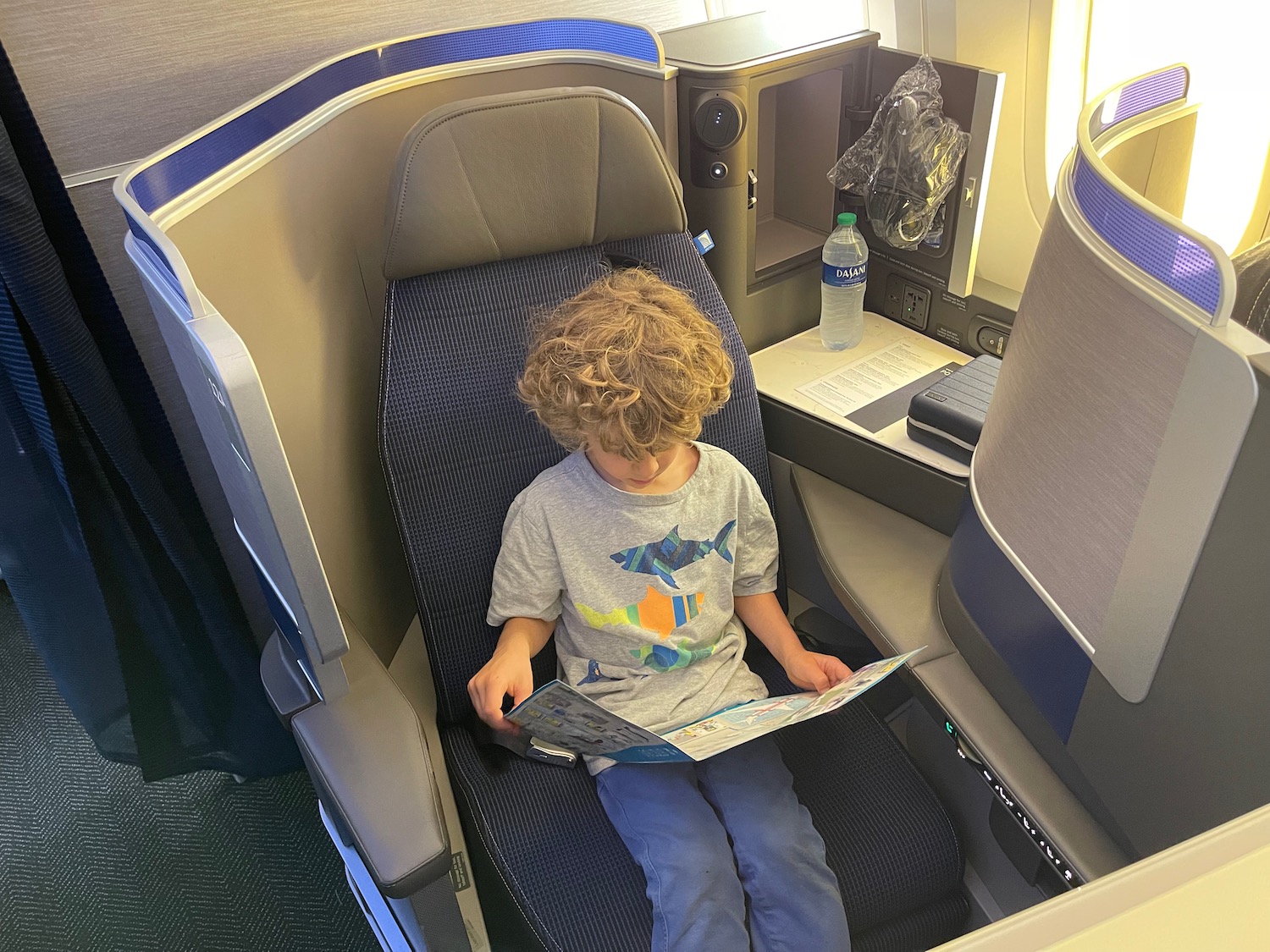 I have flown this seat so many times, but it was the first time my children had tried it…and they loved it. The seat includes 180° recline, transforming it to a lie-flat bed providing 6'6″ (198 cm) of sleeping space. The seat is 20.5 inches wide.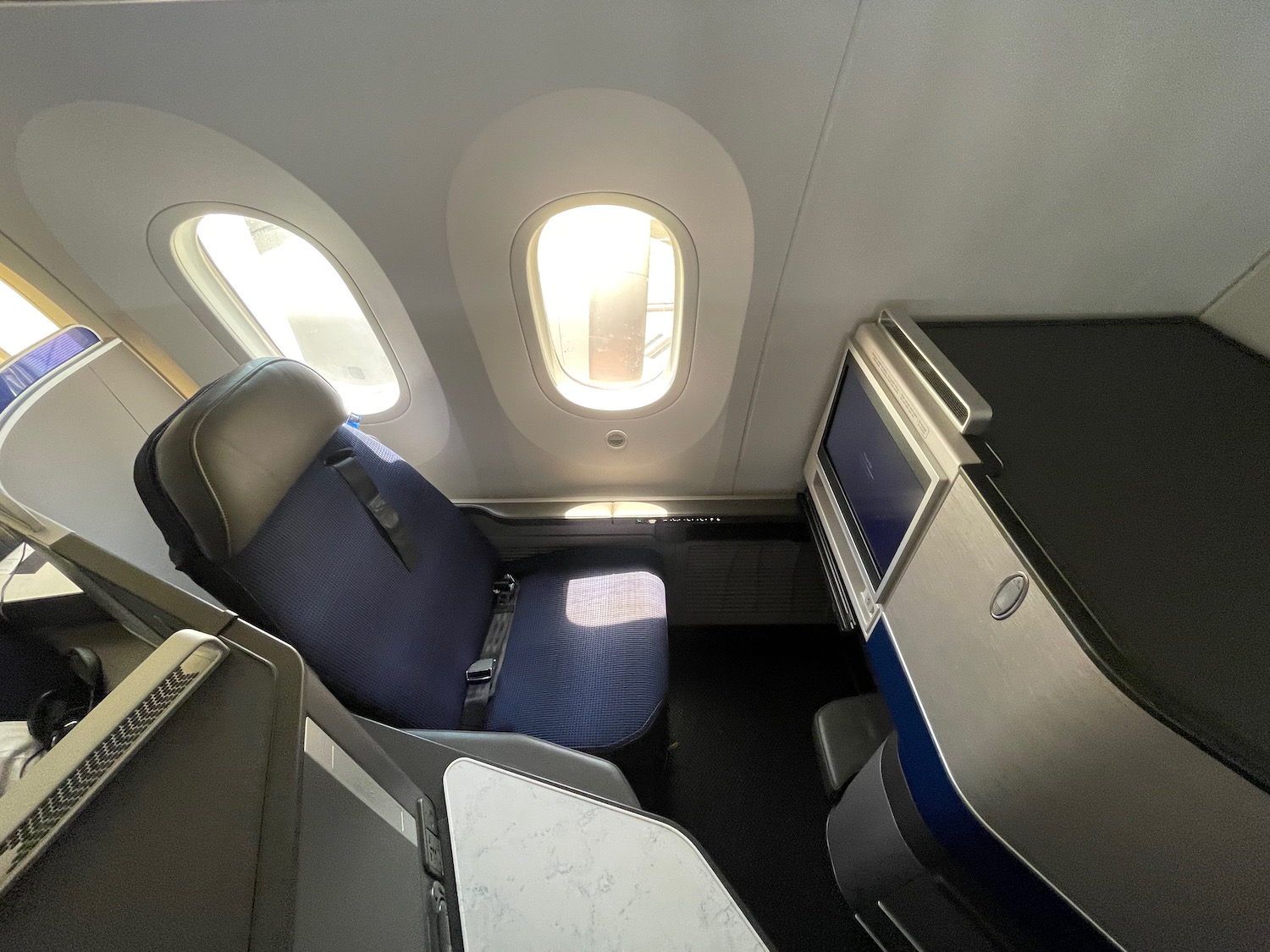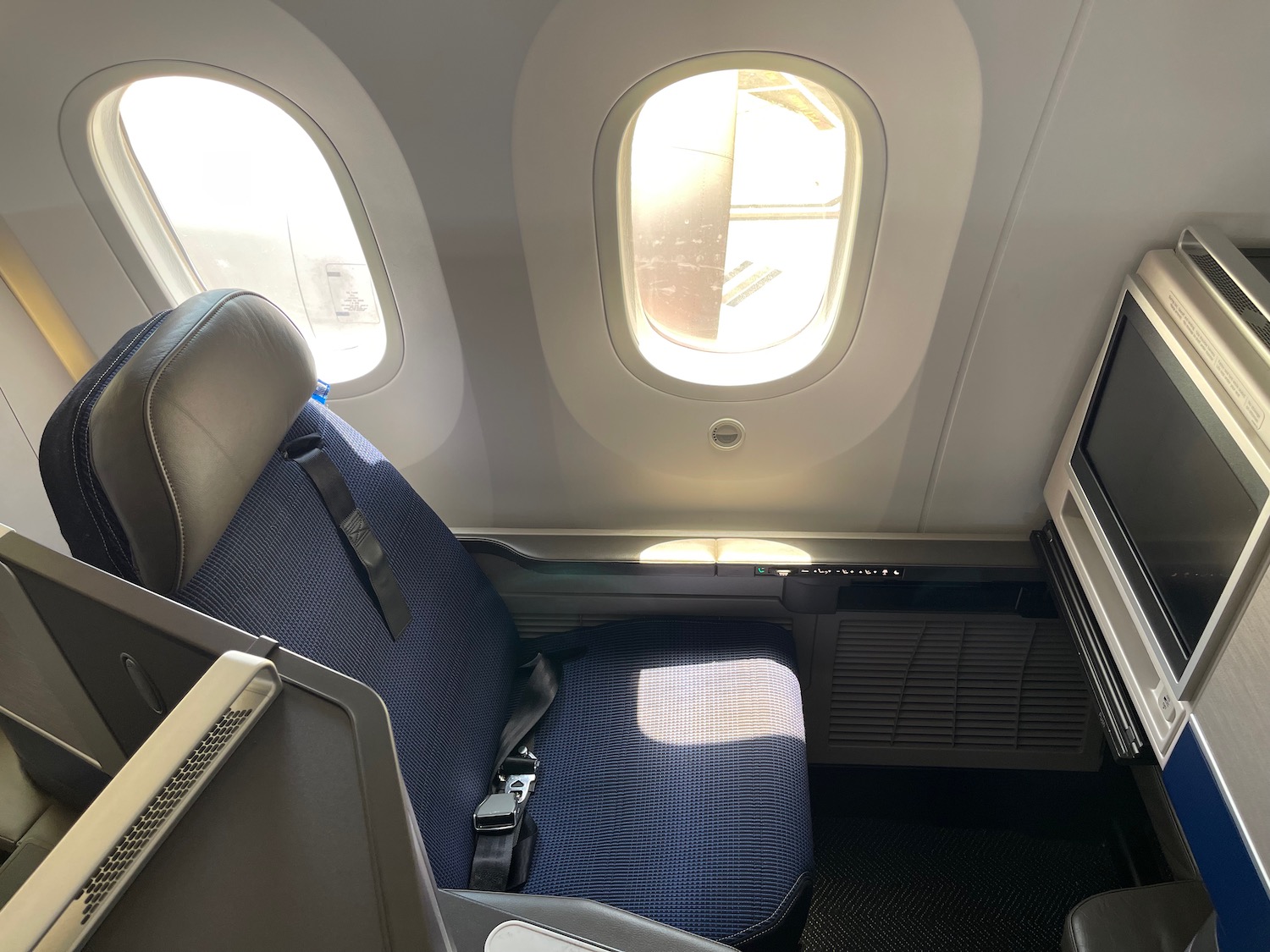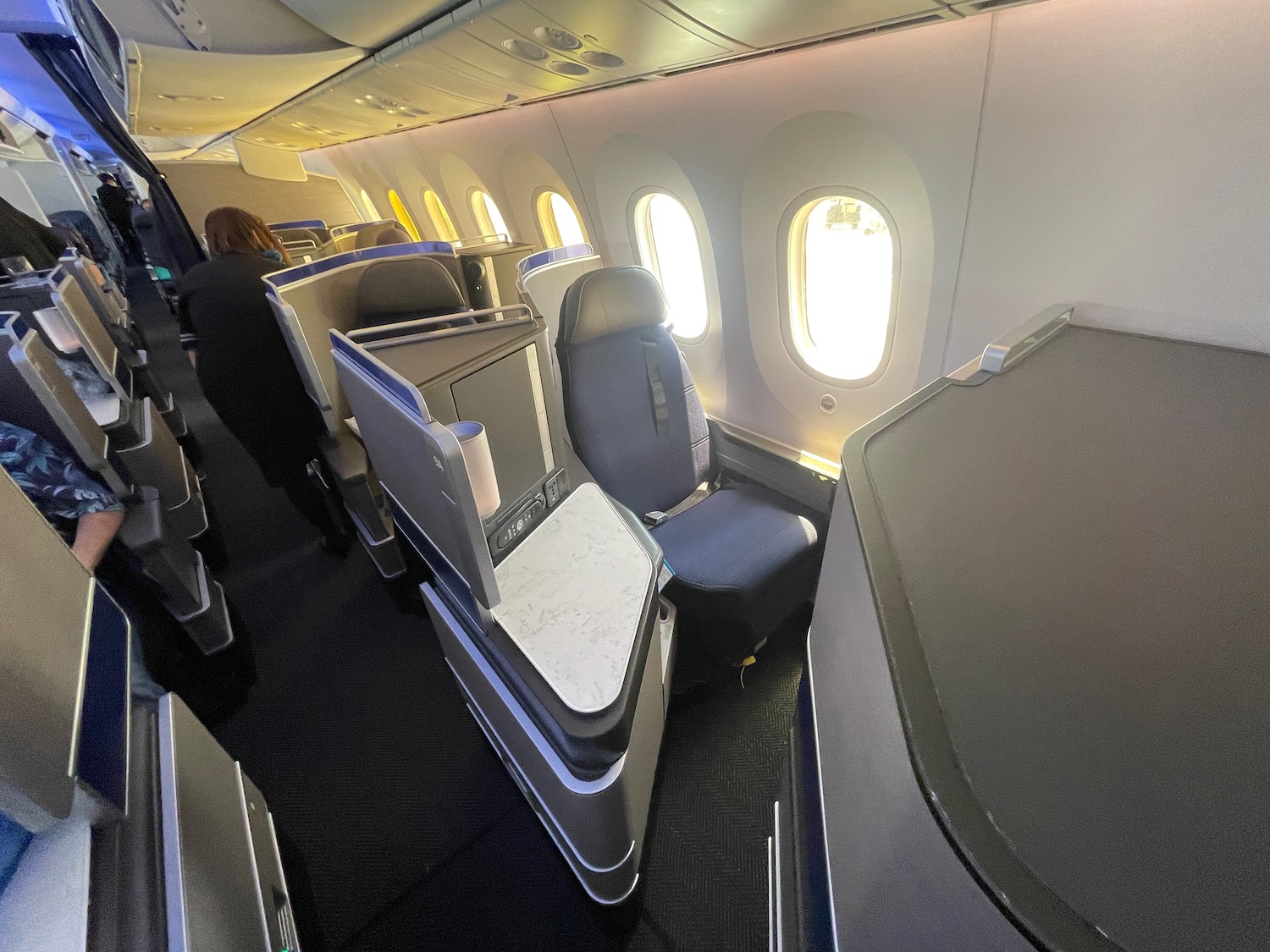 My kids, of course, had more than enough room and spread out nicely. We flew business class more for my wife and me, not for them, since they can sleep anywhere and all they want to do on a plane is watch TV shows and movies anyway.
I got a bulkhead seat, 9A, which is my favorite on the plane (along with 1A, 1K, and 9K) because of the generous cut-out for your feet.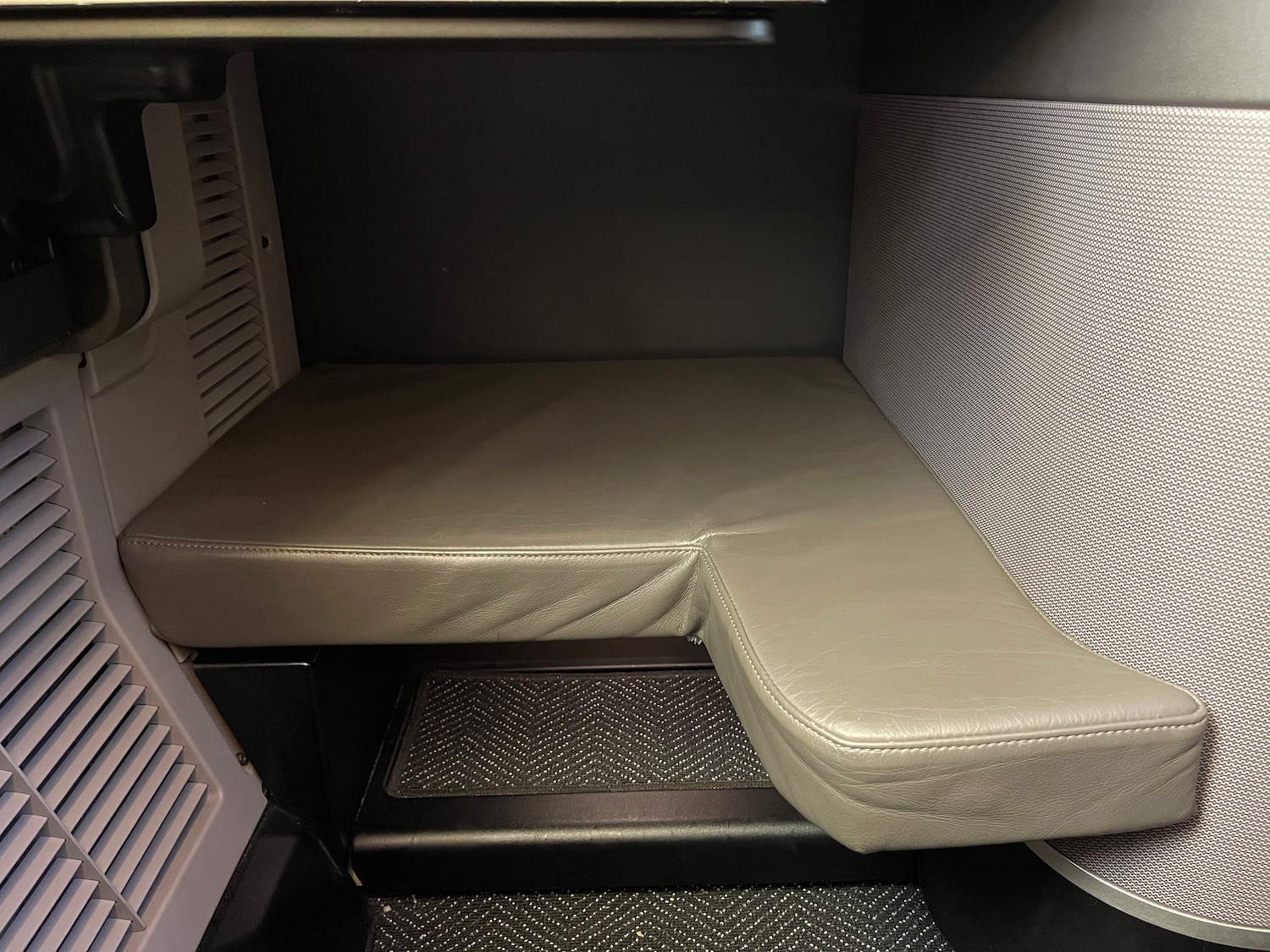 We all slept well. United offers great bedding including a large duvet and two pillows.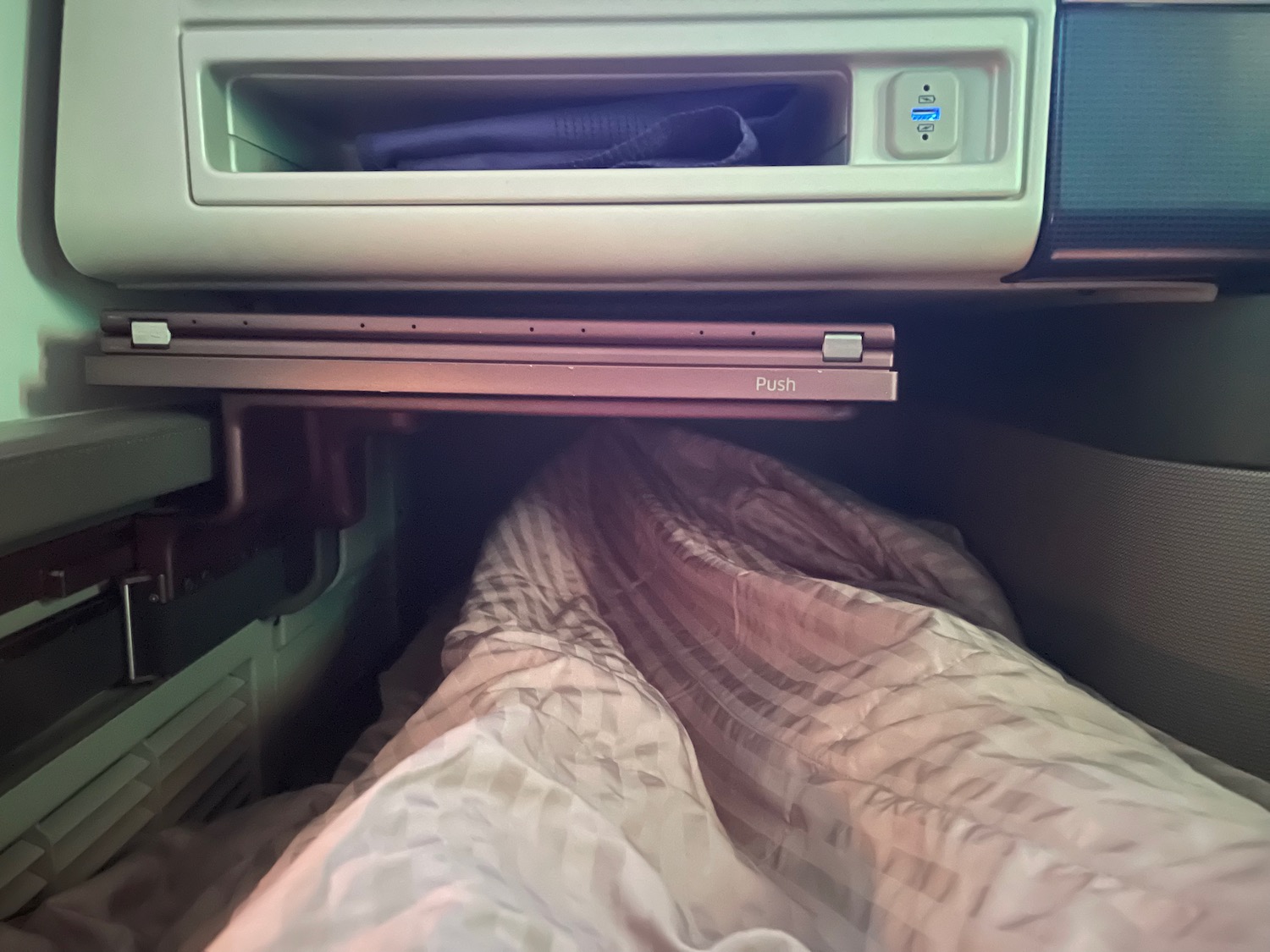 In fact, my kids slept through breakfast and my daughter slept so well that we had to pry her out of her seat upon landing.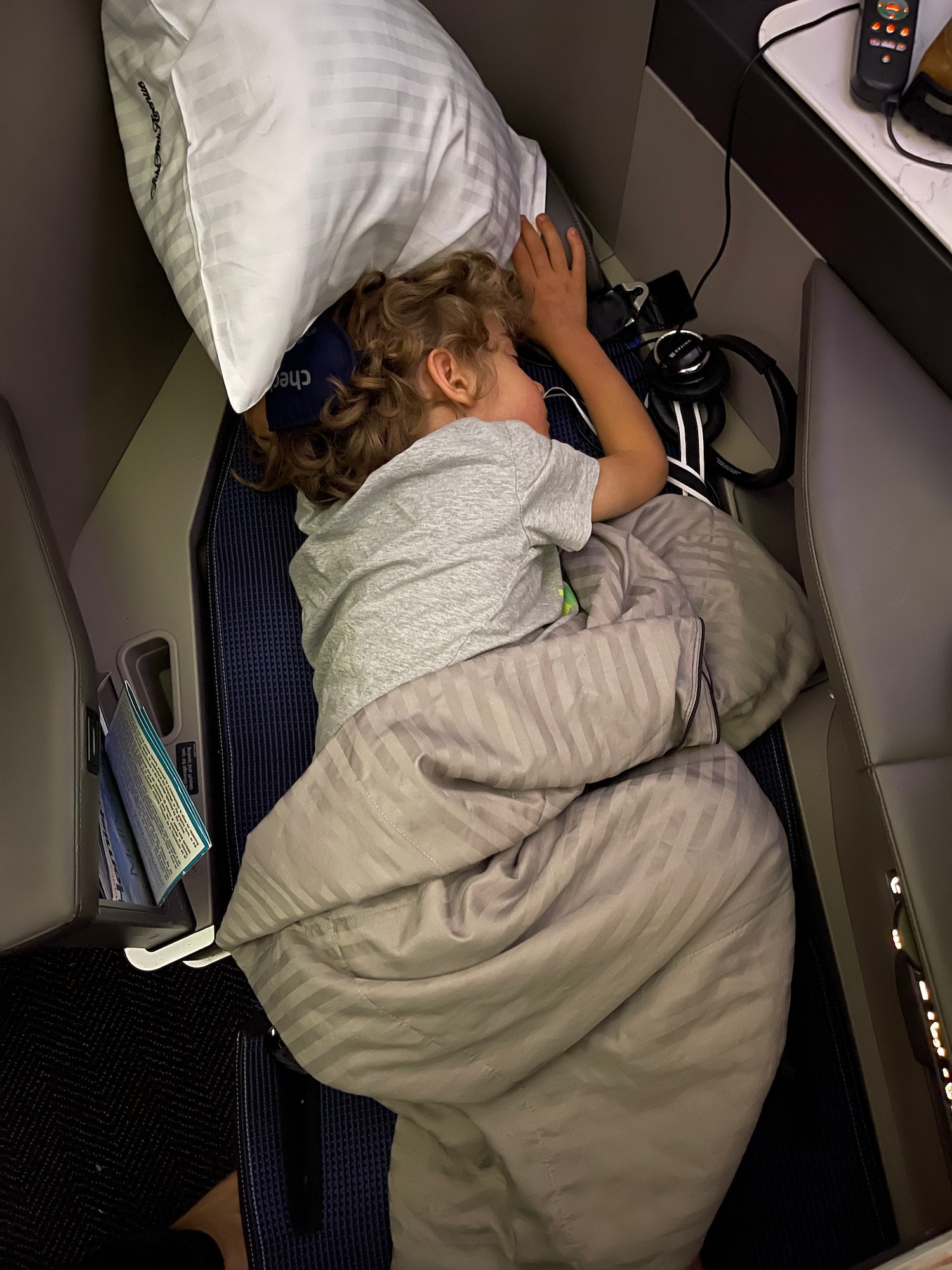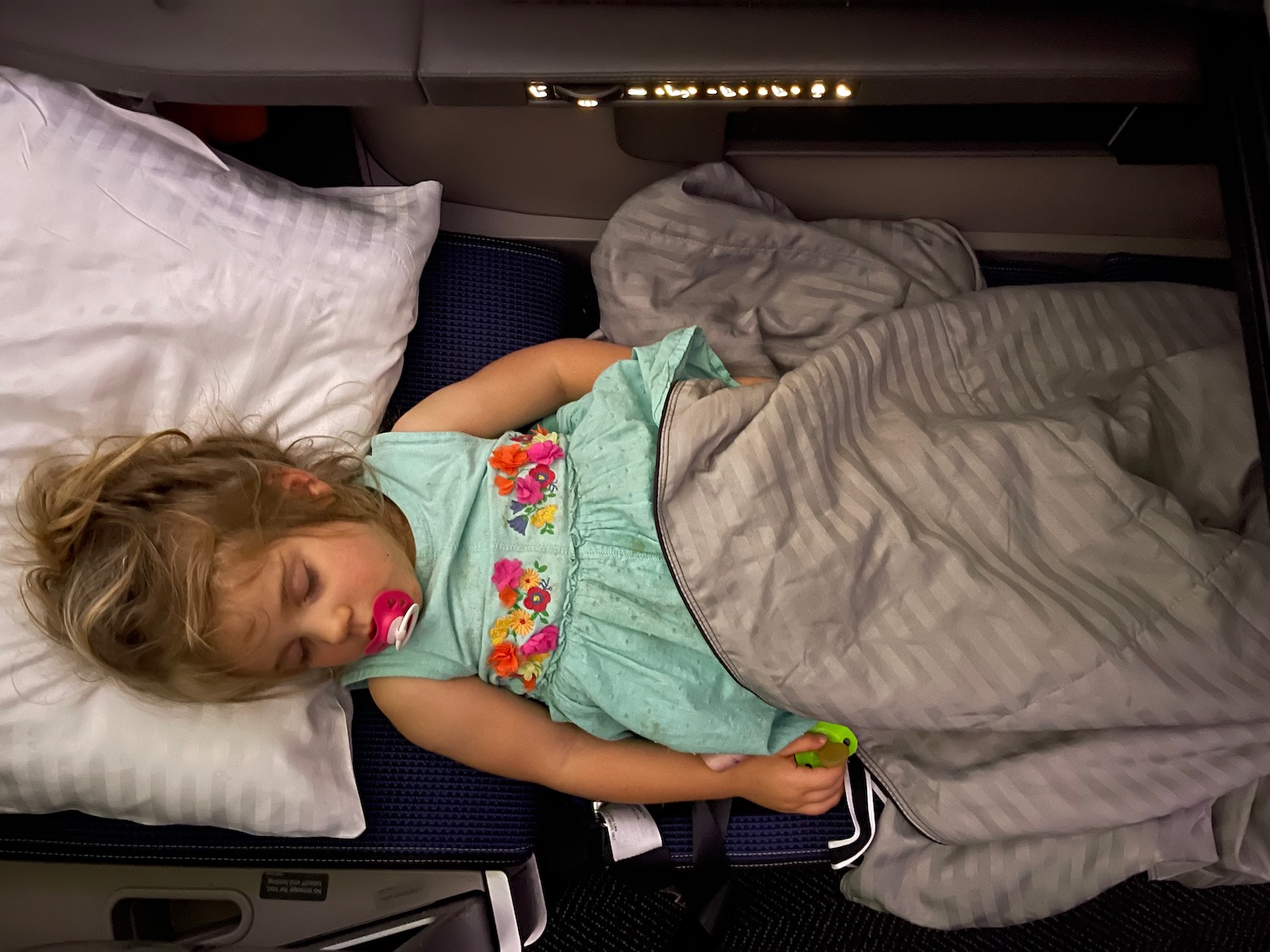 IFE + Wi-Fi
Wi-Fi was available for purchase at the following rates:
$2.99 – one hour
$6.99 – two hours (yeah, I didn't get that either…)
$19.99 – flight pass
I receive free wi-fi on my mobile phone via T-Mobile, which does not include audio or video streaming.
The IFE library includes a lot of movies (over 100), though I did not find anything I wanted to watch. Same with TV shows, audio, and games. But I did not try hard on this flight.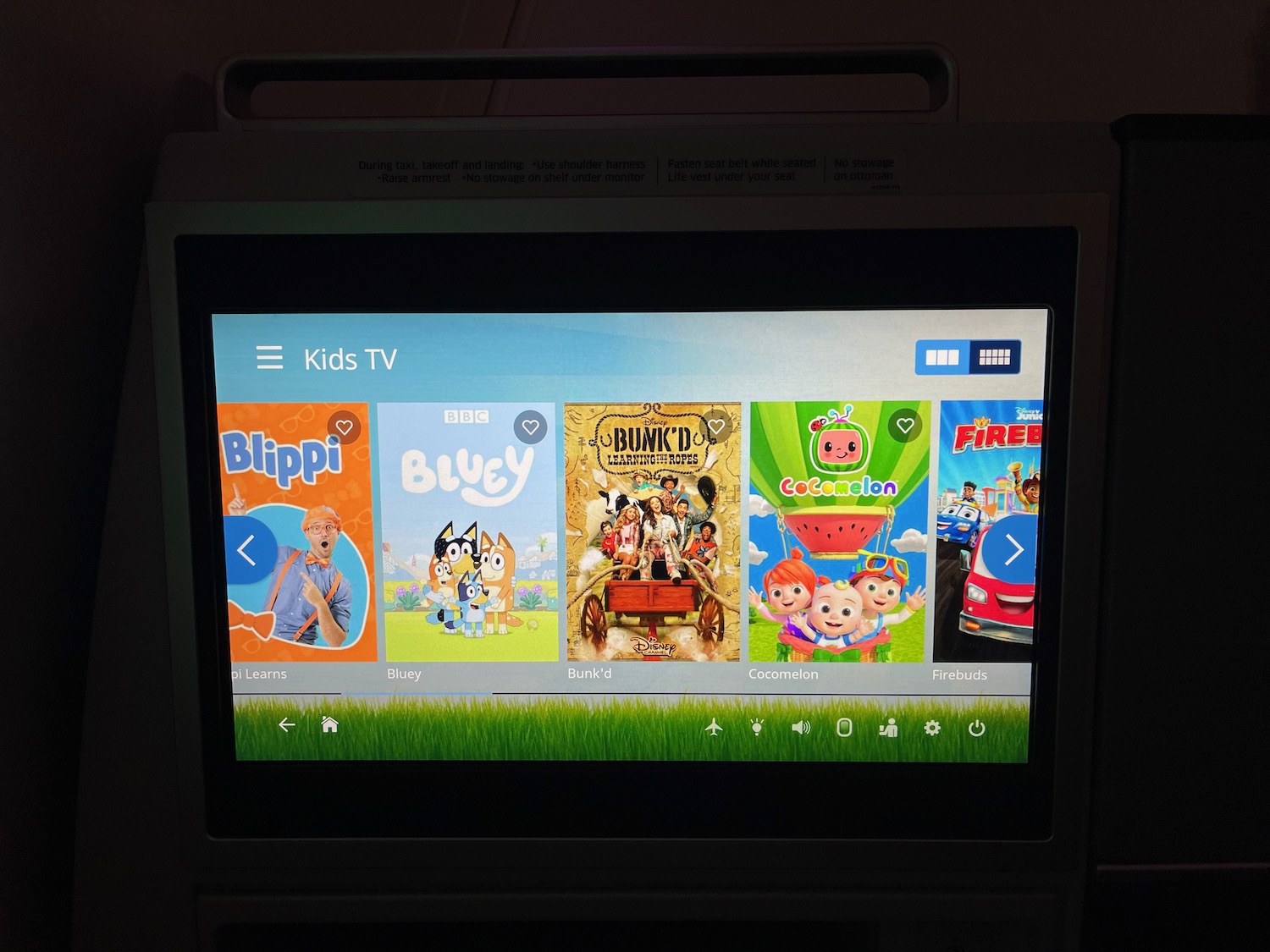 Noise-cancelling headphones are of mediocre quality.
One thing that pulled the kids away from the screen (at least for a little bit) was a "Children's Travel Kit" with coloring, activities, and a puzzle. This proved quite vital during the firmware update since the IFE had to reboot several time.
Amenity Kit
My flight was in the final days of the Away era: we received a hard-shell case that I did not bother to open and left behind. I've reviewed the contents before here.
United now has amenity kits from Asutra.
Food + Drink
By the time we finally took off three hours late, I was very hungry. So were my kids.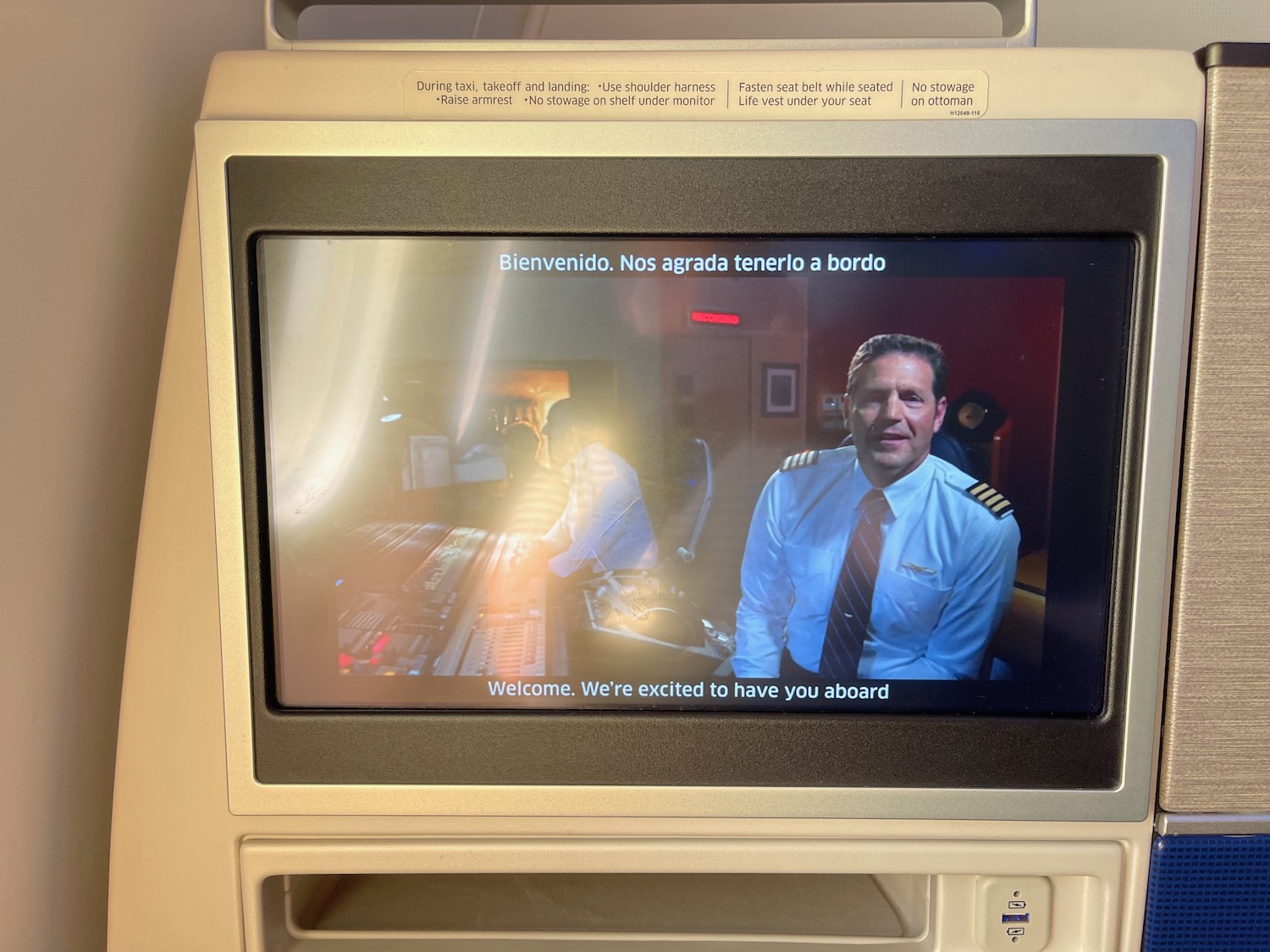 Menus were handed out prior to departure, but I had pre-ordered all of our meals. One side of the menu includes meal choices while the other side includes the wine list.
Thankfully, the flight attendants were quite efficient and dinner began rolling shortly after takeoff.
First, hot towels were offered. Next, the tablecloth was set.
Then, dinner came out all on one tray, with beverages.
United is trialing a return to multi-course meal service on select routes, but I appreciated everything appearing at once.
I ordered a seared flat iron steak (with mushroom gravy, thyme-roasted red bliss potato wedges
and creamed spinach). I'm not a fan of many sauces and asked that the gravy be placed on the side. The flight attendant cheerfully obliged, which may not have made the tray look very fancy, but I skipped both the creamed spinach and the gravy. The meat was tender and cooked medium. Not the highest quality, to be sure, but it was satisfactory.
The appetizer was a salmon rillette with radish, arugula, extra virgin olive oil and baguette and I found it to be lacking in taste and texture. The garlic bread and pretzel roll were warm and you generally cannot go wrong with a mixed salad and balsamic vinaigrette dressing.
Heidi ordered the fish (seared turbot with lemon caper sauce, asparagus, sautéed mushrooms,
roasted potatoes, and sun-dried tomatoes) and reported it was satisfactory.
I ordered a gluten-free meal for Claire Marie, not because she is gluten intolerant but because I knew it would be a simple chicken breast and a simple leafy green salad: Claire Marie is a picker eater than Augustine, but this was a perfect meal for her which she ate right up.
Augustine tried the pasta (babv spinach tortellacci with rustic tomato sauce, roasted eggplant, and toasted pepitas), which he enjoyed.
For dessert, the kids enjoyed bowls of plain vanilla ice cream while I enjoyed a cheese course, cake, and an ice cream sundae. Granted, I think just about anything would have satisfied me I was so hungry, but I thought dinner was perfectly satisfactory minus the appetizer.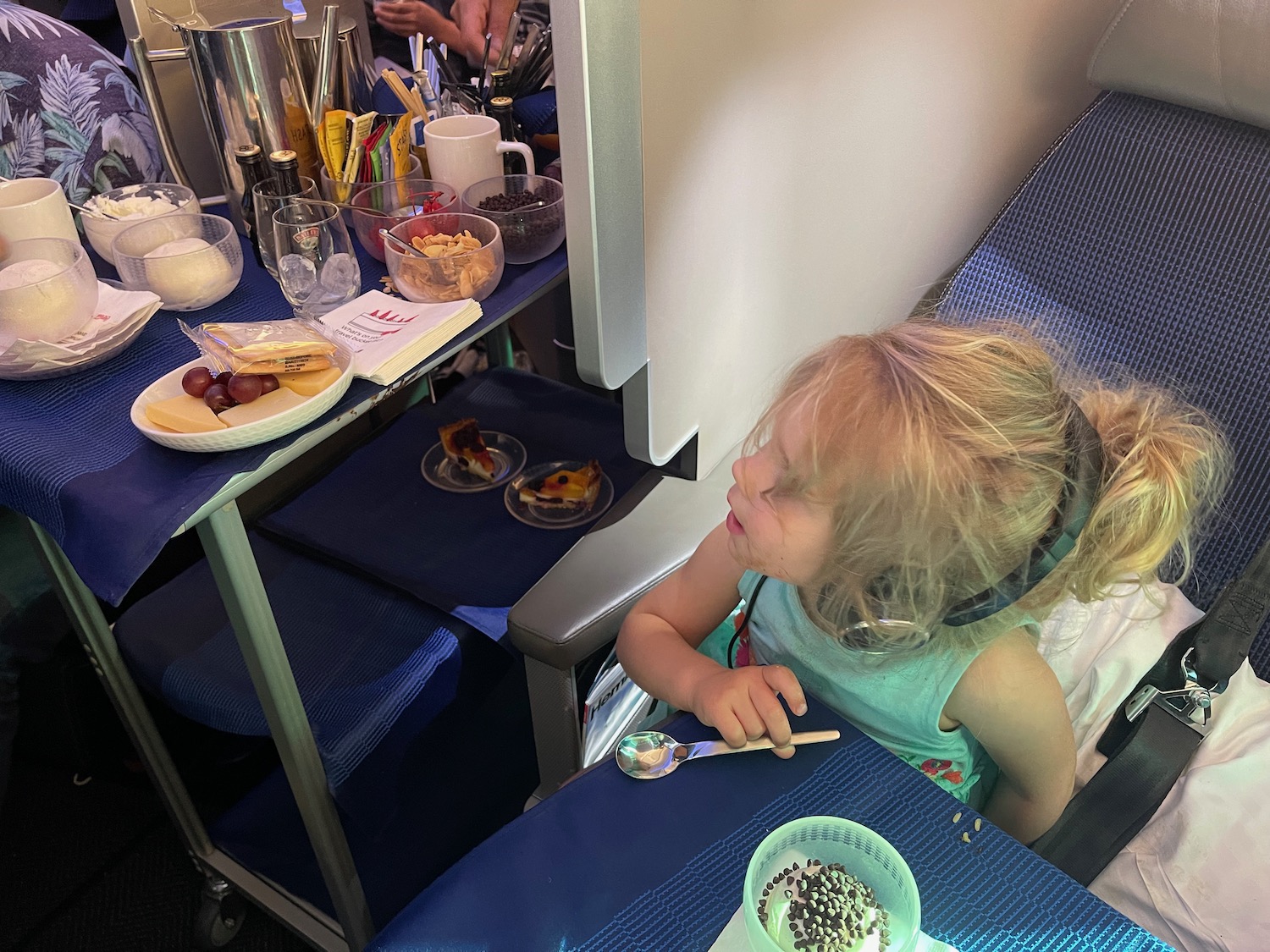 Oddly, the mixed nuts were served after the meal service (hot). That was a service mishap, though I still enjoyed them.
Mid-flight, a snack cart included more mixed nuts, sweet and salty treats, and whole fruits. Tomato soup and a grilled cheese sandwich were also available.
Just an hour before landing, breakfast was served with a choice between creamy scrambled eggs with sautéed mushrooms, chicken herb sausage, marble potatoes, and baby kale or a ricotta crêpe with vanilla cream, cherry sauce, and blueberries.
The eggs were fine…I wasn't hungry, but ate breakfast since the arrivals lounge was closed.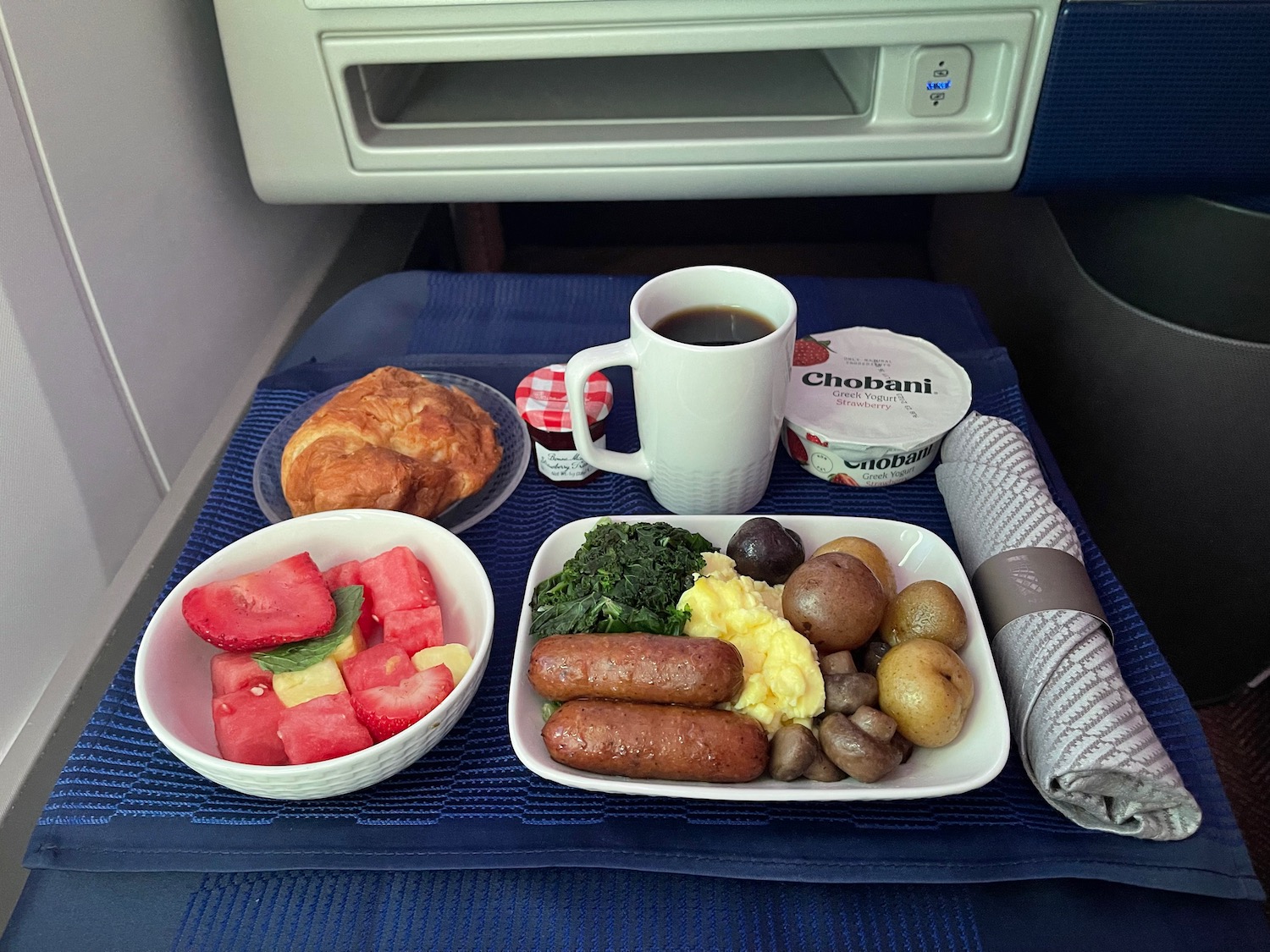 Lavatory
Lavatories were clean both at the start and end of the flight. Sunday Riley amenities were still present, though I suspect United will find a new provider since that relationship seems to have ended.
Service
From Captain Diaz to David, the purser, the crew was really excellent. The flight attendant working my side of the cabin in business class was so kind and frequently knelt down on her knees to speak to my children. She pampered them with beverage refills and snacks and even tucked my daughter into bed.
Arrivals Lounge Closed
It was a long walk from the aircraft to the UK Border, but a good way to stretch out after the flight.
One of my favorite aspects of flying United into London is the use of the arrivals lounge in Terminal 2. Sadly, it was closed for maintenance.
The Plaza Premium Lounge in the arrivals area remains closed, so we were soon on our way to central London.
CONCLUSION
The delay was annoying (and pathetic considering it was a firmware update that presumably should have been done earlier), but the flight itself was very lovely with excellent service and respectable food. I slept well, which is really the most important part of business class and perhaps it was the delay that enabled me to fall asleep quicker.
United is not the best among its peers, but I find the experience quite solid and reliable. Guard your expectations when it comes to dining, but you can always count on a comfortable seat and excellent bedding. I was thankful to fly Polaris with my family across the Atlantic.