My Meal of the Week feature examines an airline meal from my travels over the years. This may be a meal from earlier in the week or it may be a meal served over a decade ago.
---
Although I will occasionally branch out and try the Japanese menu, I prefer not only to order off of the Western menu when flying a Japanese airline like JAL because I generally prefer that cuisine, but because JAL manages to offer better Western food than any western carrier. I'm going to provide two examples.
JAL Offers Better Western Menu Than Any Western Airline
First, let's take a look at my main meal on my first class flight from Los Angeles (LAX) to Tokyo (NRT).
First Class Western Menu On JAL
I used to feel guilty ordering Western food on a Japanese airline. I no longer feel that way and make no apology for recognizing that JAL does Western food better than just about any Western airline.
I love how menus were presented in a leather folder.
I did start off with a glass of Champagne (JAL uses Roederer Cristal 2013) because the only time I drink Champagne (or eat caviar) is when I am in the nose of an airplane. However, I do prefer rosé and switched to Charles Heidsieck Rosé Millésimé for lunch.
Service began with a few bite-size morsels including a tangerine wedge wrapped in pastrami and a stuffed mushroom.
Next, the table was set the table for lunch, which included olive oil, sea salt, and butter.
This was followed by an amuse bouche of petite green pea velouté with Iberia ham chips.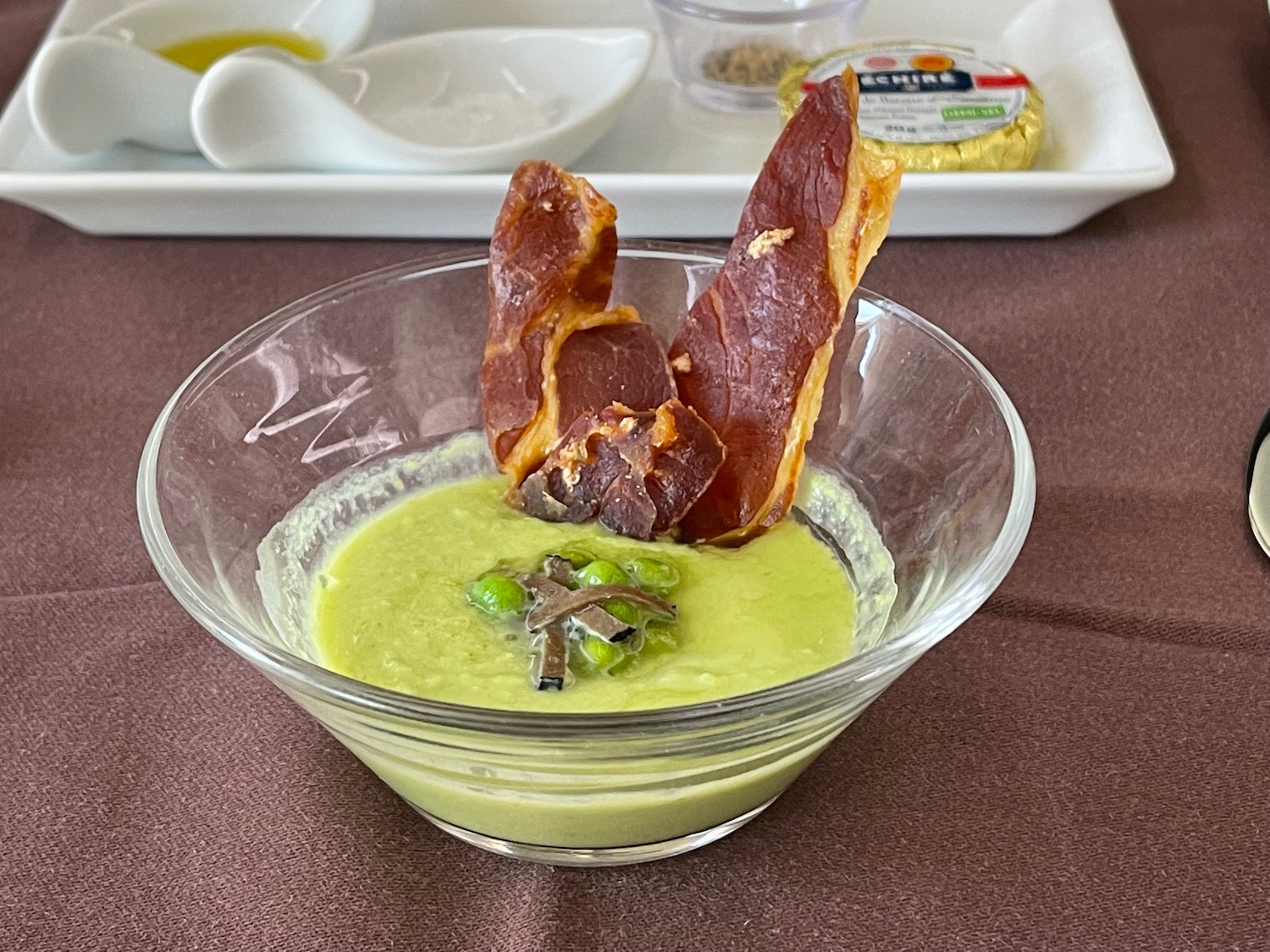 Next, caviar with condiments. Today's crown jewel caviar was from Umac. Included on the side was cream cheese, salmon tartare sauce, and Yukon potato blinis.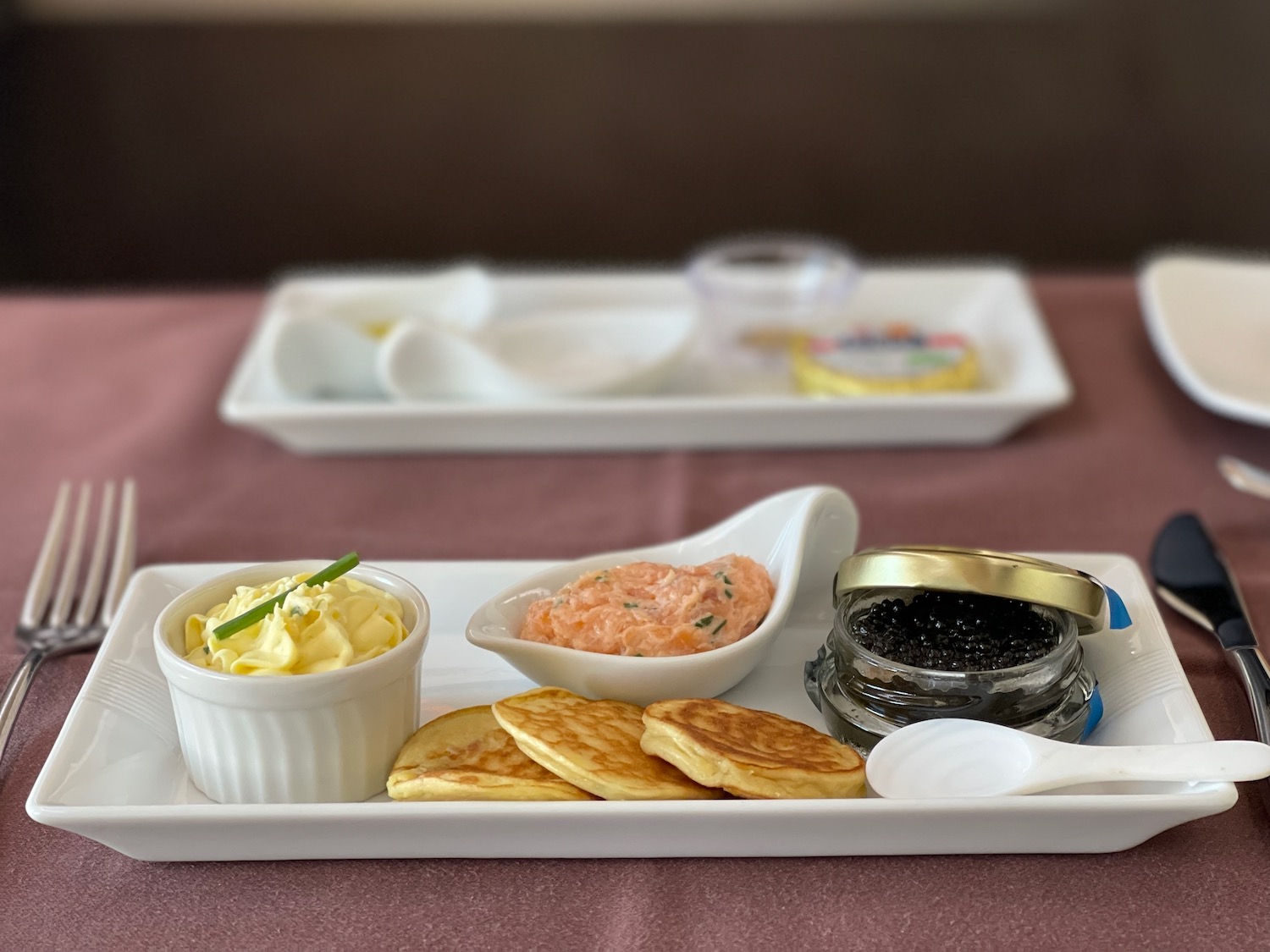 I added a soup course to lunch, a fennel soup in creamy broth that was delicious.
Soup was followed by a salad with poached chicken breast and prosciutto drizzled in a mustard Champagne vinaigrette.
I switched to a 2014 Château Lagrange French Bordeaux in preparation for my beef tenderloin.
The bread basket made several appearances, with delicious garlic bread and a selection of other rolls.
By this point, I could have stopped, but little did I know I was about to enjoy a pair of massive main courses.
First came the sautéed Chilean Sea Bass, served with fennel puree and verjus sauce. This was a very generous portion and was flaky and rich.
Then came the beef course, today a thin cut of beef tenderloin served medium by request and served with vegetables and a Stracchino Cheese Fondue.
The art of cooking a steak on an airplane is not easily mastered and on many carriers it is quite impossible considering the meat is pre-cooked and simply warmed up in the onboard ovens. JAL does it perfectly.
A cheese course followed.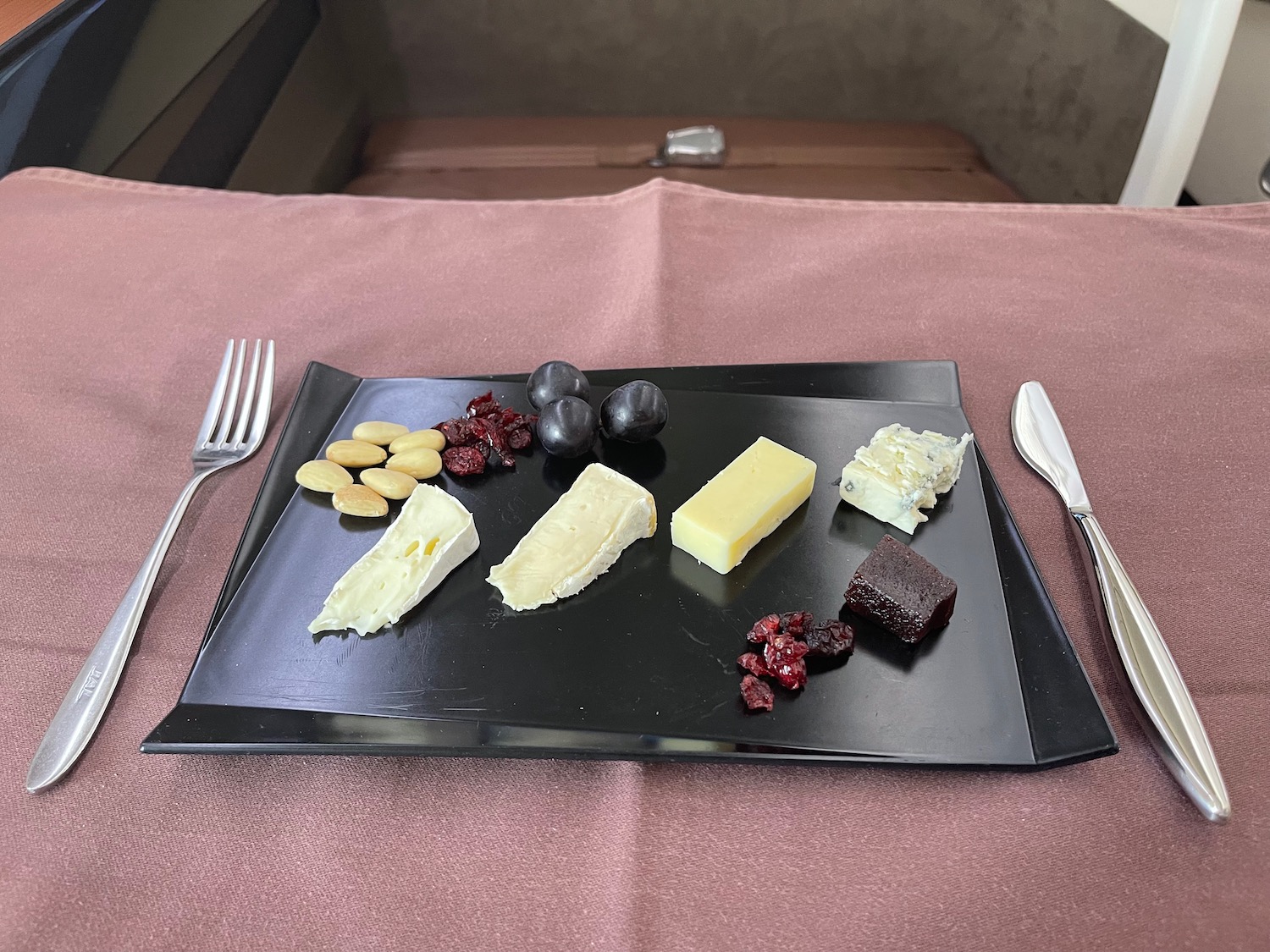 Finally, I finished the meal with a dessert trio (coffee chocolate cake, creme brûlée tartlet, and vanilla panna cotta) and a cappuccino.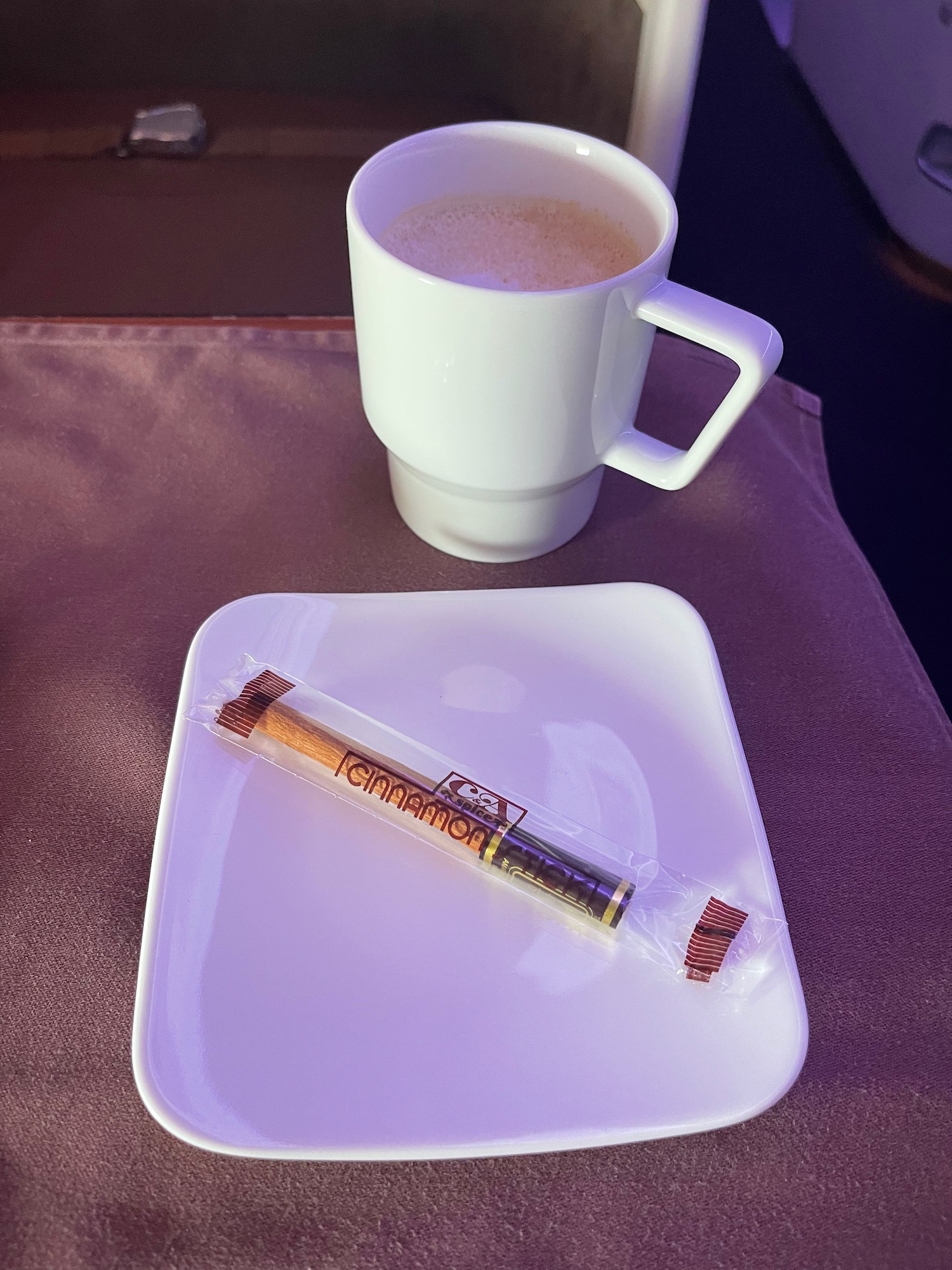 I concluded the meal smooth glass of Hibiki Blender's Choice whisky.
You can read my full review of that flight here – there were two more meals served!
And it is not just first class.
Next, let's take a look at my main meal on my business class flight from Tokyo Haneda (HND) to San Francisco (SFO).
Business Class Western Menu On JAL
From Tokyo to San Francisco, I flew on the same 777 aircraft, but in business class. Dinner was served after takeoff.
The amuse bushe included olives, almonds, and candied walnuts.
The appetizer included:
Canola Flower & Chicken Breast, Citrus Vinaigrette Flavor
Potato & Morel Mushroom dressed with Goat Cheese
"Kobashira" & Fava Bean in Tomato Cream
Marinated Pond smelt
Multiple passes of warm bread were offered.
Then the delicious main course: "Wagyu" beef sirloin served rare. I actually would have preferred it cooked just a bit more, but far better raw like this than overcooked.
That was followed by a cheese course:
and finally red velvet cake:
A full review of this flight is coming. I may also do a further comparison of the steaks between the two cabins.
CONCLUSION
The pride and precision that distinguishes Japanese carriers from their peers extends to Western food as well. Many carriers (SAS, Turkish, Austrian come to mind) do premium cabin meals very well. And yet I think JAL does it even better.
As an aside, in the great ANA versus JAL battle, I tend to be in the JAL camp (both in terms of the service and the food onboard). I do think the new ANA cabins are much sleeker, but I am expecting great things when JAL debuts the A350-1000 on its New York (JFK) – Tokyo Haneda.
Don't feel guilty ordering off the Western menu on JAL…you will not be disappointed.