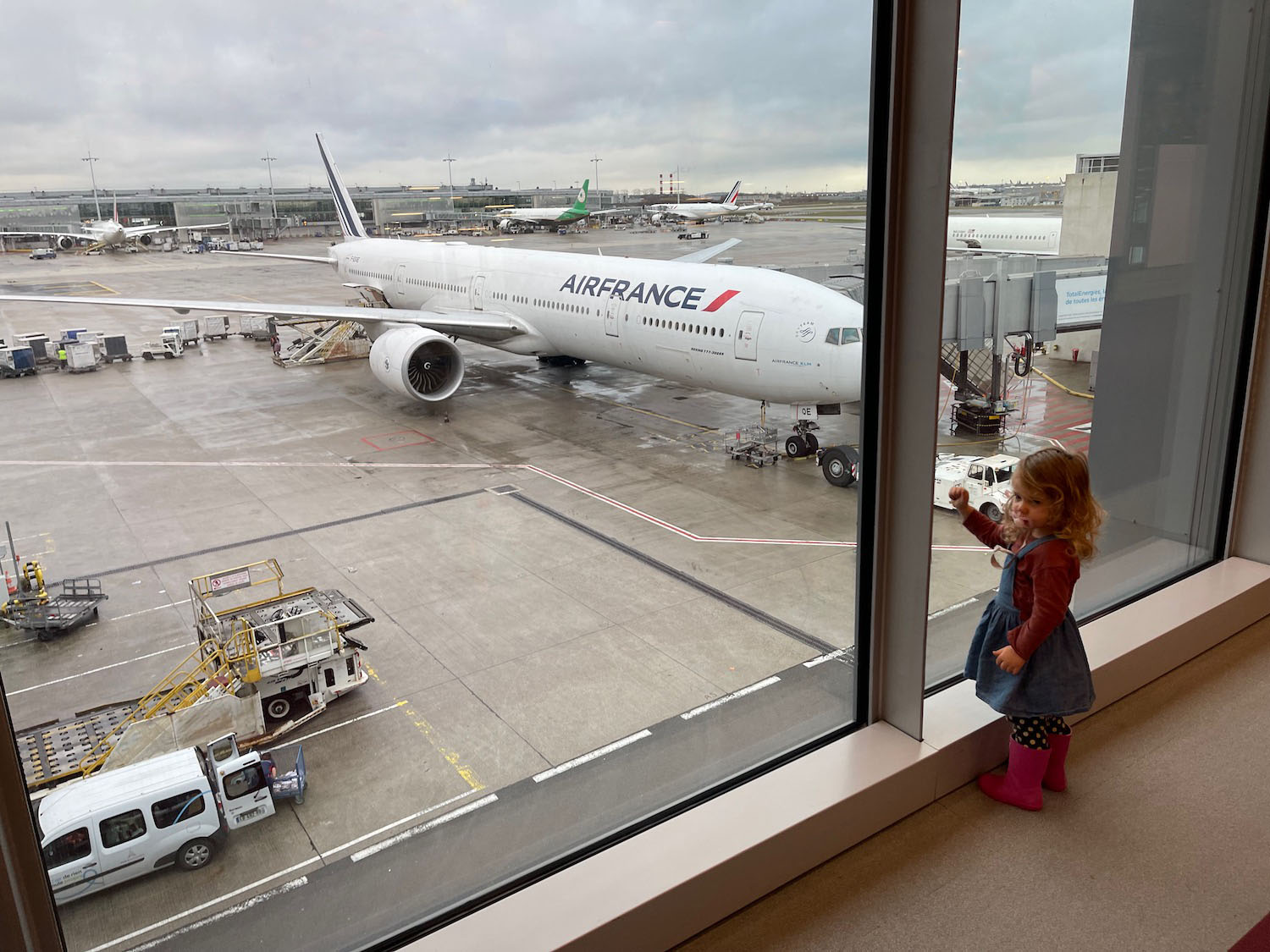 There was much to like about Air France 777-300ER in economy class from Los Angeles to Paris, though a mostly-empty flight (after an 18-hour delay) certainly made a material difference in terms of our comfort. Overall, we enjoyed excellent service onboard, a nice selection of in-flight-entertainment to help pass the time, but regrettable meals.
Air France 777-300ER Economy Class Review
I took this flight with my wife and two children. I outlined how I booked my tickets in the introduction to this trip report.
Overnight Delay
When we arrived at Los Angeles International Airport (LAX), we proceeded to the check-in desk and checked in. It was strangely deserted considering there was a flight to Pairs departing in two hours (or so we thought). When the agent handed me our boarding passes, I noticed a departure time of 2:10pm…the following day.
What?
It was almost comical…both of us must have been the last to get the memo.
The agent did not know and turned her colleague.
"Oh, the flight has been cancelled."
So nice of you to tell us. I booked the tickets via Flying Blue but received no indication via email or SMS of the delay.
Rather than go home, we spent the night at the Sheraton Gateway Los Angeles just down the street from the airport.
The following day, we maximized our time at the hotel, leaving no time to visit the lounge (Delta or Korean Air by virtue of my SkyTeam Elite Plus status with ITA Airways). In fact, we cut it rather close, arriving just as boarding was about to begin. Air France uses the new gate area in the Tom Bradly International Terminal, which requires a very long walk to reach.
With two-year-old Claire Marie at my side, we were among the first to board.
Air France 69 Air France 4083
Los Angeles (LAX) – Paris (CDG)
Wednesday, January 4 Thursday, January 5
Depart: 6:25 PM 2:30 PM
Arrive: 2:10 PM+1 10:40 AM+1
Duration: 10hr, 45min
Distance: 5,670 miles
Aircraft: Boeing 777-300ER
Seat: 43H (Economy Class)
A very cheerful flight attendant greeted us at the door and another one once we reached the economy class cabin.
As an aside, I considered upgrading us to business class – the cost was 80K one-way, so about 60K more miles than I spent for economy class – but I am glad I did not: with economy class mostly-empty (due to the delay), we had plenty of room to stretch out. Plus, we were not even tired considering the early afternoon departure.
Seat
Air France squeezes 206 Safran Z300 seats (10 seats across) in economy class on its 777-300ER in a 3-4-3 configuration. The seats are cloth-covered and fairly well-padded and feature an articulating seat pan that slides out when you recline. That gives the illusion of greater recline even though actual recline is more limited:
Seat width: 17.2″
Recline: 18°
Row pitch: 31″
Each seat includes a power port, which is quite helpful and a noticeable juxtaposition to Lufthansa, which only offers USB ports. The IFE screen also has a USB-A charger on it.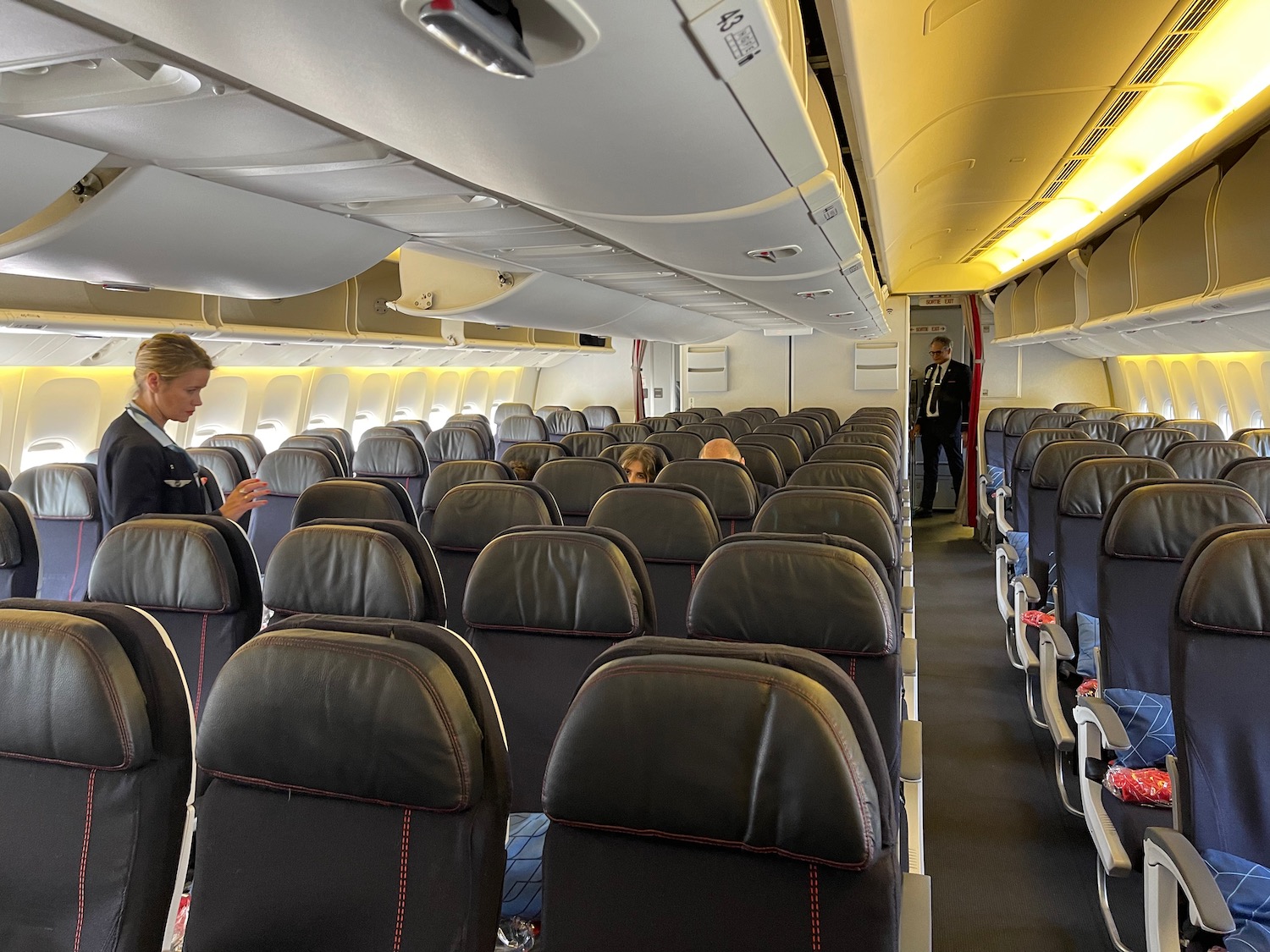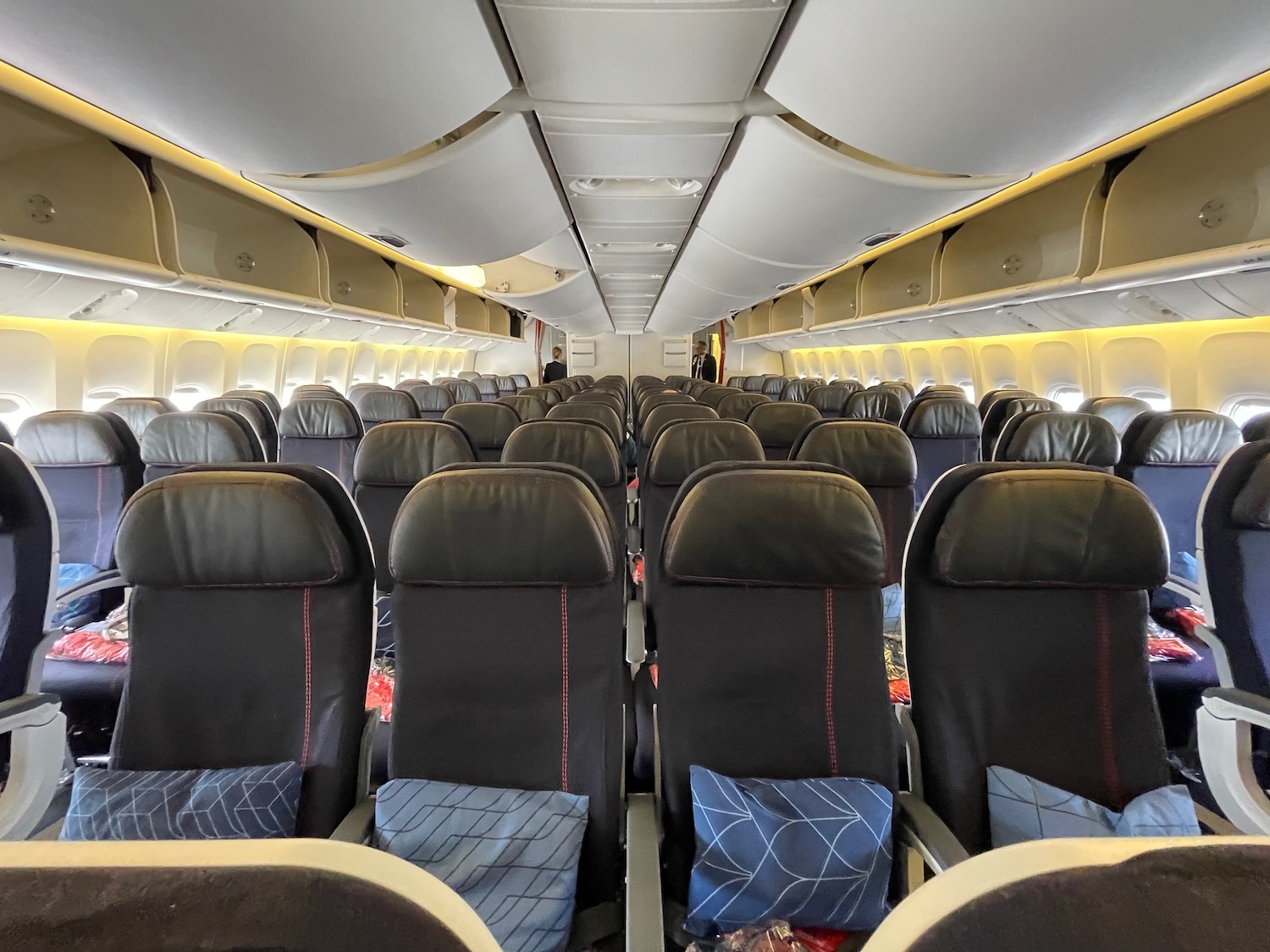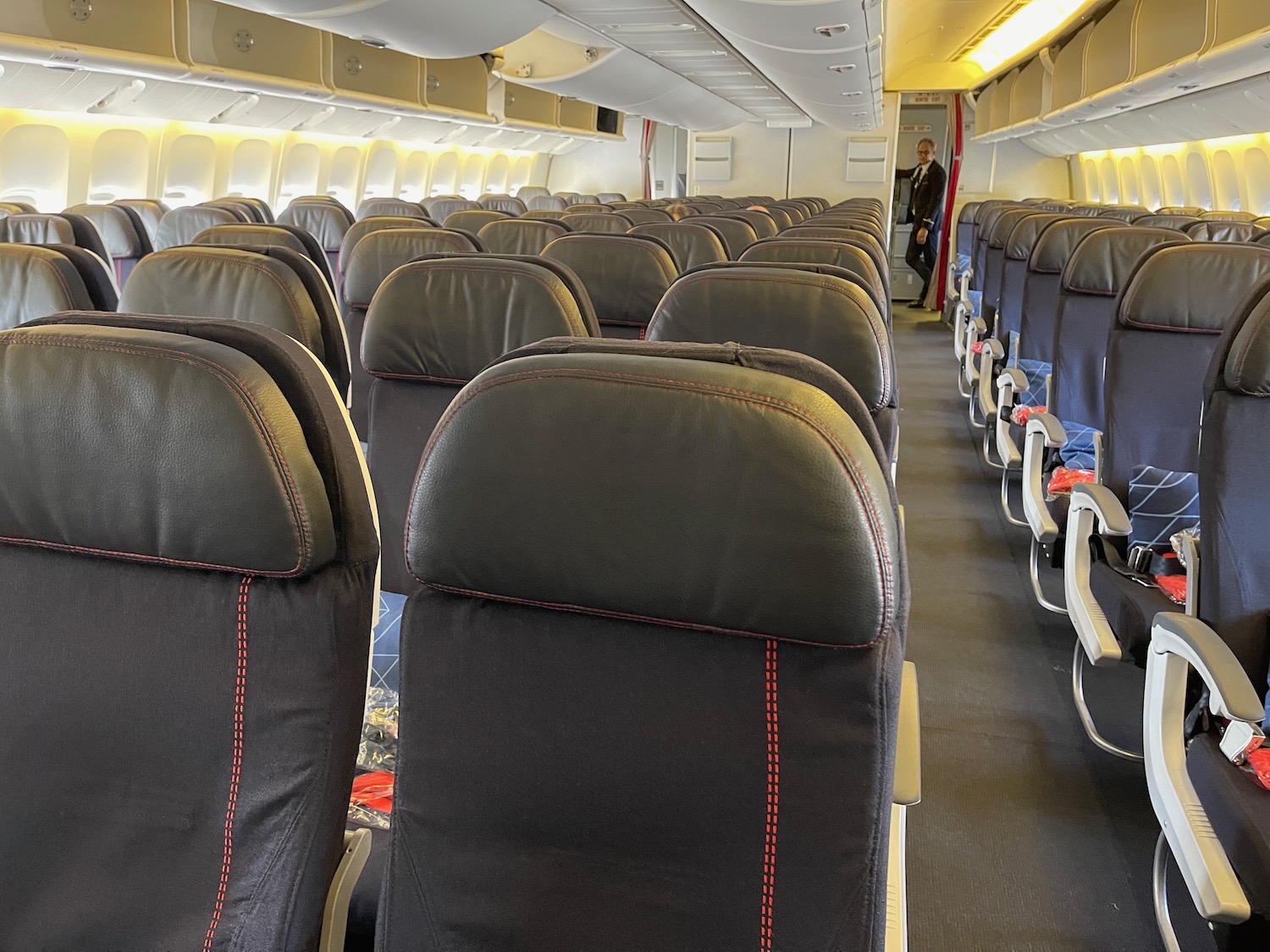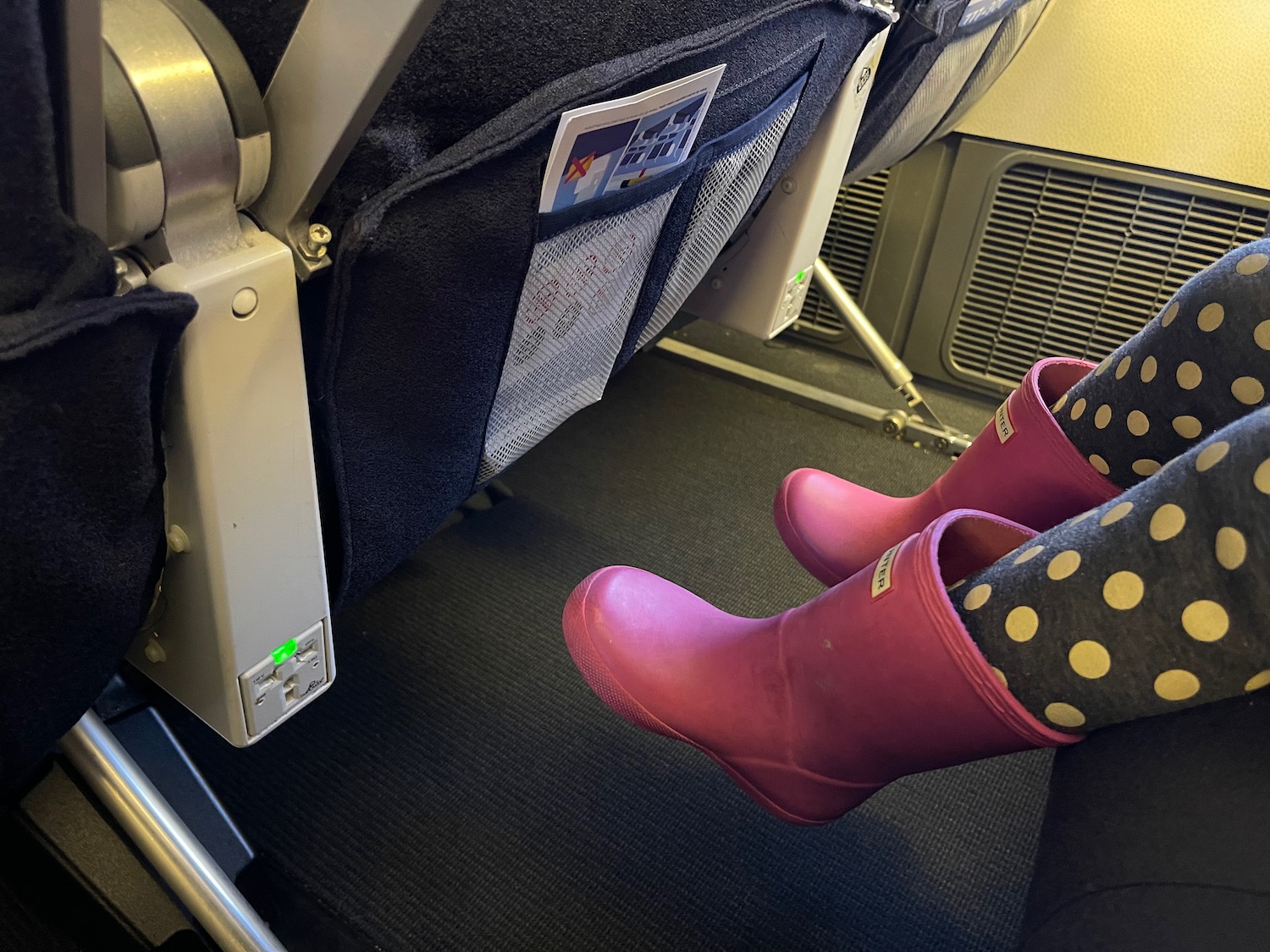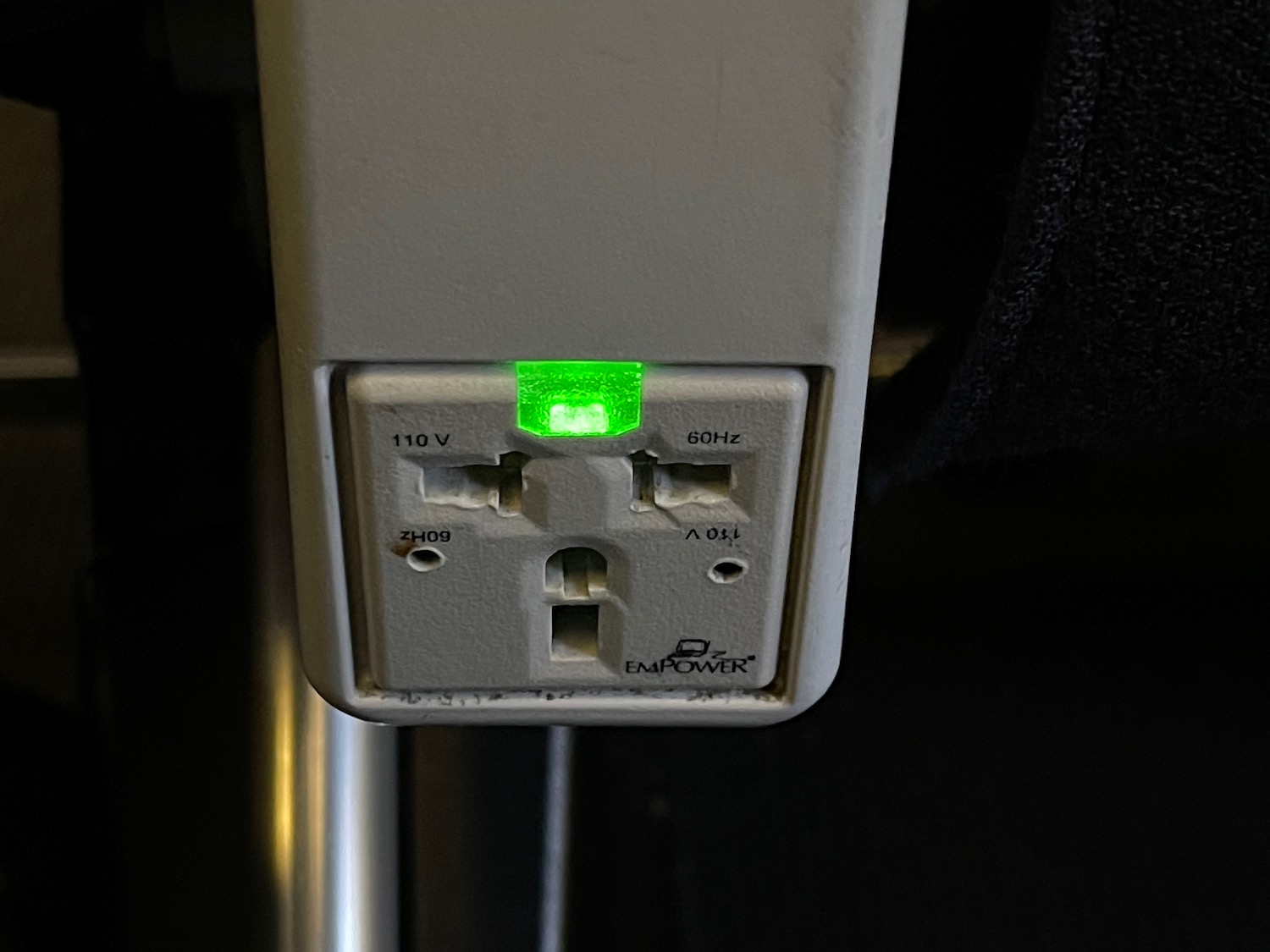 In the rear of the cabin (rows 49-52), the shape of the aircraft necessitates a 2-4-2 configuration. You can reserve these seats, ideal for couples traveling together, in advance for a fee (waived for Flying Blue or Delta SkyMiles members with SkyTeam Elite Plus status).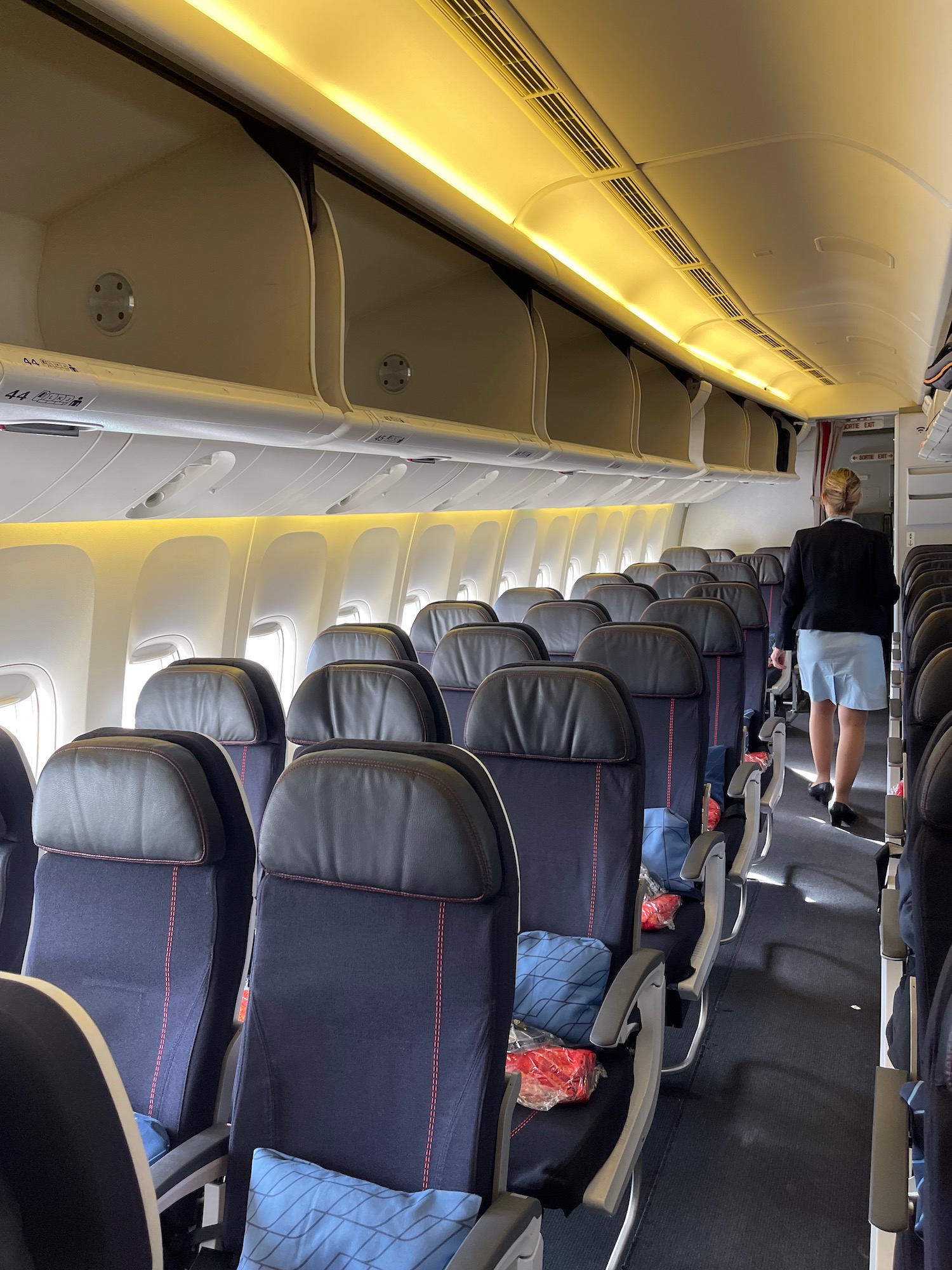 You could almost say we did not have an economy class experience, considering all four us each had a row to ourselves. Usually on flights like this you have to "stake your claim" but that was not even necessary here. While not everyone chose to spread out, all those who did had no trouble claiming extra space.
Heidi immediately took her own row while the kids decided to stay with me. Eventually, I moved so Augustine could have his own row, but little Claire Marie stuck with me until she fell asleep.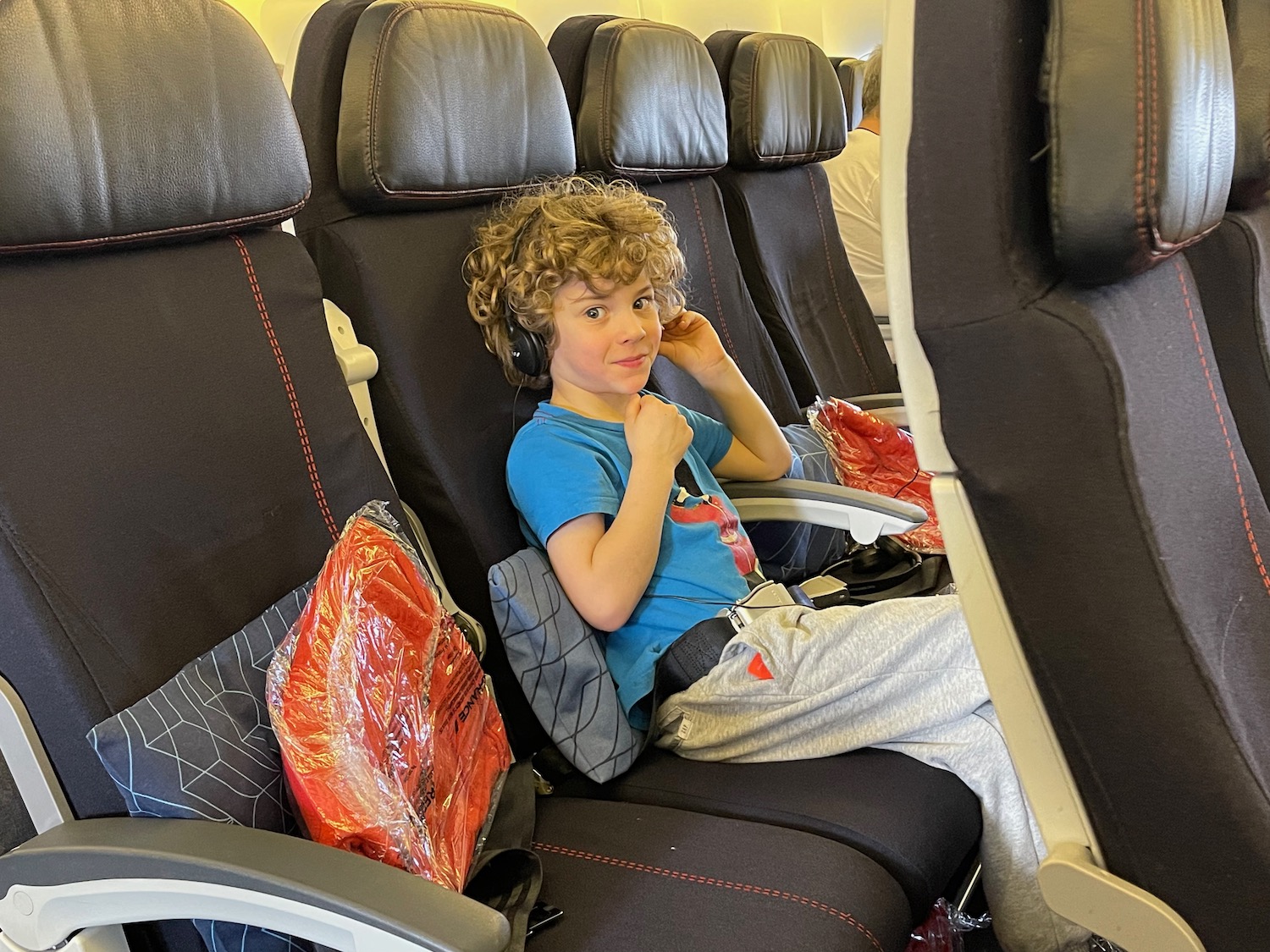 Each seat included a red blanket and blue pillow (the blanket was wrapped, the pillow was not).
Eventually, my family went to sleep and all appeared to sleep well.
I did not, however. I was wide awake and if I get a good rest, I cannot even nap the next day. So I sat up the entire flight…which probably contributed to the jet lag I experienced for much of the trip, even though I was able to remain awake until nighttime when we finally arrived.
There are no individual air vents in economy class.
Food + Drink
Lunch was served after takeoff and a brief breakfast before landing. Before the main meal service began, a child's meal was brought out for Claire Marie (even though we did not order it). It turned out to be perfect for her: pasta with tomato sauce, potato salad, apple sauce, orange juice, and Milano cookies (which of course she ate first).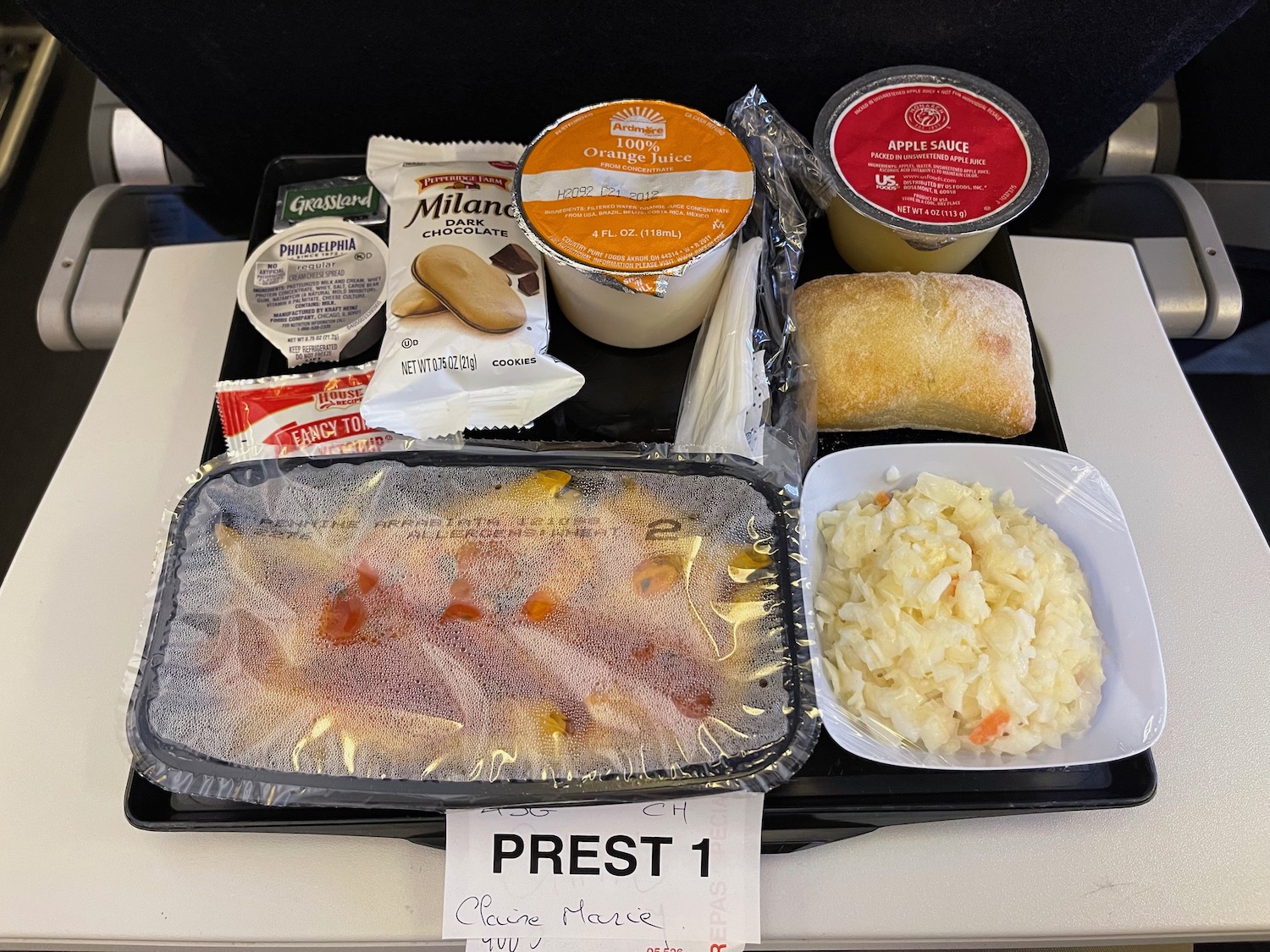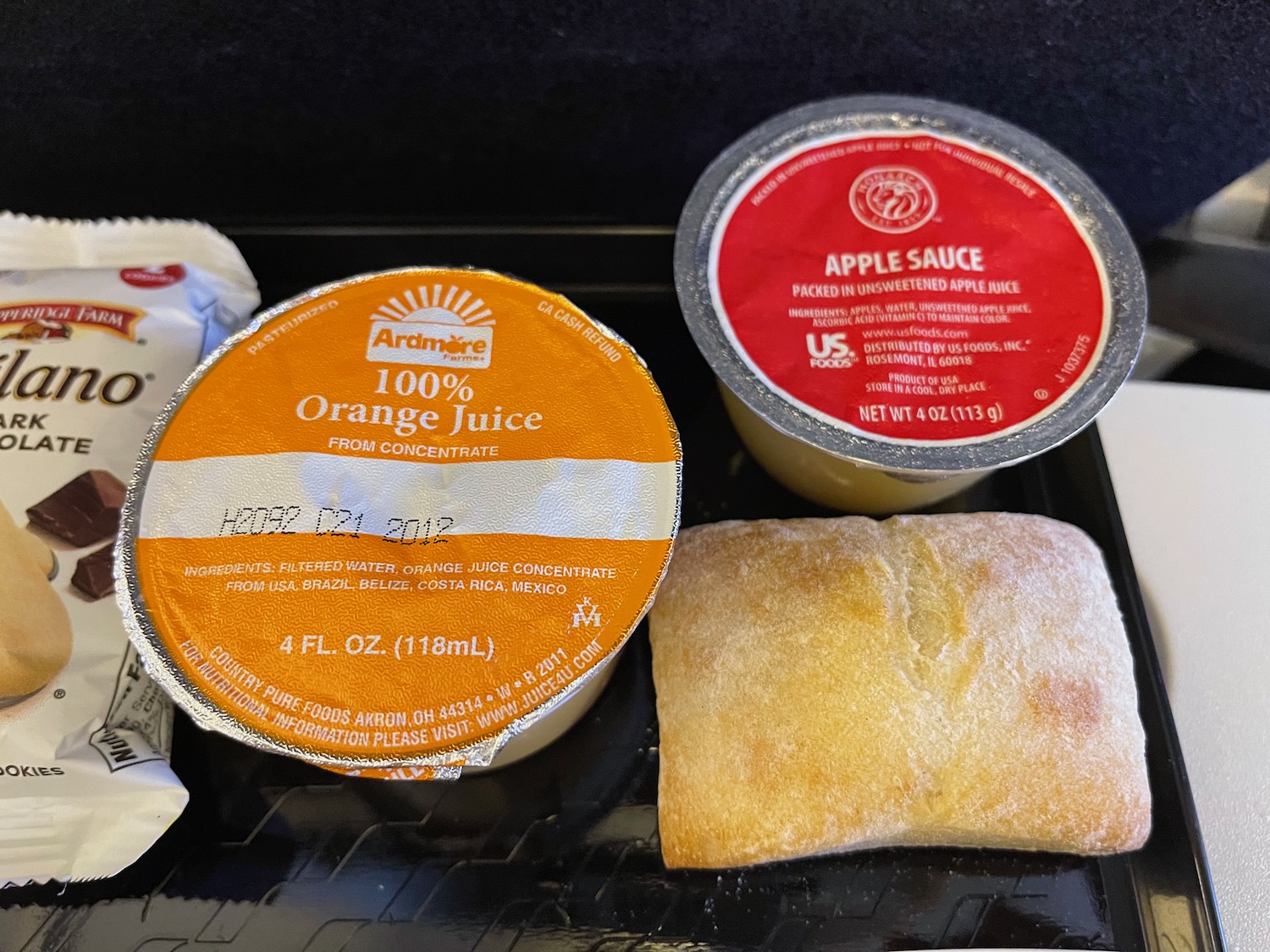 I generally avoid ordering children's meals, but this one worked well.
Before delivering special meals, flight attendants came down the aisle with Air France's signature Champagne service. Even in economy class you can enjoy a glass of Champagne on Air France. Today's selection was Monopole by Heidsieck. I'm avoiding most alcohol these days, but had a glass and enjoyed it. Refills were offered.
Moist towelettes were offered: thin, but appreciated.
After performing a full beverage service, flight attendants offered lunch, with a choice between chicken basquaise or a pasta dish similar to what my daughter had. The meal was served with a bread roll, a pre-packaged slice of Tilamook cheese, couscous salad, water, and a small piece of cake.
I thought the chicken dish lacked flavor and particularly lacked chicken itself, but I had consumed a large breakfast a few hours prior so I was not that hungry anyway.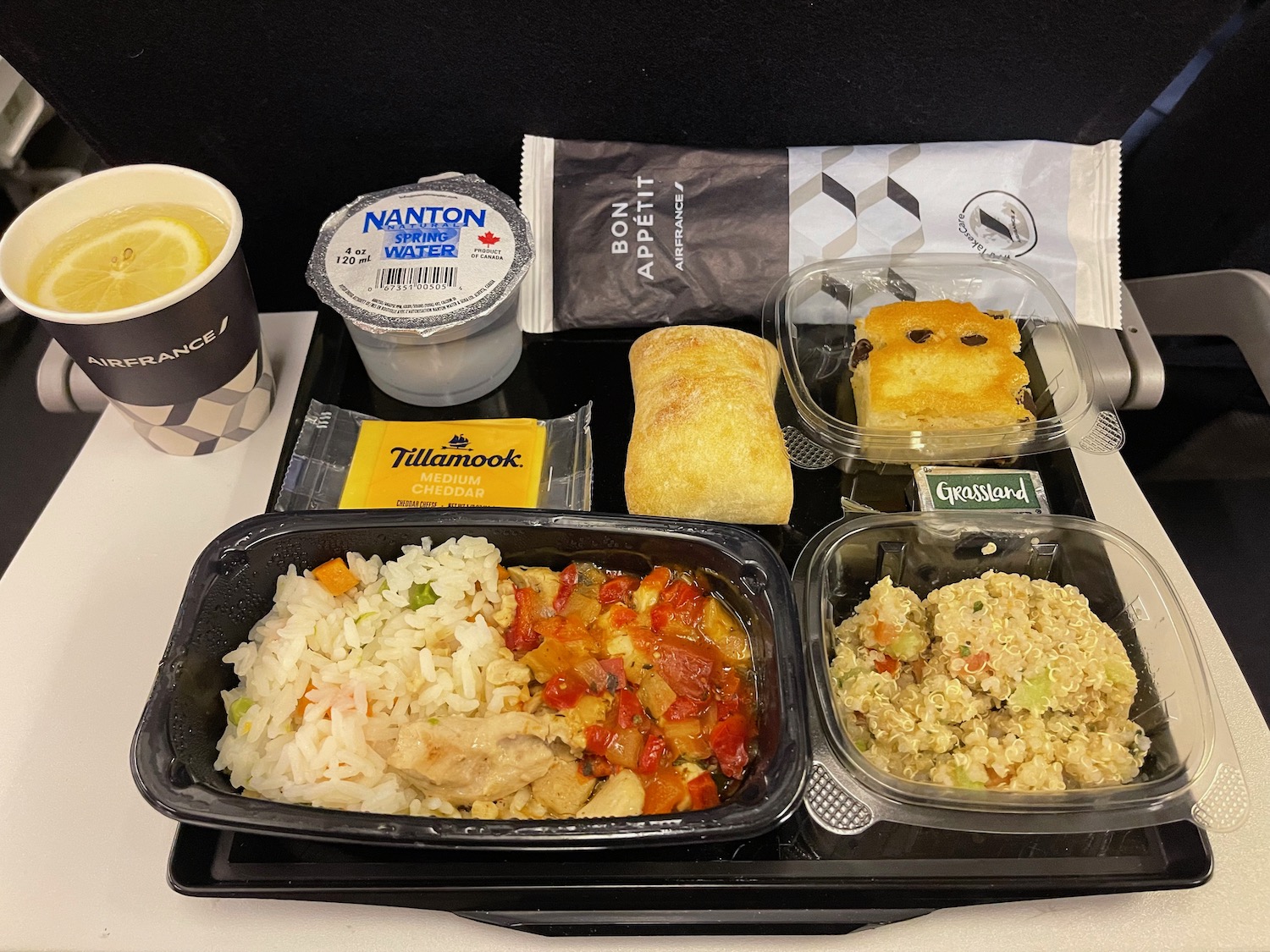 A few hours later, though, I was quite hungry. I got up and walked to the rear of the aircraft, where I found a self-serve beverage station and a snack area wtih sandwiches and kefir in a plastic container and next to it a "My Little Gourmandsies" box with candy and cookies.
Augustine and I enjoyed some treats, though we when we went back to get some more, there were none left: we apparently were not the only ones who were hungry.
About 90 minutes before landing, breakfast was served. Air France has streamlined breakfast service, offering each passenger a cute little red bag filled with assorted items. Since I was the only one awake, a flight handed me four bags.
The breakfast bag included a packaged fruit cup, orange juice, a highly-processed ball-shaped bread roll, kefir, and a pastry (I think?) that that had been warmed. This thing was shaped like a Hot Pocket, but there was nothing inside it. It was a bit flaky like a crossiant, but certainly not a croissant. So what was it? Is this a usual French breakfast item I have simply never previously seen?
Heidi soon woke up and we watched the sunrise together, a beautiful sight, while sipping coffee (whcih was far less beautiful…Air France is simply pathetic when it comes to coffee, even in La Premiere).
Eventually Augustine woke up and joined us. Claire Marie remained in a deep sleep (until landing).
In-Flight-Entertainment + Wi-Fi
Air France offers a rich library of movies, TV shows, games, and music on each 11.7″ HD seatback screen. Headphones were provided. Even though I did not sleep during the flight, I only watched one movie, called Peace By Chocolate. It is based on the true story of a family of Syrian refugees who move to Canada and start a chocolate business. I fond it very nicely-done.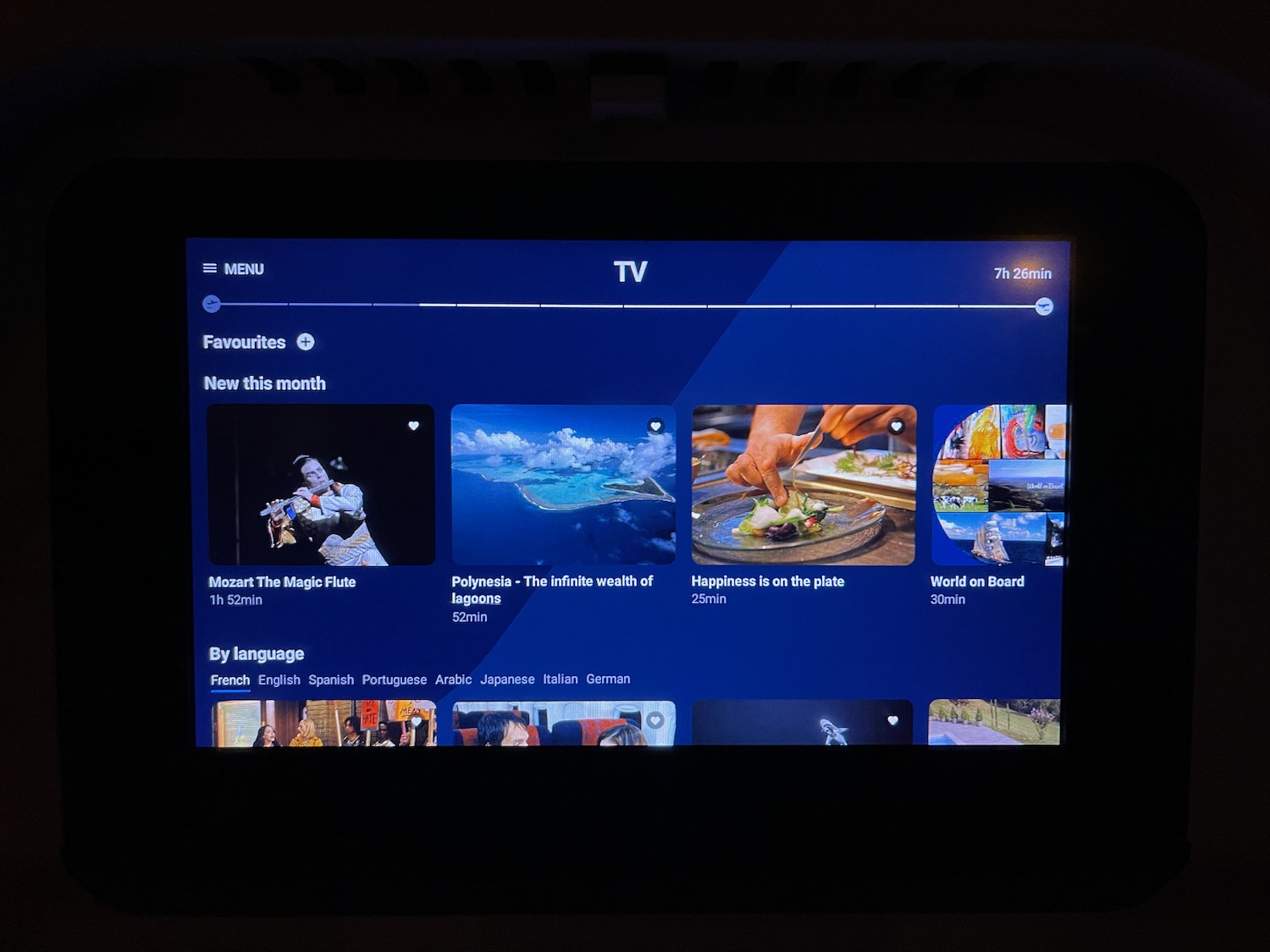 In-flight internet was available for purchase at various tiers.
Messaging – free
Surfing – 8EUR/hour or 18EUR for full flight
Stream – 30EUR for full flight.
My work was done for the day so I simply connected to the free messaging, which worked flawlessly.
Flight connections were displayed on the main cabin monitors prior to landing.
Kid's Amenities
Each of my kids was offered a very nice activity kit with colored pencils. It included stencils, a coloring book, stickers, and games. These sorts of gestures are highly-appreciated and I loved seeing my children so entertained without screens.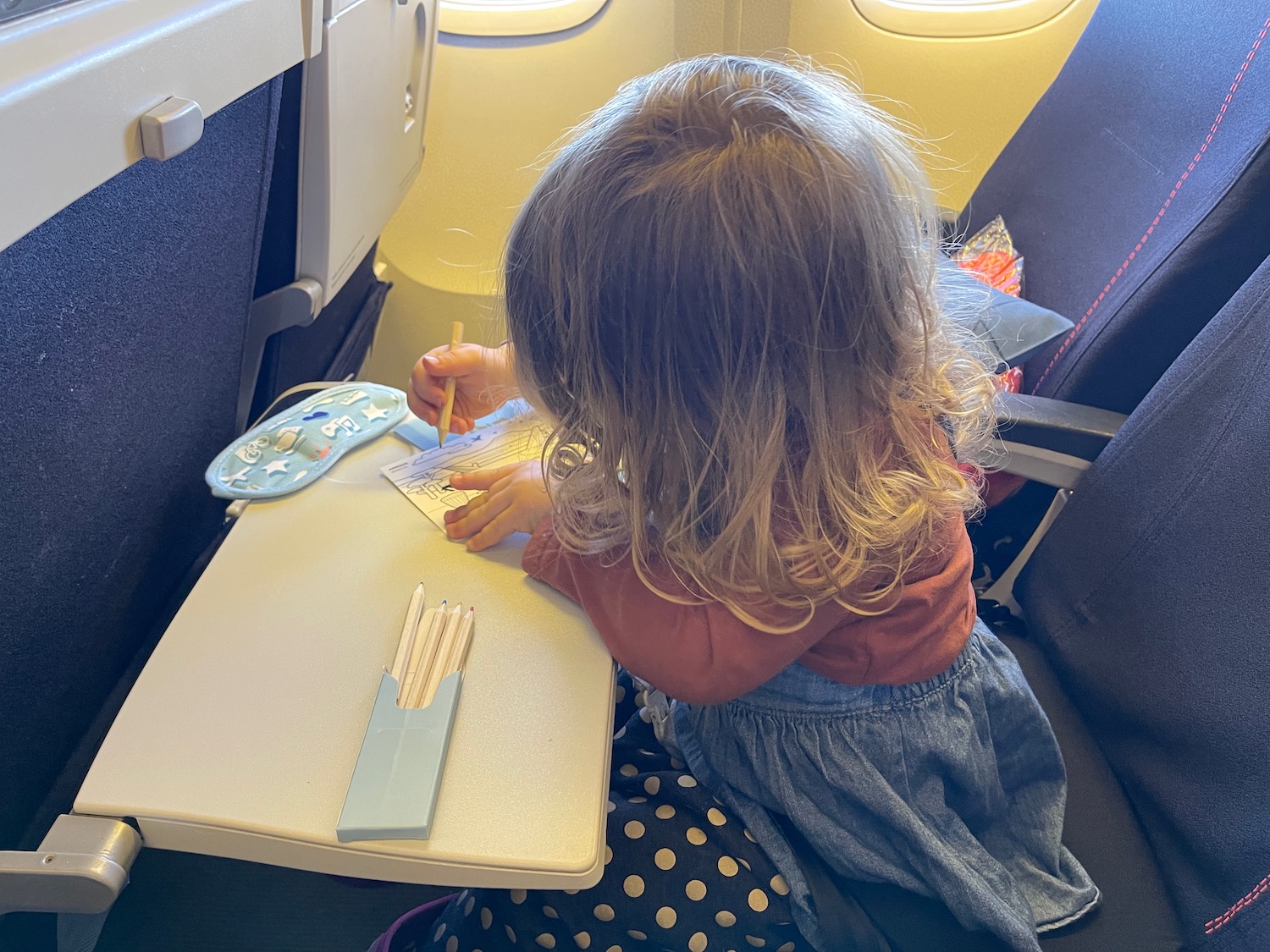 Service
I have nothing but positive things to say about the flight crew. We interacted with at least five flight attendants onboard and every single one was friendly (not just polite, but friendly). When we landed, two crew members offered to help us with our bags (we were traveling heavy…). The crew was simply superb.
Lavatory
The Air France 777-300 has lavatories positioned behind premium economy class and more in the rear of economy class. There lavatories were clean but did not offer any extra amenities.
CONCLUSION
Air France 4083 arrived "on-time" in Paris, but we actually arrived 18 hours late, which was truly a shame since one reason we chose to fly Air France was to spend a night in Paris was so that Augustine could climb the Eifel Tower. Next time!
An economy class flight is never a problem when most seats are empty…my review would probably be less charitable and the flight been full. But I was happy to fly Air France (last time I was on this flight I was in the front of the plane…this time I was in the rear) and would do so again.
During the off-season, mileage pricing can be very attractive: Air France is a great way to get to Paris and beyond on a budget via Flying Blue, the loyalty program of Air France-KLM.
---
> Read More: Air France 777-300ER First Class Los Angeles – Paris