The Grand Hyatt At SFO is a fabulous airport hotel, providing convenience and comfort that is worth the premium over other airport hotels at San Francisco International Airport. This review covers my stay in a corner suite.
Grand Hyatt SFO Location
The hotel is located on the airport premises just a few stops away on the Red Line or Blue Line train connecting the airport terminals to BART. Which line you get on depends upon which terminal you arriving or departing from. 
Upon landing, just following the BART signs and you'll quickly be able to determine which train to hop on.
The journey from Terminal 3 took six minutes on the red line. Stepping off the train I smiled at the KLM 747 and Korean Air 777 which greeted me. I took an escalator downstairs to the actual hotel entrance.
Note: SFO has reduced this train service during COVID-19. Expect longer wait times. Plan accordingly.
There's also an official front entrance to the hotel located below the lobby level if you are driving yourself (valet is available).
Grand Hyatt SFO Check-In
After taking the escalator downstairs from the train station, I found a welcome desk flanked by beautiful stained glass windows on the landing. Although not the official check-in desk, a kind lady checked me in, recognized my Globalist status, and notified me that I had been upgraded to a suite overlooking the tarmac.
The formal lobby is cozy, with comfortable chairs and couches plus a fireplace. I proceeded past to the guest room elevators and found my corner suite all the way down the hall on the 11th floor.







Grand Hyatt At SFO Suite
The suite included a living room, bedroom, and large bathroom. The room itself was beautiful with extremely comfortable bedding, but what really made this room special was the tarmac views.
A coffee machine, tea kettle, and bottled water (in aluminum, since SFO banned plastic water bottles and the hotel is on the airport premises) were available and the room had well-thought plugs and a nice alarm clock that doubled as a mobile phone charger. One drawback: no USB Type-C plugs. That was shortsighted…
If you needed anything, you were invited to text the front desk…again, another great precursor to COVID-19.
The bathroom included dual sinks, a huge soaking tub overlooking the tarmac, a large walk-in shower, and a lovely Toto toilet with all the bells and whistles.
I woke up very early and caught the sun rising the next morning.
Grand Hyatt SFO Grand Club
I was waiting for my brother to arrive and enjoyed some appetizers in the Grand Club at around 6:00 PM. Each night, the Grand Club offers free Hors d'oeuvres from 5:00 PM to 7:00 PM and dessert until 9:00PM, though I suspect service has now been modified due to the pandemic. An honor bar is available.
There was also a beautiful buffet spread in the mornings from 7:00AM to 10:00AM with mostly cold items but a few hot dishes like mini quiche, congee, and bacon.
My only gripe: my key card did not work. They reset it three times and for whatever reason it would not open the door of the Grand Club. Since the front desk is not always staffed, I found myself at the mercy of waiting for other guests to come in and out.
Grand Hyatt SFO Quail & Crane Restaurant
Just outside the Grand Club is Quail & Crane, the hotel's main restaurant. The Asian-fusion menu looked tempting, but prices were high…not surprising for a swanky airport hotel in San Francisco, but hard to justify after appetizers in the lounge and so many wonderful restaurants in the city.
The breakfast buffet in Quail & Crane largely overlapped what was available in the lounge in terms of breakfast breads and cold items, but there were many additional hot items.
Globalists do not have a choice to eat here or the Grand Club as part of their breakfast benefit, only the Grand Club.
Grand Hyatt SFO Bar
My brother ended up being delayed and arriving very late. We were going to head into the city for dinner, but ended up just staying at the hotel and eating in the bar. He had a "Beyond Meat" burger and I had a cheeseburger, which we shared…those meatless burgers have come a long way and are very tasty! We had a couple cocktails too and the bartender was very professional and knowledgeable about the art of making cocktails.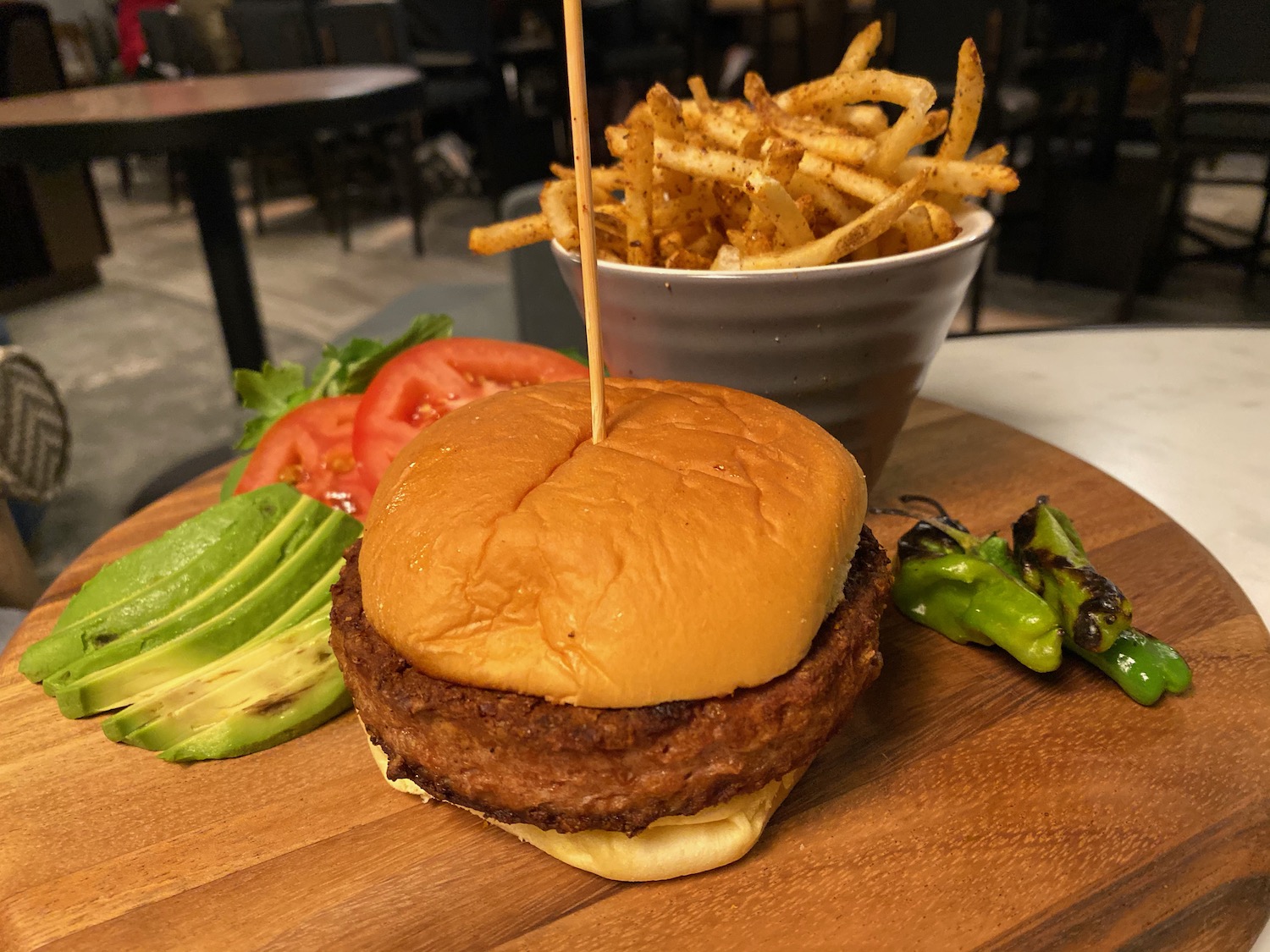 Rather than paper menus, the hotel uses tablets.
While we were sitting in the bar, a beautifully-dressed blonde escort, about six feet tall, sat down next to a short, fat man in a rumpled suit who was eagerly waiting for her. They were sitting right next to us so we had to endure their small talk before they finally went upstairs…
Grand Hyatt SFO Coffee @ Twin Crafts Market
Although the lounge had free machines dispensensing espresso beverages, I noticed a nice coffee machine in Twin Crafts Market, located adjacent to the bar on the lobby level, and decided to try a cappuccino. It was very good…far better than anything an automatic machine can produce.
Grand Hyatt At SFO Gym
A large gym with modern cardiovascular and strength training equipment is available 24/7 on the lower level. This hotel has no pool, sauna, or steam room.
CONCLUSION
I'll admit it, I flew up to SFO last-minute just to try out this hotel shortly after it opened last October (it didn't hurt that my brother was on a work trip and could expense it). Then I dragged out writing the review because I had to sort through over 500 pictures, which takes far more time than the review itself. But this is a lovely hotel…one of the best airport hotels I have ever stayed at. This is a great addition to the Hyatt portfolio and a superb option for those who have an overnight layover or early flight out. Expect great service, a comfortable bed, and easy access to SFO.