I've grown weary of the lack of variety in the business class meals on United Airlines' premium transcontinental flights. So for my last flight, I ordered a kosher meal even though I am not observant nor Jewish…and was pleasantly surprised.
Trying Out A Kosher Meal In United Airlines Business Class
Consider a special meal like a kosher meal on your next United Airlines flight in business class.
How To Order A Kosher Meal (KSML) on United
I put in my request on united.com because when I tried to use the mobile app it would not stick (I would click save, but then when I returned to the itinerary, it would show no special meal ordered).
United offers special meals in business class on domestic flights over 2,000 miles and most short-haul and long-haul international flights departing or inbound to the USA. Choices include:
Asian Vegetarian (AVML)
Gluten-Free (GFML)
Kosher (KSML)
Vegan (VGML)
The choices when flying between New York and Los Angeles have really not changed in ages, with ravioli or chicken in one direction and Asian noodles or ravioli in the other direction. Thus, I decided to order the kosher meal, which was represented as a "strict" Glatt kosher meal.
Glatt kosher historically referred to meat from animals with defect-free lungs, but the term is more commonly used today to represent a product was processed under a stricter standard of kashrut (Jewish dietary laws).
Before takeoff, a flight attendant confirmed my kosher meal had been loaded and ask if I wanted to eat dinner after takeoff. Shortly after we leveled off, dinner service began and I received a wrapped tray as well as a double-wrapped hot meal placed on top.
While not pretty, everything is sealed sealed so it will not get "contaminated" by anything that is not kosher.
Unwrapping the first layer, I found a sealed bread roll, a salad with olives, rice, and eggplant, a pastry-like dessert with chocolate icing and filling, as well as a packet of instant coffee, tea, and a sealed cup of water.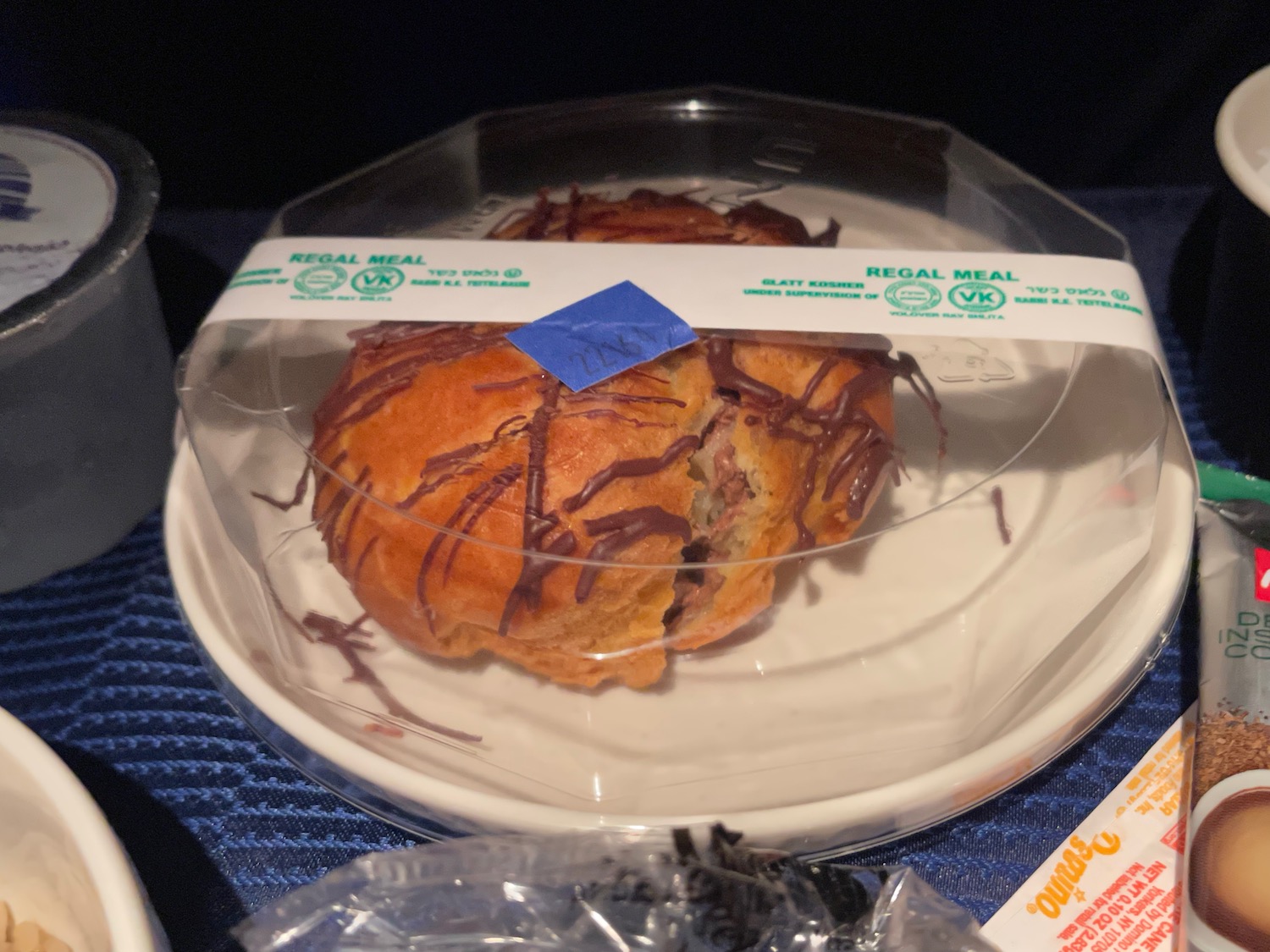 The catering was by Regal and included a rabbinical note:
Unwrapping my main course, I found it sealed and wrapped in another layer. After unwrapping that layer, I was pleased to see a very edible-looking roast beef dish with peas, carrots, and what looked like couscous (even though the ingredient sheet said it was red potato wedges).
I was a bit dismayed to see that the main course, even though it featured beef, had a use by date of 03/13/23, more than six months away. It is my understanding these entrees are frozen.
After fianlly unwrapping everything, I dug into the meal:
I must admit, not bad…and a great alternative to the usual meals on this route. I ate most of it before falling asleep.
Bonus Meal
As we prepared for landing in New York, a flight attendant presented me with "breakfast," which was really another full lunch or dinner meal.
It included bread to make a sandwich, a sealed packet of turkey, potato chips, a cookie, and some sort of chocolate pudding.
I was not expecting the second meal and ended up leaving it behind…
CONCLUSION
I was impressed by the Kosher meal on my United Airlines transcontinental flight in business class. My understanding is that the Kosher catering is even better out of Newark (Fresko instead of Regal /Borenstein) and I will order a kosher meal again.
If you're tired of the same old choice each flight, do consider ordering a special meal.