For my trip home, I flew LOT Polish from Krakow to Chicago in business class on the 787-9. While not horrible, I was disappointed by several aspects of the business class experience.
LOT Polish 787-9 Business Review
The trip started with a long delay. Upon cheeck-in at John Paul II Kraków-Balice International Airport we were informed that our flight departure would be delayed 3 hours, 35 minutes due to a late incoming aircraft. We were offered a meal voucher for 25PLN (about 5USD), which I found quite petty and was barely enough for a cappuccino.
I was traveling with my friend and we both had work to do and found the pre-security food court area more pleasant than the lounge for spreading out without so many people around us.
At 6:00pm, we stamped out of Poland and made our way to the gate.
Finally, our aircraft arrived and boarding commenced 20 minutes before our 7:00pm scheduled departure. We ended up not leaving until 7:20pm.
LO 009
Krakow (KRK) – Chicago (ORD)
Monday, October 18
Depart: 4:25PM (7:20PM actual)
Arrive: 7:35PM (10:01PM actual)
Duration: 10hr, 10min
Distance: 4,740 miles
Aircraft: Boeing 787-9
Seat: 4D (Business Class)
Stepping onboard, I was greeted by a flight attendant, who pointed forward toward the business class cabin.
Seat
Business class includes a single cabin of 24 forward facing seats arranged in a 2-2-2 configuration over six rows. The seats are off-the-shelf Zodiac Aura Lite seats you will also find on Uzbekistan Airways, Kenya Airways, and Ethiopian Airlines' Dreamliners as well. Seats are 23 inches wide and 78-80 inches in lie-flat mode.
The flight was lightly booked and because the sun was already down and would remain down for the duration of the flight, my friend and I moved across the aisle from our original seat assignments in seats 4 A and B to 4 C and D.
Seats include a universal power port, USB-C port (not strong enough to charge), a storage compartment for shoes or small items as well literature, and a snake reading light.
Each seat cover had what I considered to be a tacky headrest cover celebrating Poland's independence. I also celebrate the restoration of Poland's sovereignty in 1918, but the headrest covers looked like advertisements.
The seat itself is comfortable enough for lounging and sleeping, but LOT Polish doesn't help by providing a warm and scratchy blanket and small pillow for sleeping (oddly, along with a sheet instead of a real mattress  pad that might provide some added cushion). Furthermore, there are no individual air vents and the cabin did get hot during the flight.
I found the privacy divider quite strange: you can raise the center armrests to give yourself a bit of privacy if traveling with a stranger, but it's an odd look with the armrest hovering above you.
Wi-Fi + IFE
Even though this aircraft has the Wi-Fi hump on the top, there was no wi-fi available. Noise-cancelling headphones were offered and a library with movies, TV shows, games, and music was available. With about 40 movies to choose from, I'd place the movie library size at below average.
I did find a movie to watch which I quite enjoyed, called The Good Liar. Such a great twist in the end! I won't spoil it for you.
A hand-held remote did not work.
Lavatory
The aircraft featured one lavatory in the front of the business class cabin and two in the rear (also shared by premium economy passengers). I did love that a beautiful rose was placed on the mirror.
Amenity Kit
A beige colored amenity kit was sitting at each seat, with contents which included:
socks
eyeshade
ear plugs
toothbrush + toothpaste
emory board
Very flimsy slippers were also offered.
Food + Drink
Prior to takeoff, a choice of water or orange juice was offered as well as a piece of candy (Solidarnosc candied plums).
No menus were distributed and dinner orders taken before takeoff.
Here's how the conversation went down:
FA: "Beef, chicken (or may be turkey), or salmon?"
Me: "What kind of beef?"
FA: "Steak"
Me: "I'll try that."
That really set the tone…
The "Northern Lights" were put on for takeoff but shortly after the cabin lights were turned back on and meal service began.
First up, a choice of beverage and packet of peanuts.
At the same time, the appetizer tray was plunked down in front of me.
It included cold, stale bread, a decent salad (arugula, mangoes, tomatoes, though only oil offered as a dressing), and a dry price of chicken or turkey as an appetizer with capers and a slice of some kind of cured meat with it. I'm guessing here…remember, there was no menus or descriptions from the flight attendants.
Shortly thereafter the main courses showed up. My steak was cooked so far beyond well done that it was simply inedible. I'm usually good about eating just about anything put before me on an airplane, but not this. It was terrible.
Kudos to LOT for the presentation, though. I like the plating of meals without using trays.
My friend ordered salmon and also found it dry and the quinoa, corn, and zucchini sides were not great.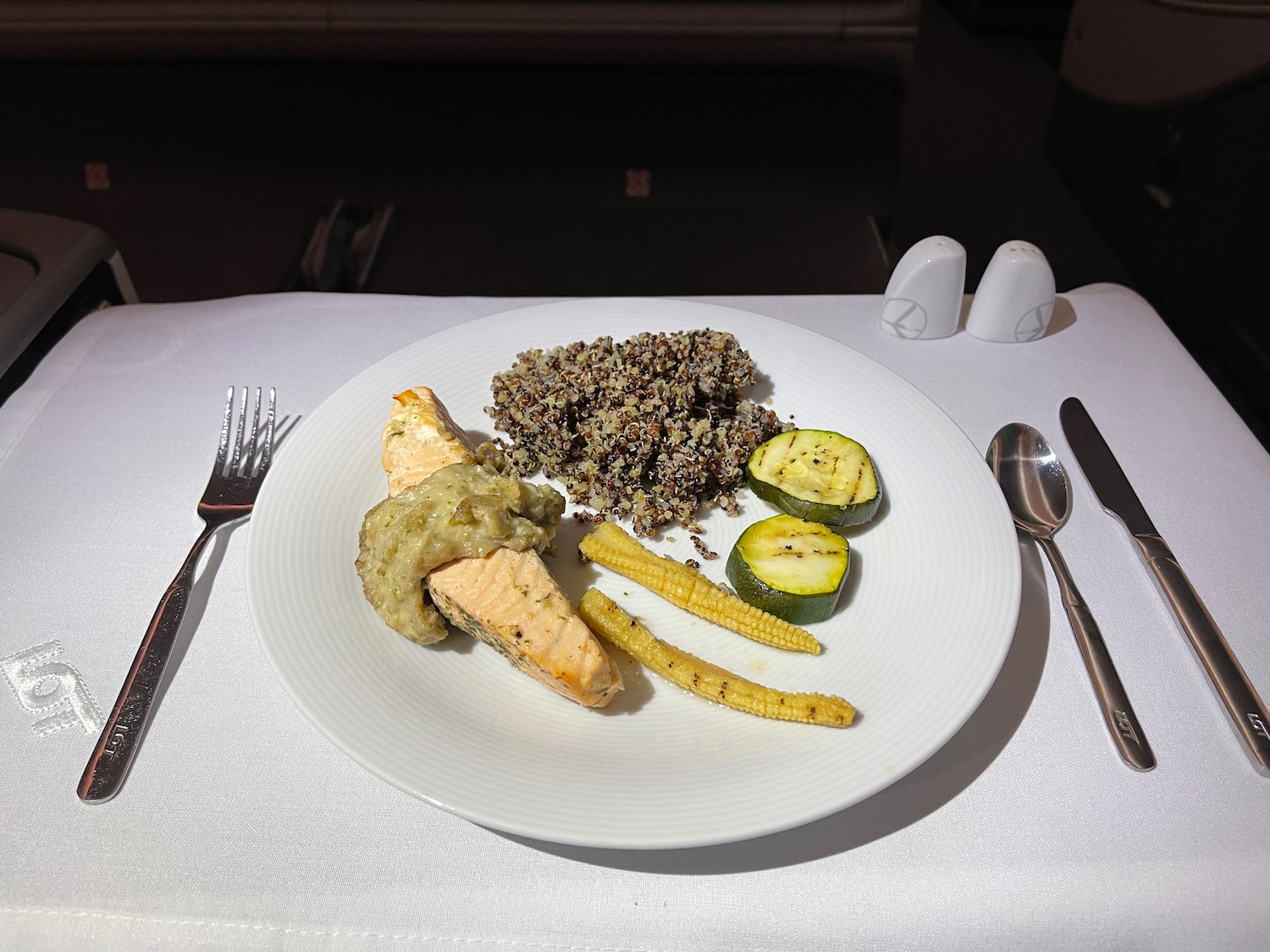 Thankfully, the dessert cart soon rolled down the aisle and this was the best part of the meal.
I ordered both cheese and cake along with a cappuccino and found all three quite satisfying and indeed, the only saving grace of the meal.
No snacks were offered during the flight, but when I got up to use the lavatory, I noticed what might have been a snack sitting in the galley (although I suspect it was just a coach meal).
I also noticed a basket with chocolate bars and peanuts.
About two hours prior to landing, flight attendants served a cold meal. It included sliced turkey (or was it chicken?), shrimp, another stale bread roll, and some sliced fruit.
Overall, a disappointing meal. I would have preferred a simply bowl of soup and salad like Lufthansa serves or even a hot vegetable plate or cheeseburger like United serves.
I will give LOT credit for its coffee and enjoyed an espresso before landing, served with a small glass of still water.
Service
In addition to what I mentioned above, the crew was missing in action between meal services, which represented the vast majority of the flight. Since I could not sleep, I sat watching movies and working on my laptop. The crew were missing…and were not even in the galley when I got up to use the lavatory.
The crew was by no means hostile, but was really just going through the motions and did not seem happy or enthusiastic to serve. That's a missed opportunity.
CONCLUSION
My takeaway from LOT Polish is that the 787 business class product is below average overall. I did appreciate the coffee and dessert options and lie-flat seating, but was disappointed by the lack of wi-fi, poor bedding, food, and service. I'd give LOT Polish another try under the right circumstances (like flying nonstop from Krakow to Chicago), but I will not be rushing back to fly LOT anytime soon.