There's a lot to like about the Park Hyatt Doha, a beautiful modern property in Doha's Msheireb Downtown District. While my stay was not flawless, it was positive overall, with several enjoyable elements.
Park Hyatt Doha Review
After five nights at the Four Seasons, I spent my final night in Doha at the Park Hyatt.
Booking
Luxury hotels are often such a great value in Doha. Rooms typically run $200-300 per night and for my stay, I paid just a tad over $200.
While my Globalist status in the World of Hyatt program meant I received a free space-available room upgrade to a suite, late checkout, and complimentary breakfast, these benefits are also available by booking with a Hyatt Privé agent if you do not hold top-tier status.
Check-In
I arrived by Uber from the Four Seasons at about 2:00 pm and was greeted by a bellman at the ground floor, who accompanied me upstairs to the lobby with my bag. The lobby includes a comfortable sitting area ("Library") as well as a check-in area with the Emir of Qatar, Sheikh Tamim bin Hamad Al Thani, and his father looking down over us.
A front desk associate welcomed me to the property and informed me that I had been upgraded to a Park Suite (though I had seen this already on the Hyatt mobile app).
Something interesting for World of Hyatt Globalists to consider. According to the hotel website, all suites are considered "premium" suites, even the base Park Suite, so keep that in mind. This hotel has been known to play shenanigans with upgrades (though I did not experience that) since the new General Manager arrived, so be prepared to deal with that.
Park Hyatt Doha Park Suite
My 90 square meter suite, room 1602, was very spacious – the living room and bathroom were huge. The living room included a work area and sitting area, as well as a guest restroom.
A large platter of fruit was sitting on the table as well as a Nespresso coffee machine and bottles of water.
The bedroom was not huge, but the bed was extremely comfortable and I loved the wireless charging port, which is the way of the future in world in which so many hotels still have Apple 30-pin chargers which were phased out seven years ago.
Another sign of the times, a light for selfies:
Larger than the bedroom, the bathroom included and oversized tub, walk-in shower big, water closet, and two sinks.
The closets were in the bathroom.
Shower amenities were Santal 33 from Le Labo.
Views from the room were of the city below, with the skyline in the background and the Museum of Islamic Art also within sight.
Air conditioning was controlled by separate thermostats in the bedroom and living room.
Finally, I loved the fresh-cut flowers in the room, which were exchanged even during my one-night stay:
Dining
There was so much I liked about this hotel, but breakfast was not of those things.
Opus
Opus is a composition of French and Qatari Cuisine by Michelin Star Chef, Jean-Francois Roquette of the Park Hyatt Paris.
Breakfast is served daily in Opus from 7:00 am to 11:00 am. Service is buffet style, with an a la carte menu to order hot dishes. I dined at 10:30 am and found the restaurant mostly empty. There's both an indoor and outdoor seating area.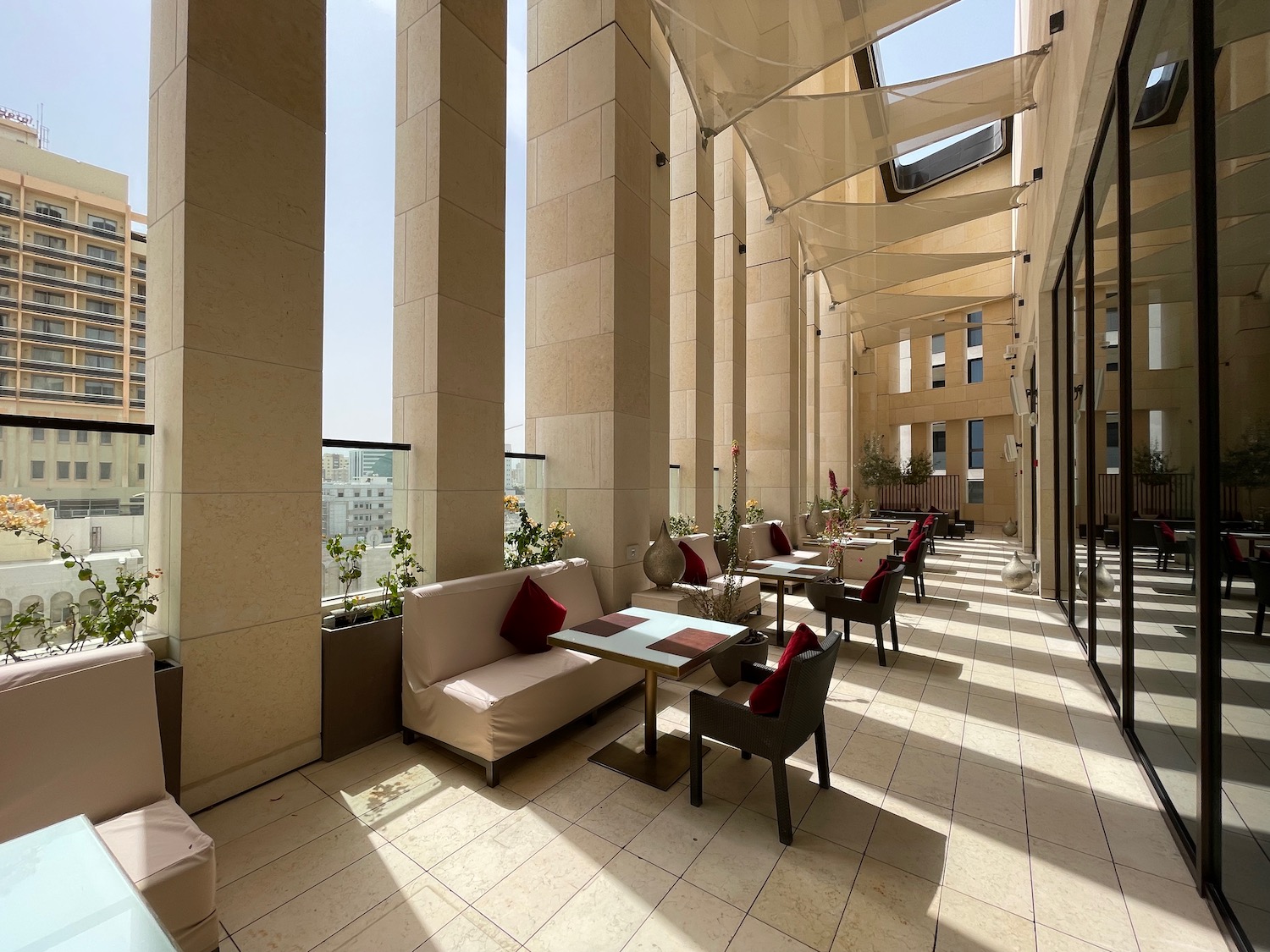 A buffet included Arabic, Western, and Eastern treats including mezze, cereals, nuts, salad, crepes, waffles, fruit, yogurt, foul mudamas, noodles, and eggs made-to-order.
I tried mezze (hummus and labneh), a croissant, an egg white omelet, a flat white, and orange juice.
The hummus was off…I've had so much better hummus (the labneh was fine).
No complaints about the omelet.
I tried some shakshuka as well and it was shockingly bad, though I tend to think the reason is that it was sitting there for four hours (I dined closer to 11:00 am).
The watermelon also was not at all sweet.
And the croissant was not fresh.
I did enjoy a bowl of nuts (pistachios and walnuts).
The coffee was also disappointing, though not so much because it was bad coffee but because the guys working in the restaurant seemed to have no idea how to prepare it. They had no idea what a flat white was, so I ordered a cappuccino. The first one came out like an espresso macchiato, which was not bad, but not what I ordered:
When I ordered a second cappuccino, it came like this:
Good coffee is a sacrosanct part of my morning and so I walked away disappointed, though did not have to walk far to find great coffee.
One other issue: my plates were not cleared away; they just sat there. As the Park Hyatt also styles itself as a five-star hotel, this sort of sloppiness was regrettable.
Lunch is served from 12:30 pm to 3:30 pm and dinner from 7:00 pm to 11:00 pm.
Living Room
Around the corner from the dining room was another eating area that appeared to be a separate restaurant, a "Living Room" concept found at most Park Hyatt properties worldwide. While well-appointed, it was empty and did not appear to be in use. There was a "Living Room" sign in the hotel lobby, but there is no mention of this restaurant on the hotel website, which is a shame because it is a beautiful space.
Anis
While the coffee at Opus was not great, I enjoyed a lovely flat white at Anis, a bakery, café, and juice bar on the ground level of the hotel, right in the heart of the revitalized Msheireb Downtown area.
The weather was pleasant and I sat outside and enjoyed the coffee, which was beautifully presented and tasted great.
There's a separate entrance to the hotel from Anis:



Sora
Sora is the Park Hyatt's Japanese restaurant and lounge, located on the 21st floor. Japanese staples are available as well as a full bar.
Room Service
24/7 room service was also available – you can view the menu by photographing the QR code below.
I probably would have gone for in-room dining (or perhaps returned to nearby Souq Waqif), but ended up falling asleep in the early evening and did not wake up until morning.
Pool
If a pool is an important part of your stay in Doha, this would be a hotel to avoid. While the hotel does have a pool (and I do not underestimate the difficulty of placing a pool in a city-center skyscraper), it seems like almost an afterthought. It is a small pool on the spa level that is barely big enough for laps.
Fitness Center
While the pool was a disappointment, the fitness center was quite spacious with brand-new Technogym equipment. I worked out twice during my stay and found the assortment of machines more than sufficient for a great workout (though I missed a machine specifically targeting obliques…hardly a unique problem to this property). There is a separate male and female gym (they are mirror copies), one right below the other.
Spa + Wellness
A full-service spa offers massages and skin treatments. More importantly for me, the spa features a superb wellness area that hotel guests have access to including a steam room and infrared sauna. There's a nice area to relax in as well and the whole locker room is very posh.
Signs explicitly warn against nudity – this is not Germany and you are expected to be clothed while you are in the sauna or steam room.
Service
As I mentioned, I was warmly welcomed when I arrived and the service in Anis was excellent. But I was quite disappointed by the service in Opus (both the coffee and not clearing away dishes) and I also tried to reach the front desk twice and no one picked up (after a dozen rings).
It is service that distinguishes a four-star and five-star property and I must say the service at the Four Seasons was just much more polished and executed well.
Then again, it is important to mention that this hotel was far cheaper in price and I found the value great overall. I have no regrets about staying here and absolutely would stay again.
One other little touch: I loved that Arabic coffee was available in the lobby at any time of day.
CONCLUSION
I enjoyed a one-night stay at the Park Hyatt Doha and would stay here again without hesitation. While there were some weaknesses in the service, overall I thought the value was excellent, the facilities modern and comfortable, and I did enjoy my stay here.