My 15-hour Singapore Airlines flight from Singapore to Los Angeles flew by with great service, great food, and a comfortable rest onboard the Airbus A350 in business class.
Singapore Airlines A350 Long Haul Business Class Review
Singapore Airlines A350 Configurations
Singapore Airlines offers three configurations of its A350-900. The A350-900ULR ("ultra long range") is intended for Singapore's longest journeys and includes only 161 seats, including 67 business class seats and 94 premium economy seats. While SQ38 to Los Angeles has historically utilized that aircraft, my aircraft was the "long range" version which features 42 seats in business class, 24 in premium economy, and 187 in economy class. Both feature the same longhaul business class seat. Singapore also has a regional A350 configuration a different (less spacious) business class seat (40) and 263 seats in economy class.
Booking
I booked my ticket from Bangkok – Singapore – Los Angeles via KrisFlyer, the loyalty program of Singapore Airlines. Both legs cost 95,000 miles, but having taken advantage of a 20% transfer bonus from American Express, the cost was effectively 80,000 miles. That is a super value considering Singapore Airlines no longer charges a fuel surcharge on its own flights. I paid less than $100 in government taxes.
Transit in Singapore Changi
Because I was coming from an area deemed high risk, I was not permitted to freely roam the terminal or visit the lounge during my layover. I detail my transit experience here.
---
> Read More: My Singapore Transit Was Not What I Expected
---
Finally it was time to board my 15-hour flight to Los Angeles. In Singapore, security checks occur at the gate and passengers then wait in a holding area before being invited to board. While not a free-for-all, passengers or their boarding passes were not checked again prior to boarding.
Singapore Airlines 038
Singapore (SIN) – Los Angeles (LAX)
Monday, November 8
Depart: 08:45PM
Arrive: 07:55PM
Duration: 15hr, 10min
Distance: 8,770 miles
Aircraft: Airbus A350-900
Seat: 21K (Business Class)
Onboard, I was welcomed by the purser, Mr. Singh, standing at the door and directed through the forward galley and down the starboard aisle to my seat.
Singapore Airlines A350 Business Class Seat
It seems that opinions are quite divided on Singapore's longhaul business class seat, a proprietary product that is very spacious at first glance, but not overly comfortable in all positions.
I did not find that to be the case. While the construction of the seat limits recline (the rear cushion flips over to create a bed rather than sliding back into a bed), I felt the seat was very comfortable and found plenty of legroom and foot room.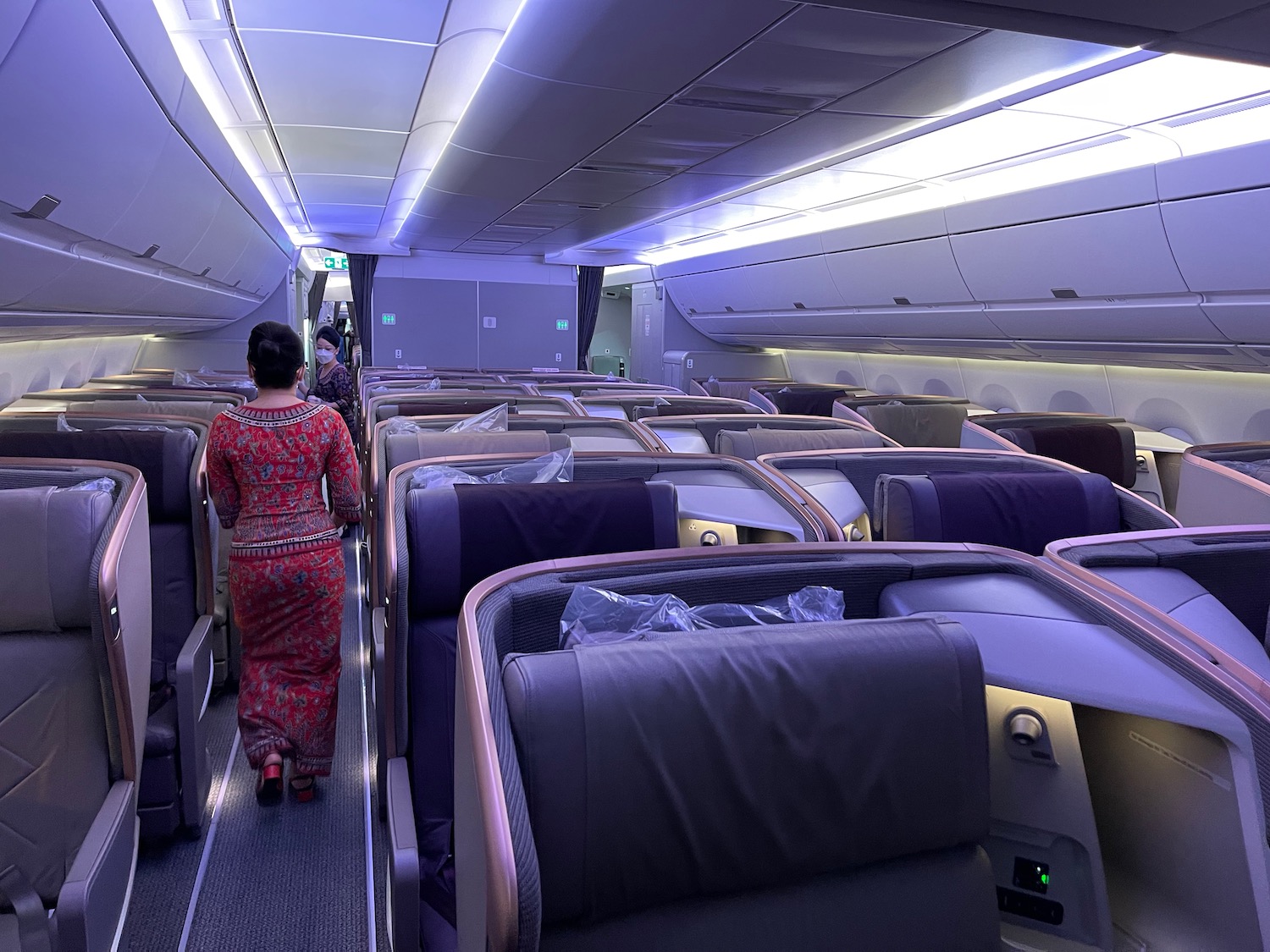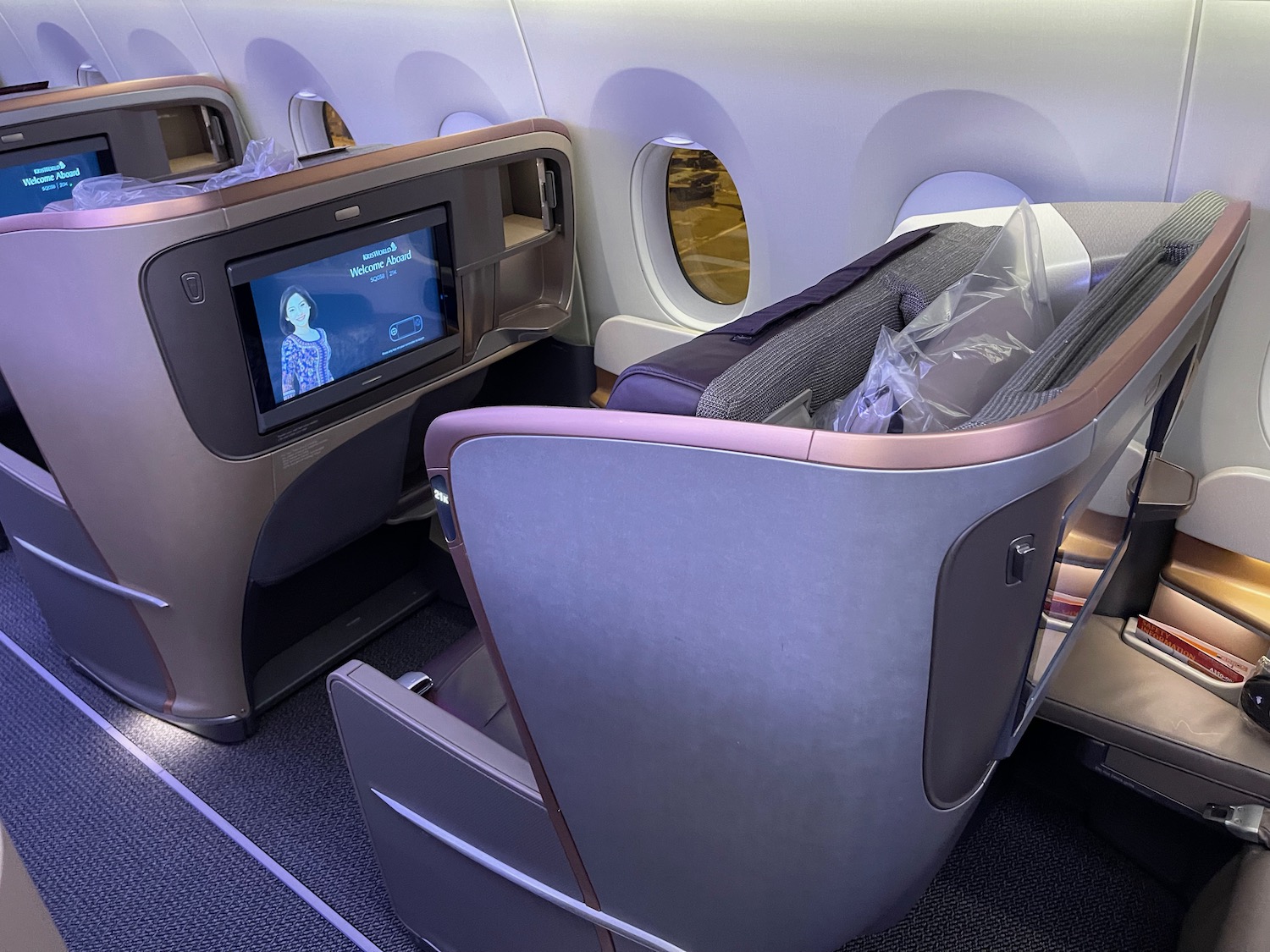 That said, the room for your feet will be tight for some people and if you are not a side sleeper, may be particularly uncomfortable.
I slept for more than half the flight and had no issues with the bed.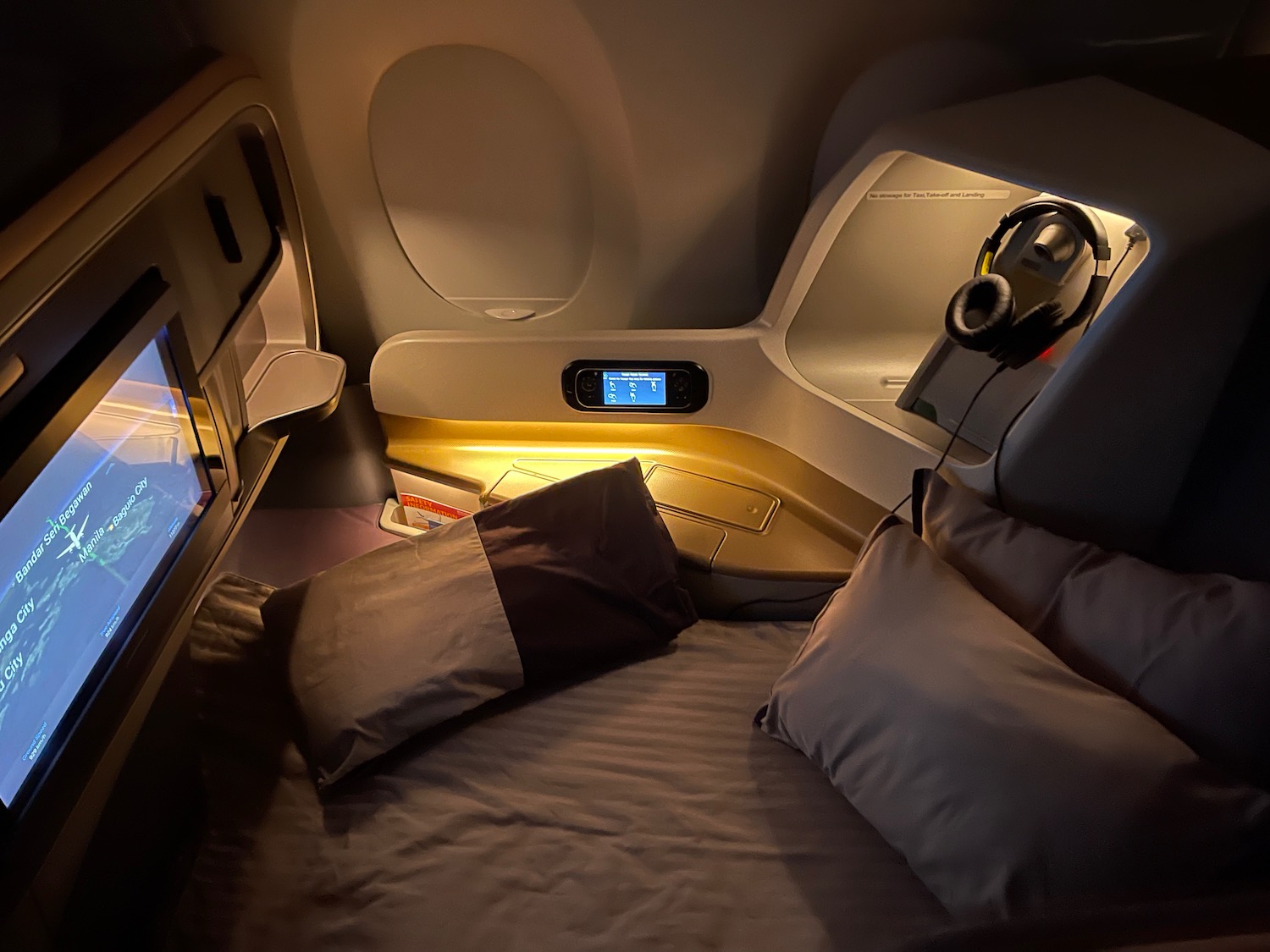 The A350 "long haul" configuration had 40 flat bed seats in business class with 60 inches of pitch and a width of 28 inches.
The seat includes a small storage compartment in the seatback in front, another on the side, a mirror, power plug, and an armrest compartment (currently featuring a sealed bag with personal protective equipment including masks, hand sanitizer, and wipes).
Seats and lighting are controlled by series of buttons on the side of the seat, but again, the seat manually flips over to transform into lie-flat mode.
Singapore Airlines Food + Drink + Book The Cook
I used the "Book The Cook" option to pre-reserve my meal service from Singapore to Los Angeles, which included two formal meal services plus an a la carte menu for hunger anytime between.
After booking, I navigated to my reservation on the Singapore Airlines website and chose the "Book The Cook" feature. There, I reserved my two main meals, which were loaded as requested.
Dinner
Printed menus are currently not offered, but guests are invited to visit the Singapore Airlines website using the onboard wi-fi network (for free) to download the flight menu:
Dinner was served after takeoff and began with satay in peanut sauce, a signature of Singapore Airlines. I enjoyed it with a Singapore Sling (which I found far too sweet).
Next came a rather skimpy smoked chicken breast appetizer served with mixed greens and corn, which seemed far more fitting for economy class. However, the bread basket appeared and I enjoyed two delicious slices of garlic bread.
I paired dinner with a 2015 Bordeaux Clarendelle, which was very nice.
No hot towel service, by the way. Food was served covered in plastic.
My main course arrived, Indian-style braised lamb shank, with yogurt vegetable pilaf on the side. It was so delicious (though I did prefer the biryani on the BKK-SIN sector even more) and I quickly ate every last morsel.
I followed that with a cheese plate and some chocolate cake (the ice cream plus apple crumble option on the menu was not available…perhaps exhausted by the time FAs reached row 21).
I think I liked it:
Mid-flight Meal
After an eight-hour rest, I awoke and was a bit hungry, so I ordered breakfast, an egg and cheese frittata served with veal sausage, mushrooms, and roasted potatoes.
Here is the a la carte menu:
I enjoyed a side of fruit and cappuccino with breakfast. No croissants (I asked).
Additional self-serve snacks were available in the galley.
illy Coffee Menu
Singapore actually delighted me with its specialty coffee menu, including a tremendous single-origin Arabica selection from illy. The Guatemala blend was absolutely lovely, the best illy coffee I've ever had.
Specialty coffee drinks were also available:
Singapore receives high marks for coffee (and as an aside, makes much better coffee than ANA).
Pre-Arrival Meal
About two hours prior to arrival in Los Angeles, dinner was served. I had pre-ordered beef tenderloin, but it also happened to be on the regular menu.
Service began with a seared tuna appetizer (again served covered in plastic) and more delicious hot bread.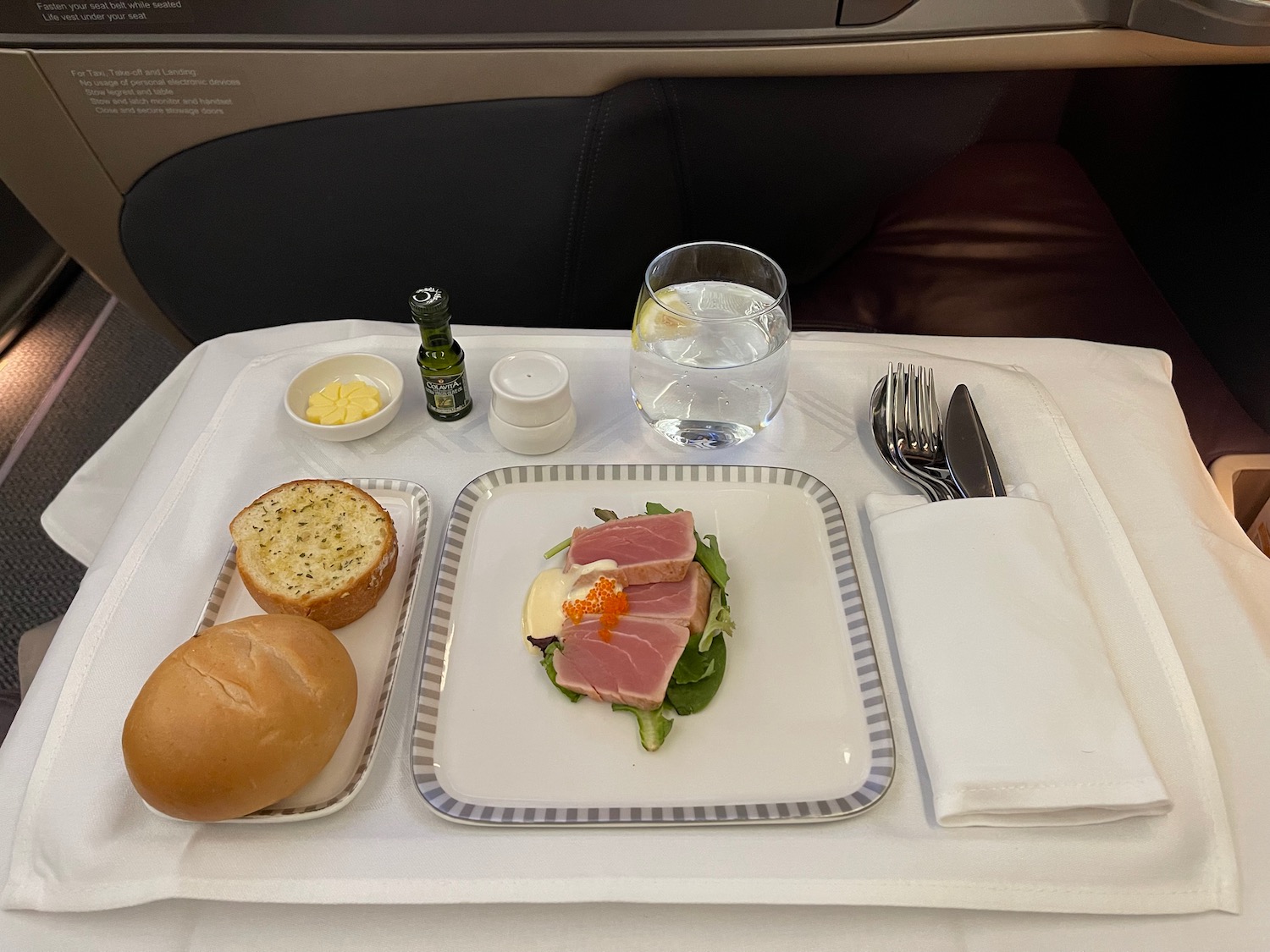 The beef tenderloin was cooked medium well, but still tasty (I prefer medium rare).
The desert cart returned with more cheese and chocolate cake, and I enjoyed a lovely "royal chocolate cake" and fruit with one more Guatemala espresso.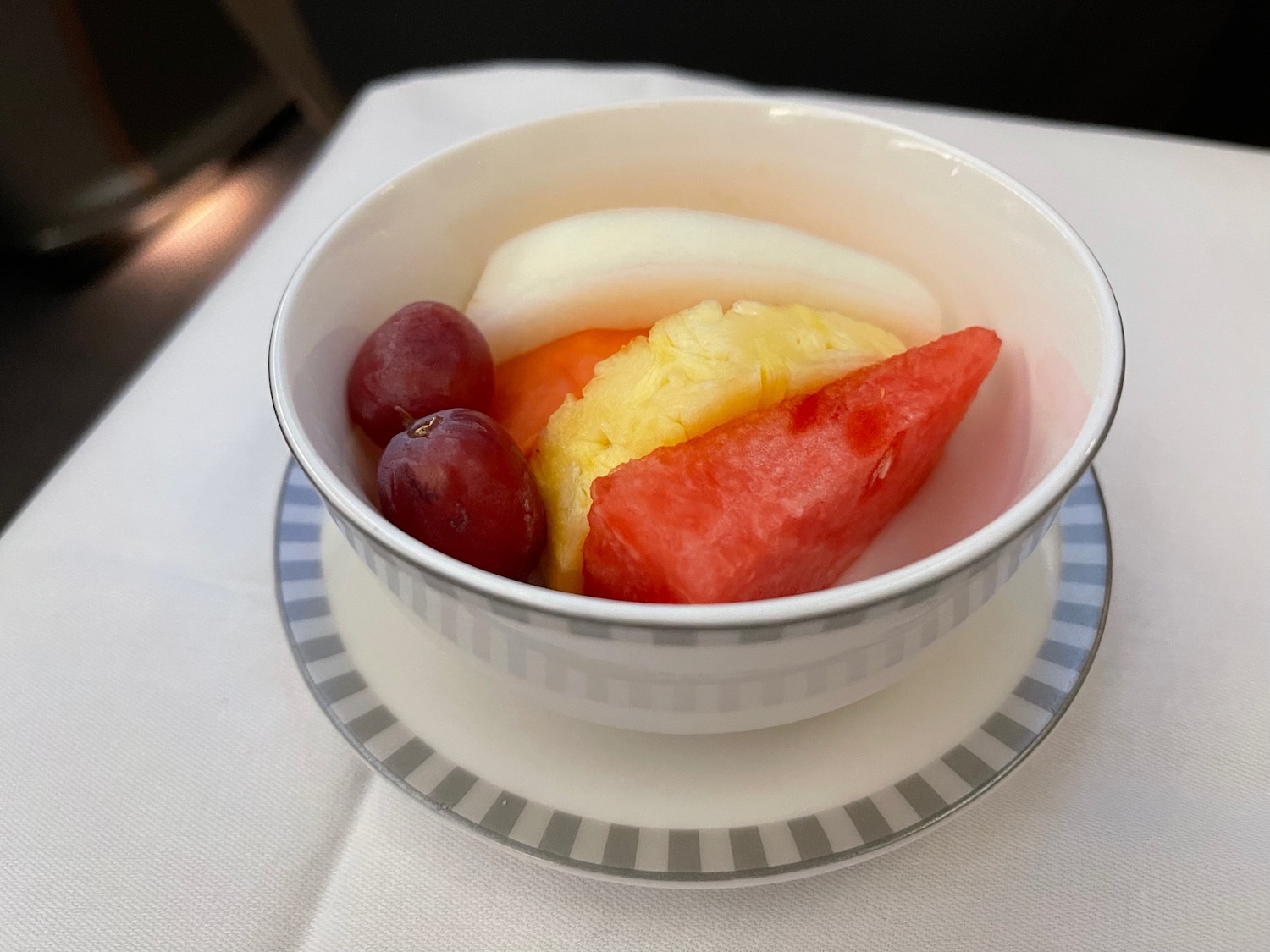 Full Drink Menu
Here's the full drink menu on SQ38. Champagne on offer was 2012 Piper-Heidsieck Brut, which goes for about $50/bottle.
Singapore also offers an extensive tea menu:
Overall, the food was lovely onboard. I enjoyed everything and never went hungry.
Great KrisWorld IFE + Wi-Fi
Singapore Airlines offers an amazing in-flight-entertainment library for your viewing pleasure, helping even an ultra-longhaul flight to go quickly. I fly around the world so much and it seems like every carrier has their own system, but almost all carry the same (or very similar) movies and TV programming.
But Singapore Airlines offers an immense library of movies and TV shows including many that I had not heard of and enjoyed quite a bit. During the flight, I watched two movies, one called The Courier starring Benedict Cumberbatch and another fascinating movie called Nine Days about a man who interviews five unborn souls to determine which one should be given a new life on Earth.
Live TV, games, a great library of music, and a moving flight map were also available.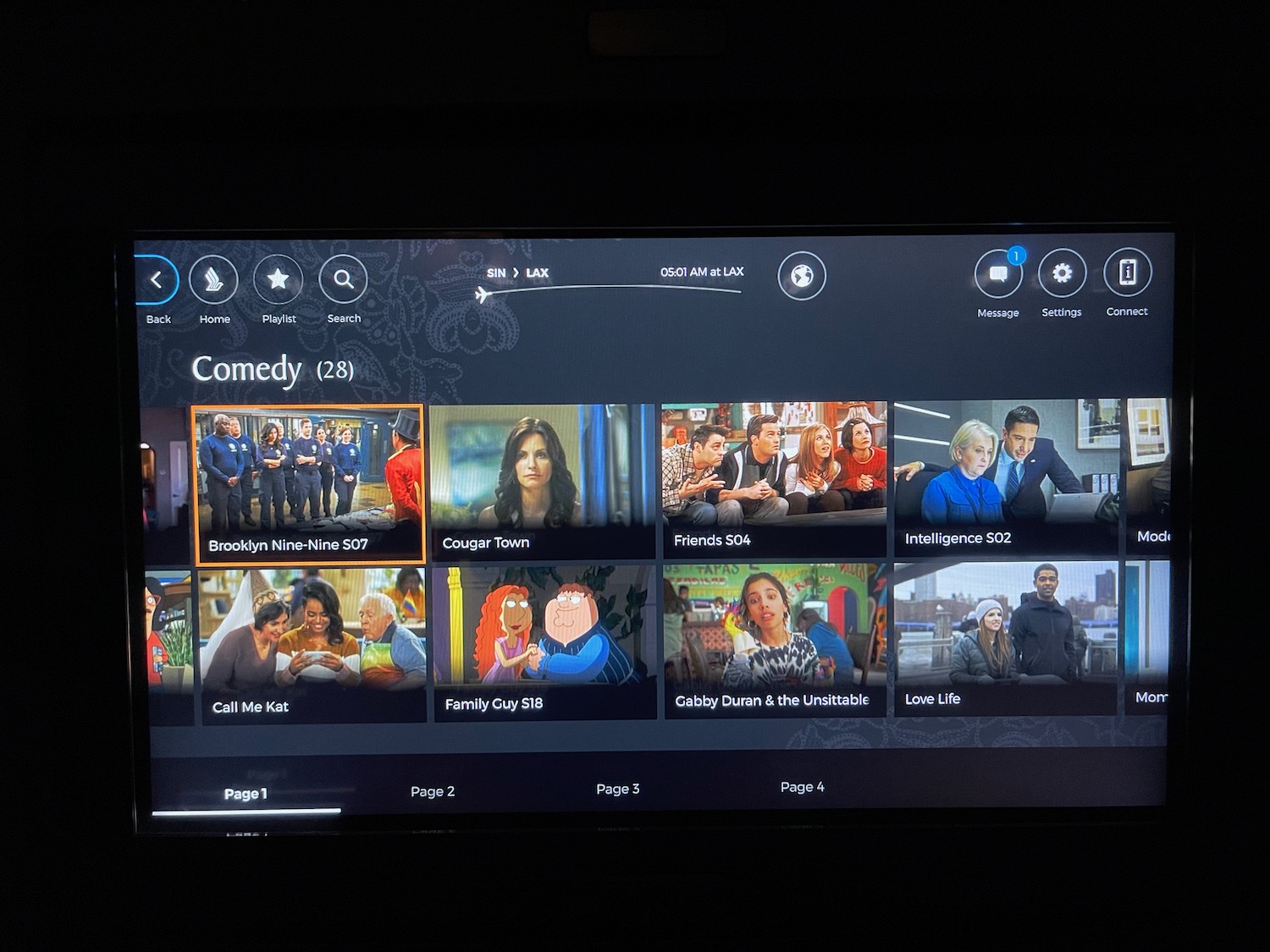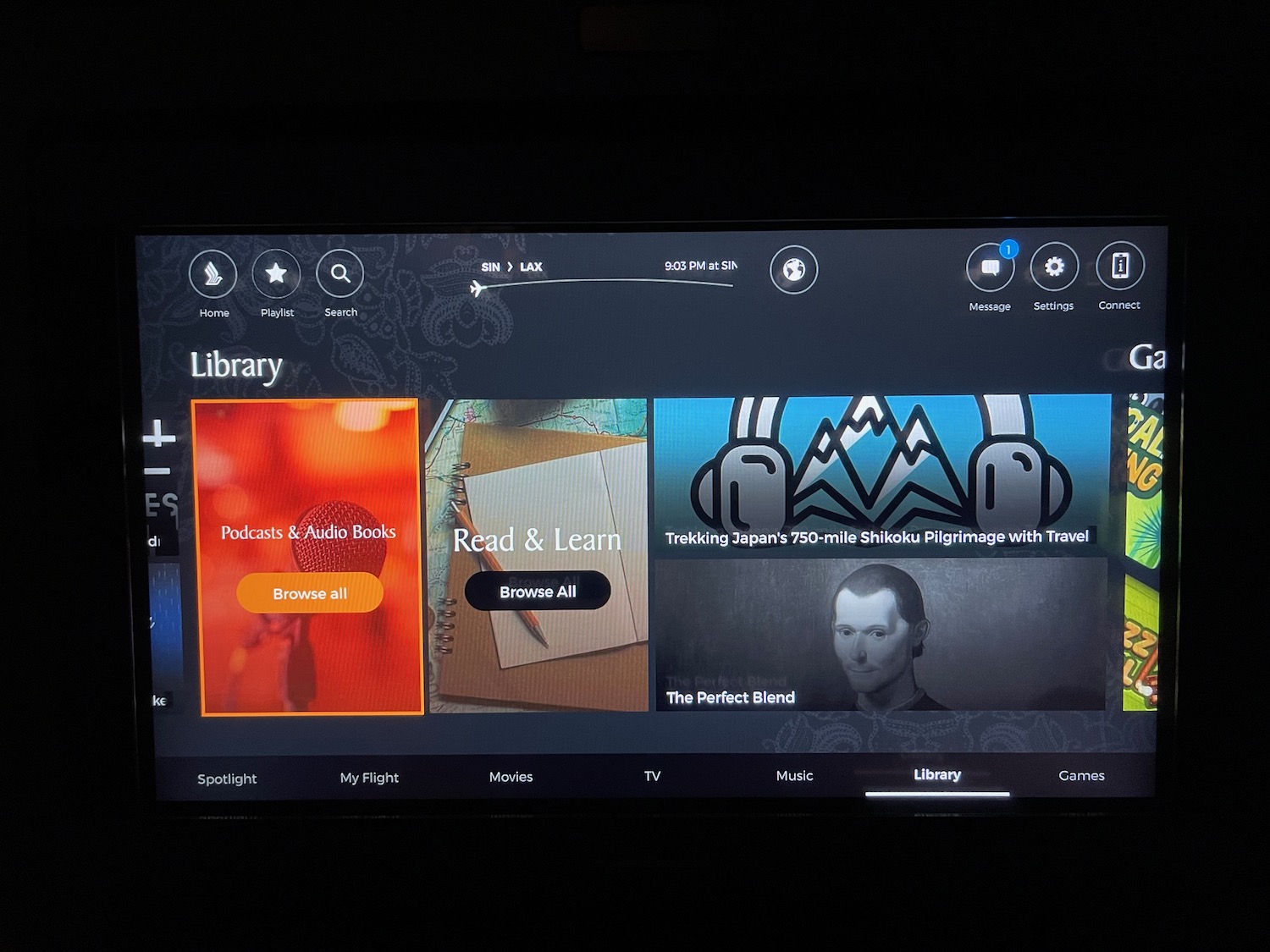 The only thing really missing was the tailcam…I was surprised Singapore does not offer one.
Noise-cancelling headphones were provided and worked well.
An IFE remote is necessary, as the IFE is not touch-screen.
I also enjoyed a great sunset out the window.
In a very generous move for an airline that was so stingy for so many years with wireless internet onboard, each PPS club and business class passenger receives a complimentary 100MB voucher for use during the flight.
As long as you enable low data mode, the voucher lasted me for most of the flight and I was able to keep up on mail, messaging, and news.
Amenity Kit
Rather than offer an amenity kit with contents that most people discard or may not need, Singapore offers a small amenity kits as well as toiletry items out of a basket or in the lavatory.
The amenity kit itself was a very attractive leather green bag and included hand lotion, lip balm, facial mist, and perfume oil from Penhaligon's London.
Flight attendants also offered slippers, socks, and eyeshades from a basket.
The lavatory included mouthwash, shaving kits, and dental kits.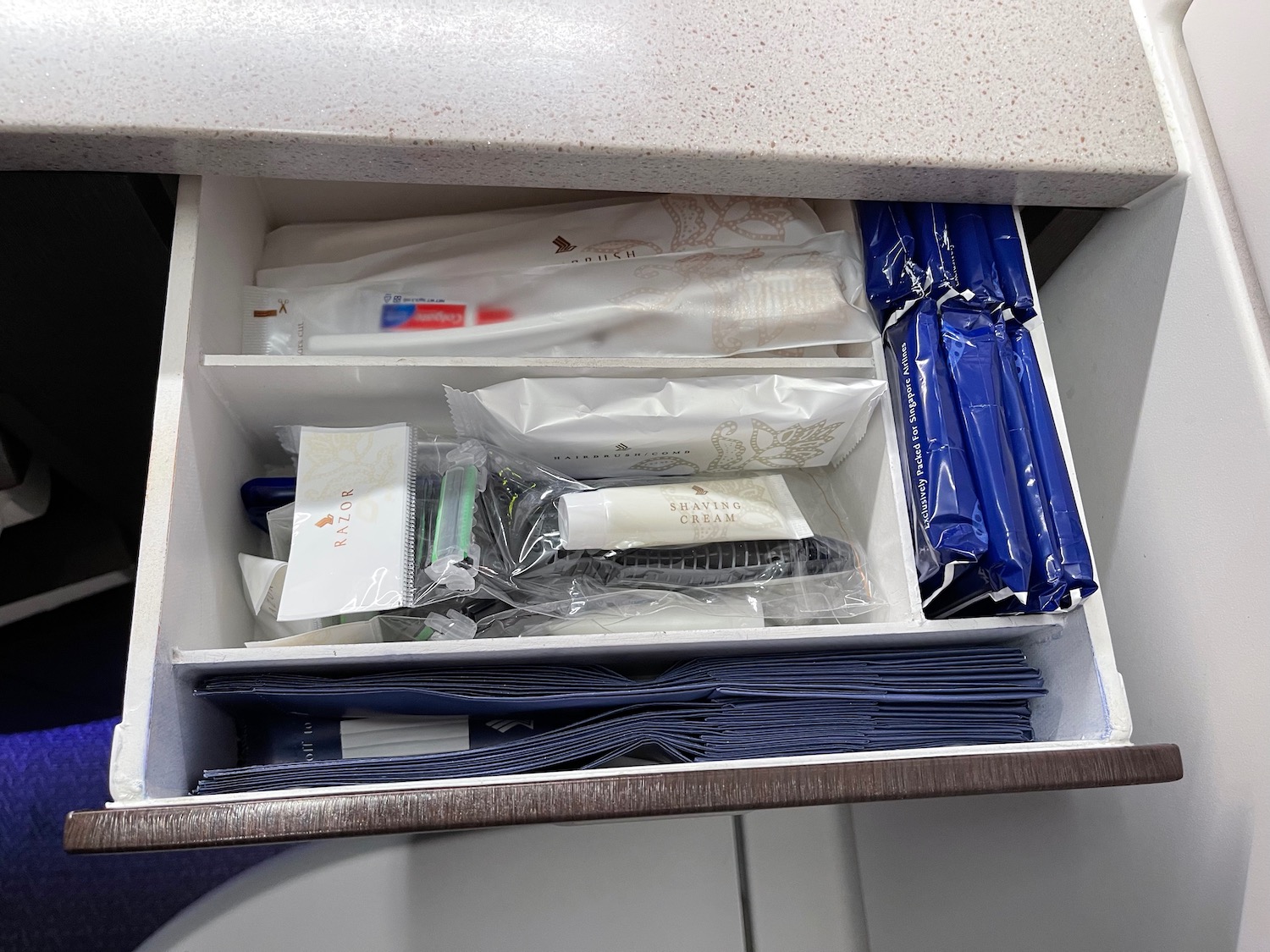 Lavatory
Business class features one lavatory in the front of the aircraft and two lavatories adjacent to the galley which divides business class into cabins. I used the lavatory three times during the flight and it was always clean.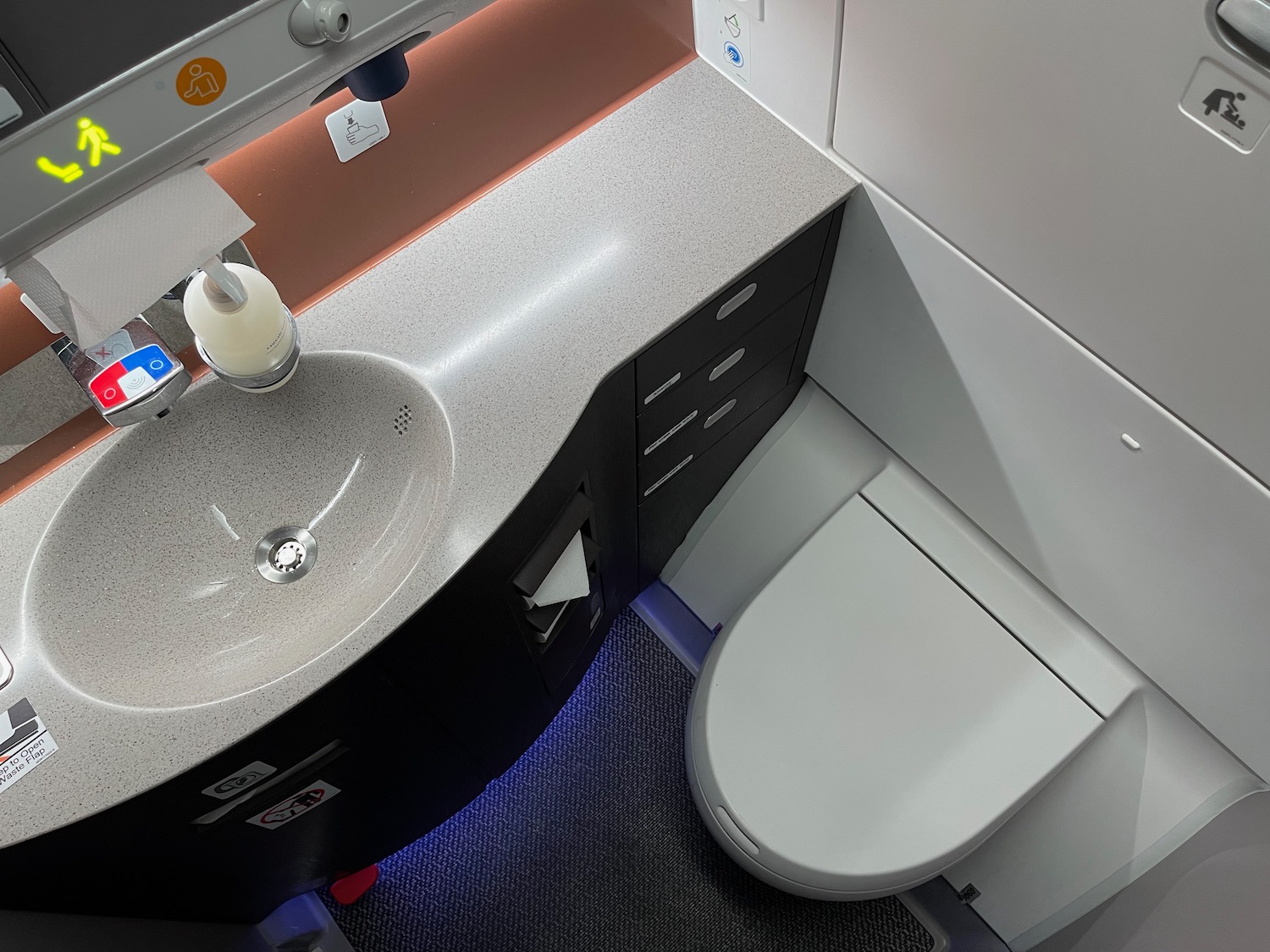 More Penhaligon amenities (lotion and perfume) as well as real towels!
Service
Last time I flew Singapore Airlines nonstop from Singapore to Los Angeles, I encountered extremely hostile service onboard (read more here).
This time, the service was lovely onboard. Every flight attendant interaction was professional and the men and ladies working my cabin were phenomenal in terms of attentiveness and friendless.
A special shoutout to Chief Stewardess Vickie Ng and Purser Mr. Singh (not pictured) who actively monitored the cabin and took care of passengers.
CONCLUSION
We landed on-time in LA and because we had crossed the international date line traveling east, technically landed an hour before we departed Singapore (based on local time). I was quite refreshed despite stepping off a 15-hour flight. I went home, spent some time with my family, and fell asleep…thankfully, I slept through the night and encountered no jet lag.
The Singapore Airlines KrisFlyer frequent flyer program is very attractive for redemptions on Singapore Airlines. For a reasonable amount of miles (95K) and no fuel surcharges, I flew all the way home from Bangkok in the comfort of business class on an A350.
Some people detest this seat–do keep that in mind–but I had no trouble with it and spent the majority of the flight sleeping. Between that, the great food, kind service, superb IFE, and (finally) reasonable wi-fi options, I highly recommend SQ for transpacific travel.