From Boston to Zurich I traveled on SWISS onboard an aging yet nevertheless comfortable A330-300 in business class. While SWISS business class, particularly on the A330, represents a below-average product these days, I quite appreciated the superb service onboard and still managed a few hours of sleep on the short transatlantic crossing.
SWISS A330-300 Business Class Review
My destination for the weekend was Zurich and I was in Boston. I could have saved my miles and flown United via London (the easiest upgrade in the system), but the SWISS flight made sense because it provided an extra hour of sleep and a morning arrival into Zurich. This flight costs 60K points via Air Canada Aeroplan, 73K via United Airlines MileagePlus, or 63K miles via Avianca LifeMiles. Taxes fees ex-USA are cheap ($5.60), though Aeroplan and Avianca add on modest processing charges of about $25.
I checked in online and used the Lufthansa Lounge prior the flight. Boarding began at at 9:10 pm, about 40 minutes prior to scheduled departure.
SWISS 53
Boston (BOS) – Zurich (ZRH)
Thursday, October 20
Depart: 09:40 PM
Arrive: 11:05 AM+1
Duration: 7hr, 25min
Distance: 3,745 miles
Aircraft: Airbus A330-300
Seat: 10D (Business Class)
Onboard, a trio of very cheerful flight attendants smiled and welcomed me onboard.
Seat
Booking this at the last minute, I ended up an aisle seat in the center section. SWISS utilizes the Thompson Aero Vantage seat for its longhaul business class seats fleet wide and the cabin is comprised of 45 business class seats arranged in an alternating 1-2-1, 2-2-1 pattern. A mini-cabin of just two rows sits behind first class, fowled by a galley and lavatories, then eight rows of business class.
So-called "throne" seats are available in the even-numbered A seats.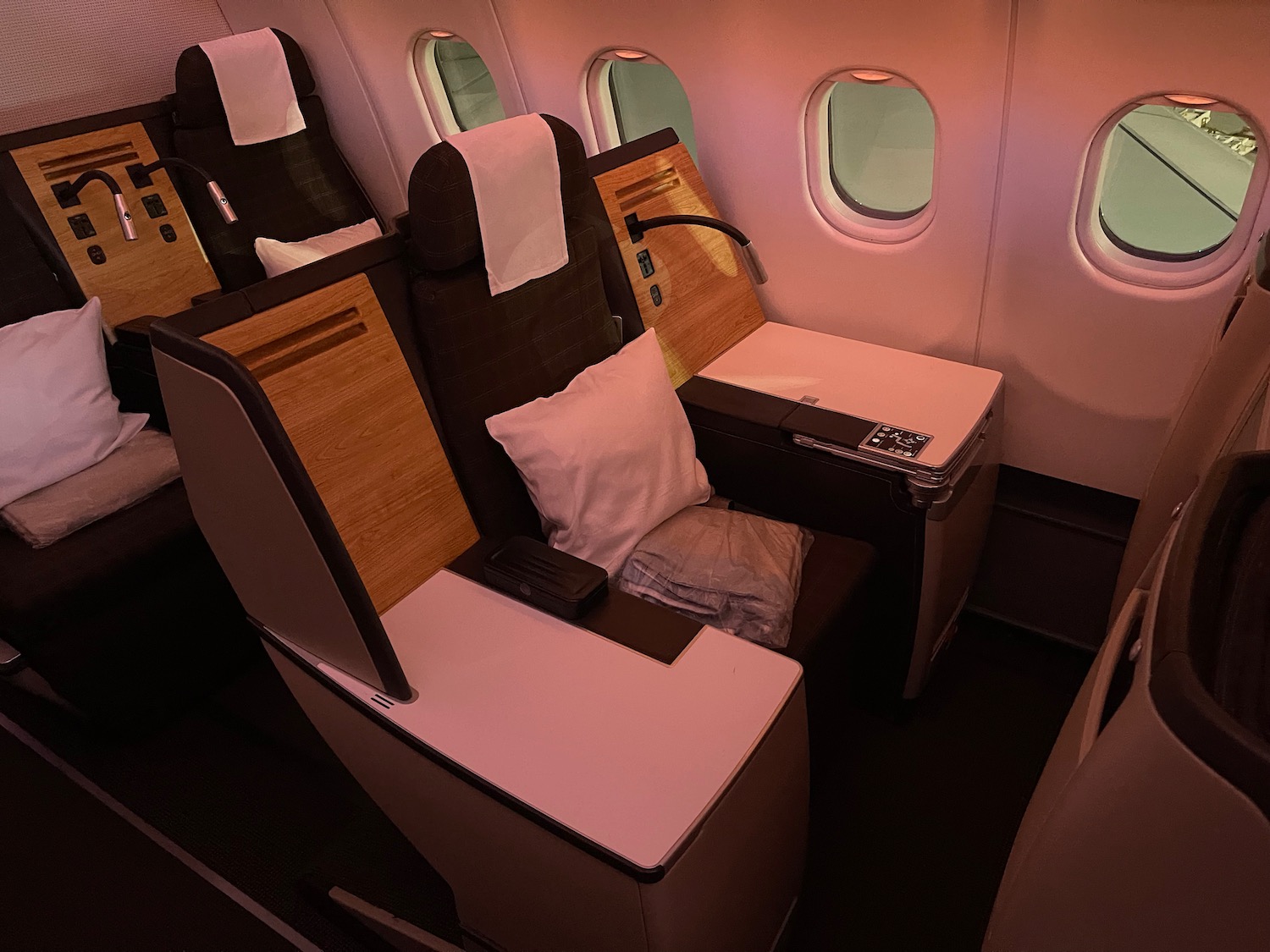 Each seat has a universal power outlet within easy reach as well as a USB-A and S-video (talk about modern…) port.
Seat adjustments are made via a control pad near the armrest. That includes a massage function and an ability to make the seat cushion firmer or softer.
While I don't find these seats bad, I rank them below average in comparative terms and particularly find the aisle seats lack privacy and do not have a lot of room in the footwell. They are also quite narrow.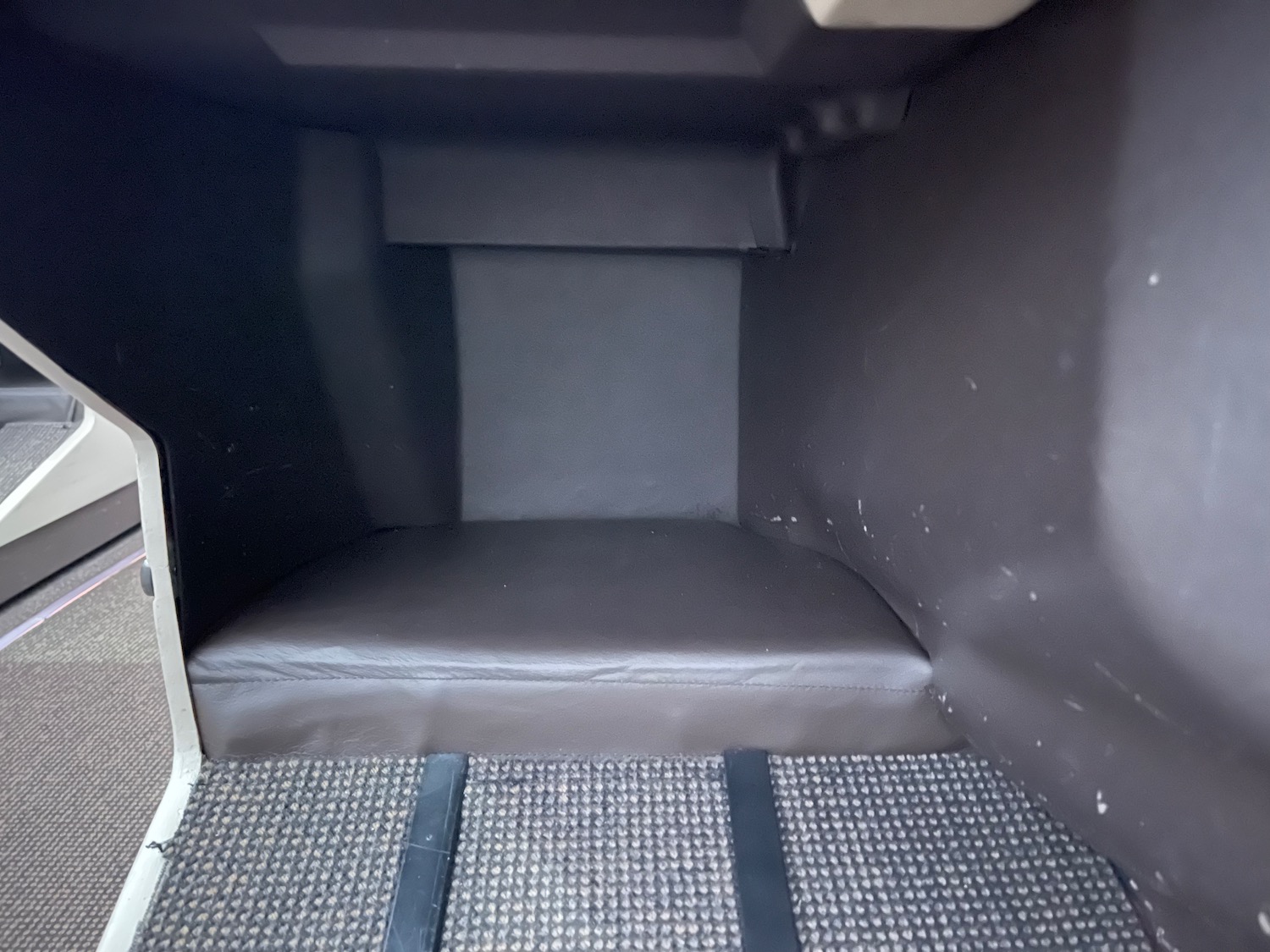 To make matters worse, SWISS's bedding is atrocious (a blanket more suited for economy class).
Nevertheless, after dinner I slept…and slept like a log until the pink mood lights were turned on for breakfast.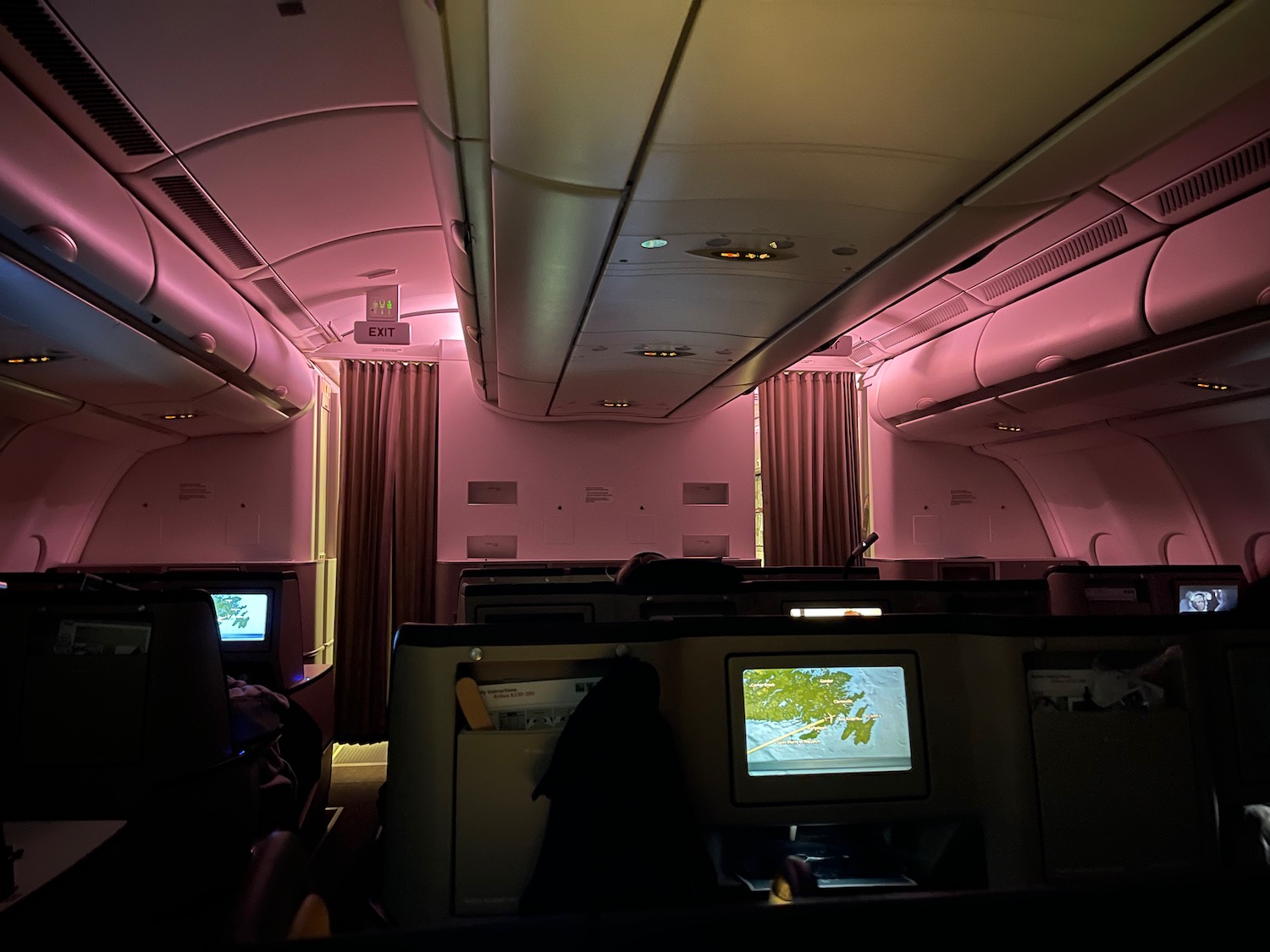 SWISS has so much potential to make its product more competitive as it retrofits its fleet with new "Swiss Senses" seat. Hopefully when it does so, it will also update the bedding. Honestly, flying SWISS feels like flying was 10 years ago…because that is exactly what SWISS Business is like. Somehow I find the seat much more tolerable on narrow body aircraft (like on the JetBlue or SAS A321) and that may well be because of the bedding.
IFE + Wi-Fi
SWISS continues to offer absurd wi-fi pricing (though I recently experienced a glimmer of hope). Charging CHF39 (about $42.50) for 120MB of wi-fi is wholly uncompetitive.
The screen on the A330 is quite small, but SWISS offers a fairly easy-to-use interface and features a generous selection of movies, TV shows, games, and music. I was not in the mood to watch anything, but did utilize the moving flight map.
Noise-cancelling headphones are SWISS-branded and worked reasonably well.
I like how SWISS displays connecting gate info on individual IFE screens in a format that looks straight out of 1990.
Lavatory
Two lavatories are located between the business class mini-cabin and larger cabin. They included face spray and herbal lotion from Soeder.
Amenity Kit
The business class amenity kit included a Victorinox-branded (the maker of Swiss Army knives) black tin with contents including:
socks (red in color)
toothbrush + toothpaste
earplugs
eyeshade
A very simple kit with no skin products. Sticking with the SWISS branding, I'd love to see at least some Ricola and a nice comb or brush, plus perhaps a Rolex watch (joking).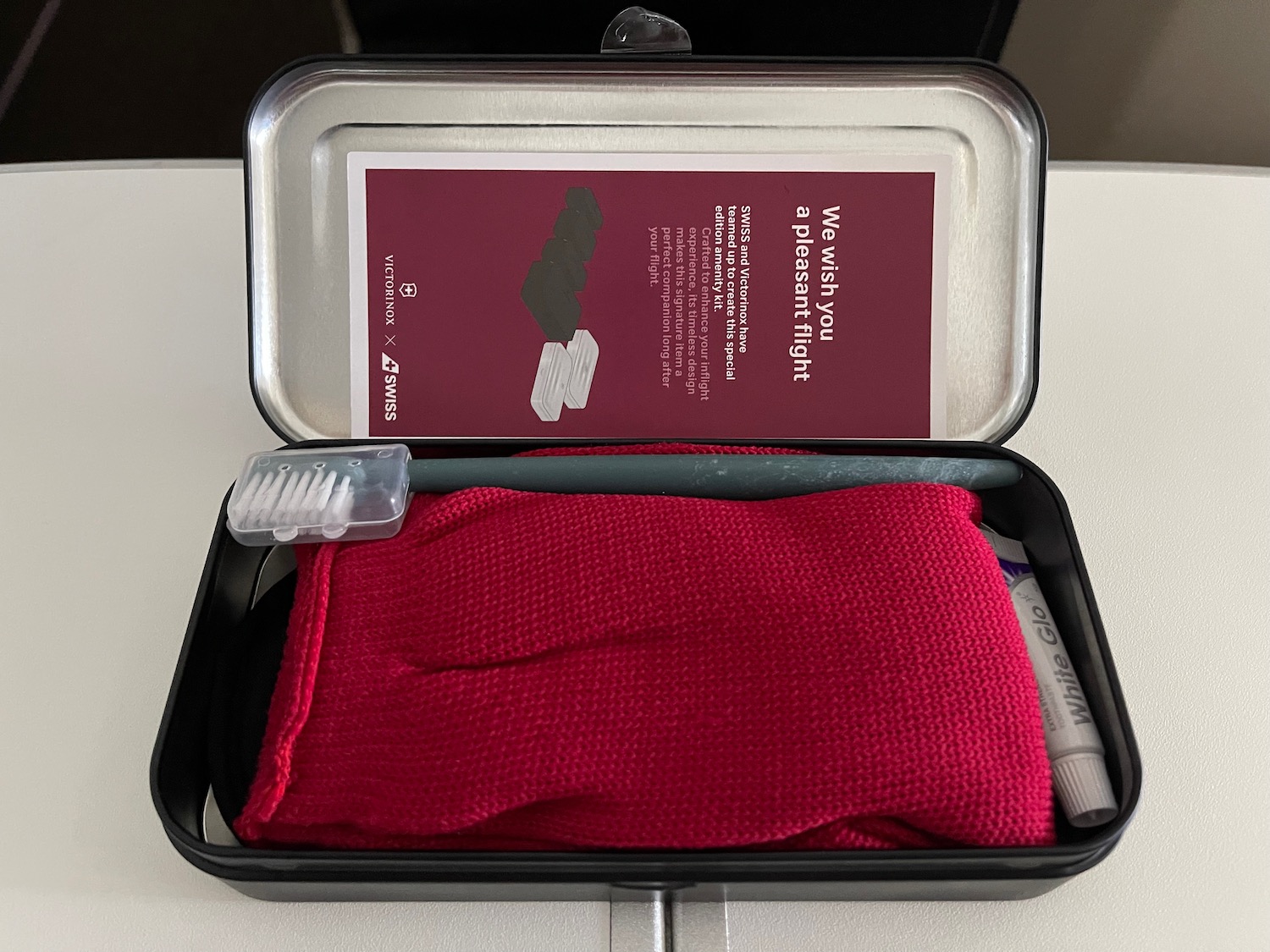 Food + Drink
Upon boarding, passengers were offered a non-alcoholic sparkling elderberry juice or a glass of sparkling wine. I found the elderberry juice refreshing.
Menus were also disturbed. They included not only a listing of food choices and separate wine list, but also a card for breakfast that you filled out with the breakfast items you wished to eat prior to landing.
An abbreviated meal service began promptly after takeoff. No nuts were served with the beverage. I ordered a glass of 2019 Gally Assemblage Rouge AC Valais, a red wine from Switzerland.
Meals were served on a single tray, including an appetizer, bread, cheese, and main course. Appetizer choices included:
Burrata with maple balsamic vinegar, grilled artichoke, roasted red and yellow cherry tomatoes

or

Balik salmon with sweet chili and lime dressing, Asian slaw, Japanese-style pickled cucumber and toasted black sesame
Main course choices included:
Seared beef tenderloin with wholegrain mustard sauce
Roasted fingerling potatoes, sautéed spinach and cabbage with bacon

Thai red curry with shrimps
Jasmine rice and baby bok choy

Gnocchi with pomodoro sauce and charred broccolini
I chose burrata for my appetizer and the beef tenderloin for my main course. The appetizer hit the spot and I found the maple balsamic vinegar to be delicious. The beef main course was of course cooked well-done and not the highest grade of beef, but the wholegrain mustard sauce was quite nice. Cheese is always excellent on SWISS.
Finally, I concluded dinner with dessert including a chocolate brownie cake, a piece of Swiss chocolate, and a decaf espresso…and a grapas tasting (not for me…).
I had absolutely no hunger when breakfast came around (prompting this question), but I ordered it anyway for purposes of this flight review. No hearty selections like eggs were offered, but the croissant and pain au chocolat were admittedly hot and delicious. The orange juice was Tropicana, not fresh-squeezed, and the mango smoothie was a bit too sweet for my taste, but I loved that the Chobani Greek yogurt was plain (though it still had a bit of sugar) and I also appreciated the cappuccino.
Yes, I ate most of it: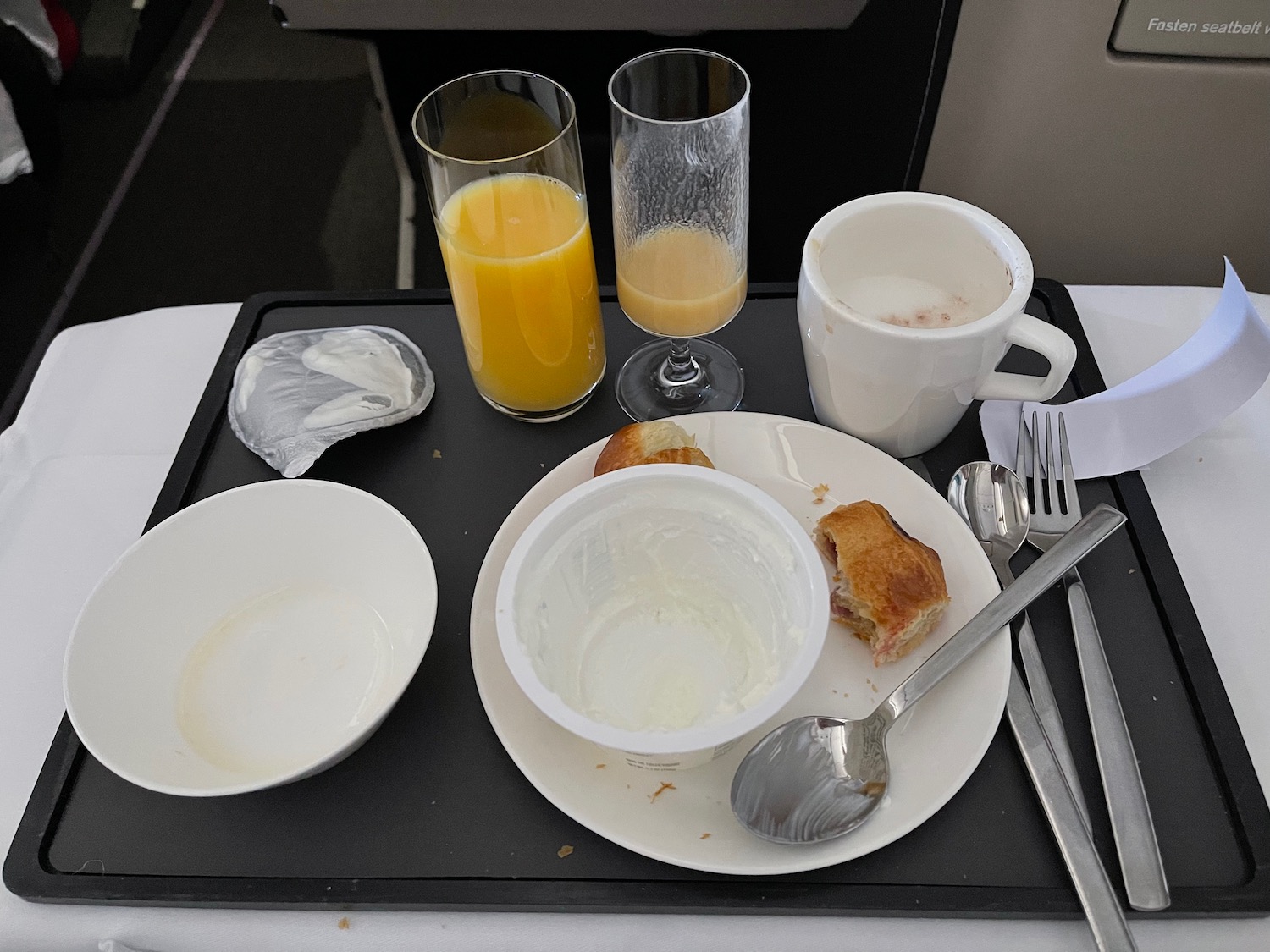 ---
> Read More: Why Do I Even Eat Airline Food?
---
Maybe next time I'll have the willpower to skip breakfast…
Service
While true that I find the SWISS business class product underwhelming overall, I though the service aboard was spectacular.
The ladies working the cabin were witty, kind, attentive, and gracious. Instead of being looked at with skepticism for taking pictures, I was welcomed to do so and one flight attendant even posed for a picture.
What impressed me even more is that flight attendants let passengers sleep as late as possible: breakfast did not begin until an hour prior to landing…and every seat was taken in the 45-seat cabin. That required some serious hustle, but the flight attendants pulled it off flawlessly, even offering refills on coffee and tea (to be far, many passengers did sleep through it).
Arrival Into Zurich
I landed at a remote gate and took a bus into the terminal.
There, I found one of the worst lines for passport control I have seen in many years in the Schengen Area. As annoying as that was, it was great see travel rebound so ferociously.
CONCLUSION
I cannot say that SWISS offers an above-average or even average product in business class when its seat is dated, bedding poor, internet prices outrageous, and food only fair. Even so, the service saved this flight. Flight attendants were simply perfect and that made the flight a joy. Despite the seat, I would not hesitate to fly SWISS again on the A330.