After checking in for my Singapore Airlines flight, I visited one of the only lounges currently open in Bangkok Suvarnabhumi, the Thai Airways Royal Orchid Lounge in the E Gate area.
Thai Royal Orchid Lounge Bangkok Review (BKK)
While Thai Airways has many lounges at BKK, this appeared to be the only one actually open in November 2021.
Hours + Location + Access
According to the sign on the door, this is a lounge reserved for first class passengers and Star Alliance Gold passengers…however during the pandemic all premium cabin passengers can use this lounge. That includes:
Star Alliance business and first class passengers
Star Alliance Gold members
"Customers from our contracted credit cards" (according to Thai Airways)
Paid access is also available according to Thai's website, though no price is indicated and I saw no signs at the door or reception desk
The lounge is open daily from 5:00am to 11:30pm.
It is located in Concourse E on the west side of level three.
Seating
The lounge contains room for 88 passengers with all seating in the form of leather chairs (no dining tables and no couches). There is one area that a ledge that appears to be intended for working.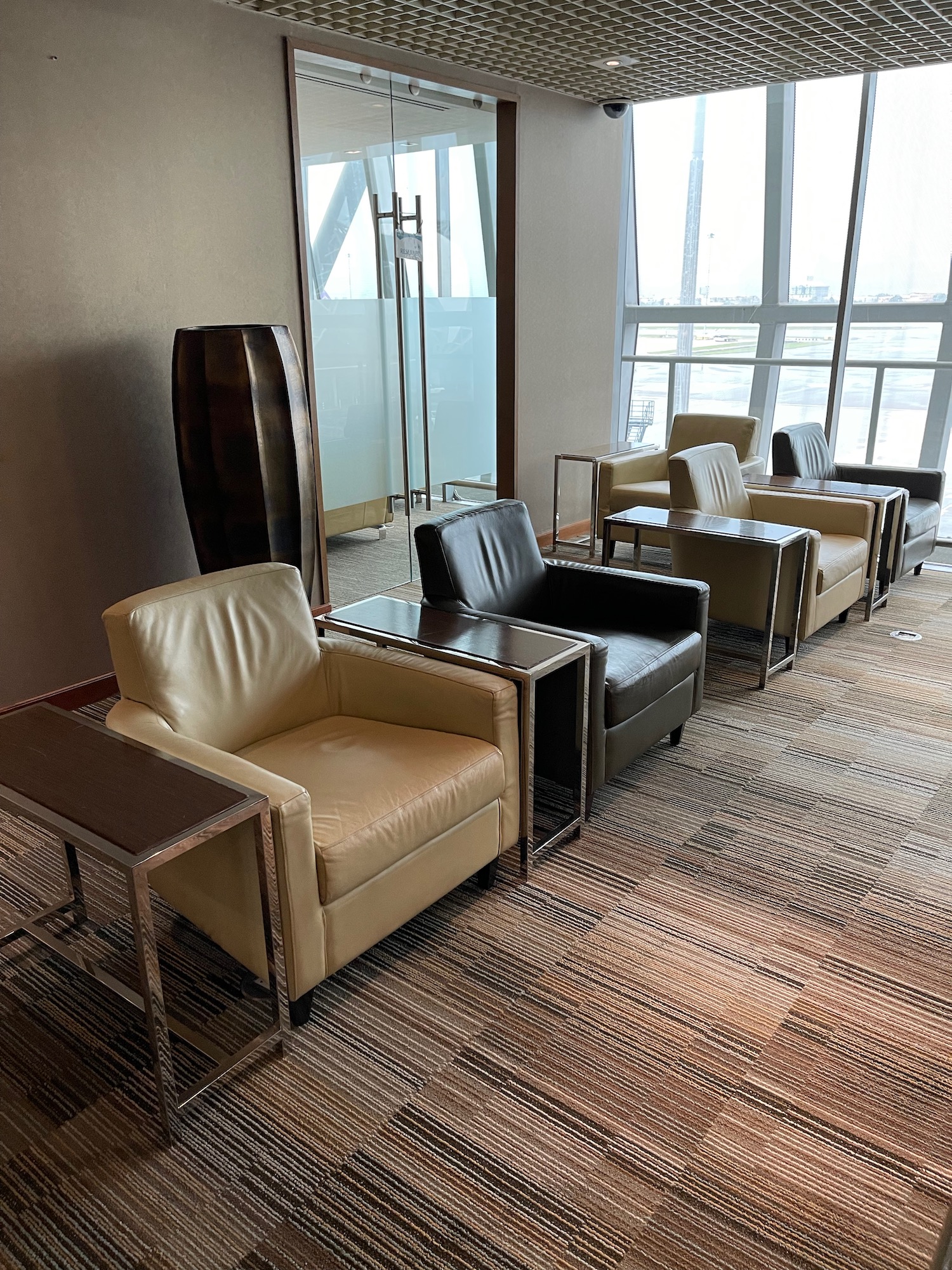 Restrooms + Shower + Sleep Rooms
Restrooms were located in the center of the lounge and small but clean.
Both the shower and sleeps rooms were closed due to COVID-19.
Wi-Fi
Instead of just posting the wi-fi code on the flight departure screen or on placards, I received a convoluted instruction sheet on how to connect to the internet. In the end, I just didn't bother…
Food + Drink
I thought this lounge did a decent job with food and drink. I had just finished a massive breakfast at the Hyatt Regency Bangkok and was in no mood for anything (more than water), but the spread included:
shrimp dumplings
cream buns
Khoa Tom Mud
minced garlic pork ball with rice
spaghetti with chicken
chicken green curry pie
chicken mushroom pie
spinach quiche
instant noodles
vanilla danish pastries
cookies (butter and chocolate)
Drink selections included:
coffee
tea
soft drinks
beer
water
spirits

Campari
Jack Daniel's whiskey
Smirnoff vodka
Bombay Sapphire gin
Bushmills whiskey
Bacardi white rum
CONCLUSION
While not a lounge I would arrive early to use, I thought the food and drink selection at the Thai Royal Orchid Lounge in Bangkok was acceptable and it proved to be a quiet place to wait for my flight (though the whole airport is quiet right now). My only complaint was that the internet was too far too complex to use…why not just have an open network?