The beautiful new United Polaris Lounge in San Francisco offers immense space and superb amenities that places it in contention for the best airline lounge in the United States.
This 28K square foot lounge can accommodate 442 guests at a time, offering sufficient capacity for even the busiest times of day. Join me on my photo tour, highlighting every square inch of United's largest and most luxurious lounge.
United Polaris Lounge SFO Access
Access is reserved for longhaul business class passengers on United or a Star Alliance partner. Access is not permitted to Global Services or Star Alliance Gold members traveling in economy class.
As you enter the lounge, your boarding pass will be verified by lounge agents.
United Polaris Lounge SFO Seating
Spread over two floors, the new Polaris Lounge has 440 seats seats, including 19 different seating types.
On the first floor, you'll find a large seating area that has a library-like feel.
Outlets at each seat:
Take the escalator upstairs and you can turn left or right for ample more seating.
On the left in the picture above is a help desk if rebooking or other travel arrangements are needed.
Upstairs seating:
My favorite seating area is upstairs on the far left side called "The Studio": I love the telescope and vintage plane model. I also love the couch and lighting. It's just my style.
United Polaris Lounge SFO Work Rooms
Four work rooms are available on the second floor. Ideal for phone calls, the small offices have closing glass doors and plugs for your USB and larger devices.
United Polaris Lounge SFO Shower Suites
Downstairs past the seating are eight shower suites. An attendant will escort you to a shower suite or quite suite based upon preference. Should there be a wait, you can add yourself to a waitlist. The goal of this lounge, however, is for minimal wait times.
The hallway to the showers is lit like a constellation of stars, befitting of the Polaris name. Each suite is spacious, offering not just a toilet, sink, and shower, but some space to move around or re-pack bags.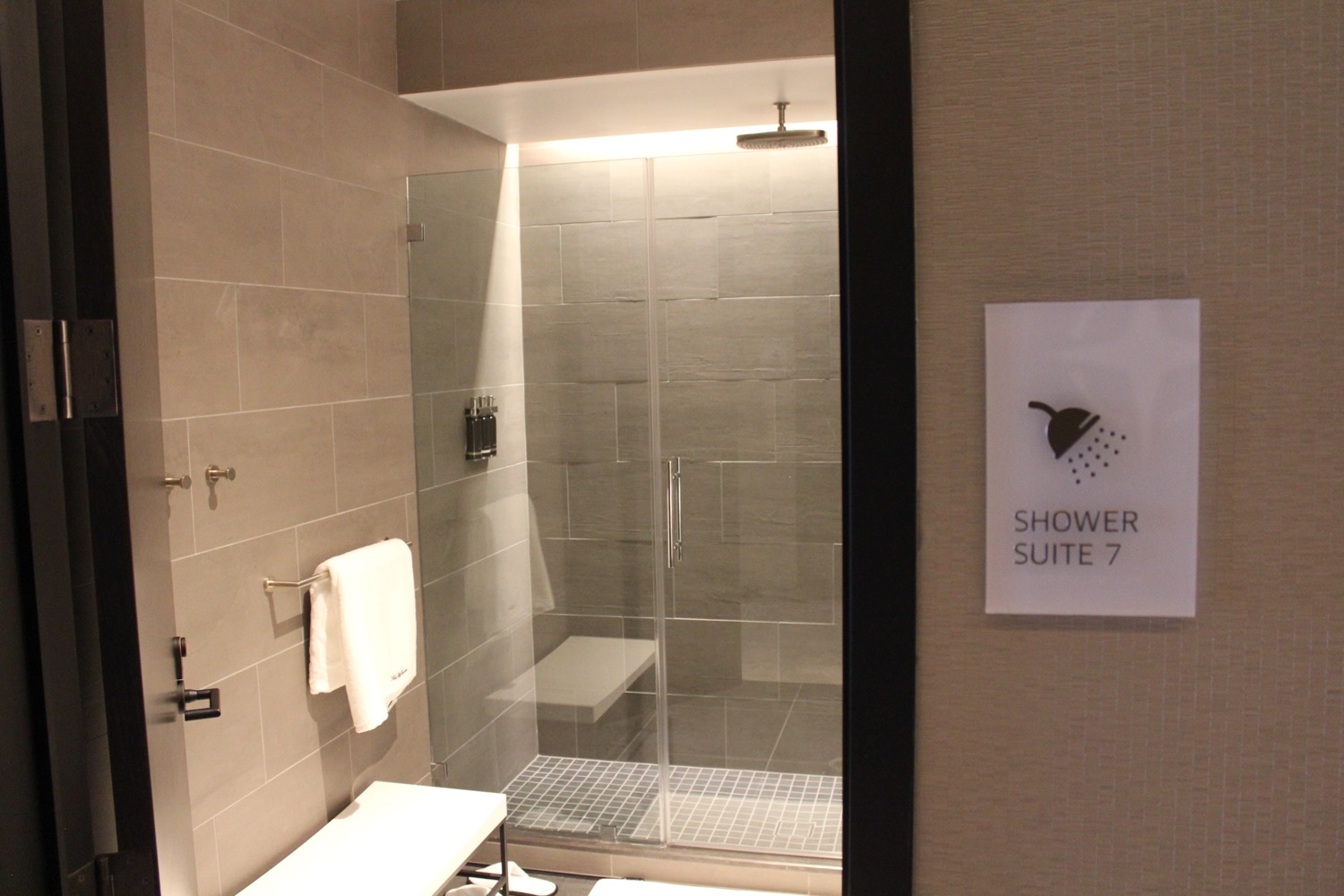 Cowshed Spa products from Soho House & Co are available.
The towels and even the floor mat are Saks Fifth Avenue branded with United tags…look for those to disappear. The towels are plush…I hope they hold up well over time.
United Polaris Lounge SFO Restrooms
The first floor features one bank of restrooms while the second floor features two. All restrooms are private and gender neutral.
United Polaris Lounge SFO Quiet Suites (Sleeping Rooms)
Adjacent to the showers is a rest area with four relaxation rooms. Each has a pre-reclined chair that is nearly flat along with amenities like a cooling gel memory pillow, blanket, and eyeshade. Also on the nightstand: an alarm clock so you don't miss your flight that will also charge your mobile phone. The suites do not have doors.
Blackout curtains will soon be added in order to darken this space.
United Polaris Lounge SFO Buffet + Noodle Bar
With the exception of a small beverage station with light snacks, all of the food and drink is found upstairs.
Downstairs snack/drink station:
Upstairs, a large buffet will offer both hot and cold items from around the world. A noodle bar will also be available.
United Polaris Lounge SFO A La Carte Dining
The dining room is beautiful and resembles a fine restaurant (arguably, I suppose, it is a fine restaurant).  The 16 tables will accommodate up to 40 people at a time.
The a la carte menu offers traditional favorites like the Polaris Burger but also menu options specific to San Francisco like cioppino.
I love the place settings and menu cover.
There's even power and USB ports at each table so you can charge your devices while eating.
Here's the a la carte menu:
I highly recommend the Tiramisu espresso cup!
United Polaris Lounge SFO Sushi Bar
On the other side of the second floor, the Polaris Lounge will offer fresh sushi.
Adjacent to the sushi is a wine bar (same wine as in the bar and dining room):
Behind it, soft drinks, light snacks, and cookies.
United Polaris Lounge SFO Bar
A well-stocked bar offers a wide selection of alcoholic drinks including wine, beer, and cocktails. 50% of the wines are from California.
Some of you may remember Mike from the American Express Centurion Lounge and more recently the American Airlines' lounge at SFO. He has now been recruited by United and you can find him at the Polaris Bar. I enjoyed speaking to him.
But a friendly young man named Elmer made me both a Mai Tai (which originated in California, not Hawaii) and cappuccino. He's a pro too. Indeed, the Mai Tai was delicious.
Here's the full beverage menu:
United Polaris Lounge SFO Coffee + Barista Bar
More important to me than the alcohol was the coffee and the lounge has a great new Italian coffee machine with barista-made illy coffee. My cappuccino was excellent.
United Polaris Lounge SFO Tarmac/Apron Views
Finally, it merits mentioning that the lounge also has excellent views of the tarmac from both floors:
CONCLUSION
The lounge is open daily from 6:30am to 1:00am and is located across from the Gucci store in the international terminal (G). It's an excellent lounge that represents a substantial investment in United's premium product and commitment to San Francisco. I look forward to returning as a passenger, hopefully in the near future. Lastly, I must give credit to United for not skimping: this lounge did not cut corners.