We spent a night at the Tommie Hollywood which is a mid-tier Hyatt JdV property in the heart of Hollywood. I loved the room, but the key to this property is actually its neighbor.
Tommie Hollywood Review (Hyatt JdV)
Hyatt has many brands within its portfolio of hotels. Its JdV (joie de vivre) brand is described as:
The JdV by Hyatt brand is a collection of original hotels with a deep respect for the neighborhoods that make up each destination. Each hotel is uniquely inspired by its surroundings and is a story about the communities we call home.
During our tree debacle we tried out many hotels before settling on one. The hotels in Hollywood were actually cheaper than in Pasadena, so I decided to give the Tommie and Thompson a try. At $150/night, the price was about the cheapest you can expect for a Hyatt in the Los Angeles area.
Check-In + Lobby
It was a busy day and Heidi and I checked in quite late (my kids stayed with my parents). An associate thanked me for my Globalist status and said he had put us in a suite. He joked that I had picked a good night to stay (Monday) because the bar was closed, warning me that it might otherwise have been loud. Caveat emptor?
The lobby is quite chic, with a fireplace and wooden piece of art above it as the centerpiece, with plenty of seating, plants, and trees. It is intended as a place to congregate or work, with power outlets and a café also directly in the lobby.
We took an elevator upstairs and walked down a dimly-lit corridor to our room, 819.
Room (One Bedroom Suite)
Our 388-square-foot suite included a living room, bedroom with king bed, and a large bathroom.
Some shots during the day:
A refrigerator was stocked with bottled water and there was a Nespresso machine hidden away. Room service was available, though not 24/7.
We could look out the window over Hollywood toward the Hollywood sign.
Bathroom amenities were in bulk dispensers and from Imperial with a great eucalyptus-mint scent.
The suite was perfect for our needs and the bed was quite comfortable.
Pool
These sorts of hotels are geared toward the younger crowd and of course that means a rooftop pool to show off bodies. It was a rather cool week in LA during our stay, but there were still a few brave souls in 55ºF weather outside on the pool deck in the morning.
Fitness Center
The hotel has a very respectable fitness center including a machine I had never seen before called a recumbent lateral trainer that I quite enjoyed using.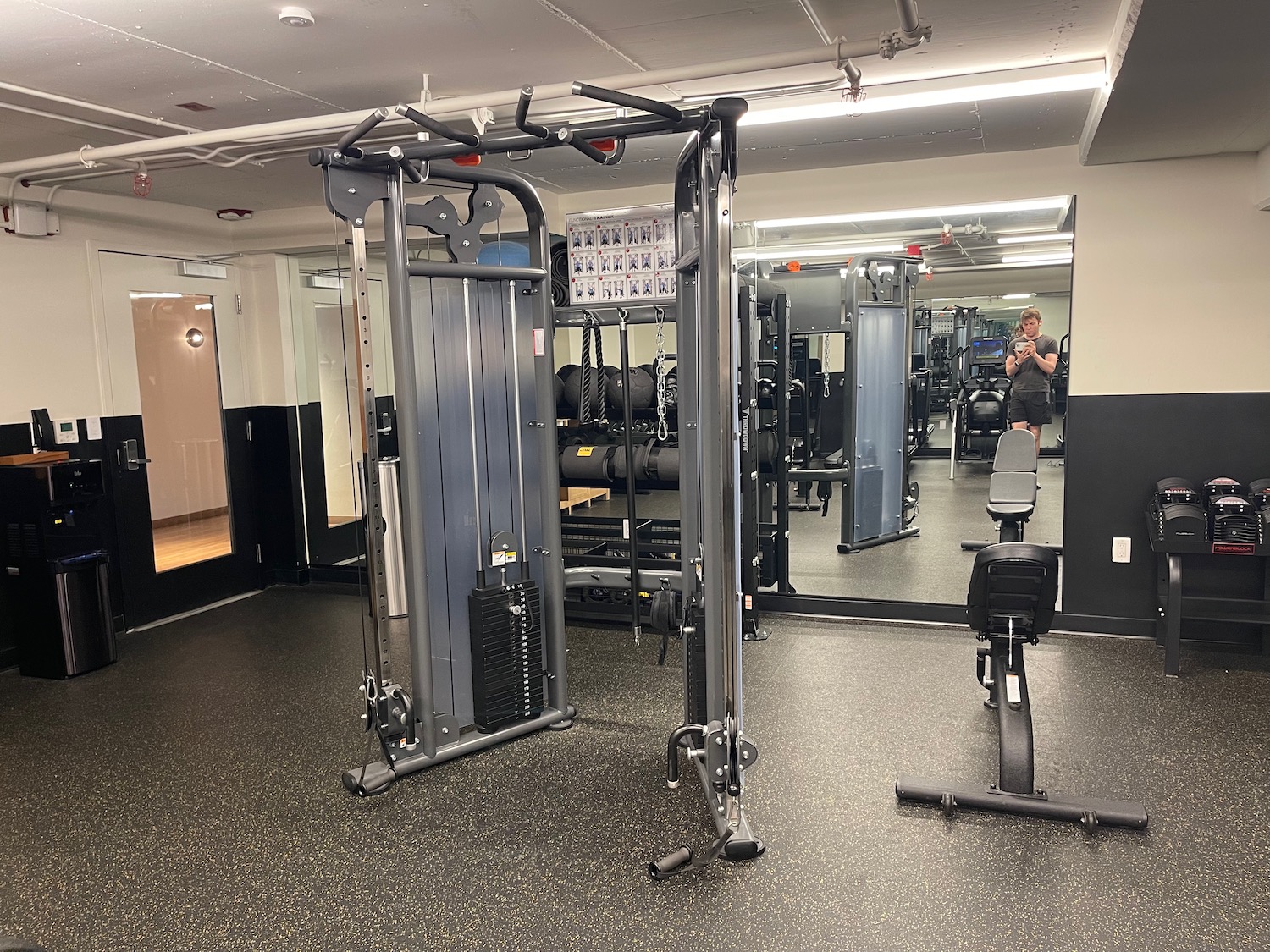 Desert 5 Spot (Rooftop Bar)
Desert 5 Spot is the rooftop bar that the hotel says "brings a vintage Palm Springs vibe and reveals the soul of Pioneertown to Hollywood." It is closed on Monday and the hours are more limited on Tuesday – Thursday than on weekends.
KA'TEEN
My biggest regret about this property is that we did not have a chance to try KA'TEEN, which is a taqueria curated by Chef Wes Avila. It is also closed on Mondays and only open from 6:00 pm to 10:00 pm on Tuesday – Thursday (it opens earlier on the weekend).
Spending $50 each on tacos may not be necessary in a city full of exquisite taco trucks, but this restaurant is very well regarded and I hope to try it at a future point.
Tommie Café
In the lobby, coffee, food and drinks to-go, and a limited breakfast menu is available each day (until 2:30 pm).
I started my day with a cappuccino and green drink here, but rather than eat breakfast in Tommie Cafe we took it at the Thompson next door, which the hotel allows guests to dine in and charge to your room (including the complimentary Globalist breakfast).
Next door, I enjoyed some of the best shakshuka I have ever had anywhere in the world. Breakfast alone would be a good reason to stay at the Tommie or Thomson.
I like the concept of the lobby bar. I do wish the barista knew how to make coffee and that the hotel had ceramic cups. Coffee is not meant to be consumed in paper cups.
There's also free coffee and tea available each morning at the bar.
Parking
We parked across the street in metered parking overnight, but moved to valet the next day (for our stay at the Thompson). It's fairly easy to get street parking here, but it is metered and not cheap during the day.
CONCLUSION
I quite liked this hotel and saw it as reasonable middle ground between the pricer Thompson and a budget property like a Hyatt Place. As a Category 4 hotel in the World of Hyatt program, this property is a great potential use of one of your anniversary free night certificates.
I've heard complaints that this location of this property is not in the best neighborhood. That's true…but I found it far better than outside Hotel Figueroa on the other side of town…
I would recommend this hotel and return.