I've flown the United Airlines 737 MAX 9 quite a few times since it was brought back into service in late 2020 and it dawned on me that I have never provided a review of what the first class product is like onboard. Let's take a look.
United Airlines 737 MAX 9 First Class Review
For purposes of this review, I'm going to recount a redeye flight from Los Angeles to Orlando on United Airlines, but my commentary on this Boeing aircraft and how United has chosen to configure it will not be limited to this flight.
I needed to get to New York and when nonstop flights are full, I look south. You can often fly from Los Angeles to Newark via Orlando or Tampa for around the same price as flying nonstop. The indirect routing on a plane that does not have lie-flat seating is not ideal, but better (for me at least) than sitting in economy class when the upgrade comes through.
Boarding began on time out of Gate 71B in Terminal 7 at LAX and I found my seat onboard.
United Airlines 2410
Los Angeles (LAX) – Orlando (MCO)
Tuesday, June 8
Depart: 10:45PM
Arrive: 6:35AM+1
Duration: 4hr, 50min
Aircraft: Boeing 737 MAX 9
Distance: 2,218 miles
Seat: 2F (First Class)
There must have been no Global Services (United's invite-only highest elite tier) passengers onboard, because I was first down the jet bridge, but some kid in a red hoodie ran past me. I'm not sure what that was about, but I didn't hear from him again.
Seat
United utilizes its latest generation first class recliner seat on its 737 MAX 9 aircraft, which includes 20 seats spread over five rows in a 2-2 configuration. Seat pitch is 37 inches and the seats are 20.5 inches wide. Recline is 5 inches (compared to 3 inches in EconomyPlus and two inches in economy class).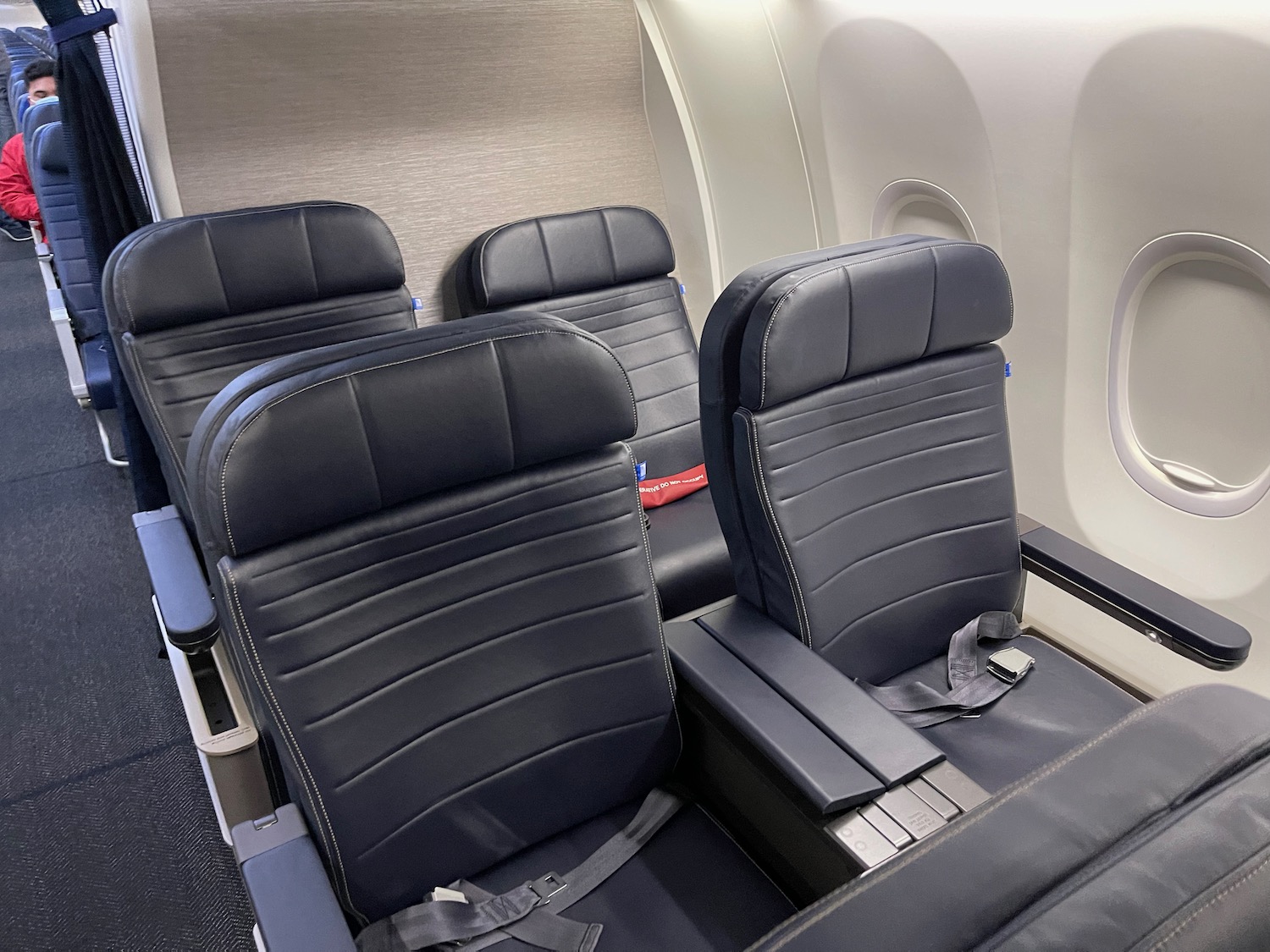 Here's what the seat looks like when reclined:
Legroom: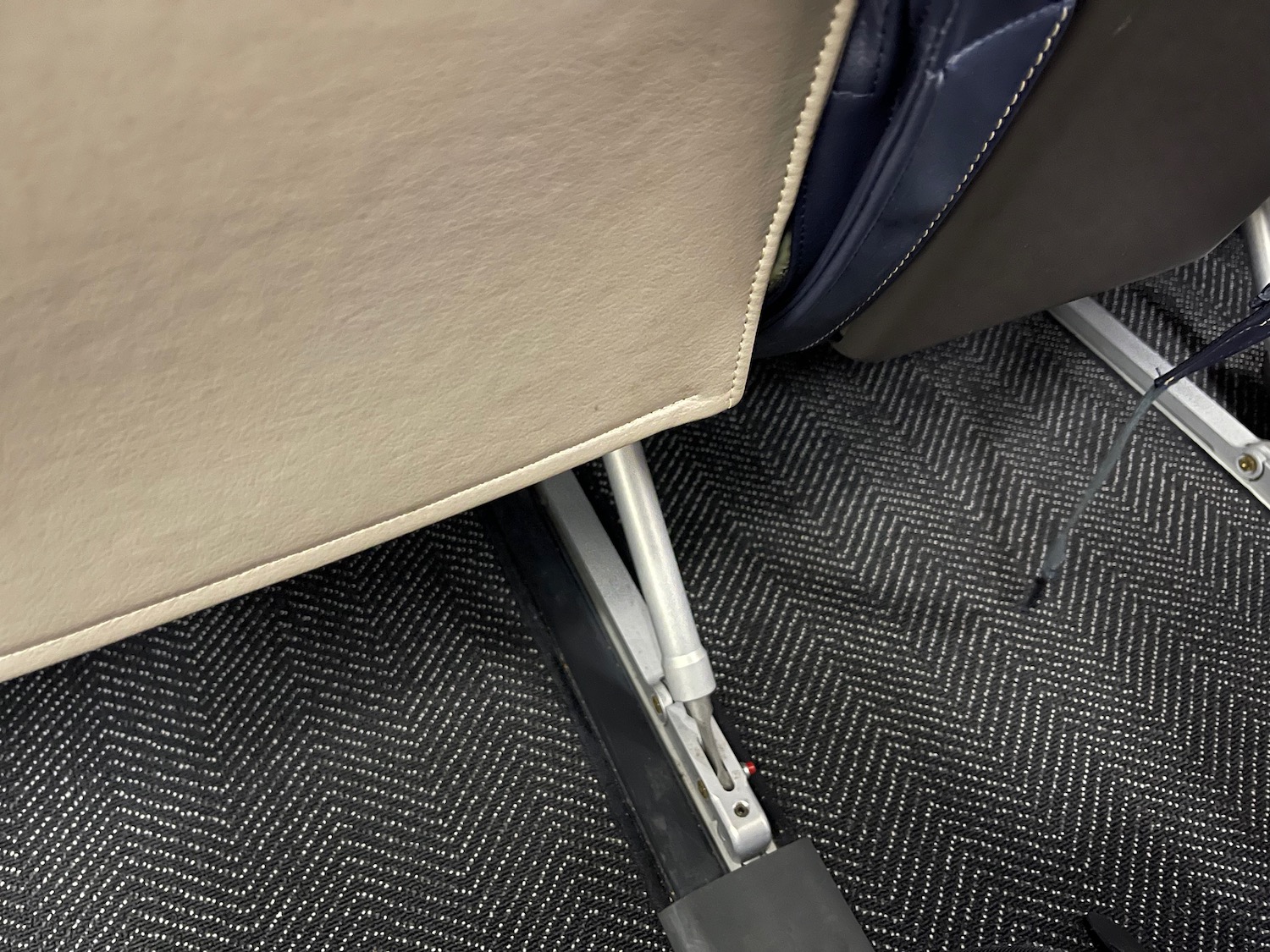 In the morning light:
Power outlets are available in the center console and there is room for limited personal storage, such as a mobile phone with charging cords or a wallet.
On the other side of the seat the armrest lifts up and there is room for a laptop computer – my 15 inch MacBook Pro fits perfectly.
Individual air nozzles are available in the passenger service unit above the seat, which always help me to sleep better.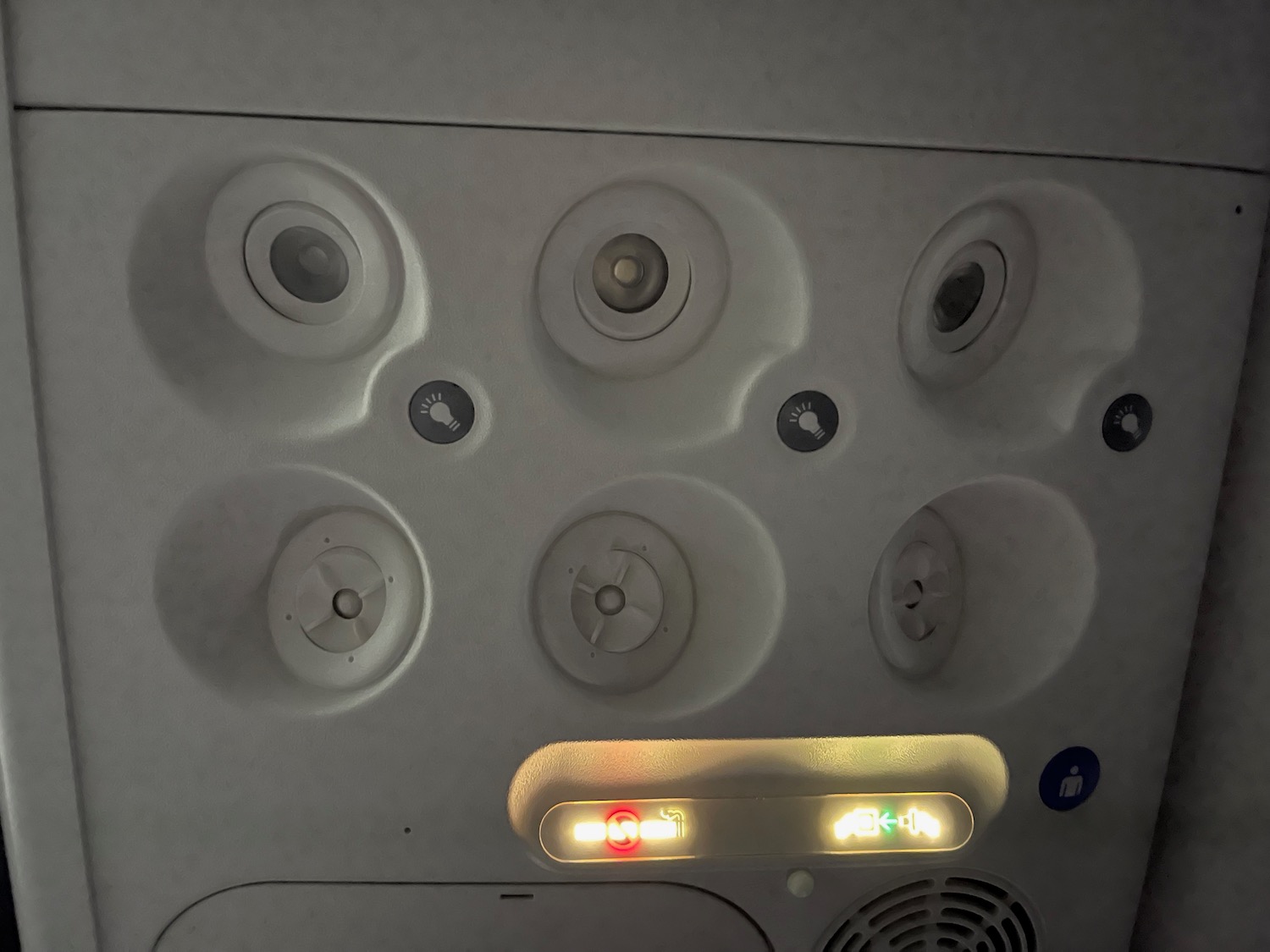 United provides a thin, small blanket in first class except on premium transcontinental flights. Economy class passengers receive the same blanket (by request only).
I was originally seated in 2A, but a couple who were seated in 2B and 2F asked if I would be willing to switch to 2F so they could sit together. Considering they asked nicely and it was a window for a window in the same row, I agreed.
Food + Drink
One (small) upside to the changes in pandemic catering is that United serves a heartier meal on redeye flights instead of just a light snack. Dinner was served after takeoff, with a choice between:
Grilled chicken and Latin rice with green chili, corn, and back bean salsa, chimichurri, and cherry tomatoes
Italian ragu with polenta
I ordered chicken, which is (or at least has been) a good dish on United, though in recent weeks we've seen the chicken breast shift to a chicken scraps being molded into a breast-shaped piece. This month, (after eight months) the menu changed and United now offers Impossible-branded meatless meatballs or chicken zaatar with orzo rice.
Dinner was served with a warm pretzel bread roll and a bowl of fresh-cut fruit, which was all ripe. I've ditched most alcohol due to my diet so I just drank water.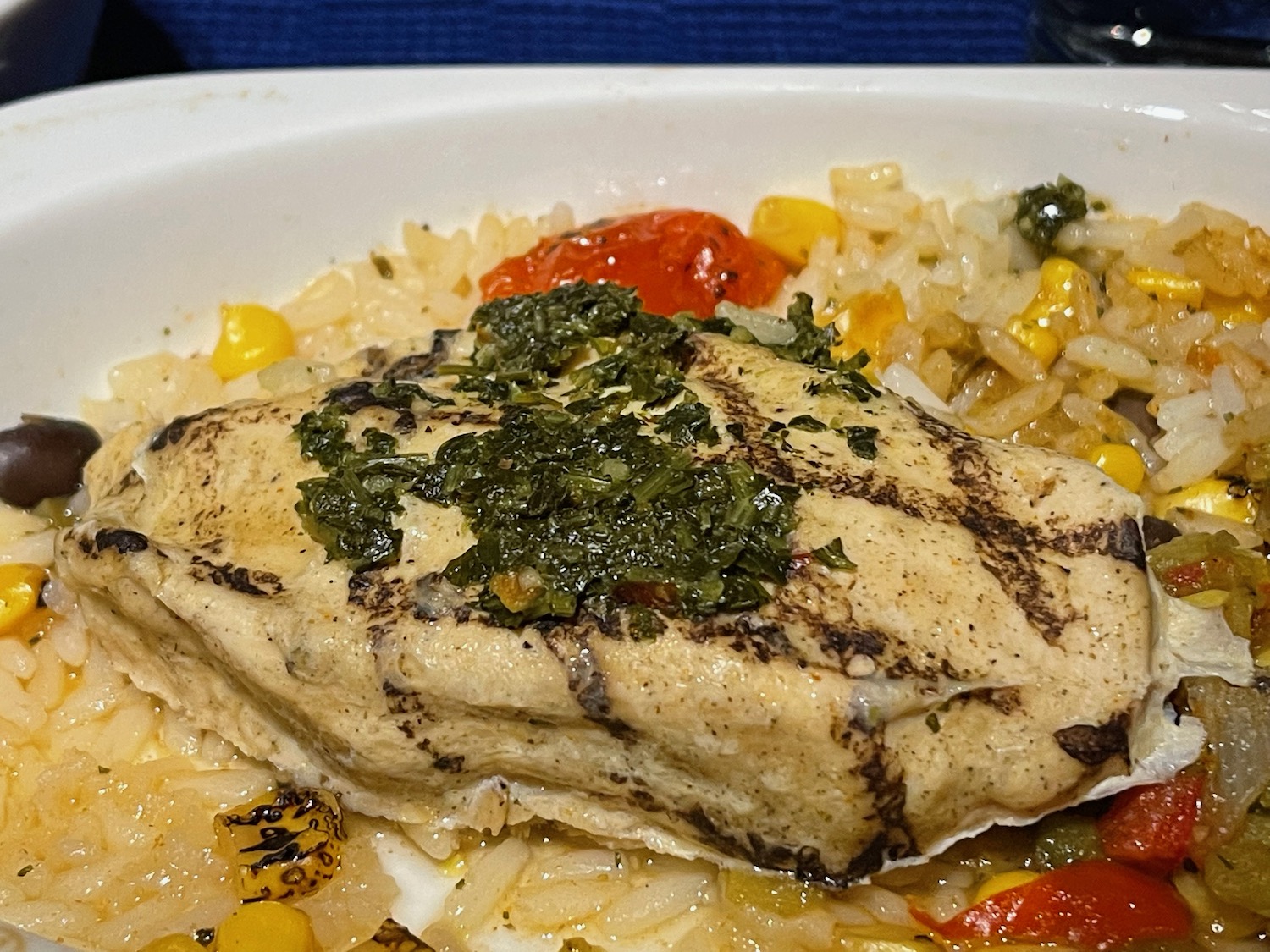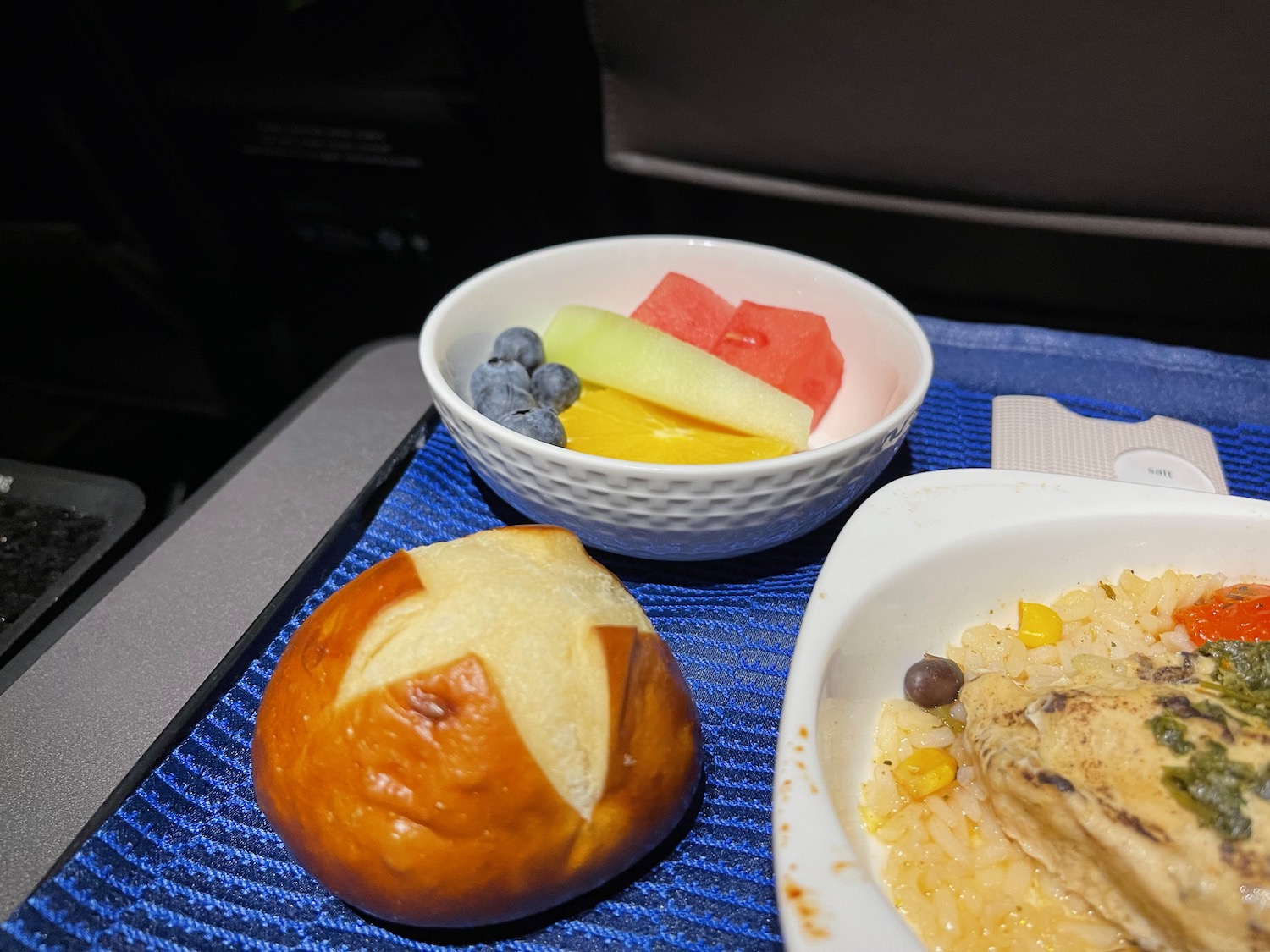 The "pie in the sky" cookies were missing and I asked the flight attendant about them. She and her colleague took a look in the galley and found them. Moments later the smell of warm cookies filled the cabin and they cookies were shortly delivered on napkins.
IFE + Wi-Fi
United is in the process of restoring seatback screens to all of its narrowbody fleet, but currently offers "personal device entertainment" on most of its 737 MAX 9 fleet (new deliveries of the MAX -8 and -9fleet are delivered with seatback screens). This is a system of streaming movies and television programming offered via the United mobile app.
---
Tip: Download the latest version of the United app before your flight in order to enjoy streaming IFE on your tablet or mobile phone.
---
Complimentary headphones are provided upon request.
Wi-Fi is available for purchase as well at a rate of $8 for MileagePlus members or $10 for non-members.
Lavatory
First class passengers can use a lavatory in the front of the cabin near the flight deck door or just behind the first class cabin. I used the lavatory behind the front cabin, which is notoriously tiny.
The sink is so narrow that you cannot help but to splash the counter and mirror when you turn on the water…and if you are not careful, your own clothes as well.
Service
Service on United has been consistent in a good way this year. I've found service warm and attentive, particularly on domestic flights. I was addressed by surname and thanked for my 1K status while meal orders were taken.
CONCLUSION
We landed almost 30 minutes early in Orlando, giving me time to check out the Orlando United Club and grab some excellent coffee (stay tuned for those posts).
The 737 MAX 9 won't win any awards for comfort, yet it's a solid product and I have absolutely no safety concerns on this aircraft. I appreciate the upgrade greatly, as the extra width and recline helped me to get in a few hours of shuteye on the flight.