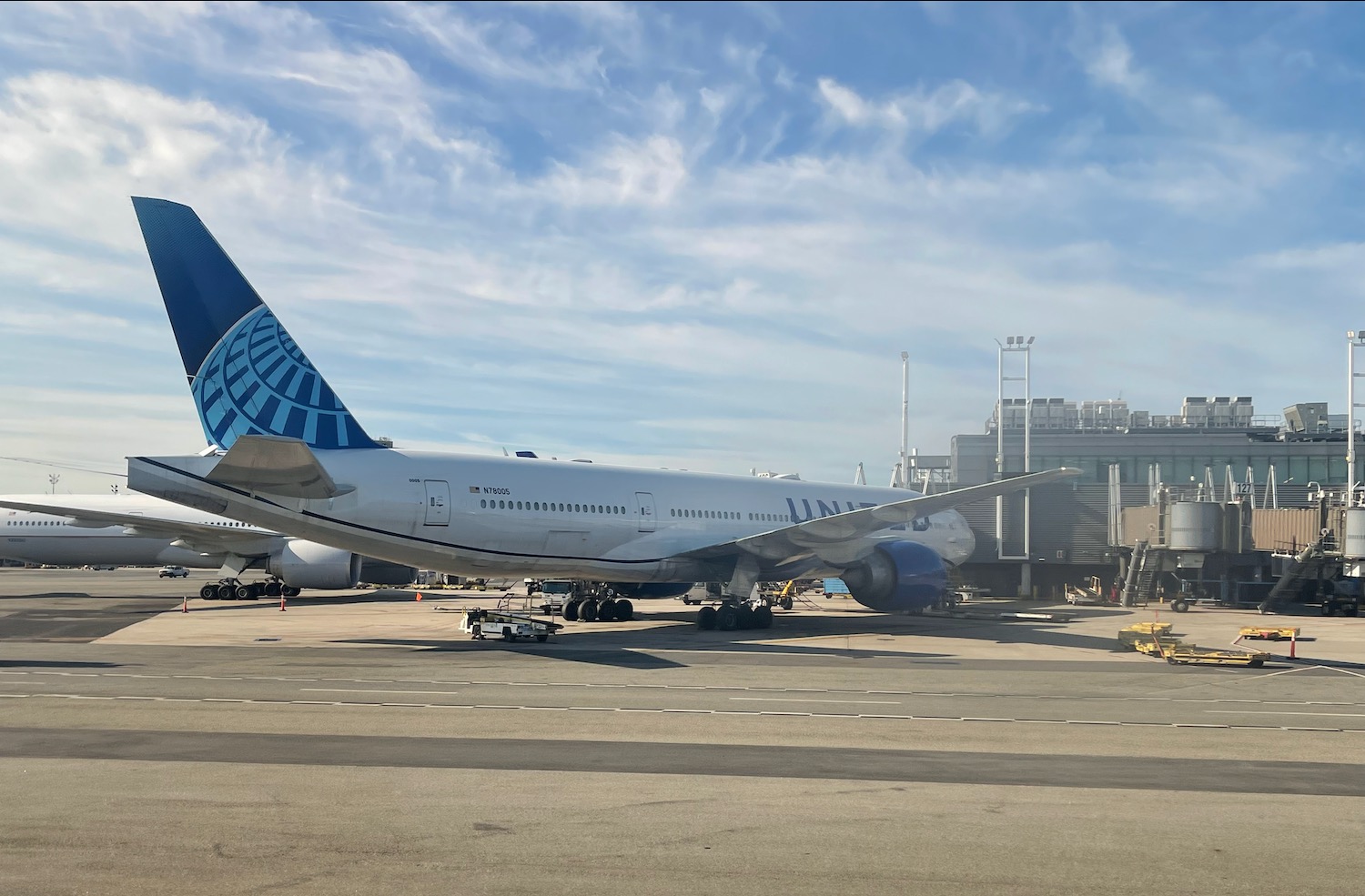 I slept quite well on my redeye flight on United Airlines in 777-200 business class from San Francisco to Newark. The bottom line on a United redeye is that you can expect a solid rest.
United Airlines 777-200 Business Class Review (SFO-EWR)
United Airlines often runs three 777 redeyes each night from San Francisco to Newark, a busy hub-to-hub route. I booked the one that looked least crowded hoping to score an upgrade, but I ended up buying up to business class ($463 from premium economy) and I am glad I did. The sleep made all the difference the next day.
The base ticket was $280 and I was able to confirm an upgrade from economy to premium economy using PlusPoints immediately after booking. $743 plus 20 Plus Points is not bad for a five-hour redeye with a lie-flat bed. Sure, I would have preferred just $280 plus 20 Plus Points, but upgrades are not easy these days, especially on premium transcontinental flights.
Boarding began 50 minutes before departure.
United Airlines 1831
San Francisco (SFO) – Newark (EWR)
October 2023
Depart: 11:45 PM
Arrive: 08:06 AM+1
Duration: 05hr, 21min
Distance: 2,565 miles
Aircraft: Boeing 777-200
Seat: 1A (Business Class)
United often runs its "high-density" 777s on this route with only 28 seats in business class in a 2-4-2 configuration, so I was quite happy to get a "Polaris" aircraft, featuring 50 longhaul business class seats.
Seats + Bedding
I've reviewed the seats many times before, but I always like choosing the bulkhead seat (in row one or nine) because of the larger cutout for your feet. I think it makes a huge difference in terms of comfort.
Generally, you will want to pick an odd-numbered A or L because those seats offer the most privacy and are "true" window seats.
Couples traveling together may prefer the odd-numbered D and G seats, which are close together and a privacy partition can be lowered.
The big difference on this flight was the new bedding, which is still Saks Fifth Avenue branded, but now made from recycled plastic bottles and with a slightly different feel than before (one side has different texture than the other). I am not sure whether the new blanket is better or worse, but it is still great…the size was perfect to cover my body and I slept very well.
Two pillows were also offered, including a cooling gel pillow (now both sides cool) and a larger pillow with a snazzy new pillowcase on it.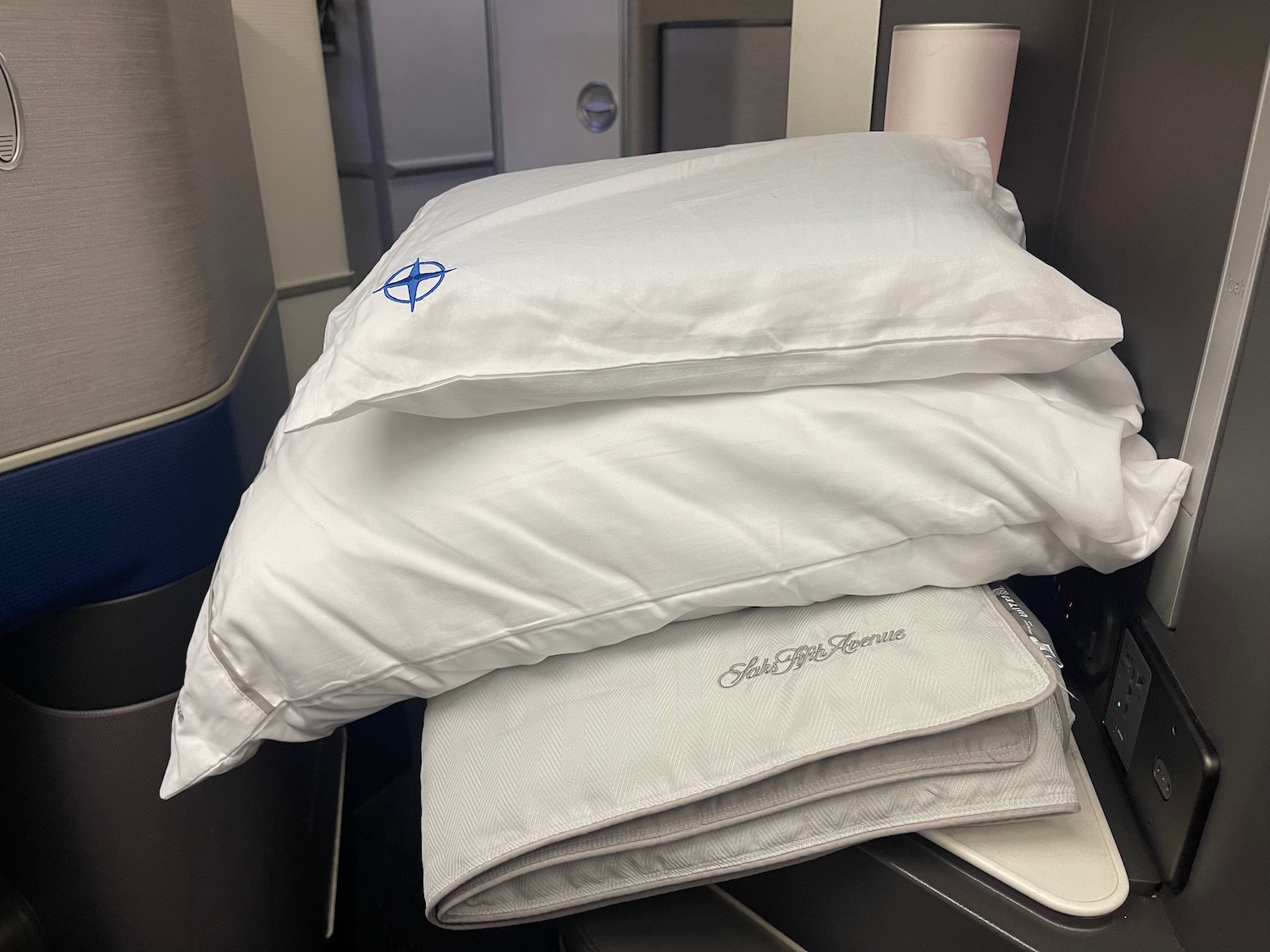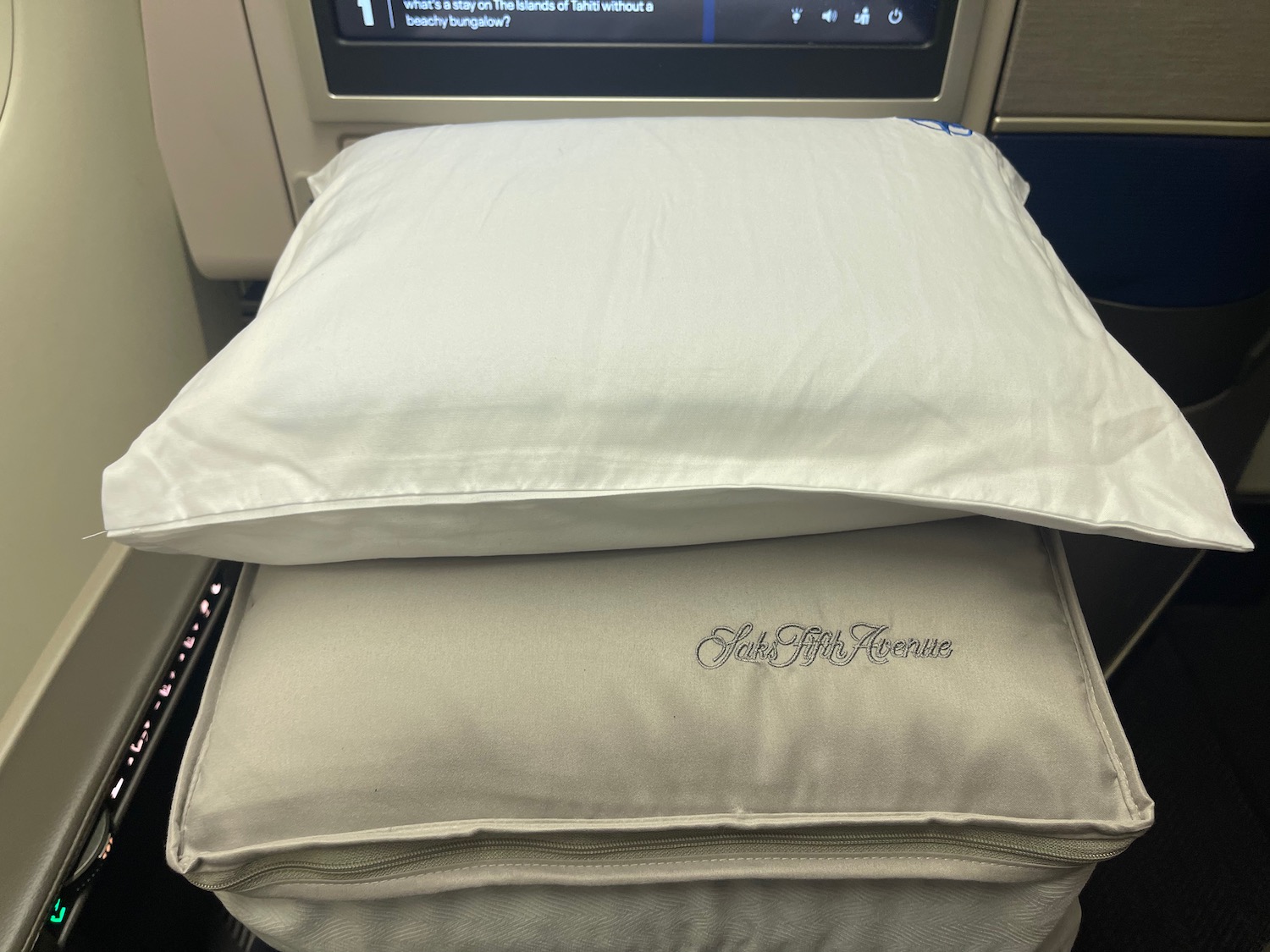 Instead of being wrapped in plastic, the bedding is now in a reusable zippered case.
I won't rehash the pilot seating incident, but you can read about it here.
---
> Read More: When You Find Your Business Class Seat Is Reserved For A Crewmember…
---
I spent most of the flight sleeping.
Amenity Kit
My seat featured two amenity kits, one from Asutra (which are standard on premium transcontinental flights) and the other from Therabody (which are generally used for Polaris longhaul flights).
I have written about these before so I did not want to open them and waste them. Pictures and more details here.
---
> Read More: United Airlines Updates Domestic Amenity Kits
> Read More: United Airlines Unveils "Polaris 2.0" With Focus On Sleep Amenities
---
Meal Service
Dinner was served after takeoff. United has not rotated the meal selection on these "premium transcon" routes in two years…it's always the same thing (chicken or pasta) and frankly I'm sick of it. So whenever I book one of these flights, I order a special meal. This time, I ordered a vegan meal.
Service began with warm almonds + cashews and a choice of beverage.
My special meal was loaded and the main course included a bread roll with margarine, a green salad with tomatoes wedges and sliced cucumbers, a bean salad, a main course of coconut-flavored rice with vegetables, and a mandarin for dessert. Honestly, not bad…especially for a midnight snack.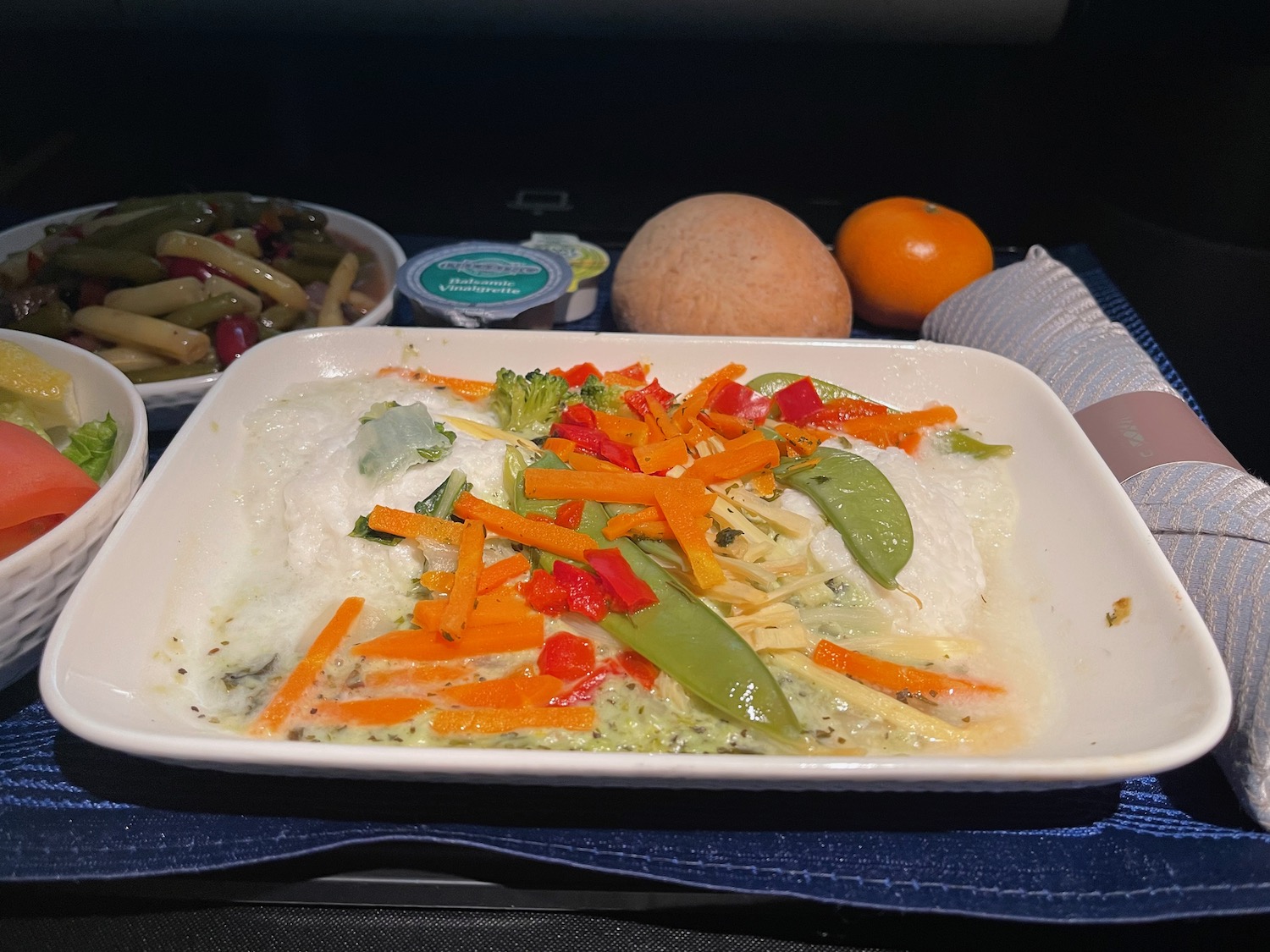 I recommend a special meal on this route. The Kosher and Indian vegetarian meals are not bad either, though gluten-free is my favorite.
While the ice cream sundae was not vegan, I enjoyed one with caramel sauce, whip cream, and almonds after my meal.
A light breakfast was served before landing (croissant plus yogurt), though I slept through it.
(this picture was from an earlier flight)
IFE + Wi-Fi
Wireless internet was available for purchase at a rate of $8 for MileagePlus members and $10 for non-members.
A full library of videos, TV shows, and games was available with noise-cancelling headphones.
Lavatory
I used the lavatory after dinner and found it clean. United has thankfully updated the lavatory on these aircraft, which feature a larger sink and a bit of counter space.
CONCLUSION
I slept until shortly before landing (and was thankful the flight attendants did not wake people up until the double ding of final approach). We landed to a rather hazy day in Newark and taxied past several international carriers.
We pulled up to our gate where a gate agent was waiting to guide the jetbridge into the aircraft. Soon I was off and on my way to the United Club.
Despite the snafu over the pilot seat, it was a very nice flight and I got a solid rest ahead of a busy day. That's the point of business class on a redeye flight…