For my duck trip, I "cheeped" out and flew United Airlines from San Francisco to Frankfurt in EconomyPlus. As much as I love to travel in premium cabins, it's nice to travel in the back once in awhile so that I can better appreciate the flights up front.
United Airlines 777-300ER Economy Plus Review
United's Economy Plus product offers up to five extra inches of legroom, which makes the economy class experience much more comfortable. It is free for elite status members of MileagePlus (Premier Silver members can reserve these seats at check-in while Gold, Platinum, and 1K members can reserve them at time of booking).
I booked my ticket last minute and could have upgraded to business class (40 PlusPoints) or premium economy (20 PlusPoints), both of which I have reviewed (I've reviewed "deep coach" economy class on this plane too). I decided to stay in economy class because there was a last-minute swap from a 777-200 to a 777-300ER, which meant an increase in the number of economy class seats from 202 to 266. Specifically, I was able to reserve my own row of three seats, which would make the overnight flight much more bearable. If you are not a MileagePlus elite, you can reserve a seat in EconomyPlus, usually between $89-129 on an intercontinental flight.
As a Star Alliance Gold member, I had (hassle-free) access to the United Club prior to my flight. Boarding began 45 minute prior to takeoff and required a document check first (proof of COVID-19 vaccination is now required for leisure trips to Germany).
We boarded from the international terminal using new facial recognition boarding gates. That was a bit counterproductive, because instead of just scanning our faces to board, an agent still had to check paper boarding passes to make sure the "Documents OK" stamp was on it.
United Airlines 58
San Francisco (SFO) – Frankfurt (FRA)
Thursday, September 2
Depart: 2:05 PM
Arrive: 9:55 AM+1
Duration: 10hr, 50min
Aircraft: B777-300ER
Seat: 32C (Economy Plus)
Onboard, I was welcomed by a flight attendant and handed a wipe, then headed back to my seat.
I found a German man in my seat. It was very clear what he was doing: his wife was in the row in front and they each wanted their own row. Nice try, buddy. I told him in German that he was in my seat and without a word he returned to his own (as it turned out, he scored an entire center section of four seats to himself once the aircraft door closed).
Later, I found another intruder in my seat: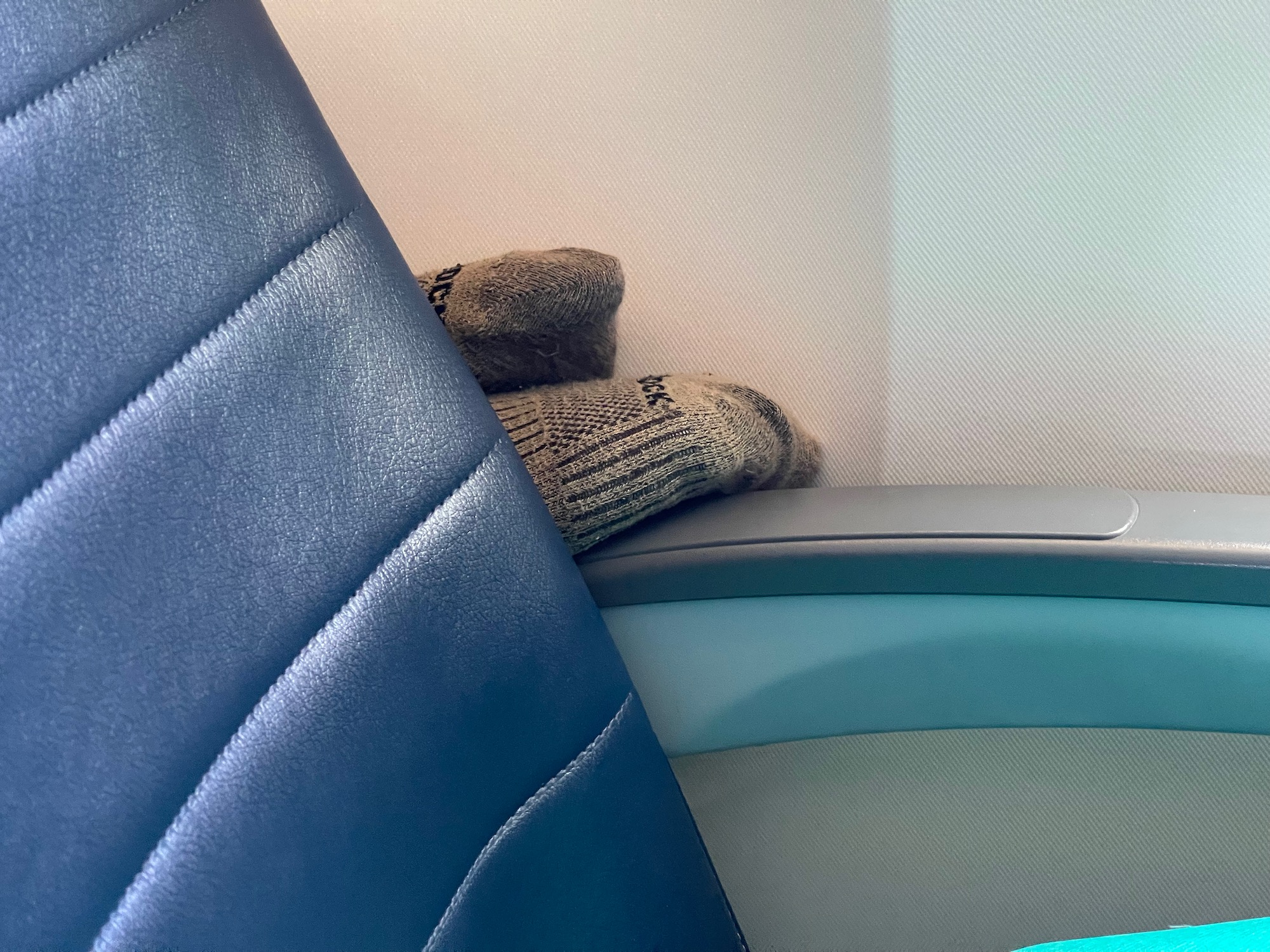 Seat
United's 777-300ER has 10 seats across in economy class in a tight, 3-4-3 layout. When this flight is full, I think the extra legroom truly makes all the difference in the world. Standard seat pitch is 31 inches while EconomyPlus is 34-36 inches.
Three seats share two power plugs while the four center seats share three power plugs. There's also a USB charging port on the setback monitor.
I was pleased to see United's new neck pillow onboard. Although I did not have to sleep sitting up, I had one around my neck while I was watching a movie and it represents a significant improvement over the old rectangular pillows.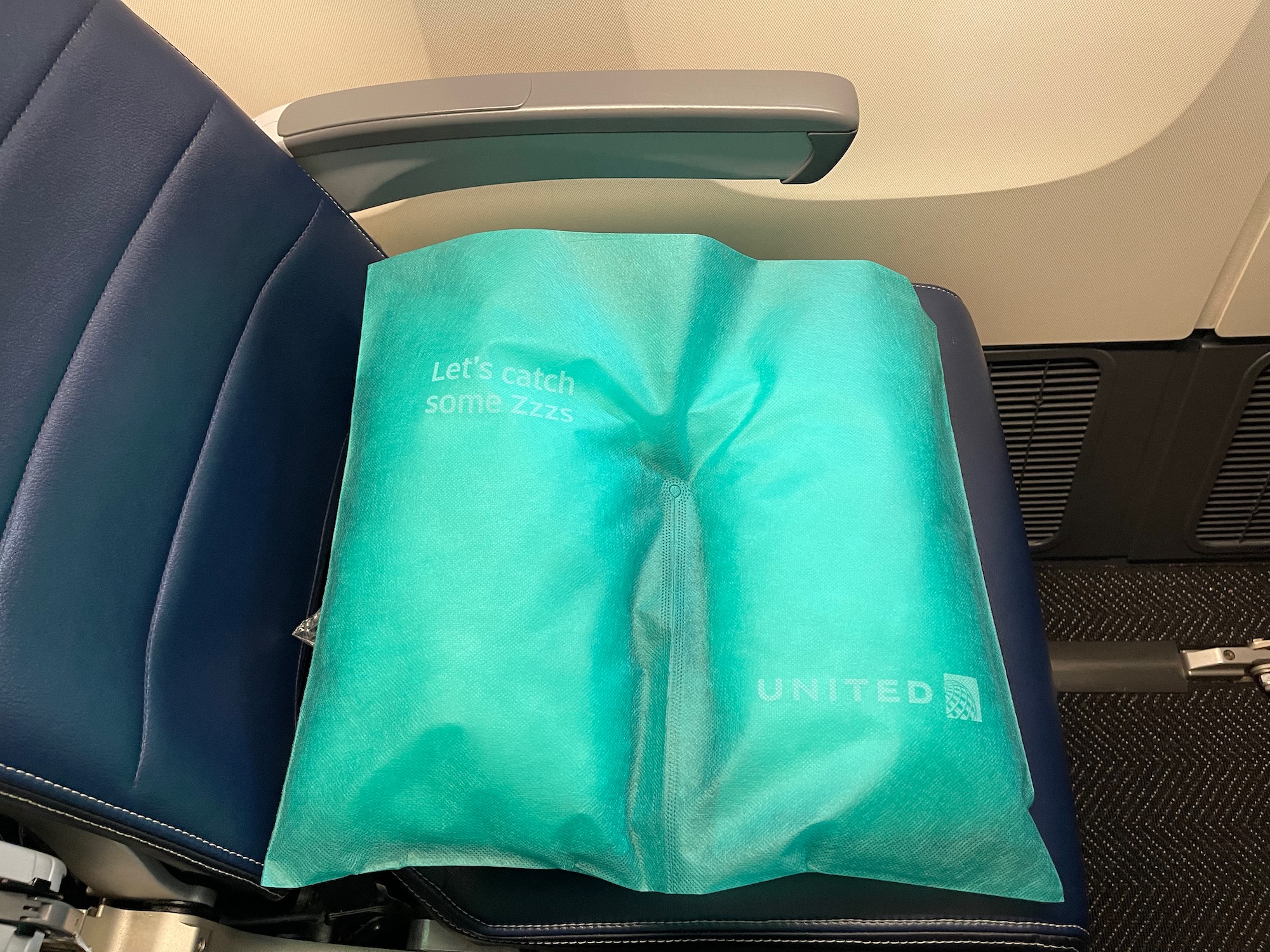 IFE + Wi-Fi
United's IFE interface is very easy to use and exclusively touch-screen (there is no passenger service unit).
The welcome screen includes information on the flight including which meals are offered at what times.
The library includes games, audio books, audio mixes, news, movies, TV shows, local weather, and a moving map.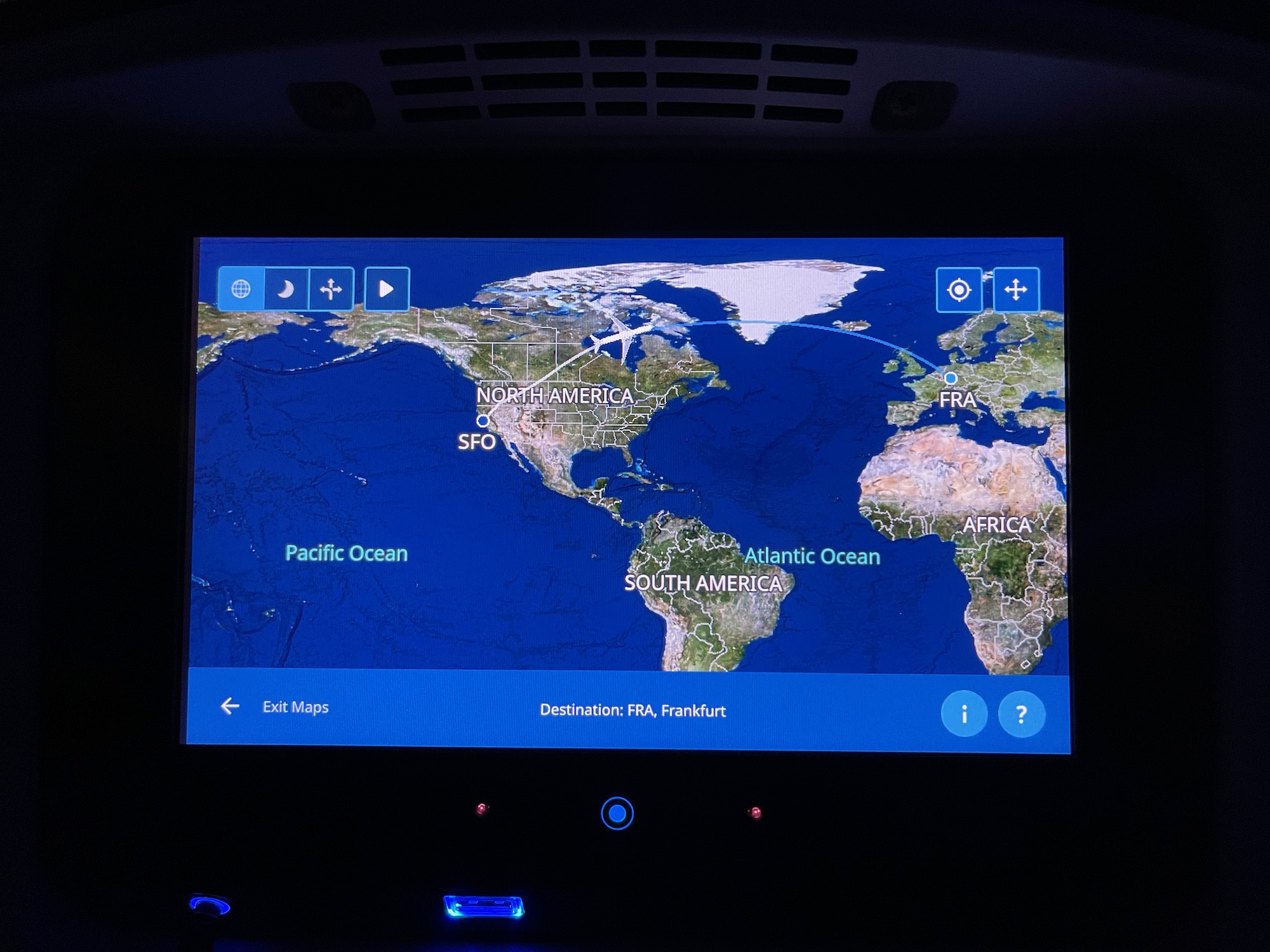 Theoretically, "Channel 9" is available (air traffic control communications), but the pilot elected not to turn it on for my flight and I did not ask about it.
Complimentary disposable headphones are offered to each passenger.
Wi-Fi did not work on my flight. I never count on Wi-Fi on United and always prepare as if I will be offline for the entire flight. That was less important on this afternoon flight, but ever since this incident I've never left it to chance.
Food + Drink
Lunch was served after takeoff. Choices included seasoned chicken strips with orzo and cheese sauce or cannelloni with spinach and red sauce. Lunch was served with a bread roll, grain salad, and ice cream (or in this case, salted caramel gelato). Free beer and wine are also offered in economy class, though it is really poor quality.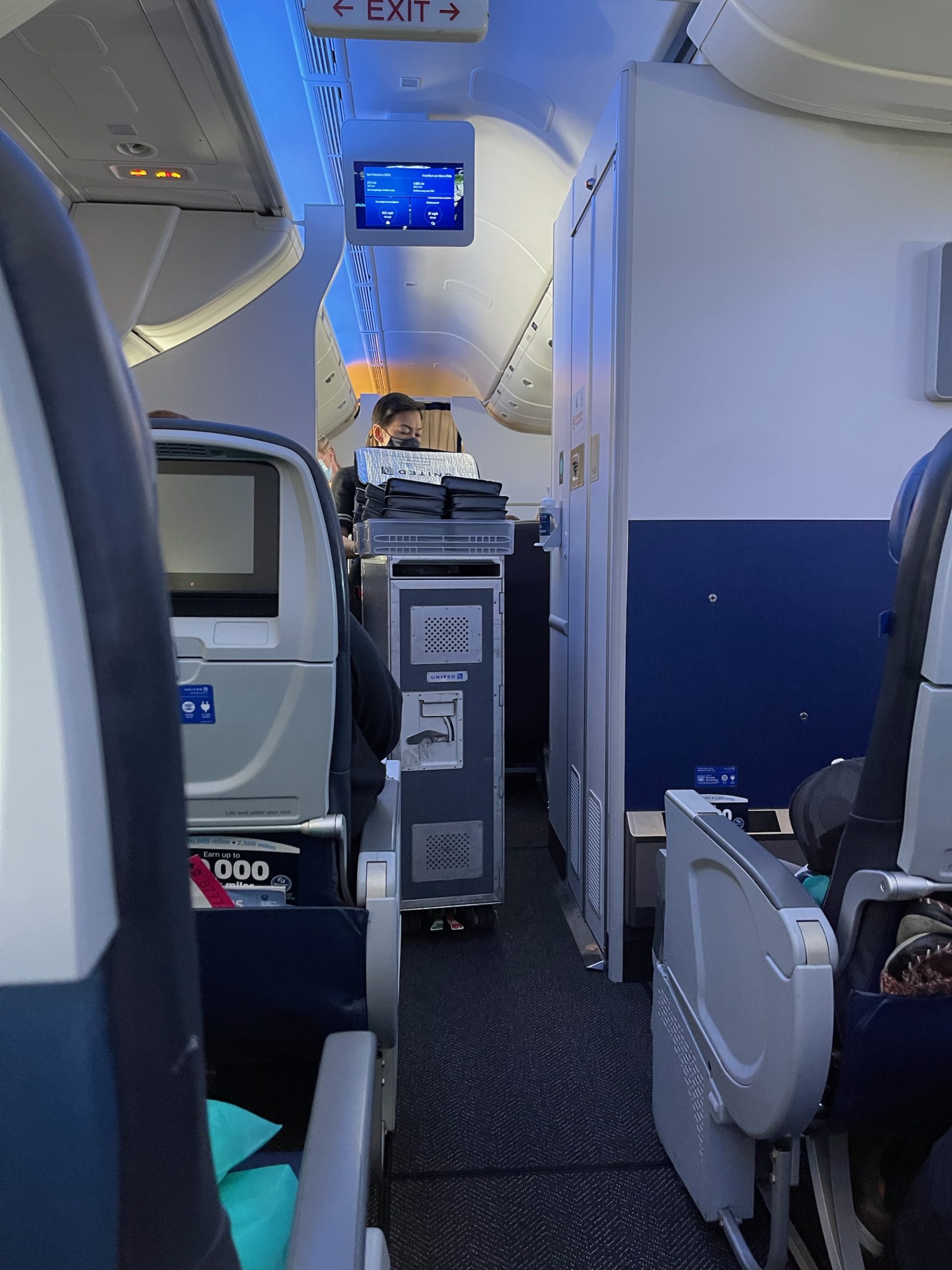 The main course, salad, and ice cream were fine, but the bread was ice cold and better used as hockey puck. There's no reason why bread should not be heated prior to the flight.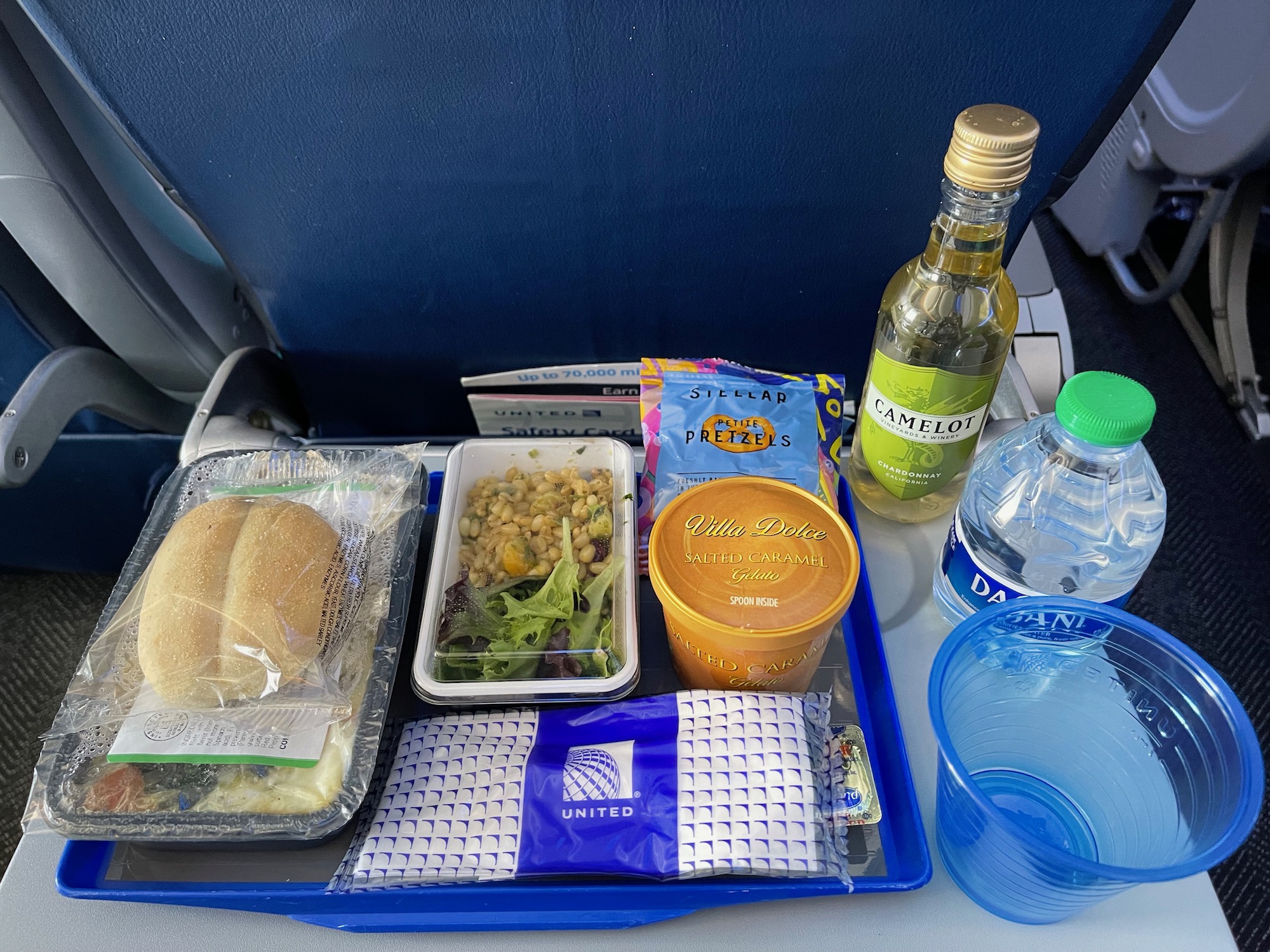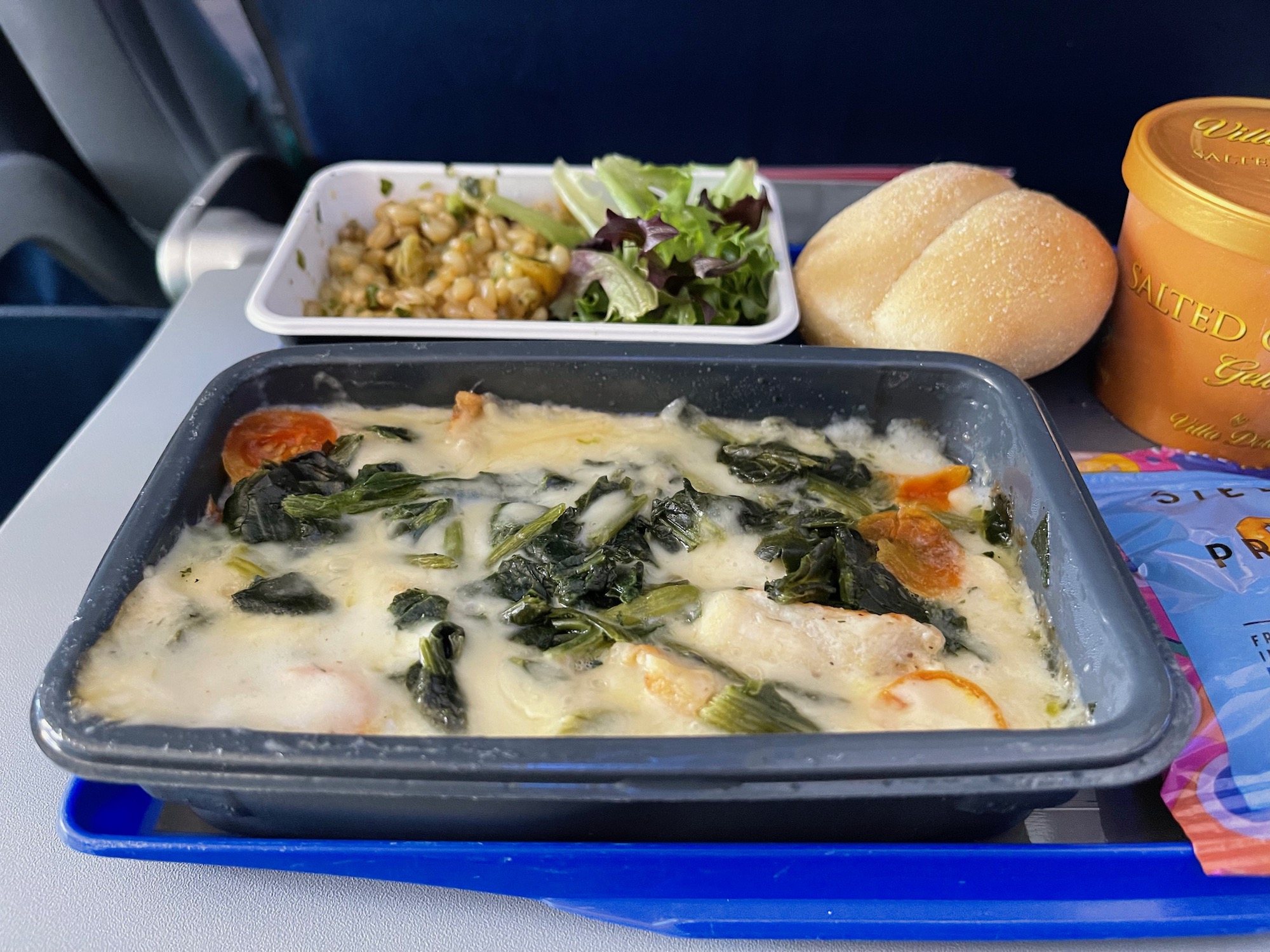 Mid-flight service included a choice of beverage and a snack bag with a turkey sandwich and small bag of M&Ms candy.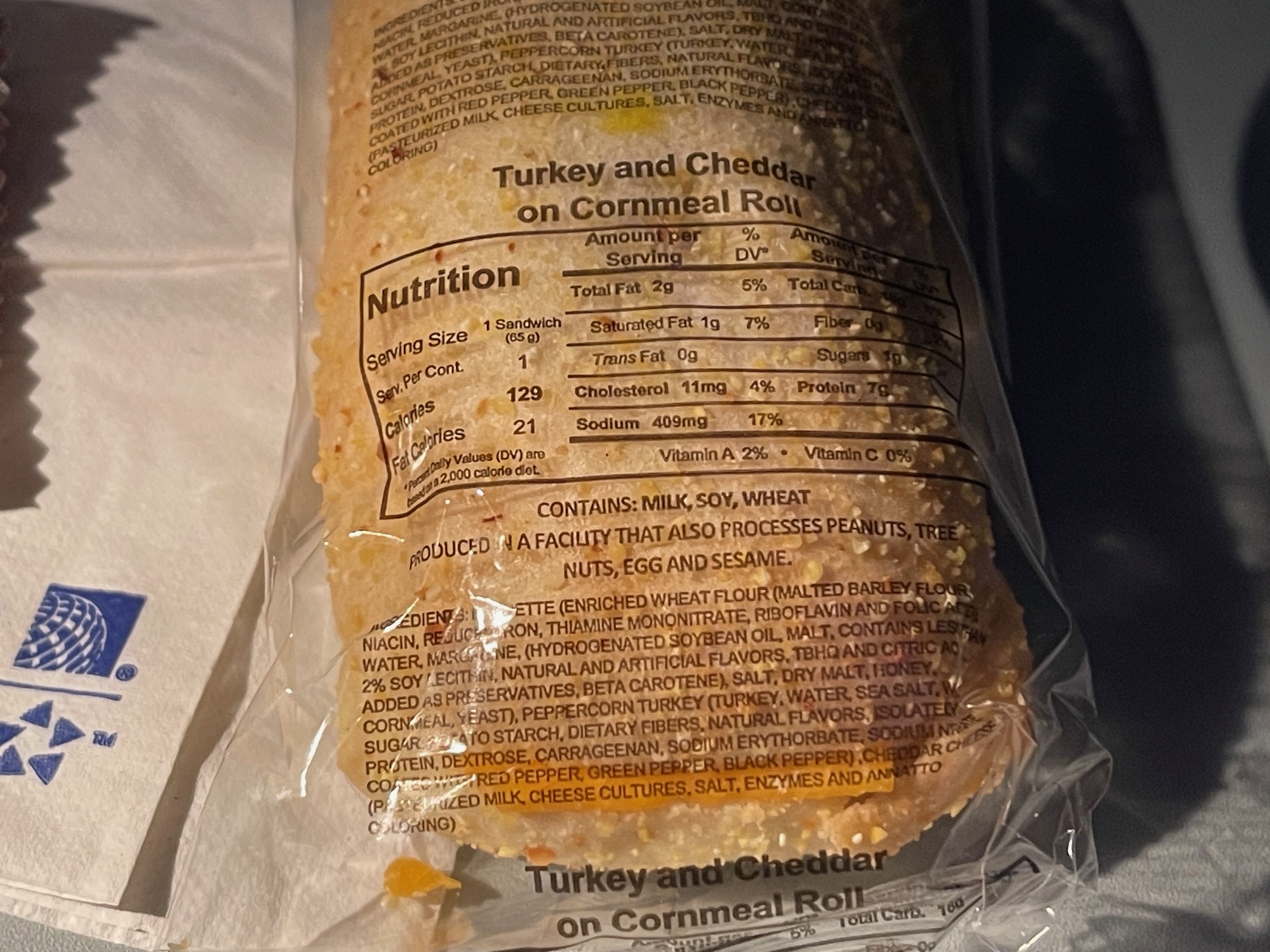 I was looking forward to breakfast prior to landing, which traditionally has been a hearty meal with eggs or pancakes, fresh fruit, yogurt, and a muffin. Not anymore. This is the new breakfast:
Yes, the yogurt and biscoff are even served on a tray.
This is an unfortunate cost cutback and I hope that United will restore a heartier pre-arrival breakfast. Even a hot croissant and fruit, as was served on shorter transatlantic routes prior to the pandemic, would represent a huge improvement. Or at the very least, Greek yogurt with no sugar added…
In any case, I was so hungry I opened up the turkey sandwich from earlier, but it just wasn't great so I asked a flight attendant if I could have a croissant from business class and she obliged.
Lavatory
I won't say the lavatory floors were sparkling, but the lavatory was clean enough when I used it mid-flight.
Service
While service was far from hostile, it also wasn't friendly. For the most part, flight attendants were simply going through the motions. It would be unfair to expect first class service in economy class, but at one point I had my arm on the armrest (not really sticking out into the aisle, but it does hang over ever-so-slightly) and got smacked by a beverage cart. The flight attendant just ignored it…not even an "oops." I don't think she realized it.
At one point mid-flight I was thirsty and retreated to the rear galley to ask for a water bottle. A flight attendant offered me three of them. I did stay hydrated on this flight.
Remote Gate
Our tailwind was not as strong as anticipated and we landed late, then pulled up to a bus gate. I hate bus gate in general, though I've come to see the "glass half full" in the sense that it allows me to get a closer look at airplanes on the tarmac.
Social distancing on the bus, however, was a joke.
We were emptied off into a crowded waiting area for passport control, though the lines moved quickly.
CONCLUSION
Certainly having a row to yourself makes the economy class experience much more bearable. If you get hungry during flights, bring your own food because the breakfast is really just a few bites of food you should not be eating in the first place. Other than that, the flight was fine and I arrived relatively well-rested.