After initially leading the way when it came to restoring onboard meals during the pandemic, United Airlines currently lags behind its competitors in terms of first class dining. But starting next month, meals will return to more domestic routes, which marks welcome news for premium cabin travelers.
United Airlines Will Restore First Class Meals On More Domestic Flights
As Alaska, American, and Delta have restored full meals on shorter flights, United Airlines has continued to offer these sandwiches (or snack boxes) on many flights between 800 and 1500 miles: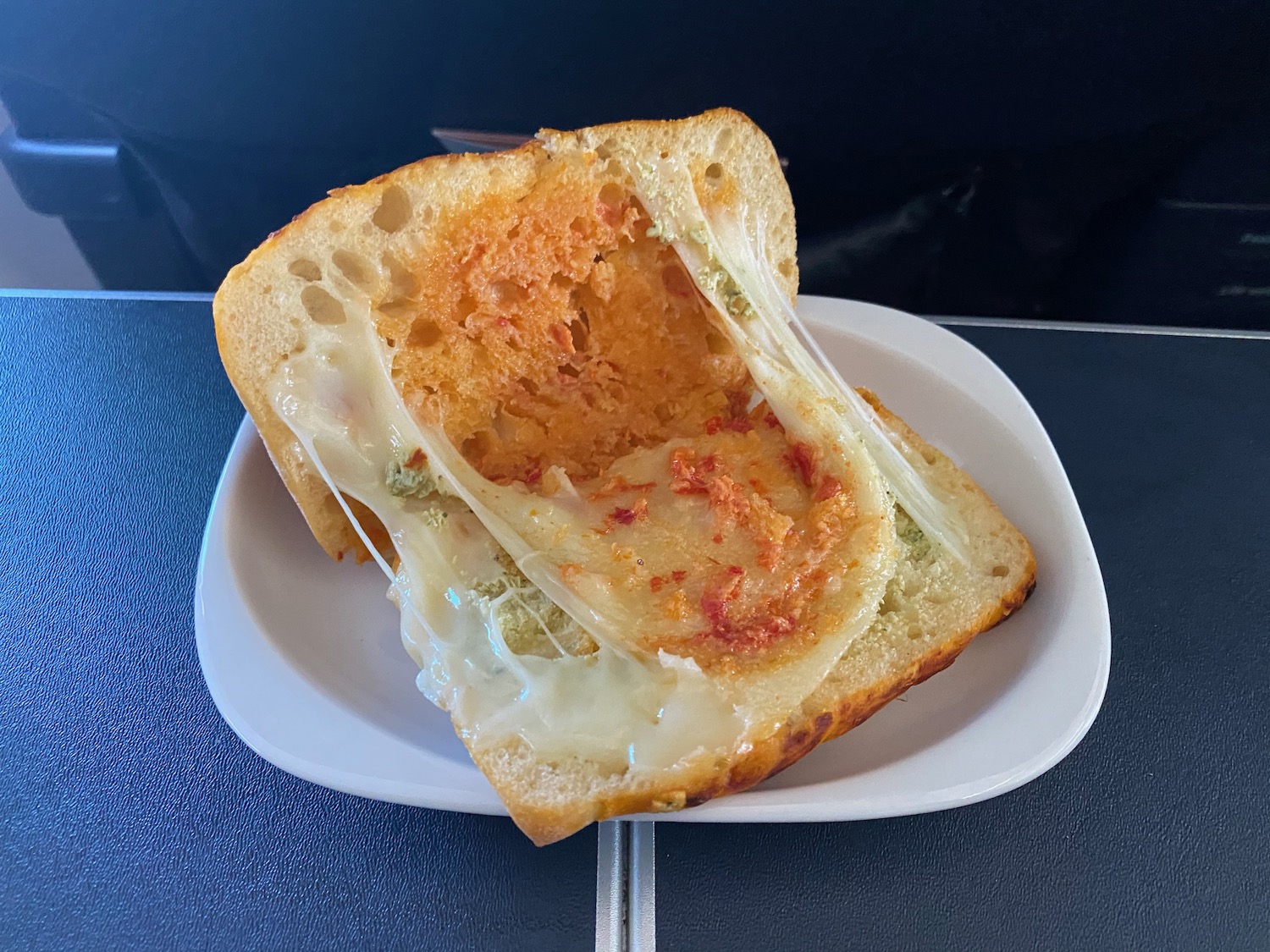 These unhealthy and messy sandwiches are no substitute for a three-course meal and United is finally wising up to the fact that it is an outlier when it comes to onboard premium cabin catering, and not in a good way.
Effective June 1, 2022, United Airlines is expanding its domestic first class meal service and will offer full meals on all first class flights between 801-1500 miles. On mainline flights, this will include:
entree (hot or cold option)
side dish
dessert
On United Express flights over 800 miles, a cold meal will be offered with side dish and dessert, as these aircraft have no ovens onboard.
While United Airlines has not confirmed, I am hopeful that the expansion of meal service will usher in new menus and the return of salad onboard. Historically, "domestic" has also included flights to Canada, Mexico, and Central America.
For example, take Dallas – Washington Dulles. Currently, American Airlines offers warmed mixed nuts after takeoff, a choice of entree, salad, and dessert. United offers a snack box:
It should be noted that American and Delta serve meals on flights over 900 miles while United will serve meals on flights over 800 miles.
International Meal Service Improvements
As I wrote about earlier this month, United is also improving its Polaris business class meal service, moving from single-tray service to three-course service on all routes. Menus will be refreshed, the bread basket will return, and a choice of desserts (ice cream, cheese, or cake) will be available.
---
> Read More: United Airlines Will Introduce More Polaris Dining Improvements Next Month
---
Additionally, liquor minis will one again be complimentary in premium economy class on June 1st and will be offered for sale in economy class.
Flight attendants will also add an additional mid-flight beverage service in economy class.
---
> Read More: United Airlines Will Restore Free Alcohol Minis In Premium Economy Class
---
CONCLUSION
It is nice to see United Airlines catching up to its competition here and I look forward to meal service on more routes. With planes full and fares high, certainly an argument could be made that the status quo was working just fine. Yet the move recognizes that passengers do care about meal service and restores a bit of quality to more domestic routes.