Oh what a difference a hallway makes in dividing two worlds, one in the heavens and the other in the dungeon. This review covers the sorry step-sister of the Polaris Lounge, the C17 Untied Club located directly across the concourse hall but worlds apart.
United Club Washington Dulles Review (C17)
Many United Clubs have improved greatly this year, with an expanded section of fresh food and snacks that represents the best lounge spread we've had since the pandemic began (and arguably before it). Not this one, though. At least not while I was there in the early afternoon.
Location + Hours + Access
Located next to Gate C17, this lounge is currently open from 5:30am to 10:00pm daily.
Access is reserved for United Club members, Chase United Club Visa holders, Star Alliance Gold travelers, and international business or first class passengers traveling on any Star Alliance flight. But if you're traveling in international longhaul business or first, please do yourself a favor and use the Polaris Lounge across the hall.
Furthermore, one-time passes from Chase are accepted or access can be purchased for $59. Note that if you hold a Star Alliance Gold card from United Airlines (Premier Gold or higher), you can only access the lounge when traveling in conjunction with an international itinerary.
Those who have a Star Gold card from other programs can use the lounge when traveling on any Star Alliance flight in any class of service. Also note that from IAD, United does not give premium cabin passengers access on domestic flights without status.
Global Services passengers are also allowed complimentary entrance.
Seating
You enter this lounge on the concourse level, check-in at the desk, and head downstairs (both stairs and an elevator are available).
Downstairs, you'll first encounter the flight support desk, then can proceed straight out into the food and beverage area or turn right into the work area (cubicle-style desk with plugs and lights are available – I used to study my law school textbooks here).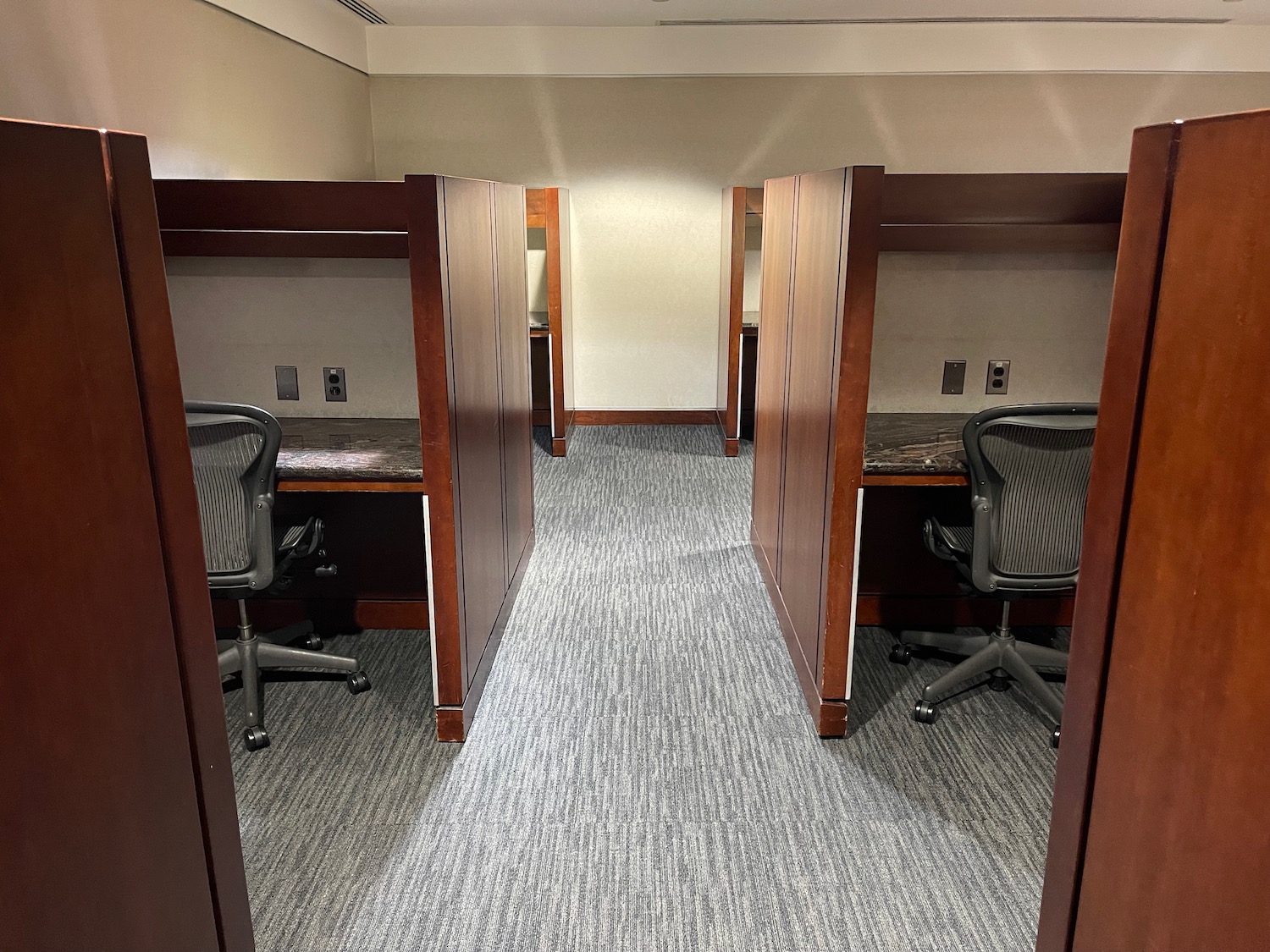 The main seating area is rectangular in shape spanning from a bar and restrooms on the far left side to different clusters of seating all the way to the other wall.
This is a very depressing lounge in terms of its appearance on the lower level. There's no natural light and no fake sunlight either, just the hard white light of fluorescent and LED bulbs. Some greenery would help tremendously, but I suppose United would have to buy fake trees and plants to house down in the dungeon.
Finally, note there is a conference room available on the upper floor near reception – you can reach out to 1-866-UA-CLUBS to try to reserve space, but since 2016 United has stopped allowing conference room reservations:
"We are no longer accepting reservations for our conference rooms. Based on customer research and feedback, fewer customers are interested in and they require a significant amount of space that is better allocated to the amenities that the majority of our United Club guests value and desire. Going forward, the conference rooms will be treated like our phone rooms and available upon request, first-come, first-served."
Restrooms
Restrooms are located in the back and exactly as they were 20 years ago…serviceable, but showing their age.
Food + Drink
I'd like to think I just entered at the wrong time, because the food selection was really pitiful…I haven't seen things this bad since the bankruptcy. For the first 45 minutes, the only choice was instant noodle soup. Yuck.
Eventually, some burritos were put out (these are horribly deceptive "vegetarian" burritos that actually contain beef and were not even hot) as well as some wraps, salad, and Slim Jim meat sticks. That's all folks.
As for drinks, the espresso machines and Coke Freestyle machine were turned on cans of chilled Agua Bonita (traditional agua fresca without added sugar).
The full bar service was also available. Beer, wine, and limited spirit are complimentary while craft beer, higher quality wine, and most spirits incur a charge.
Service
Here's where I'm going to give this lounge high marks. The one redeeming feature of this dungeon was the kind staff. The agent who checked me in was quite friendly and when I had a flight issue that required assistance, her colleague downstairs handled it masterfully (she helped move me to an earlier flight home and preserve my business class seat).
When it comes to club access, the focus is often on food and beverage selection, but competent agents are the most important feature (for me) in having access to United Clubs. If you need help, you've (generally) got it. If your flight is canceled, they are far more empowered to help you than most reservations agents.
So the staff is the one redeeming quality of this lounge.
CONCLUSION
Even the other three United Clubs at Washington Dulles are better than this one. The Polaris Lounge directly across the concourse is a stark reminder of which lounges United has poured love on and which ones it has neglected. This lounge can really some tender loving care…
---
> Read My Other Washington Dulles United Club Reviews: