During my recent international connection in Washington, DC I had time between flights to go lounge hopping. This review focuses on the C7 United Club at Washington Dulles.
United Club Washington Dulles Review (C7)
If you are making an international to domestic connection in the midfield terminal, this lounge greets you at the top of the escalator after clearing immigration and customs and then proceeding through a TSA checkpoint.
If you're coming from the main terminal, take the train to the C Gates, walk the immense distance from the train station to the "temporary" terminal, head up the escalator, then turn right and walk till you get to C7.
Location + Hours + Access
Located next to Gate C7, this lounge is currently open from 9:00am to 6:00pm.
Access is reserved for United Club members, Chase United Club Visa holders, Star Alliance Gold travelers, and international business or first class passengers traveling on any Star Alliance flight.
Furthermore, one-time passes from Chase are accepted or can be purchased for $59. Note that if you hold a Star Alliance Gold card from United Airlines (Premier Gold or higher), you can only access the lounge when traveling in conjunction with an international itinerary.
Those who have a Star Gold card from other programs can use the lounge when traveling on any Star Alliance flight in any class of service. Also note that from IAD, United does not give premium cabin passengers access on domestic flights without status.
Global Services passengers are also allowed complimentary entrance.
Seating
As you enter the lounge, you'll check in at a small desk just to the right of the entrance. If you need any flight help, there is another desk in the lobby usually staffed by 2-3 agents.
Head into the lounge, which includes a large seat area with a food and bar area in the middle followed by more seating.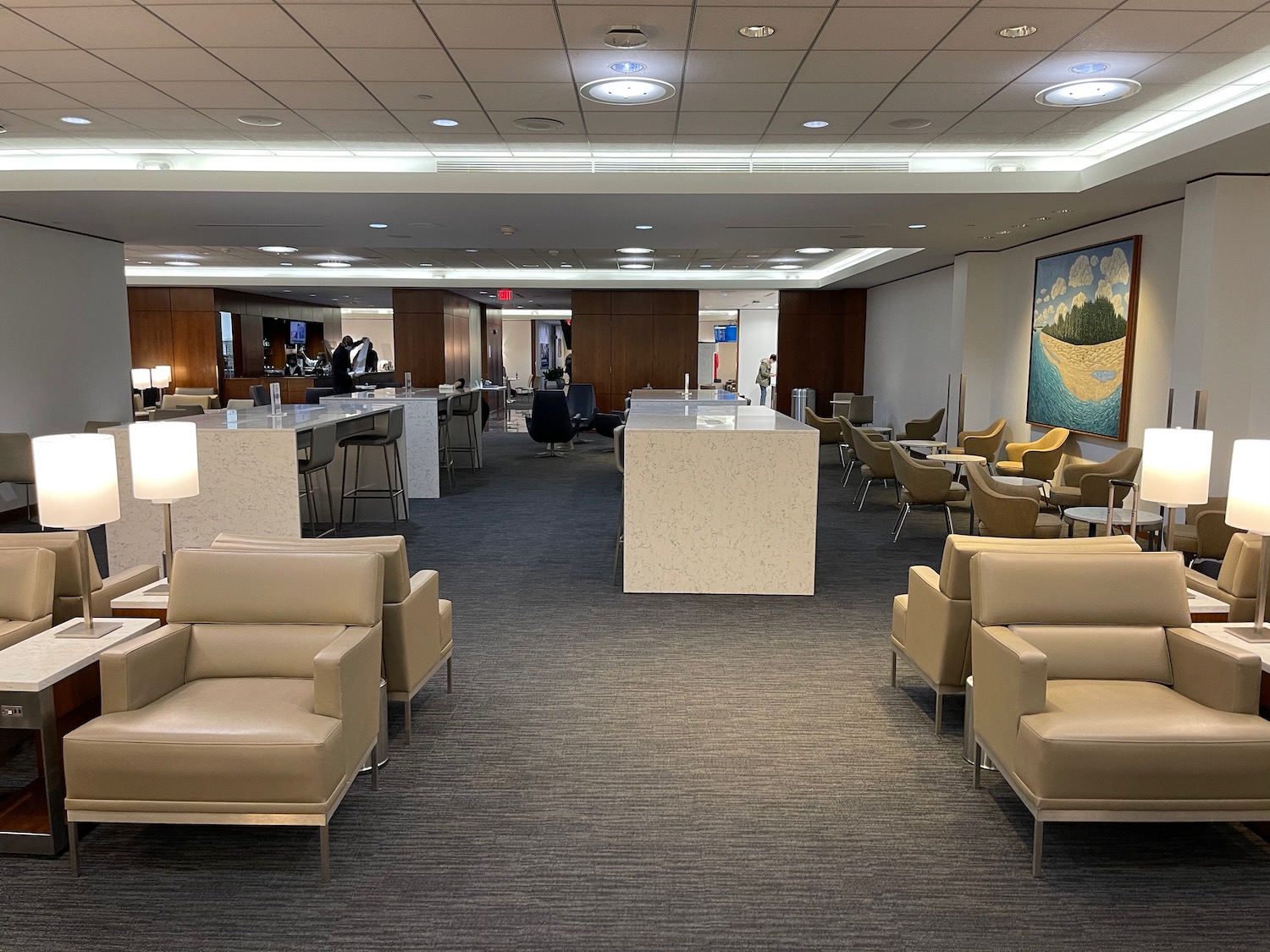 All the way in the back is a work area with six desks and chairs.
Food + Drink
Currently, United is only offering pre-packaged food in the lounge. Nevertheless, I thought the selection was decent and included:
instant noodle soup
pita chips
hummus
pretzels
popcorn
carrots
cheese-wrapped prosciutto
apples
Rice Krispie treats
trail mix
chocolate-covered pretzels
More breakfast-oriented options are available until 11am.
Coffee, soft drinks, juice, and water are self-serve. Alcoholic beverages are available at the bar.
Restrooms
Restrooms are available and were clean, with instructions to social distance. No showers are available.
Luggage Storage
If you do not want to lug your hand baggage through the lounge, there is a luggage storage area near the restrooms. This is not secure, but I've left my bags here many times when running errands (or lounge hopping) at the airport.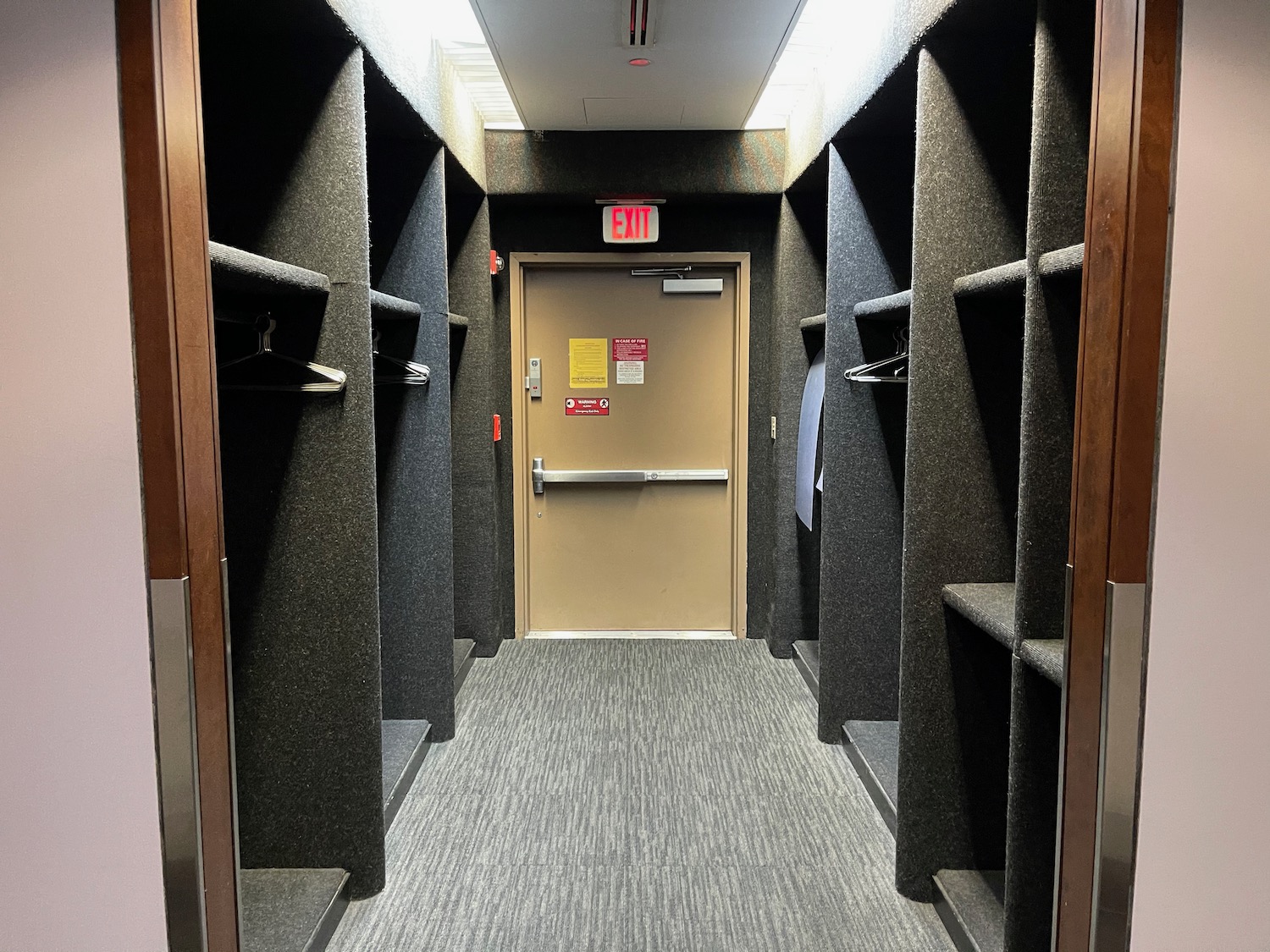 CONCLUSION
This is not my favorite United Club, even at Washington Dulles, but it offers clean restrooms, flight help, a decent selection of packaged snacks, and fast internet. If you are traveling to Europe or Africa, chances are this will be the lounge closest to your gate.