I tried out the "egg shakshuka" in United Airlines first class on my recent flight to Denver and found it to be quite acceptable. The blueberries were a different story.
Shakshuka On United Airlines – Ye Or Ney?
United offer pre-orders on all domestic flights operated by a narrow body aircraft. Between five days and 24 hours prior to your flight, you can receive your choice of entree, which these days is 5-6 choices.
I had not yet tired the "egg shakshuka" and ordered it for my Los Angeles – Denver flight last week. After takeoff, the flight attendant confirmed my pre-order had been loaded and shortly thereafter brought over the breakfast tray.
The entree was described as:
Egg shakshuka with chunky tomatoes bell peppers, and spices.
The dish was a bed of potatoes, red sauce, and what tasted like feta cheese, with three poached eggs on top. I have had a lot of shakshuka in the past and never have I seen it with potatoes, but overall I found the dish quite filling and satisfying. I eat eggs at home nearly every day (usually, I make omelets) and this would be a dish that I would try to recreate. It was still airline food, but by no means an insult to "real" shakshuka and I did taste savory spices like paprika and coriander in the sauce.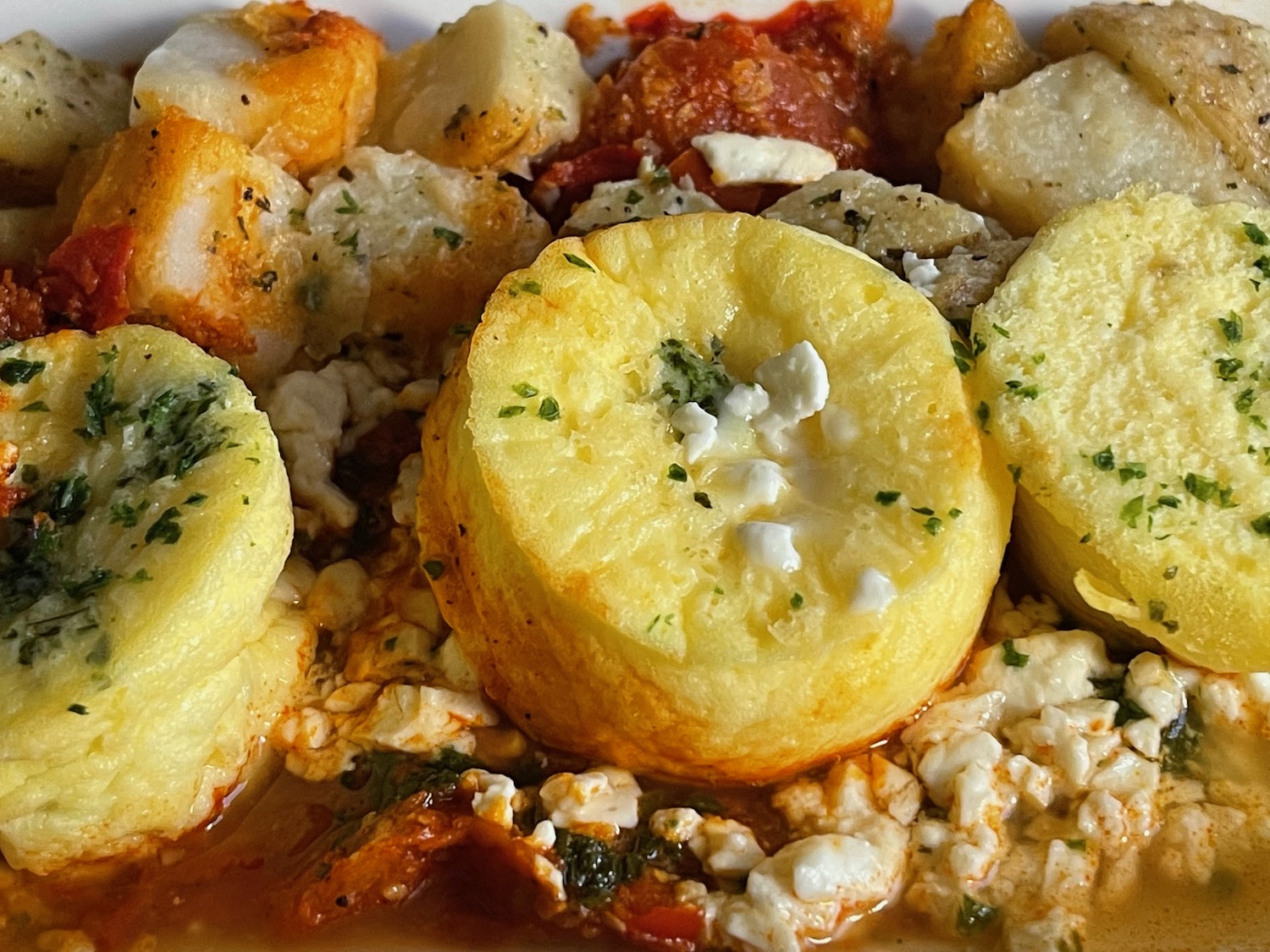 One the side: Chobanai Greek yogurt (still with added sugar, but not as much as the non-Greek variety), a fruit bowl, and a croissant (well, white bread shaped like a croissant).
A couple of the blueberries were moldy. I eat berries every day at home too and I know they can get moldy fast – though raspberries are usually much worse than blueberries.
I mentioned this on Twitter and was asked why I did not alert the flight attendant. My answer was that I felt she could not do anything about it so why bother…but that was the wrong approach. I eat rather slowly and save the fruit for last, but even so I should have let her know in case others were still eating.
CONCLUSION
United's attempt at shakshuka was not bad. I prefer this dish to the other egg dishes in the line-up and would order it again. While the moldy blueberries were unfortunate, I guard my complaint because I eat a lot of United breakfasts and this was first time I have received moldy berries in years. I would hate United to say, "Well, we'll just eliminate berries altogether."
Next time I'll try the ricotta-filled crepe, the last breakfast dish I have not sampled.