Austrian Airlines represents the ultimate dilemma for me when it comes to the 777 in business class. The onboard cuisine is simply spectacular and the special coffee menu is something very dear to my heart. But is it worth a dated business class seat and no wireless internet onboard? Let's review my Vienna to Chicago flight in Austrian Airlines Business Class onboard the 777-200ER.
Austrian Airlines 777-200ER Business Class Review
I was far more excited to book Austrian for the onboard coffee than anything else.
Booking
Award space is much easier to come across in advance than at the last-minute on Austrian Airlines. Thankfully award space was wide open on my (surprisingly empty) flight from Vienna to Chicago and I was able to confirm a ticket just a few days in advance. If booking using your points on a nonstop VIE-ORD route, expect to pay:
70,000 Air Canada Aeroplan miles
63,000 Avianca LifeMiles
77,000 United MileagePlus miles
Government taxes run about $60, far better than out of France, Germany, or the United Kingdom.
Unlike booking directly with Miles & More, there will be no fuel surcharge passed on for any of the three options above.
Check-In
Austrian has a special check-in area for Star Alliance Gold and business class travelers at Vienna International Airport. We had no wait to check-in (we had actually successfully checked in using the Austrian Airlines mobile app, but my friend was checking a bag so we had to stop by the desk).
With boarding passes in hand, we proceeded to priority security where we breezed through and were soon in the Schengen Austrian Lounge. At the time, the non-schengen Lounge in the G Gate area (review here) was closed, but has since re-opened.
Boarding for out 10:45AM flight was scheduled to commence at 10:00AM, but did not start until 10:14AM.
Austrian Airlines 65
Vienna (VIE) – Chicago (ORD)
Tuesday, July 20
Depart: 10:45AM
Arrive: 01:35PM
Duration: 9hr, 50min
Distance: 4,715 miles
Aircraft: Boeing 777-200ER
Seat: 3A (Business Class)
Stepping onboard, the purser gave me a warm greeting in German…a sign of good things to come onboard.
Seating
The Austrian Airlines 777-200ER cabin includes a total of 40 seats in a staggered configuration. These Thompson Vantage seats are similar to what you find on SWISS (and other airlines including Delta and JetBlue). Seats alternate between a 1-2-1 configuration in odd-numbered rows and a 2-2-2 configuration in even-numbered rows. 
---
Tip: Choose an odd-numbered A or K seat in rows 1, 3, 5, or 7 if you wish to secure a more private "throne" seat
---
Seat pitch is 40 inches and when fully reclined the bed is 78 inches. The seat is 20 inches wide. In all honesty, this is probably my least favorite lie-flat business class seat. I generally struggle to sleep in these seats, finding them a bit claustrophobic since so much of your legs and feet are (quite literally) under the seat in front of you (the footwell is more like a leg well).
That said, it is perfectly comfortable for a day-time flight and manageable for an overnight flight.
I chose seat 3A, a single seat that is both an aisle and window seat (a "throne" seat).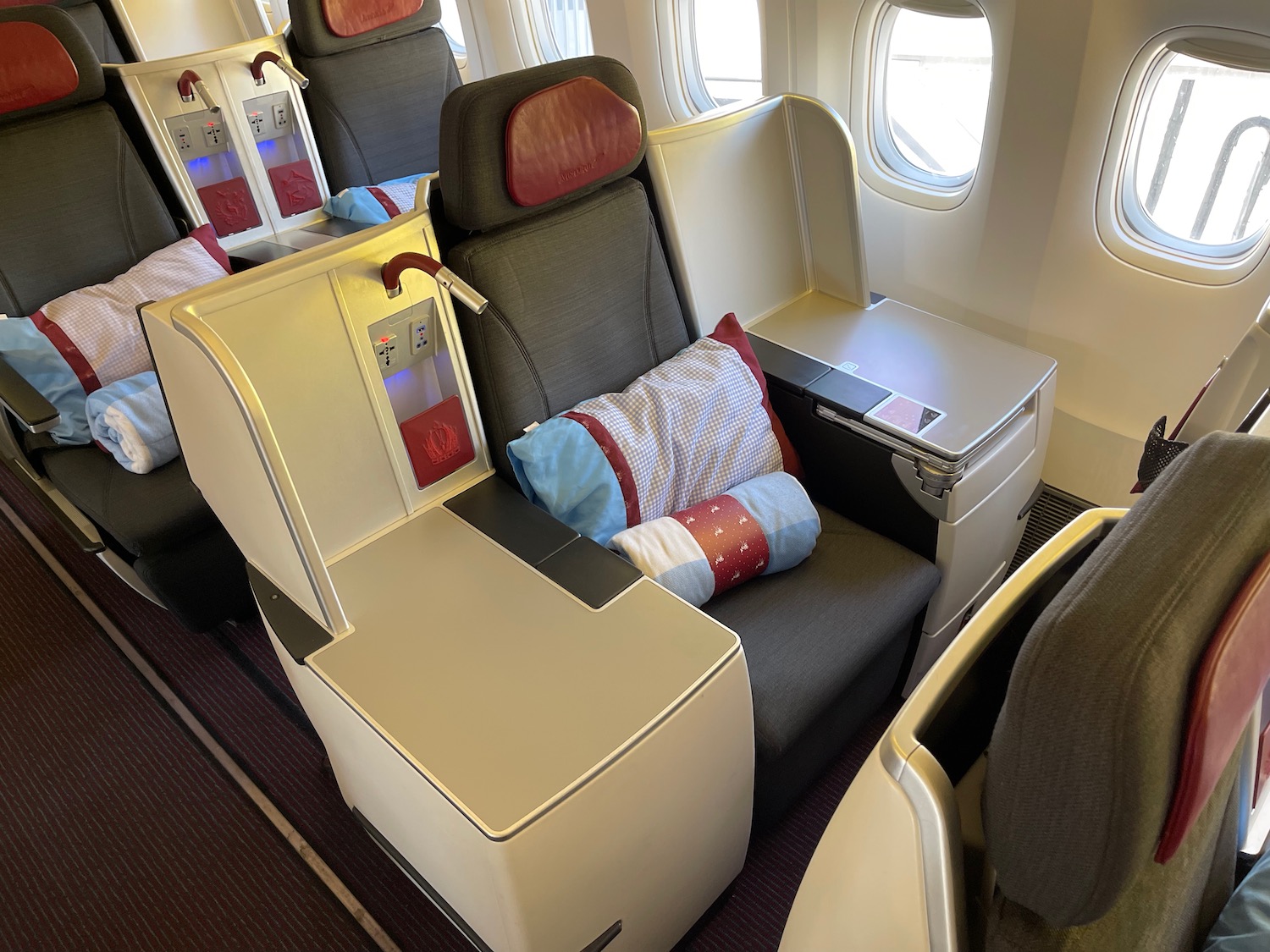 Seats are controlled by a console module and include adjutants for the firmness of the cushion and a massage function.
Also on the seat console: a power port and snake reading light.
The seat has limited personal storage – just a small pocket in the console for passports or phones and a netted container intended for shoes near the floor.
---
Tip: Row 8 is a mini-cain – the rear business class cabin (as on KLM) has only one row of seats, so is ideal for a family with children.
---
Austrian does not have individual air vents on the 777 and the bedding, a blue and white checkered cotton blanket is too small and warm to get comfortable in. I'm going to be charitable and primarily blame the coffee, but the poor bedding and lack of air vents certainly do not help.
IFE + Wi-Fi
Amazingly for 2022, Austrian Airlines does not offer wi-fi onboard its longhaul fleet of 767 and 777 aircraft. While less of a problem on an eastbound overnight flight to Vienna, on a longer westbound daytime flight this is really problematic. The nine-hour flight took place during my work day and I had to get up at 4:00AM to get my work done before the flight in a far less efficient way than if I was able to connect during the flight.
The inflight entertainment library featured about 120 movies as well as television programing, games, and music.
Flight attendant call light featured a female-appearing FA, which is rare these days.
With little to do and the cabin too warm to sleep, I actually watched movies between meals (something I do not do much any more):
In that sense, it was nice to have a break. There was one movie that I found quite moving and was based upon a true story. Persischstunden (Persian Lessons) are about a Jewish prisoner in a German labor camp who pretends to be Persian in order to survive but is then tasked with teaching one of the camp's commanding officers the Persian language.
Noise cancelling headphones are provided and are quite inferior to Lufthansa Business Class.
Anyway, I hope that as Austrian renews its longhaul fleet, it will add high-speed wireless internet.
At least I could still look at my window. The takeoff from Vienna was beautiful:
Amenity Kit
The Austrian-branded amenity kit was made of suede with a red leather zipper handle.
Contents included:
Toothbrush + toothpaste
Earplugs
Eyeshade
Socks
WienerBlut lip balm + facial moisturizer
A very basic amenity kit, but I did like the case and use it in the kitchen to store clothes pins…
Food + Drink
Prepare to enjoy a feast on Austrian Airlines. Austrian uses Do & Co catering and the menu features a rich array of high-quality Austrian food plus an extensive coffee menu.
Lunch
Menus were distributed prior to takeoff. Lunch choices included fillet of pork in a creamy mushroom sauce with horseradish dumplings and bacon, Viennese-style chicken in red pepper sauce with spaetzle or paccheri in tomato sauce. I wanted all three!
Meal service began with a moist towelette…not as nice as a hot towel, but it had a refreshing scent.
Appetizer choices were a smoked salmon tartar or burrata with tomatoes, basil, and balsamic vinegar. The appetizer was really delicious and beautifully presented. Delicious crusty dark bread was served with it. This was a meal in itself.
My friend ordered the salmon tartar and liked it as well:
To drink, I ordered an Austrian sparkling rosé (Schlumberger Brut) which was no Cristal, but still very acceptable.
My main course, served with a side salad, was a huge portion. It included two pork medallions and dumplings. Pork is mean to be more well-done than beef, which makes it a relative safe choice. The flavor was amazing.
My friend ordered the pasta and gave it high praise:
The feast continued with a three course dessert, including:
almond tart
cheese and crackers
fresh fruit
What a lovely display and what a deliciously decadent treat.
Coffee
Austria is a nation known for its coffee culture and Austria Airlines embraces that with a special coffee menu onboard. Regular readers know of my love for coffee, so this represented the highlight of the flight.
Along with dessert, I enjoyed an Eiskaffee, which is double espresso with with vanilla ice cream and whipped cream. It was perfect.
I also ordered a cappuccino, which was perfect. The coffee is from Julius Meinl.
I love the gold-handled cups.
My friend enjoyed his latte.
After the pre-arrival service, I enjoyed a Weiner Melange, which black coffee with hot milk and foamed milk. I prefer the cappuccino, but did want to try to "regular" coffee.
I followed that with a straight black coffee.
(to say I was wired would be an understatement)
If you love coffee, you will love Austrian Airlines business class.
Mid-Flight Snack
Although I was not hungry, self-serve beverages and crackers were available as a mid-flight snack to business class passengers.
Pre-Arrival Meal
A hot meal was served 90 minutes before landing. Choices were Leberkäse (literally liver cheese, but there is neither ingredient – it is a meatloaf) or red prawn curry.
I ordered the meatloaf It was served with more hot bread, a salad, panna cotta, and of course coffee for dessert.
Another delicious meal.
Seriously, the food on Austrian is amongst the best in the world when it comes to business class carriers (I hear economy class food is also not bad). I give Austrian very high marks for this and would rate it second in Europe only to Turkish Airlines (which also uses Do&Co for catering).
Lavatory
Basic Boeing 777 lavatories onboard that were clean and featured shaving kits and L'Occitane soap.
Service
Service was outstanding on this flight. The purser was hands-on in the sense that he was very involved in the service and also quite friendly. We chatted about the airline industry and he took very good care of my friend and me. His female colleagues were also very kind and attentive.
This was only my second Austrian long haul flight (the first being a 767-300 from Beijing to Vienna), but I appreciated great service by the crew members on both flights.
Incident Onboard
There was incident onboard that began at the gate in Vienna and flared upon landing in Chicago. I'm not going to rehash it in this trip report, but you can read all about it here. Flight attendants handled it well.
---
> Read More: Unhinged Father Curses Out Passenger Who Complained About His Out-Of-Control Child On My Austrian Airlines Flight
---
CONCLUSION
The flight left me with a dilemma. I loved the service, the food, and the coffee onboard. But the seat is not my favorite and I find the bedding and lack of wi-fi a big problem. Thus, I'd be much more comfortable flying Austrian on a daytime flight from Vienna to the USA than in another direction. Overall, I still love Austrian Airlines and find the coffee menu outstanding.