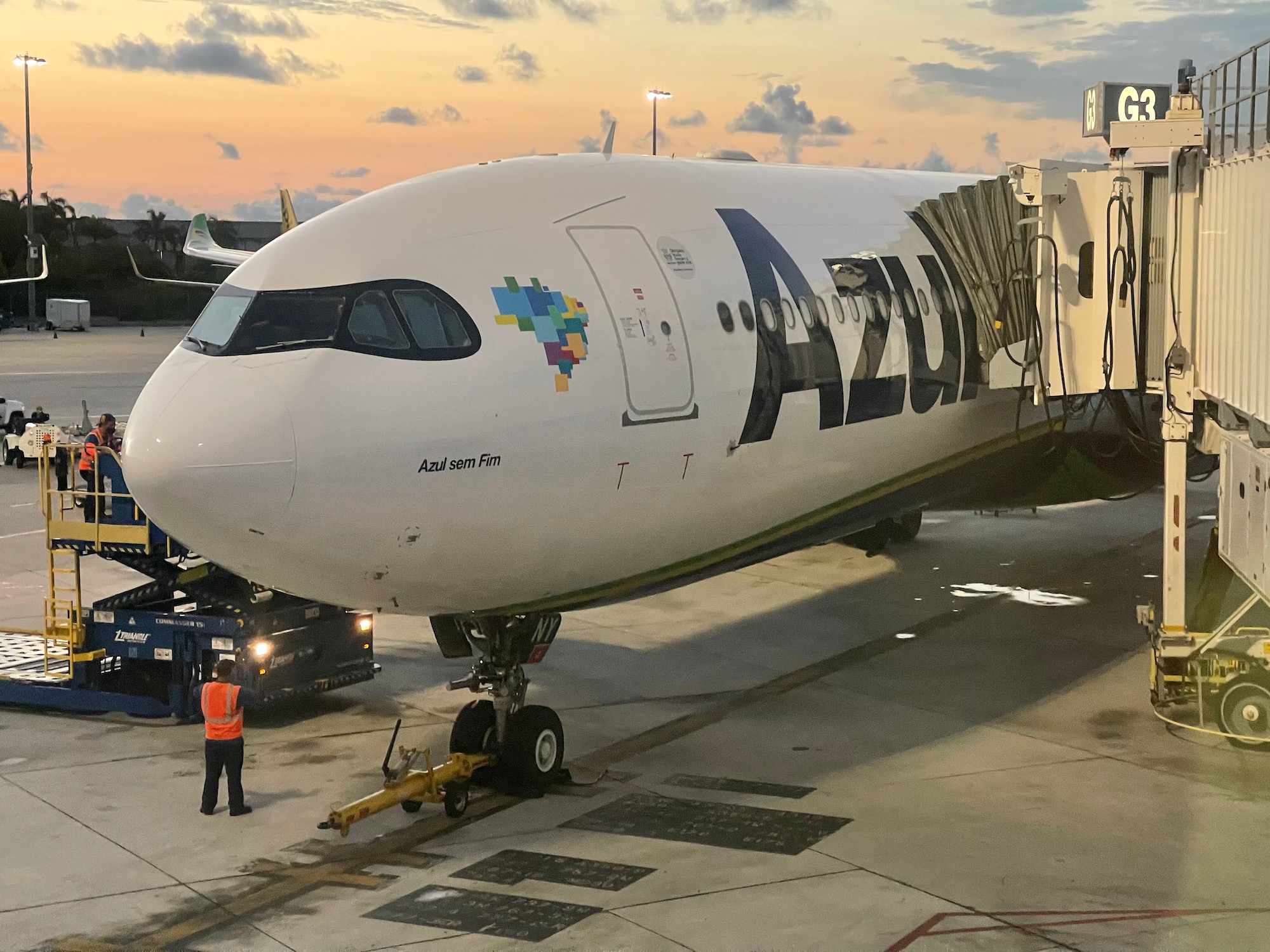 My first flight on Azul Airlines was a great one. The Brazilian carrier's new A330-900neo is comfortable in business class, service was tremendous, and the food and beverage selection was delicious.
Azul Airlines A330-900neo Business Class Review
Booking
I used United Airlines MileagePlus miles to book this ticket. Azul also partners with Air Canada Aeroplan. Using miles helped me get all the way back to Los Angeles, but if I had just want to fly from Viracopos to Fort Lauderdale, paid tickets were only running about $750. $100/hr for a lie-flat bed with decent food transporting you from Sao Paul to Florida seems like a pretty good deal to me.
For more details, see my introductory post to this trip report.
Viracopos Airport + Azul Lounge
Viracopos Airport (VCP) is not close to central Sao Paulo. In fact, it is about 100 kilometers away. While Azul offers complimentary bus service from three points in Sao Paulo, I paid about $35 for an Uber trip from my hotel to the airport.
Arriving around 9:30pm, I found the airport very quiet. The check-in hall was quiet. So was the terminal.
I was unable to check-in online for my flight because an agent needed to verify my negative COVID-19 test. Unfortunately, checking in proved to be a challenge. My Portuguese is really bad and the agent who checked me in (along with her clients) spoke almost no English. We ended up using Google Translate on our phones to communicate.
Finally, she verified my COVID-19 documents and issued me a boarding pass.
After passing through the security checkpoint and passport control, I found myself in an eerily deserted passenger terminal.
Blaming the pandemic, the Azul lounge was closed. Normally, business class passengers (and Priority Pass members) have lounge access, but today I headed right for the gate.
Boarding began a full hour before takeoff.
Azul Airlines 8704
Sao Paulo Viracopas (VCP) – Fort Lauderdale (FLL)
Tuesday, September 14
Depart: 11:30AM
Arrive: 07:10AM
Duration: 8hr, 40min
Distance: 4,034 miles
Aircraft: Airbus A330-900neo
Seat: 5K (Business Class)
This was only my second flight onboard an A330neo and the plane looked so modern and fresh aboard.
Seats
Turning left as I entered though Door 2L, I noticed the 1-2-1 layout of the cabin with 34 (nine rows) Recaro CL6710 seats were just like those on TAP Air Portugal's A330neos.
While the gray color scheme may appear drab, I thought it looked smooth and clean and gave the cabin a very refined look, especially juxtaposed to the brightly-colored Azul logo adorning the IFE screens.
Each seat includes 46 inches of legroom and a bed that is 6 feet, 6 inches when fully reclined. The cubby hole for your feet is not uncomfortably small, but the position of the tray table does impede knee space.
The side console includes a faux-wood veneer (already showing its age) and a sliding cabinet with a combination lock on it to secure valuables while sleeping.
Below the console was a headphone jack, USB-A plug, USB-A charging port, and a universal port for charging larger devices.
There was also a storage compartment under the console that was intended for a wallet, passport, or phone (not even large enough to store a bottle of water).
…and a coat hook.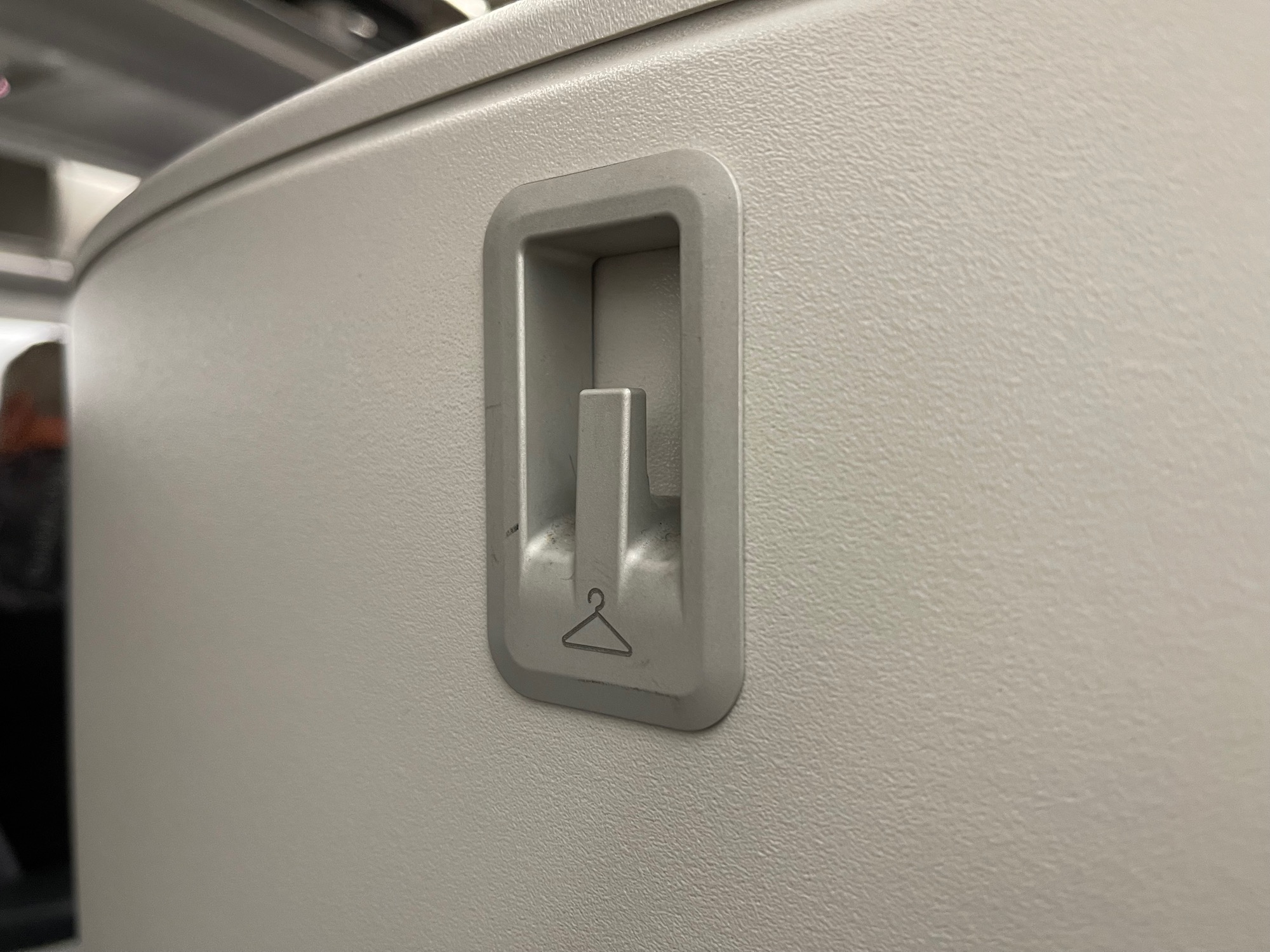 Each seat contained a turquoise pillow and a dark blue duvet. The cabin was neither too hot nor too warm during the flight and I slept very well (I asked the flight attendant to wake me up for breakfast and he had to shake me awake…)
These are not my favorite business class seats because the knee room feels more constrained (the reverse herringbone B/E Super Diamond seats have a similar retractable tray table), but it's a very comfortable seat for lounging and sleeping.
No individual air nozzles, but it did not get too hot.
One annoying thing. The left armrest was broken — it would not stay up. Any pressure on it knocked it down.
Flight attendants tried to fix it, but it was broken. Not a big deal on an overnight flight, but it would have been quite annoying on a daytime service.
Once boarding was complete, mood lighting was turned on, which cast a nice blue glow over the cabin.
Amenity Kit
Waiting in the seat cabinet was an amenity kit in a blue bag with an Azul-branded zipper. Contents included:
Socks
Eyeshade
Tissues
L'Occitane lip balm
L'Occitane hand creme
Earplugs
Comb
Toothbrush
Toothpaste
Pen
Azul-branded luggage tag
I like the luggage tag (great logo) but I appreciated the toothbrush most of all. It's nice to get a larger-sized toothbrush instead of the tiny ones that are more properly sized for young children. It even had a plastic case over the brush.
IFE + Wi-Fi
Here's one strike against Azul: no wi-fi onboard. That's hard to believe for an airline that JetBlue founder Dave Neelman played a role in starting (Azul means blue in Portuguese, get it?)
Thankfully, though, the flight left at 11pm and arrived before 7am into Fort Lauderdale, so there wasn't a huge need for internet.
The IFE system was offered in three languages, English, Portuguese, or Spanish.
Noise-cancelling headphones squeaked at a high decibel level when plugged in: be warned (I don't know what causes this, but plugging in or wiggling the cable produced this high-pitched feedback)
The user interface was very easy to use if touching the screen, but seemed counterintuitive using the passenger service unit – I had a difficult time toggling between screens.
I'd call the movie and TV library a bit eclectic…there were about 35 movies and many of them were not recent. TV programming and games were also limited.
There was also a limited selection of audio-on-demand.
But between meal services, I just wanted to nap and so for most of the flight I simply left on the moving map:
Lavatory
The lavatory had a cool black and white floor and blue lighting, but lacked any special amenities.
Food + Drink
I was most impressed that Azul offers a full-service soft product onboard…something that U.S. carriers have really fallen behind on (except JetBlue).
Printed menus and pre-departure beverages were offered, with a choice of water, orange juice, or sparkling wine.
The menu was route specific with VCP-FLL printed in the upper right hand corner.
Meal orders were taken before takeoff and service began shortly after takeoff with drinks and mixed nuts first (I understand this does not always happen in Brazil), followed by dinner.
I began with a glass of Georges Vigouroux white wine from South Africa and a glass of sparkling water. The mixed nuts included almonds, cashews, and peanuts.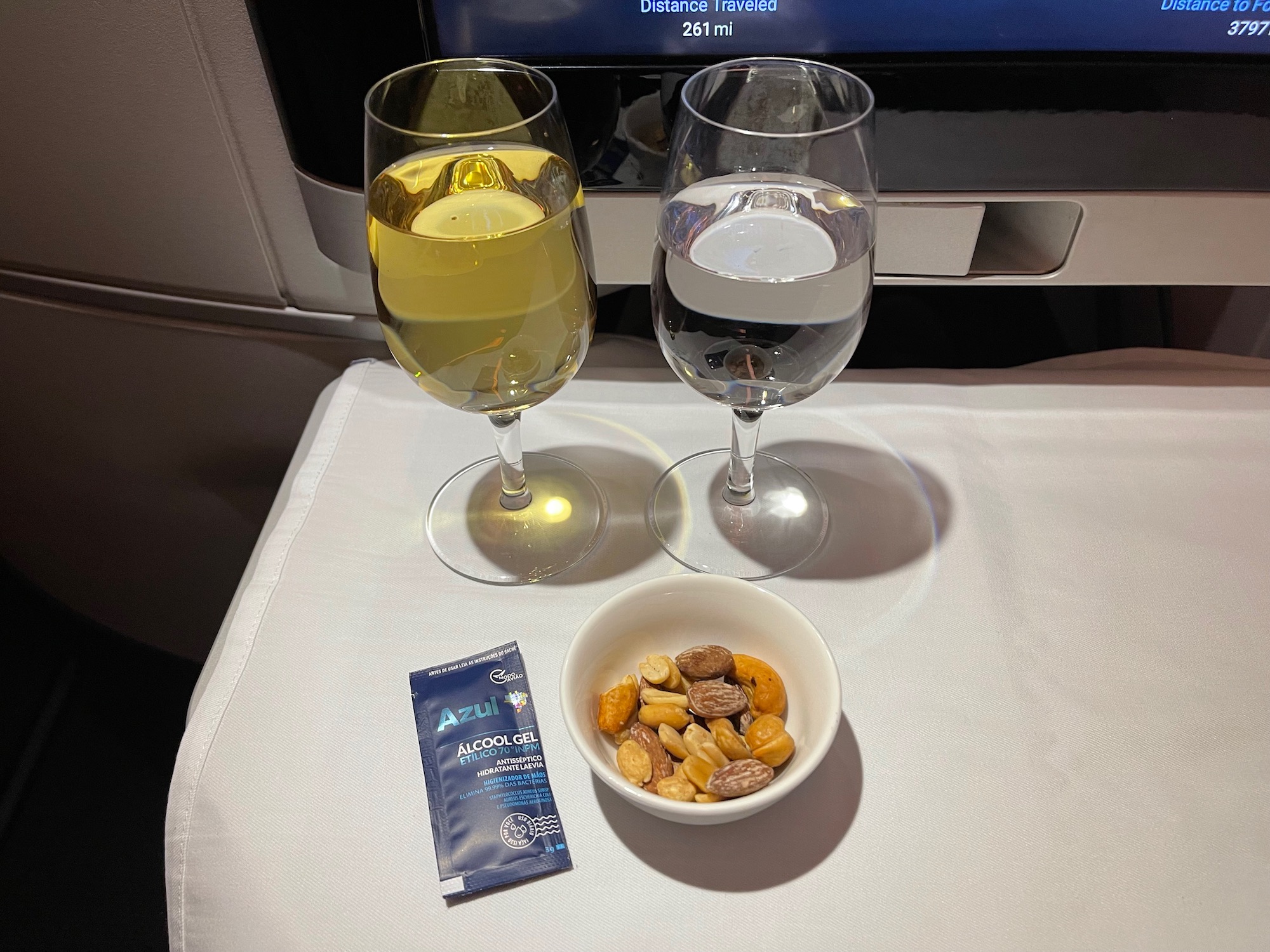 Guests were asked which appetizer they preferred (grilled chicken with mixed greens and Caesar dressing or mixed greens with chickpeas, red onions, carrots, and tomatoes).
Main course choices included a minced beef tenderloin, herb-marinated chicken, or sautéed filet of Saint-Pierre (trout) with pesto sauce. I chose the fish.
Dinner arrived on a single tray, with the main course, appetizer, and butter covered. The bread roll was warmed.
Not only was the fish extremely tasty, but the presentation was also attractive.
After the dinner tray was cleared, I was asked if I wanted dessert. I requested both the cheese plate and ice cream sundae, and was obliged. Both were delicious and complimented the other. The cheese selection included hard and soft cheese as well as dried apricots and Brazil nuts.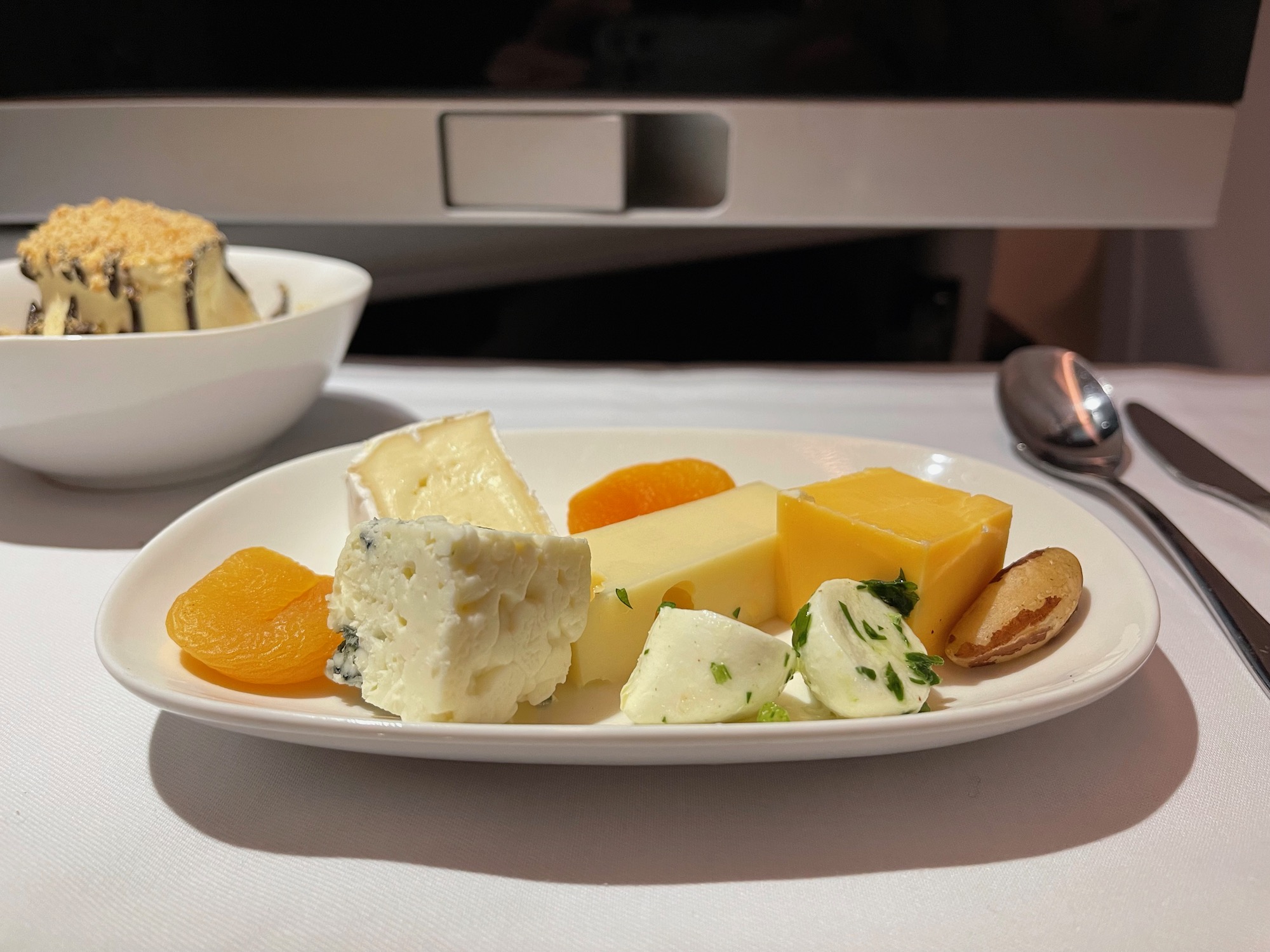 My stomach was very content when I went to sleep.
Truly, I could have slept through breakfast service and would have on most occasions, but I wanted to review it for this report and was gently awakened about an hour prior to landing.
First, I was offered a glass of orange juice which I tasted and spit back out (sorry, diva moment). It was literally Tang…it brought back childhood memories. Nasty. Some fresh-squeezed orange juice wouldn't hurt…
Breakfast included a hot croissant, fresh fruit, and a sun-dried tomato omelette.
The pineapple and papaya were ripe, the honeydew melon not so much. The omelet was very tasty and the coffee was strong.
Halfway through breakfast, I was offered Greek yogurt and muesli…neither were too sweet and I enjoyed them.
Sadly, I missed out on espresso and cappuccino. These coffee specialties were not indicated on the menu but I noticed another passenger sipping an espresso (tiny cup)…with about 20 minutes till landing. It was too late to request one (I didn't even put the flight attendant on the spot, because the request would have been unreasonable), but he did confirm that espresso-based drinks are available. That's another reason for met o fly Azul again…
Beyond the horrific orange juice, breakfast was great. But unlike me, don't forget to ask for an espresso!
Service
I want to give a special shoutout to Andre Silva. He worked my side of the cabin and was very professional, very friendly, and very attentive. The crew was great on this flight and far from being laidback, worked hard to serve a cabin that went out almost full.
CONCLUSION
The sunrise views outside my window as we landed in Fort Lauderdale were stunning.
If you're traveling between Florida or Portugal and Brazil, I don't think you will find a better product than on Azul.
I had a great flight onboard the A330-900neo in business class and would not hesitate to fly Azul again.