After an 18-hour bus ride from Kyiv to Warsaw and an 8-hour wait for my flight, it was time to board my flight to New York. While I spent most of the flight sleeping, I found the service and catering on LOT Polish 787-8 in business class to be lovely. LOT surprised me in a very good way.
LOT Polish 787-8 Business Class Review
Last year, I reported on my LOT 787-9 journey from Krakow to Chicago that left me somewhat disappointed. The experience was not horrible, but the service was robotic, the food unmemorable, and the bedding quite poor.  In that sense, I probably would have tried another carrier…if I had a choice. But in terms of schedule, only LOT's late flight to New York would allows me to get home same-day and so I made the choice to try LOT again…and I am so glad I did.
I booked the ticket for 70,000 Aeroplan points and about $100 in taxes and fees. Certainly flying via Frankfurt in Lufthansa Class would have been preferable, but sometimes schedule dictates flight selection more than product.
Check-In
LOT Polish has a dedicated check-in area at Warsaw Chopin Airprot for business class and Star Alliance Gold travelers. As you enter Terminal 1, head to the right side.
After checking in for my flight, I used a special priority security lane to quickly clear security.
I spent the day visiting the Polenz and Mazurek LOT Polish business lounges (as well as the Preludium and Bolero and Priority Pass lounges), but ultimately made my way to the gate about 20 minutes before scheduled boarding time at 4:00 pm.
Boarding was ultimately delayed by about 30 minutes, which gate agents blamed on our aircraft being parked at a remote stand.
At around 4:00 pm the crew boarded.
When it came time to board, passengers were herded onto a bus, then we were driven to the other side of the airport to board our Dreamliner to New York.
I strategically positioned myself on the right side of the bus in the front so that I could be the first off the bus and grab a few cabin pictures before other passengers boarded.
LOT Polish 26
Warsaw (WAW) – New York (JFK)
Depart: 04:50 PM
Arrive: 08:35 PM
Duration: 09hr, 45min
Distance: 4,267 miles
Aircraft: Boeing 787-8
Seat: 2A (Business Class)
At the aircraft door, the purser greeted me and asked me for my seat number. He then directed me left to the intimate business class cabin.
Seat
LOT Polish uses an off-the-shelf Zodiac Aura Lite business class seat on its 787-8 jet. Business class is only 18 seats in the front cabin; three rows of 2-2-2 seating. While window seats do not offer direct aisle access, one thing I like about these lie-flat seats is that your feet are not constrained since there is no "cubby" that your feet fit into while in lie-flat mode. Seats are 23 inches wide and 78-80 inches when fully reclined.
Seat controls are located in the center console while a passenger service unit (remote control) controls the IFE screen and reading light.
A universal power outlet and USB-A charging port was located in the center console.
While storage space is limited, there is space for a small bag under your feet in front of you. Unlike on Turkish Airlines, this is not a cabinet that opens and shuts, but a space in which you can at least put your shoes and small hand bag.
My biggest criticism of LOT Polish is the bedding, which I find terrible. The pillow is acceptable, though on the small side, but the small blanket is more fit for economy class and the sheet, while appreciated, is no substitute for a mattress pad.
I brought my own duvet along (for the Ukrainian train and bus trips) and was very thankful for that. Each seat has an individual air nozzle, which also helped me to fall asleep quickly.
Service
The crew on this flight was truly lovely. Three ladies worked business class and they were incredibly attentive, gracious, and kind. I also appreciated that they were efficient. Meal service began promptly after takeoff and moved at a steady clip, such that I was able to get over six hours of sleep between meals.
Far from merely going through the motions, the flight attendants were well-intentioned and exceedingly friendly, polite and engaged.
Food + Drink
The greatest difference between this flight and my last LOT flight was the meal service onboard.
After boarding, a pre-departure beverage of water or sparkling wine was offered in glasses. Menus were also distributed.
Then, flight attendants came around the cabin with an amuse bouche, a decidedly first class touch. The sliced beet with cheese on top was a scrumptious bite.
Just minutes after takeoff, dinner service began. I pulled out my tray table so that a flight attendant could place a tablecloth down. Flight attendants also offered a hot towel.
Here's the menu, including an extensive wine list with a number of options from around the world and other alcoholic beverages.
First came a small ramekin of mixed nuts with a choice of beverage.
For my appetizer, I chose corn cream soup over a pearl barley and roasted vegetable salad with harissa dressing. Both options were served with a green salad and choice of bread.
The soup was delicious, served piping hot and with big chunks of corn in it.
For my main course, I chose grilled cod with wasabi potatoes and vegetables.
While the first course is served on a tray, after eating your appetizer and salad the tray is removed and the main course is served directly on your tray table. The portion of fish was small, but nicely cooked and the wasabi potatoes were better than I thought. There was a bit too much empty space on the dish; perhaps LOT should consider at least adding some garnishes to fill in those white spaces.
After dishes were cleared away, the dessert cart rolled down the aisle, with a choice of cheese, fruit, and petit fours. I enjoyed a selection of cheese with another bread roll and then rounded out my meal with a delicious chocolate cake and cappuccino.
Finally, flight attendants offered a shot of Złota Polska Wiśniowa (a cherry liqueur that tasted like cough medicine) to conclude dinner service.
LOT Polish uses Do & Co catering out of Warsaw and the food was certainly excellent.
Between meals, lights snacks were available in the galley (sandwiches on request).
Bottles of water were also distributed.
About an hour before landing, the cabin lights were turned on for the pre-arrival meal service. Everyone who did not order a special meal received the same tray, which included rigatoni pasta with cheese, asparagus, and sun-dried tomatoes, a picked cauliflower salad, a green salad with shrimp, and freshly-cut fruit.
This was a very hearty meal and delicious as well.
Just prior to landing, a piece of candy was offered (Solidarnosc candied plums).
Overall, the food in business class out of Warsaw on LOT Polish is excellent.
Amenity Kit
The amenity kit was in a gray LOT-branded bag and included:
toothbrush
toothpaste
earplugs
nail file
socks
eyeshade
IFE + Wi-Fi
LOT offers video on-demand with a section of tv shows, movies, games, and music.
I started to watch a fascinating Japanese movie called Plan 75 that deals with euthanasia, but did not finish it. I want to and have not been able to find it on any streaming service. Any suggestions?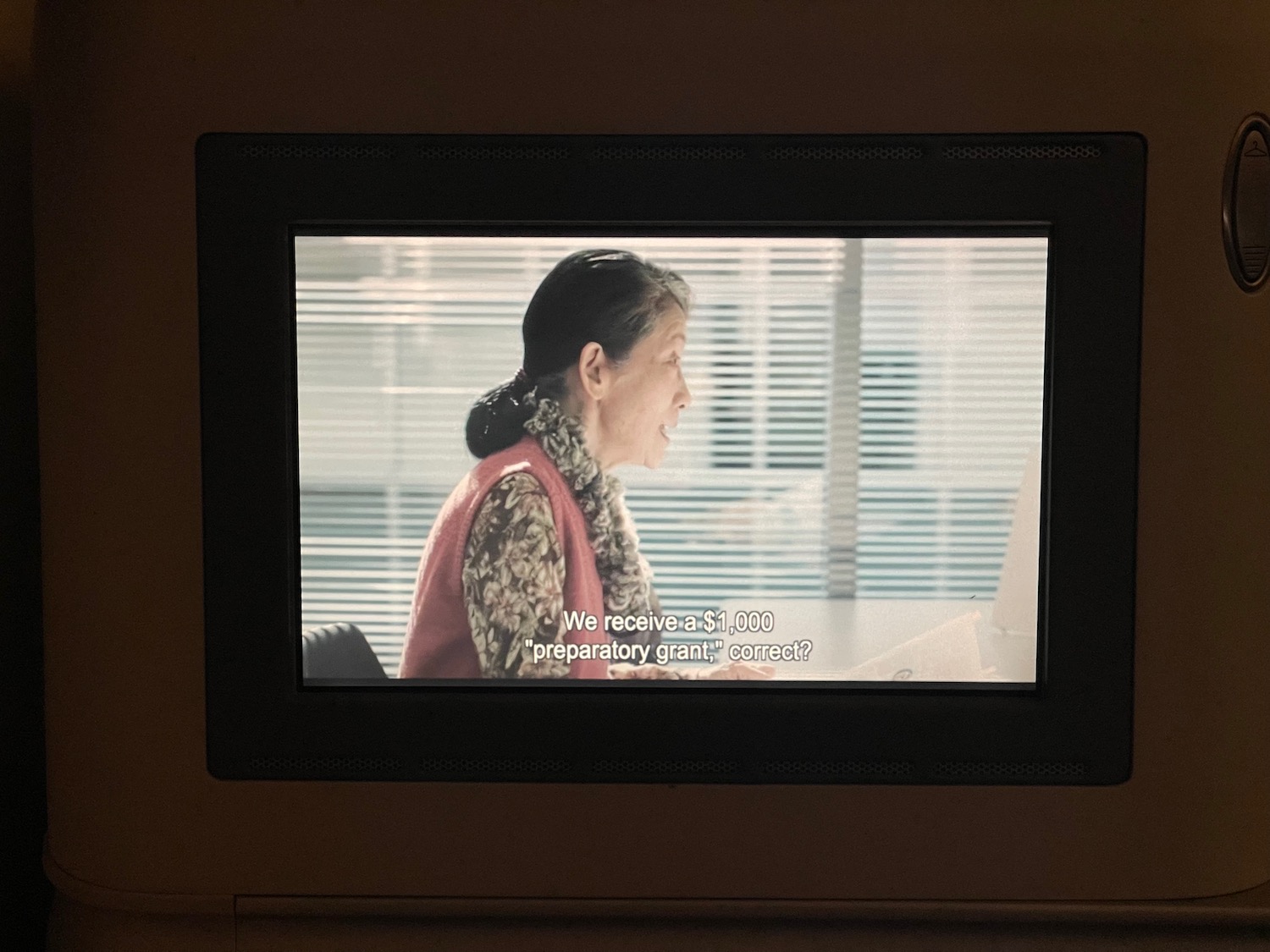 Noise-cancelling headphones were offered.
Sadly, LOT Polish does not offer wi-fi on its 787-8 aircraft.
I typically like to look out the window during the flight, but with the exception of a brief few moments after takeoff, our flight was in total darkness.
Lavatory
The lavatory was clean and I love that LOT always has a fresh-cut flower in the lavatory on longhaul flights.
CONCLUSION
LOT Polish Airlines business class has moved from mediocre to resoundingly positive. Flying LOT during the day may be more difficult if wi-fi is needed, but the warm hospitality and delicious meals onboard made up for the 2-2-2 configuration in business and class and poor bedding. Overall, I would not hesitate to fly LOT Polish again, though I think business class passengers who value privacy will find better products elsewhere.
After landing in New York Kennedy, I quickly cleared immigration and then proceeded out to catch an AirTrain to Terminal 5 (that turned out to be a huge mistake…)