This week I'm "liveblogging" my trip to Ukraine. Unlike traditional reports, these posts will be shorter and more frequent.
---
I enjoyed great service by a veteran Chicago-based crew and also managed an extended nap onboard my United Airlines 767-300 Polaris business class flight to Zurich, but United still has a long way to go when it comes to meal service.
United Airlines 767-300 Polaris Review (ORD-ZRH)
After quick stops in the new United Club and Polaris Lounge, I was off to board my flight to Zurich, where a final boarding call had already been made. In fact, my name was paged as I approached the gate.
This flight has been off the schedule for a while, so it was nice to see it back and the timing worked well for my onward connection (the SWISS flight leaves hours later from Chicago).
United Airlines 003
Chicago (ORD) – Zurich (ZRH)
Depart: 03:55 PM
Arrive: 07:55 AM+1
Duration: 09hr, 00min
Distance: 4,443 miles
Aircraft: Boeing 767-300ER
Seat: 12A ("Polaris" Business Class)
Stepping onboard, I found someone in my seat: a non-rev retired pilot. The guy was genuinely clueless he was in the wrong seat (or an incredibly great actor) and I decided against pushing the issue because he had already made a mess unwrapping his blanket and pillow and plopping his personal items down around him.
A flight attendant noticed I was simply standing in the aisle as I attempted to figure out what was going on and she came over and suggested I just take the seat in front of him. At first I thought the two were in cahoots, but over the course of the flight, I determined this was not the case.
The 767-300 skips from row 12 to 15 and I can see how he made the mistake. We ended up having a nice conversation and the flight attendant involved, who turned out to be the purser, provided tremendous service during the flight, so I do not think this was a non-rev game.
Although he had a true window seat in the staggered 1-2-1 configuration, it would soon be dark anyway. Had this been a day flight, I probably would have insisted upon my chosen seat, but since I just planned to eat and then go to sleep, I chose to pick my battles wisely.
Seat
United's premium-heavy 767-300 features a whopping 46 seats in Polaris business class, spread out over rows 1-18 in a 1-1-1 configuration (remember, though, that rows 13 and 14 are skipped). Seat pitch is 77 inches in full recline mode.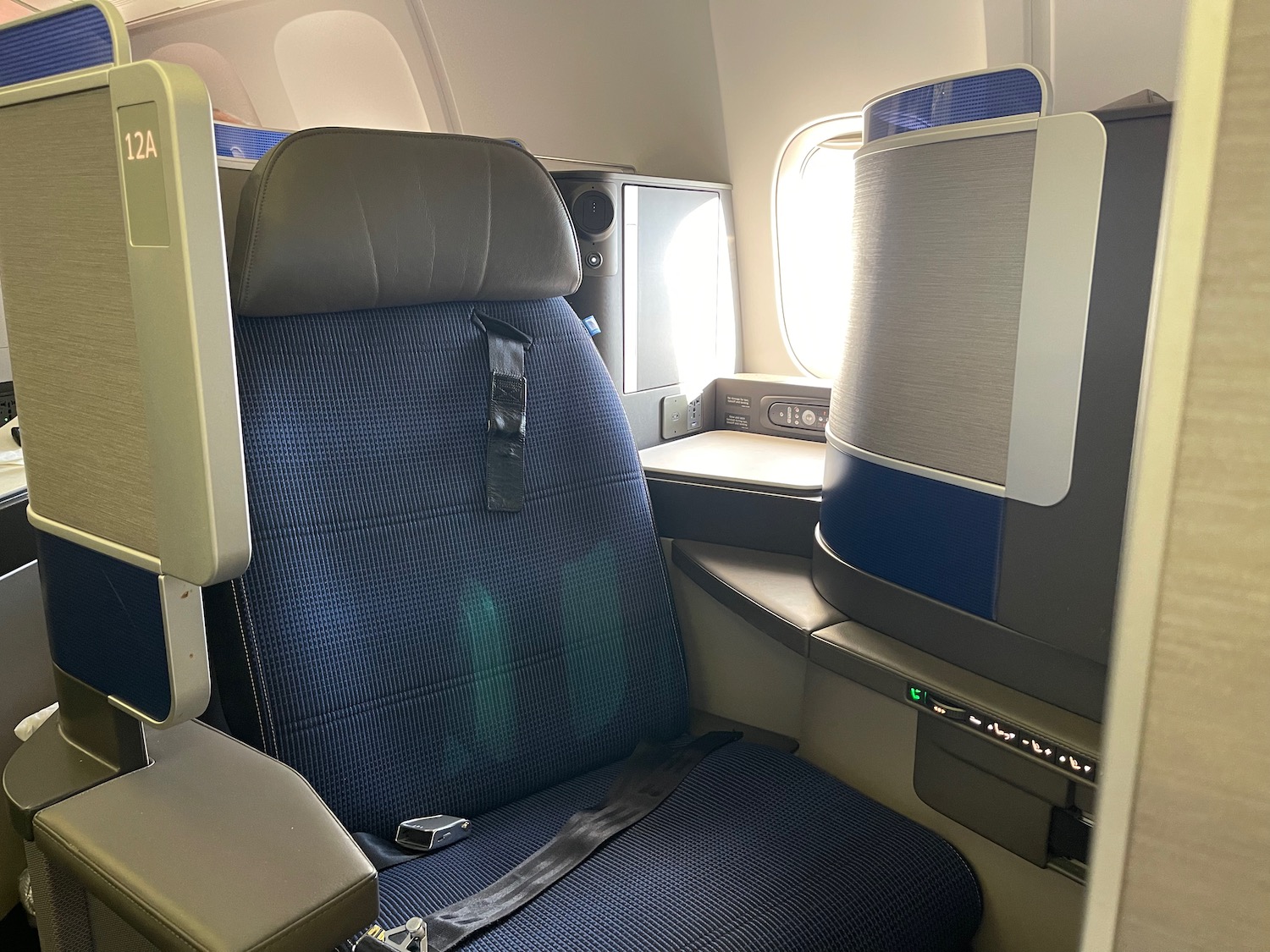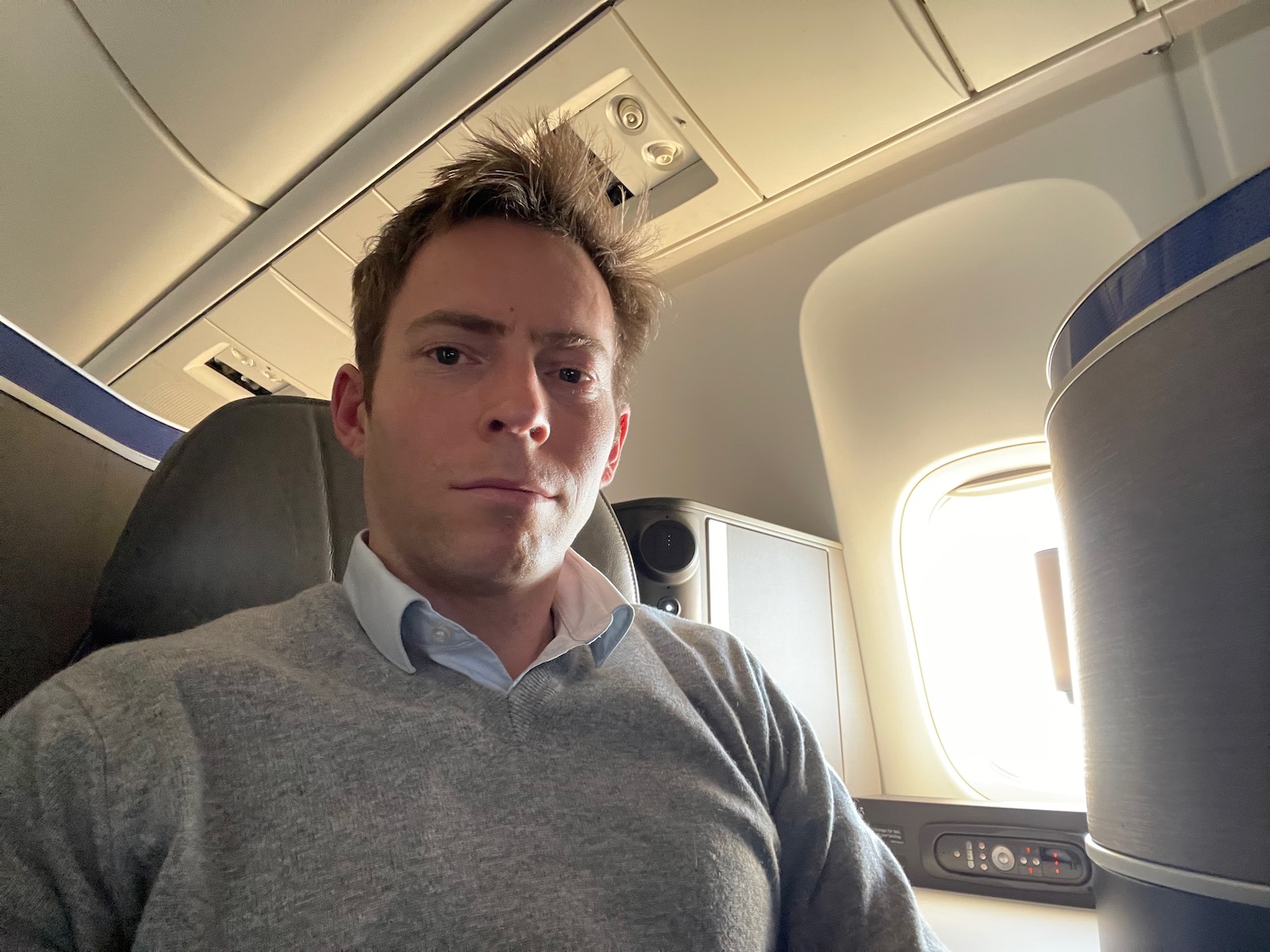 I detest the fluorescent lighting on this aircraft and find the seats slightly narrower (20.6 inches) than on a 777 or 787 Dreamliner, but these remain excellent seats for lounging and sleeping.
After dinner I went to sleep…the Saks Fifth Avenue-branded bedding (comforter, mattress pad upon request, and pillow) is excellent and there are individual air vents above each seat.
IFE + Wi-Fi
Wi-Fi is offered onboard and the IFE library includes hundreds of movies, TV shows, and games. The 767-300 fleet also features the ability to listen in on Air Traffic Control (ATC), though this is at the discretion of the captain and was turned off on my flight.
I love Anthony Hopkins and Anne Hathaway and tried to watch a film called Armageddon Time, but something about it hit too close to home and I could not make it past 30 minutes.
Dinner
Menus were offered after boarding and Diane, the purser, came around to take orders prior to takeoff. She cheerfully greeted me and asked me what I wanted to eat. While she asked those around me for their first and second choice, she only asked for my first choice then thanked me for being a 1K flyer and MillionMiler on United.
Service began after takeoff a tablecloth placed over the tray table followed by a choice of beverage and warmed mixed nuts. Sheila also worked my side of the cabin and we had a good laugh when I ordered San Pellegrino, which she thought was wine ("why can't you just say sparkling water?" she said with a huge grin on her face and a hearty laugh).
I ordered the seared turbot fish fillet, which was served with brassica fritters (cabbage), asparagus, and gooseberries. Meals are served on a single tray and include a side salad (today, an interesting mix of Arcadian lettuce, edamame, raisins, and watermelon) and a warmed bread roll.
The portion of fish was tiny. While not horrible, it was on the dry side (the Maltese sauce helped). The fritters were not worth eating, though I liked the taste of the gooseberries.
The highlight of the meal was the ice cream sundae cart, which was my first real ice cream sundae on United in three years (sundae service was suspended during the pandemic). I had a sundae with chocolate sauce, almonds, and whipped cream and it was so delicious (I think the quality of the ice cream has improved from pre-pandemic).
I also enjoyed a cheese plate and thought the selection of mild cheeses was quite nice (these cheeses go better with a pretzel roll than with crackers).
Flight attendants were quite efficient with dinner service (which is even more impressive considering the large business class cabin size on the 767-300) and I soon went to sleep.
Lavatory
Lavatories are located in the front and rear of the cabin and the rectangular lavatory in the rear has plenty of space to move. Sunday Riley amenities were offered and I make it a point to always use the facial spray throughout the flight, which keeps my skin better hydrated.
Breakfast
An hour prior to landing, the lights came on for breakfast. Choices were apple ricotta crepes or chicken chorizo sausage with Gruyere-coated eggs, Shakshuka sauce, and grilled pita bread. I had not previously tried either dish and chose the eggs.
The presentation was mildly disgusting, but the chorizo and the eggs tasted good. However, it is a shame United ditched the fresh fruit bowl for some sugary yogurt topped with granola and freeze-dried berries. It would also be great to serve a real, flaky croissant.
Service
The crew was really excellent on this flight…service may be hit or miss, but the veteran crew working this flight was really professional and friendly.
I had a friendly chat with Shiela during the meal service and at the end of the flight she presented me with this note and a gracious thank you for flying United. Tokens like this mean so much to me and surely help to tighten my loyalty to United.
CONCLUSION
We landed in Zurich just as the sun was beginning to peak up over the horizon. It would be a long day ahead, but I now felt rested and excited about what was to come.
United still needs to invest more in its food onboard, but everything else about this flight was great. I'm thankful for United's extensive network to Europe and greatly appreciated Diane, Sheila, and the other crew members onboard UA3 to ZRH.
Next: a surprisingly excellent lounge in Zurich.