On the whole, I'd rate the Lufthansa First Class Lounge experience to be one of the best in the industry. But did you know that one Lufthansa business lounge in Frankfurt makes you feel like you're in the First Class Terminal? Make your way to the Lufthansa A26 Business Lounge in the Schengen Area of  Terminal 1 to find out what I mean.
Lufthansa Business Lounge Frankfurt (FRA) A26 Review
The reason is simple: Lufthansa's A26 Business Class Lounge is a former First Class Lounge. And while this lounge no longer offers à la carte dining or a full buffet, Lufthansa left many first class elements unchanged.
First, the decor and color scheme of the lounge is like other first class lounges.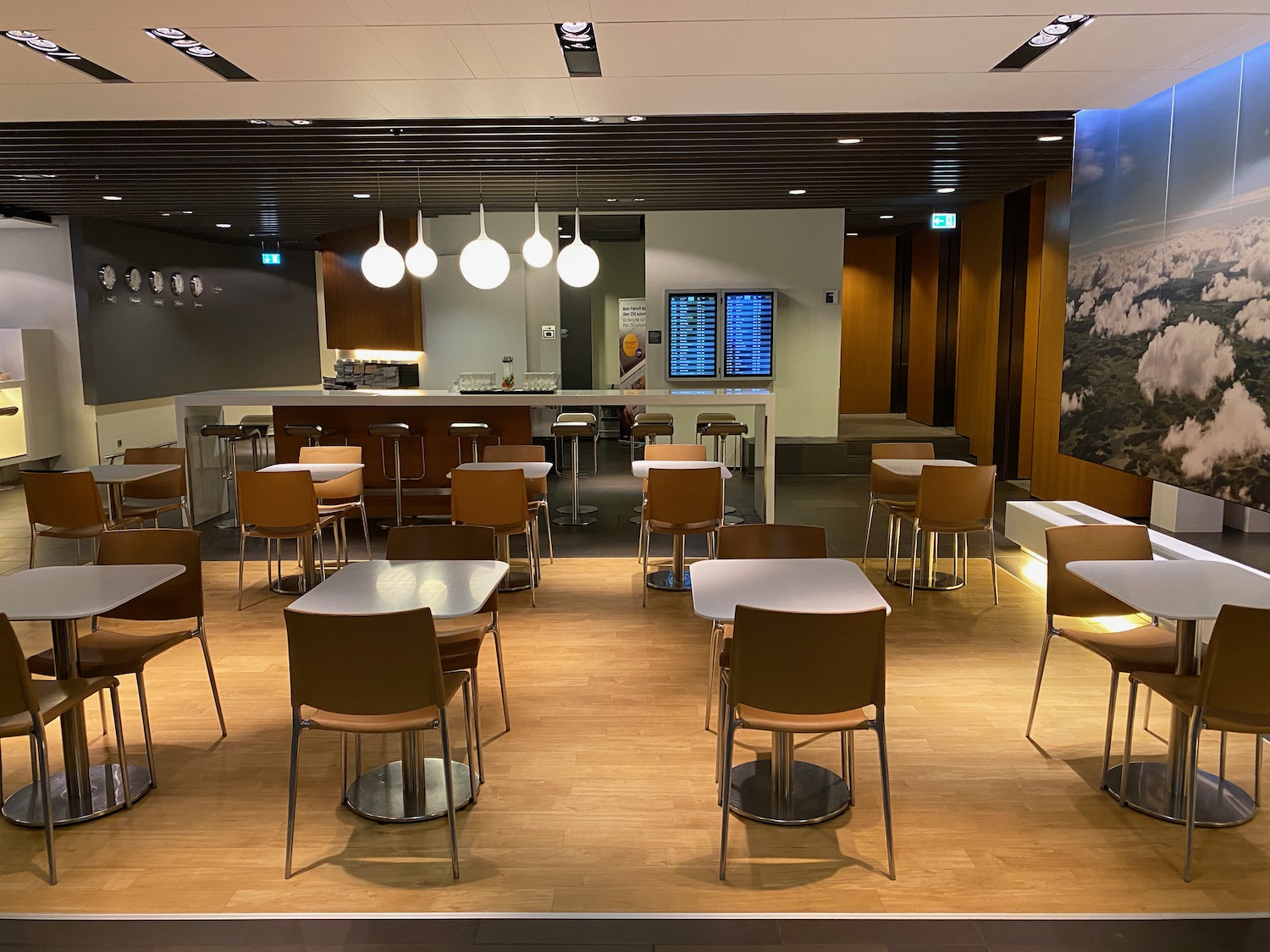 Second, sleeping rooms and lockers are still available.
Third, private bathroom stalls and the old shower rooms are intact, including a bathtub! No rubber ducky though…
Fourth, private work areas remain.
Fifth, and most important to me, the lounge offers great coffee made by a barista. Compared to the self-serve machines in every the other Business and Senator Lounges (except B-Gate Senator Lounge), this alone is worth the extra walk to use this lounge.
The cigar lounge has been turned into an additional seating area with computers (and still reeks of cigars).
Here's the buffet (pictures taken over many visits). Surely not first class, but still very decent.
Quite an improvement form the bowels of the pandemic, when no food was allowed inside the lounge:
There is a downside to this lounge: it gets very crowded. It's still my favorite Business Lounge and better than the nearby Senator Lounge.
But on the whole it is worth the walk. The lounge is in the Schengen Zone, but even if you are traveling outside you can use this lounge first then transfer to the B or Z gates.
The lounge is open daily from 6:00AM to 9:30PM and is located near Gate A26 (up the escalator). Any Star Alliance Business Class traveler, Star Alliance Gold member, Lufthansa Frequent Traveler status holders, and American Express Platinum cardholders when traveling on any Lufthansa Group airlines (Austrian, Brussels, Eurowings, Lufthansa, SWISS).
CONCLUSION
I stumbled upon this lounge by accident many years ago but I was very pleasantly surprised to find it. If value coffee and you're connecting on a Star Alliance flight within Europe, take some time to stop by this lounge rather than the one just past security.