We stopped by the Lufthansa Panorama Lounge before our flight out of Frankfurt and this remains an odd lounge compared to other Lufthansa lounges, but a very nice one with a generous spread of food and drink.
Lufthansa Panorama Lounge Frankfurt Review
We arrived just after the lounge opened at 6:00 am and had about 45 minutes before we had to board our flight to Copenhagen. Access is granted for Star Alliance Gold status and business class passengers. The lounge is located near A26 and open daily from 6:30 am to 9:00 pm.
We were actually first in the lounge, which gave me a few moments to snap some pictures before others joined, though really nothing has changed since my 2019 review below. Unlike most Lufthansa lounges, this is not just one large space, but divided into several smaller rooms that resemble living rooms (which makes sense considering this was the former VIP lounge at FRA).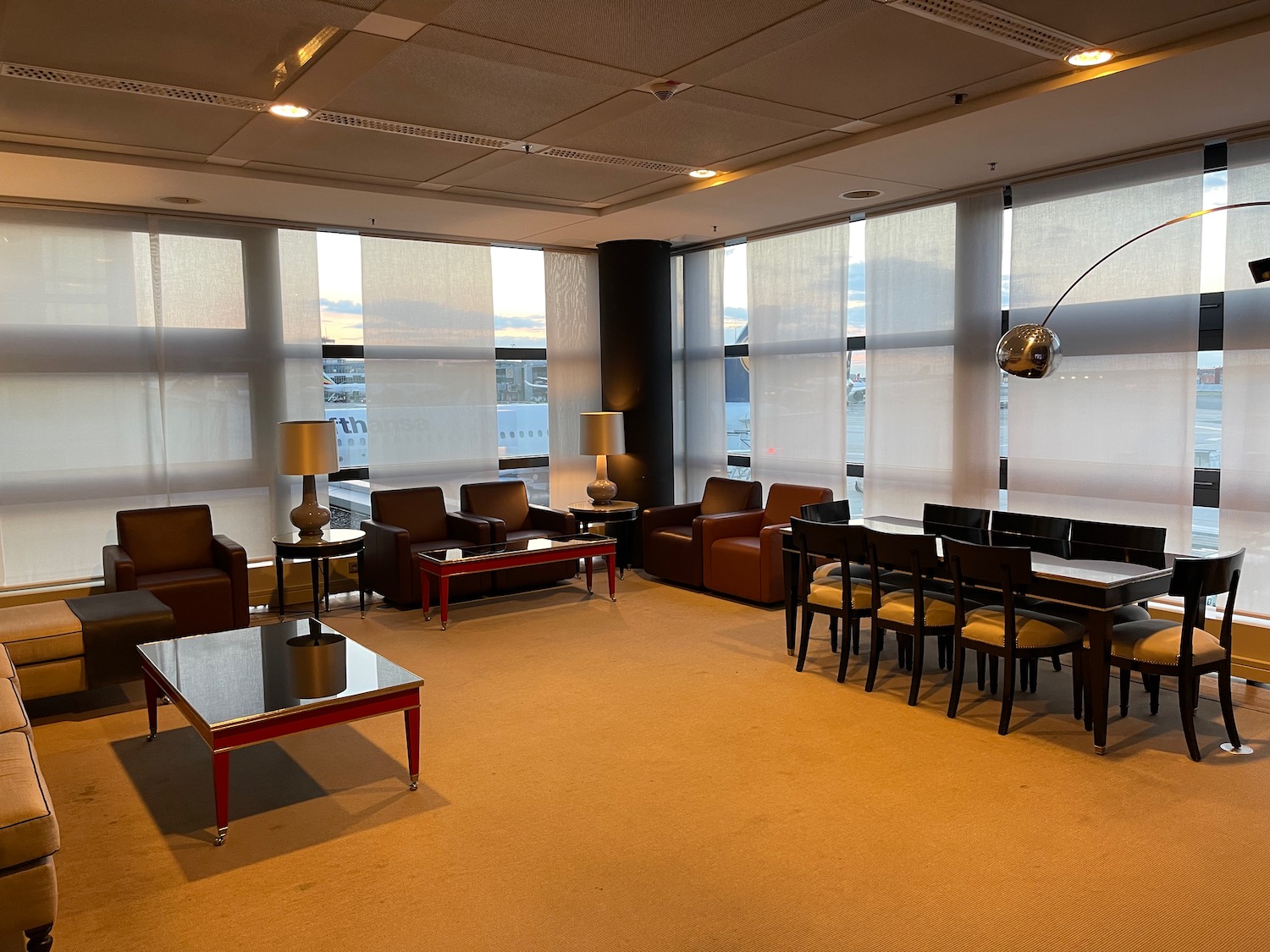 Both a sleeping room (with daybeds), restroom, and showers are available.
I appreciated the very nice breakfast spread (my wife did too) and the kids tanked up ahead of our long journey home. The catering in Lufthansa lounges is not only back to its pre-pandemic form, but has exceeded it.
There are food and beverages stations in two other parts of the lounge as well:
Nice views for airplane spotting as well:
I do prefer the Lufthansa Business lounge directly above it because there is barista-made coffee, but this is a very nice lounge and a nice alternative to the crowded Senator and Business lounges you encounter directly outside of the security checkpoint in Terminal 1.
My original review, published on September 30, 2019, is below.
---

I was pleasantly surprised by the size and amenities of the Lufthansa Panorama Lounge at Frankfurt (FRA), a former VIP lounge.
Formerly an airport-operated VIP lounge, this lounge moved into the Lufthansa family in December 2018. It is located near Gate A26 in the Schengen Area of Terminal 1. It is open daily from 6:00AM to 9:30PM. Both Star Alliance Gold members and business class passengers have access.
Lufthansa Panorama Lounge Seating
As a former VIP lounge, the seating areas of the lounge are divided into several small rooms, originally intended as private suites. Each room is now large enough for 5-10 people and has home-like items including carpet, coffee tables, couches, chairs, bookshelves, and plants.
In that sense, it is a unique lounge for Frankfurt Airport and the whole Lufthansa network, where even first class lounges have more open seating.
Lufthansa Panorama Lounge Sleeping Rooms
If you're tired, a darkened sleeping room has five daybeds with pillow and a blanket.
Lufthansa Panorama Lounge Lockers
A luggage area with lock and keys is available if you want to ditch your bag while in the lounge or step out to go shopping.
Lufthansa Panorama Lounge Food + Drink
Food and drink in this lounge is no different than other Lufthansa business class lounges in the airport. In the main dining room, a buffet includes soups, salads, hot dishes (usually something with meat and potatoes), breads, and a wide selection of self-serve beverages.
Drink stations are located throughout the lounge and another area offers sandwiches and sweets.
Dining area:
Lufthansa Panorama Lounge Restrooms + Showers
Spacious restrooms are available as well as shower suites.
Lufthansa Panorama Lounge Smoking
A small smoking room adjacent to the dining rooms offers and indoor area to smoke. The lounge has no terrace.
Lufthansa Panorama Lounge Wi-Fi
Wi-Fi is fast, though this represents a greater improvement throughout the airport, where wi-fi used to be unreliably slow and expensive. It's a good place to back up your phones before your flight.
CONCLUSION
I still prefer the Lufthansa Business Class Lounge located almost directly above the Panorama Lounge because of the barista-made coffee, but this is a spacious and very comfortable lounge.
> Read More: An Amazing Lufthansa "First Class" Business Lounge in Frankfurt