Lufthansa is "optimizing" the pre-arrival meal service in economy class and premium economy class on longhaul flights. That's bad news, since Lufthansa was already lagging behind its competition.
Effective November 28, 2019, Lufthansa will only offer a cold vegetarian snack for the pre-arrival meal on longhaul flights. The portion will be small and there will be no choice.
Currently, Lufthansa offers a hot meal on flights over 10 hours and a hot snack on flights under 10 hours.
I've been cursed blessed to fly Lufthansa economy class twice this year from Los Angeles to Germany, once to Frankfurt and once to Munich.
On both flights, I was served this pre-arrival meal:
Even in my trip report I wrote that food was insufficient for a 10-hour flight and to bring you own. That will certainly be the case now.
Lufthansa Premium Economy Meal Cutbacks
What is even more startling is that premium economy class will also move from a hot pre-arrival meal to a cold vegetation snack.
For example, I was served this pre-arrival breakfast from LAX-FRA:
And this pre-arrival dinner from FRA-LAX:
I have no problem with a vegetarian dish. The breakfasts above were all vegetarian. But eliminating hot dishes for a cold snack, even in premium economy? Seriously?
Meanwhile, British Airways recently upgraded its pre-arrival service in premium economy class. I was served a nice hot meal before landing last month from LHR to LAX:
United offers a far better pre-arrival breakfast in premium economy class: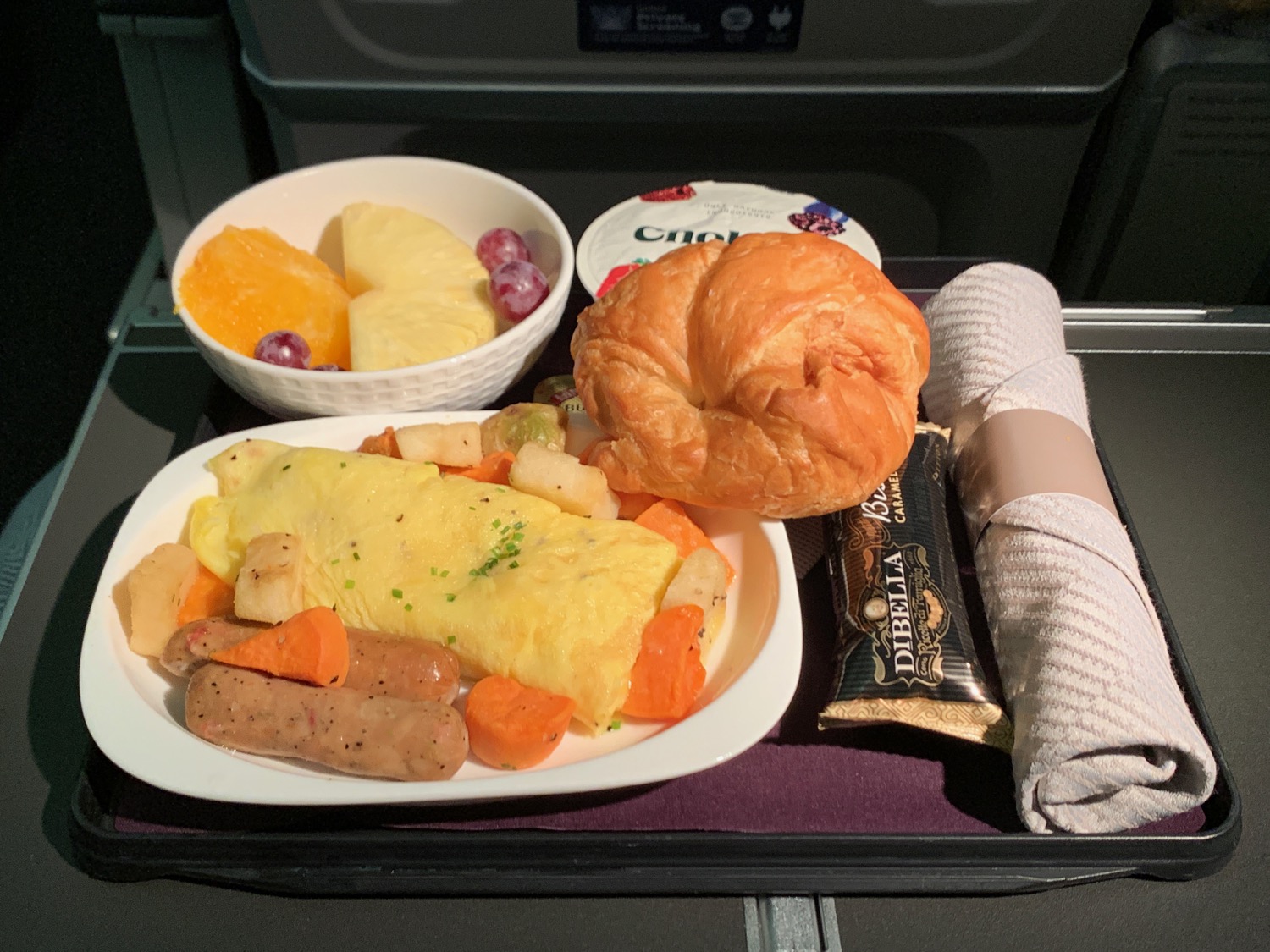 And even in economy class from the West Coast, Denver, and Houston, which is actually quite tasty.
Bye-Bye Headsets, Hello 0.5L Water
Lufthansa is also cutting back on reusable headsets and will instead use disposable ones. It says this is good for the environment since it will reduce weight. Yes, but think of all the waste…
The only upside to these changes is that Lufthansa will offer each passenger a 0.5L bottle of water.
It seems both of these changes are also aimed at reducing flight attendant workload. Flight attendants currently pick up headphones in economy class before the end of each flight. That will no longer be necessary. Flight attendants also will no longer have to make water runs throughout the flight if each passenger has their own bottle.
CONCLUSION
I am so disappointed by these changes. Lufthansa claims to be a five-star airline, but these cutbacks render Lufthansa meal service noticeably lacking compared to their U.S. competitions. Ironically, as British Airways has upped its game, Lufthansa is in bean-counting mode.
I've said it before and I'll say it again: I'd take a U.S. carrier any day over Lufthansa in economy class. These latest cutbacks just make the decision even easier.
(H/T: One Mile at a Time)