The brand new Air Canada Maple Leaf Lounge in San Francisco (SFO) has instantly become my favorite Maple Leaf Lounge in the network with excellent service, dining, and lovely indoor and outdoor space.
Air Canada Maple Leaf Lounge San Francisco Review (SFO)
I had a chance to visit the recently-opened Maple Leaf lounge during a recent layover in SFO and to say I was quite impressed would be an understatement.
Access + Hours + Location
This lounge is open to all Star Alliance Gold members traveling on a Star Alliance flight (regardless of destination or cabin of service) and Star Alliance business class travelers. That alone is a huge differential between this lounge and the trio of United Clubs located in the adjacent terminals.
While United restricts MileagePlus Golds, Platinums, and 1Ks from accessing its own lounge except when traveling internationally, this same restriction does not apply to the Air Canada Lounge. So, if you are a United Gold you can access even a domestic flight in economy class. If you are flying business class on a United domestic flight, you can access the Air Canada lounge even though you would be turned away from a United Club.
The lounge is easily reachable via Terminal 3 and International Terminal G where United houses its flight operations, via a recently-constructed corridor on the secure side (beyond security). Stating in Terminal 3, follow the signs for Terminal 2 and walk down the corridor, and you will find the lounge entrance on the left before you enter the main concourse for Terminal 2 (if you reach the security checkpoints or Alaska Airlines lounge, you've gone too far). If coming in at Terminal 2, turn left past security.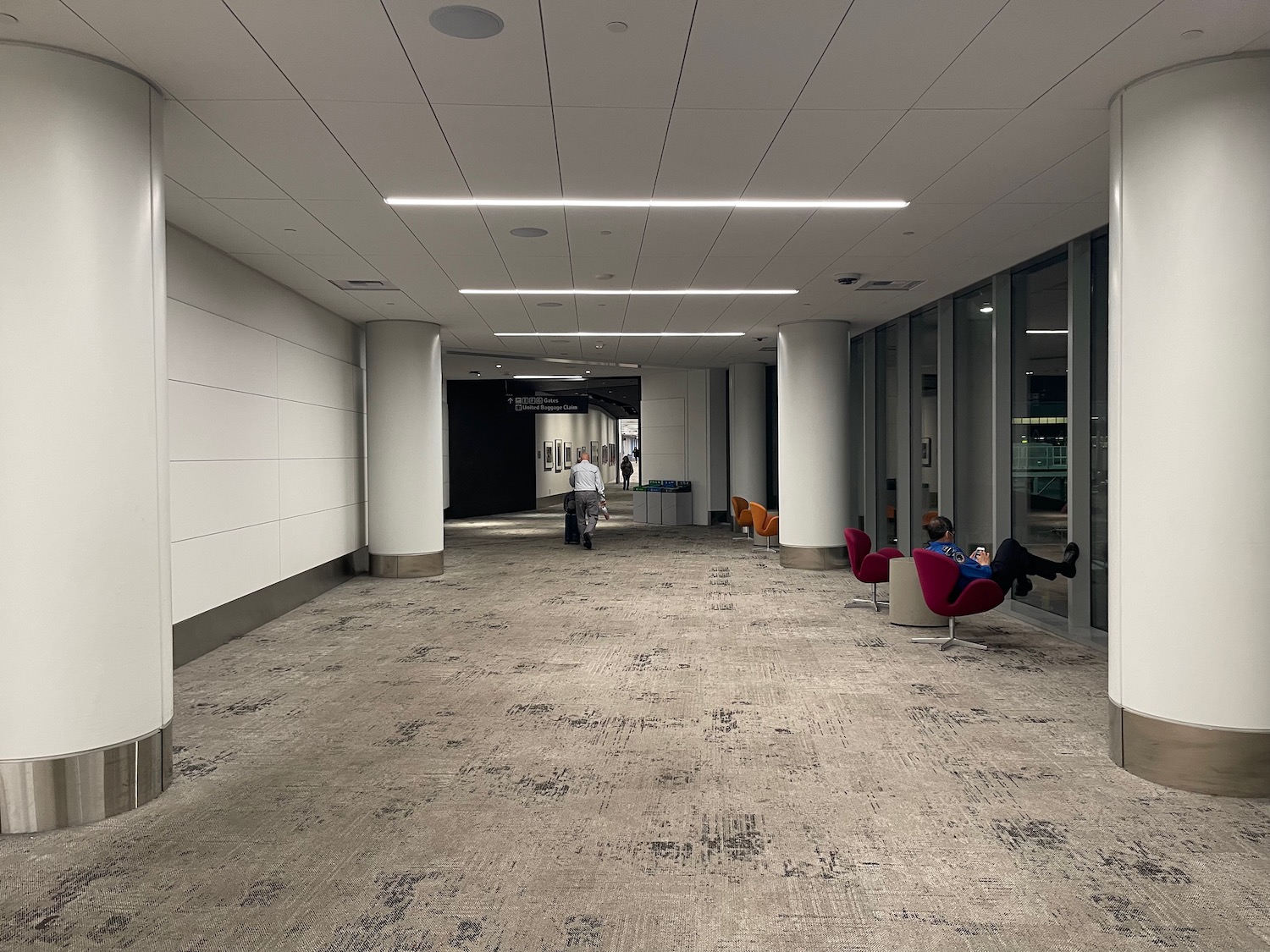 You'll proceed down a hall, take an elevator up to L4, then walk down another long hall to the lounge.
Currently, the lounge is open daily from 4:15 am until 30 minutes prior to the last Air Canada departure of the day, which these days is about 10:10 pm ahead of Air Canada's redeye to Montreal.
Access is also granted to travelers in Premium Rouge on Air Canada's low-cost Rouge subsidiary, Maple Leaf Lounge members (Air Canada has currently suspended the sales of new memberships), select Aeroplan Premium co-branded cardmembers, and those who purchase one-time passes (pricing based upon your fare class).
Access is electronically controlled by turnstiles: I simply scanned my boarding pass and was allowed in.
Seating
The 8,168 square foot lounge is tastefully decorated with seating areas both inside and outside. As you enter the lounge, there is seating on the right side stretching back to rear wall, a dining area clustered around the buffet and bar, more seating near the bar, and a large terrace overlooking the apron below.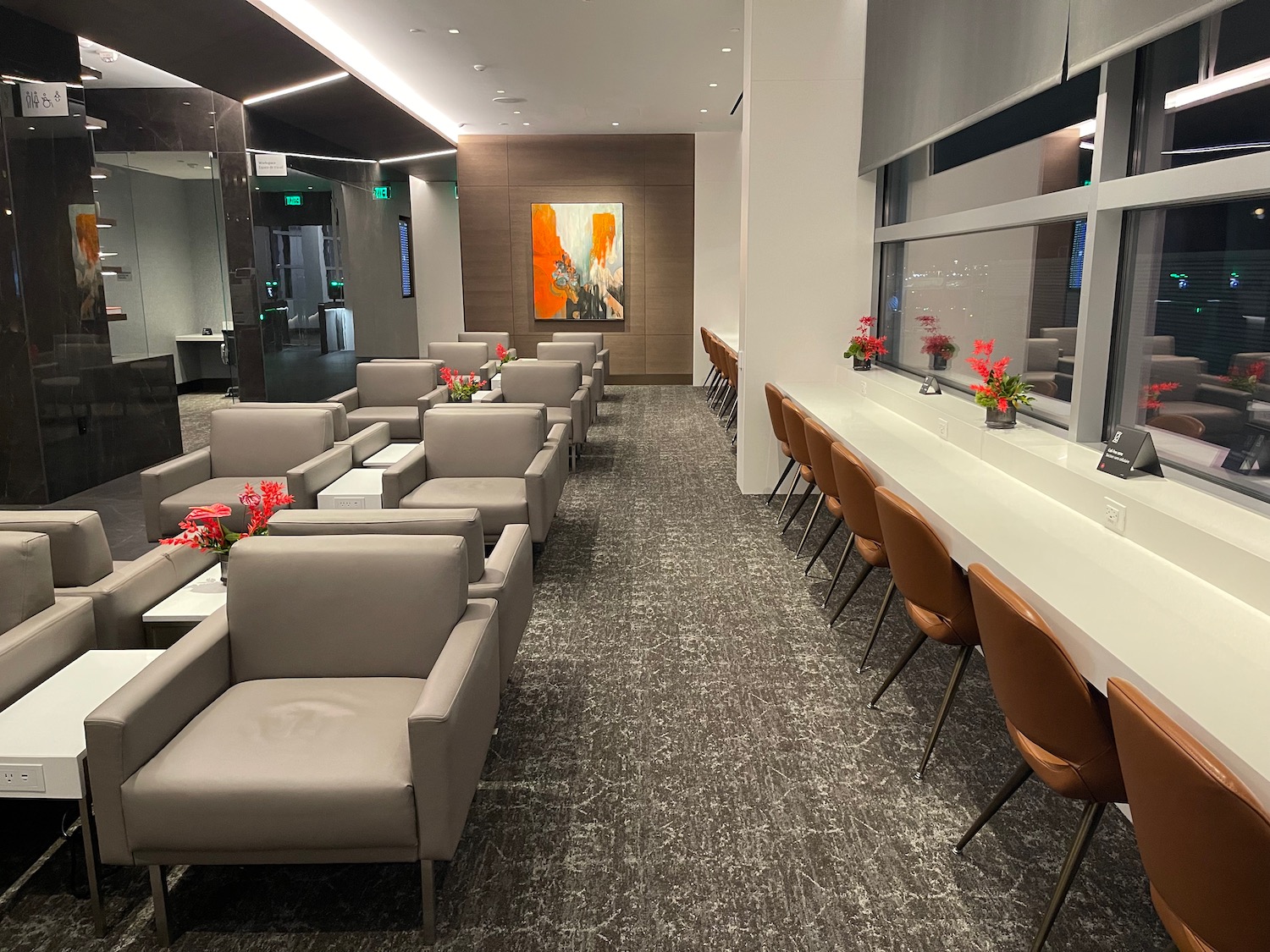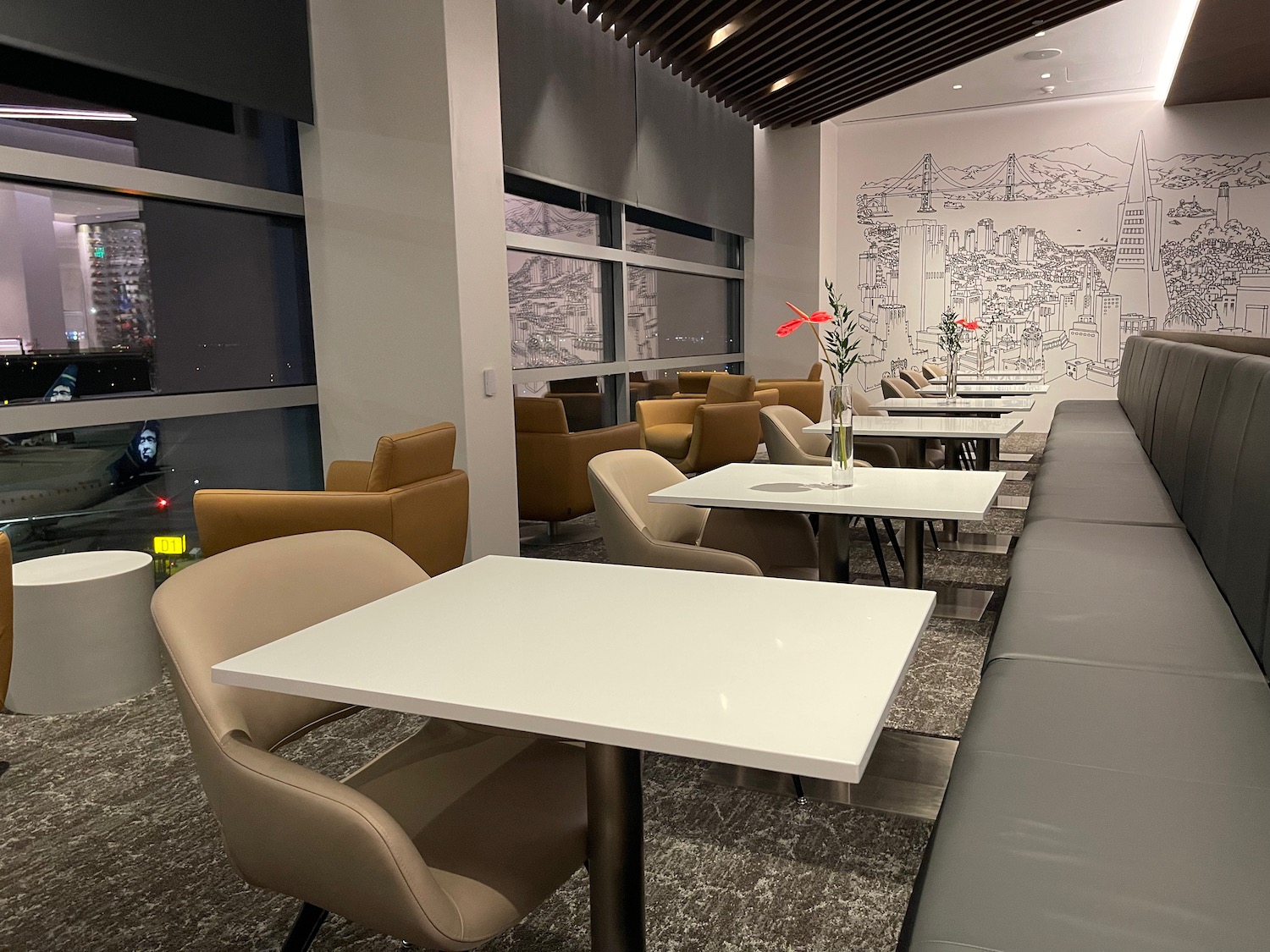 More seating beyond the bar, including a cell phone "free" zone: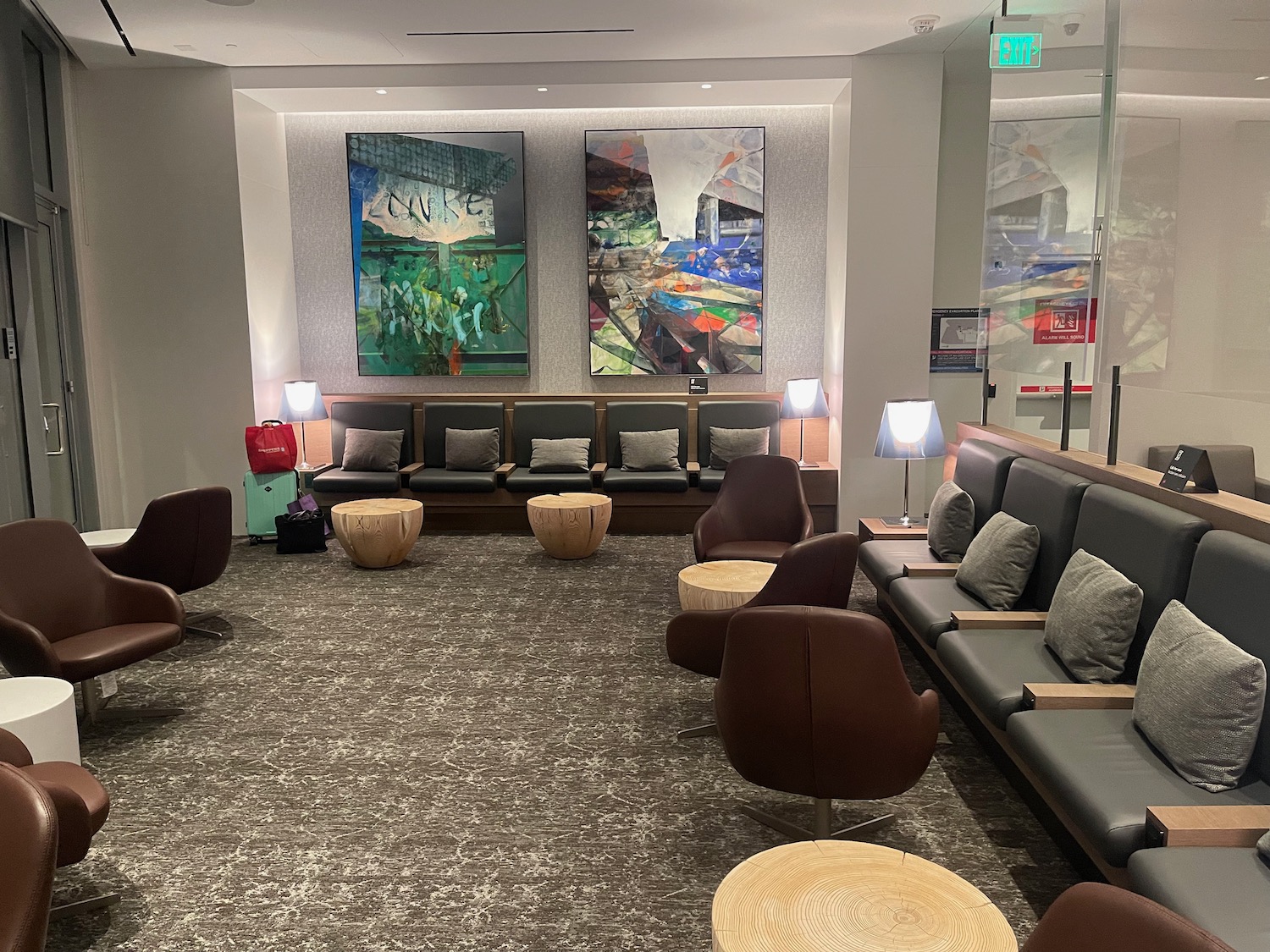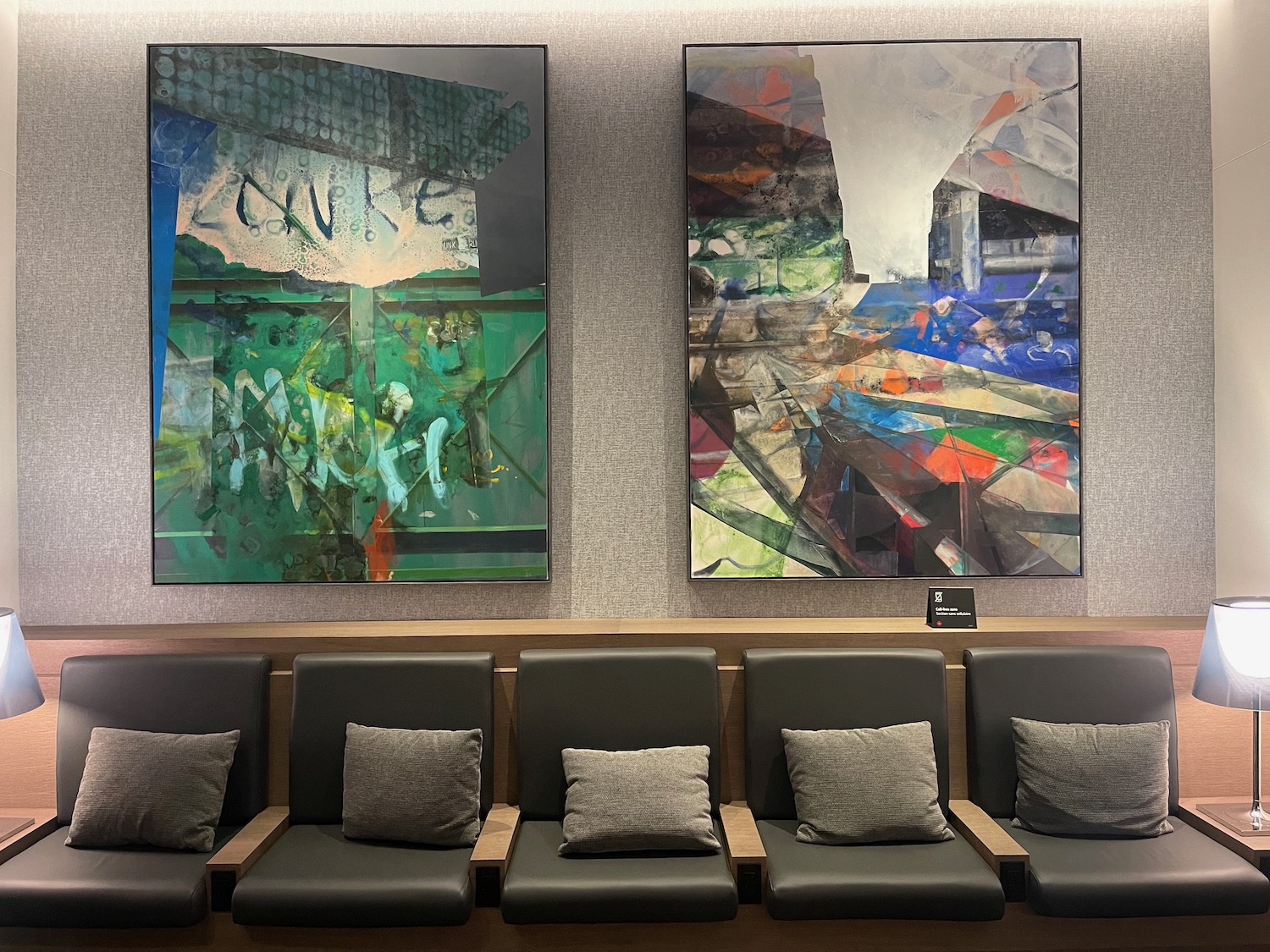 The terrace is very spacious, with fire pits (turned off) and a range of seating.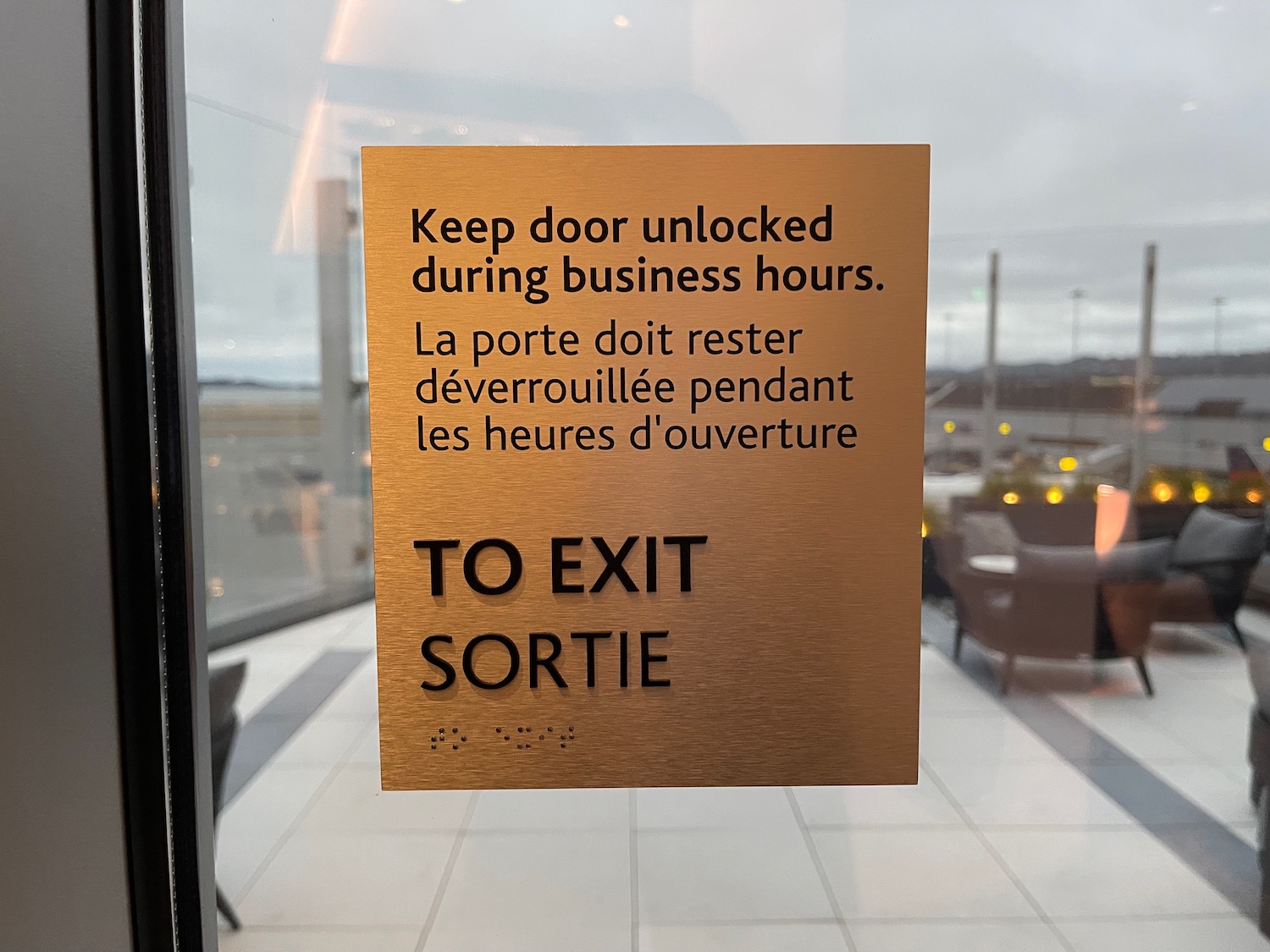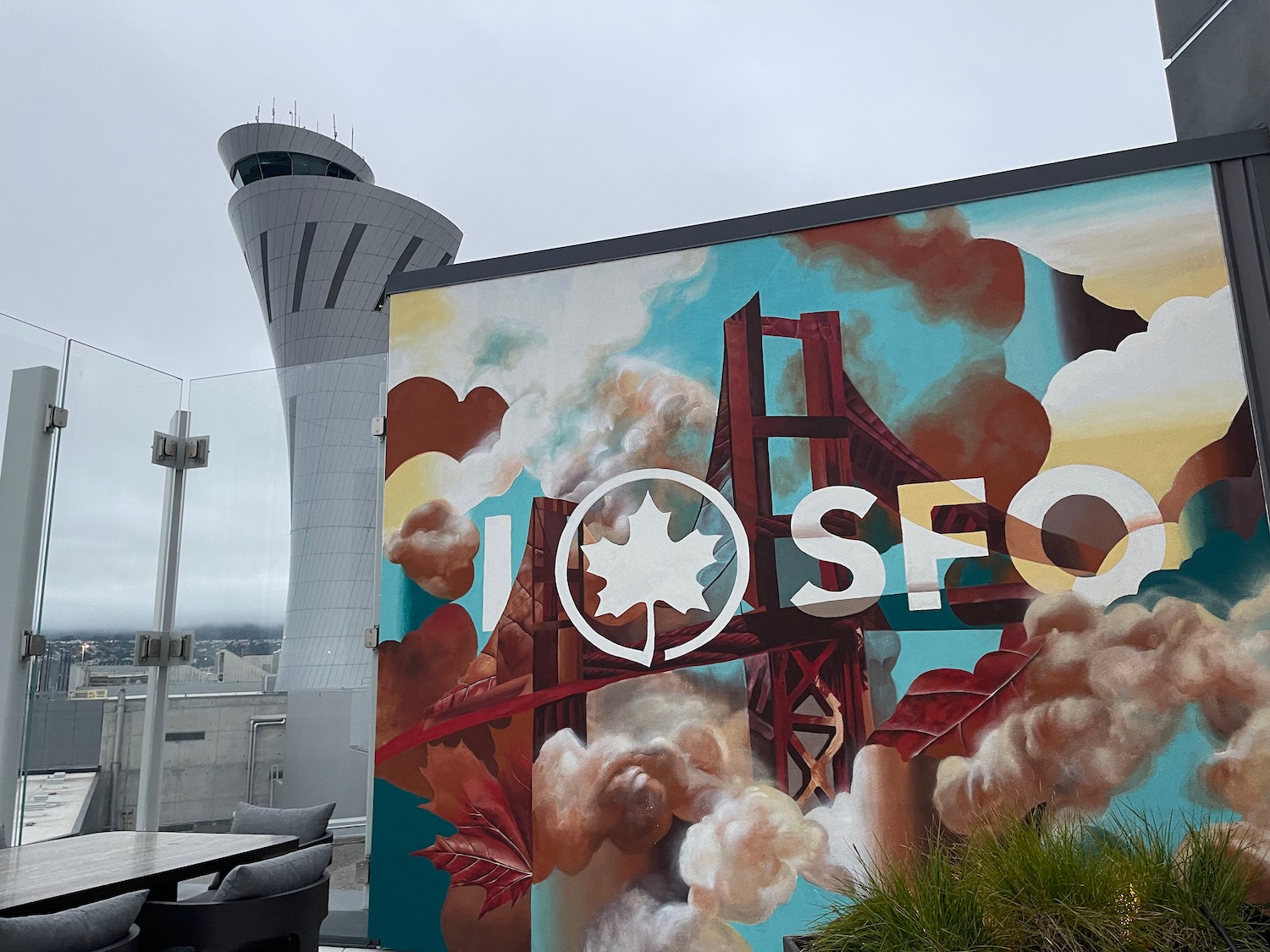 Dining area: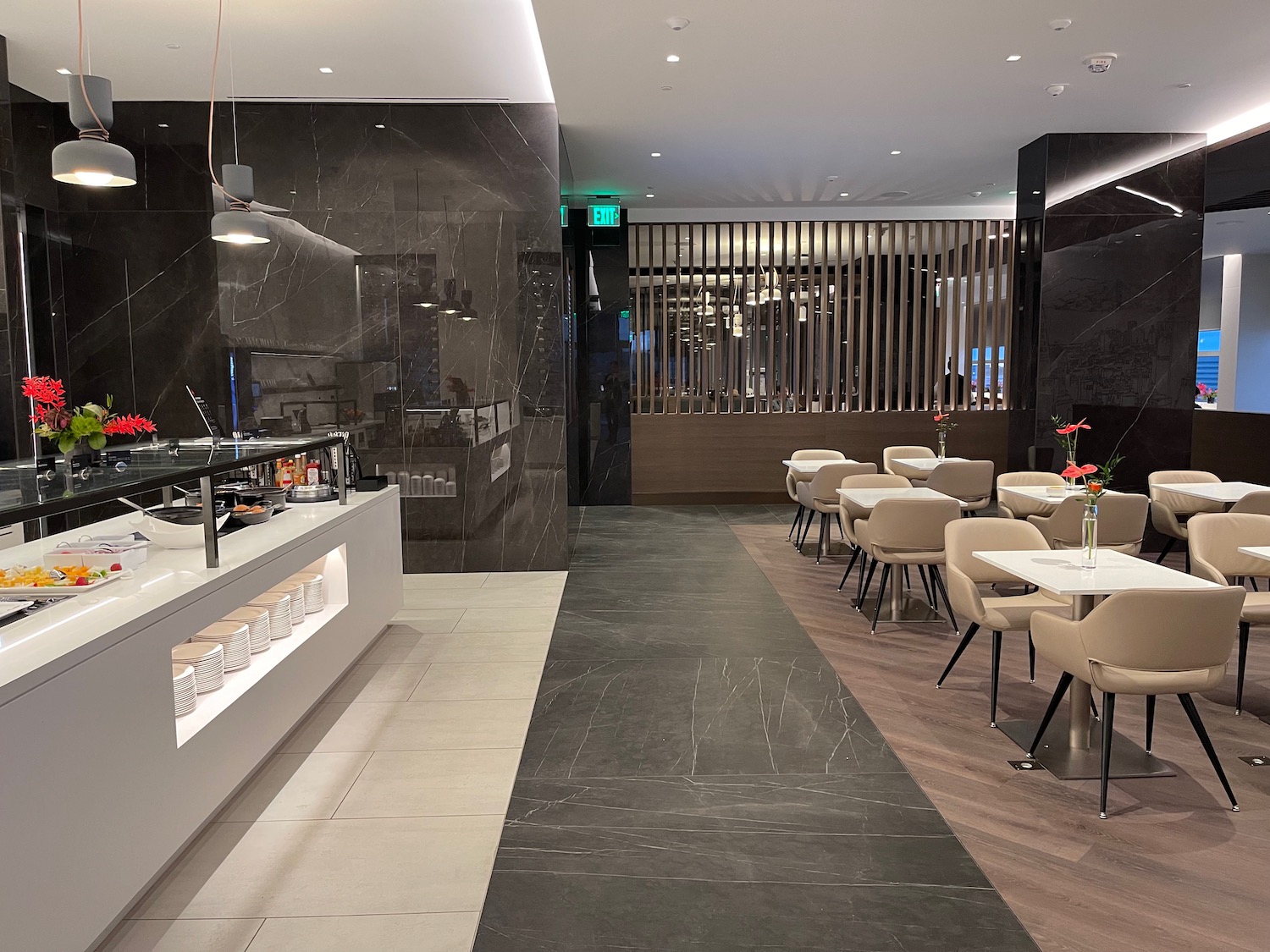 Importantly, there are plugs within easy reach, including USB-A and USB-C ports: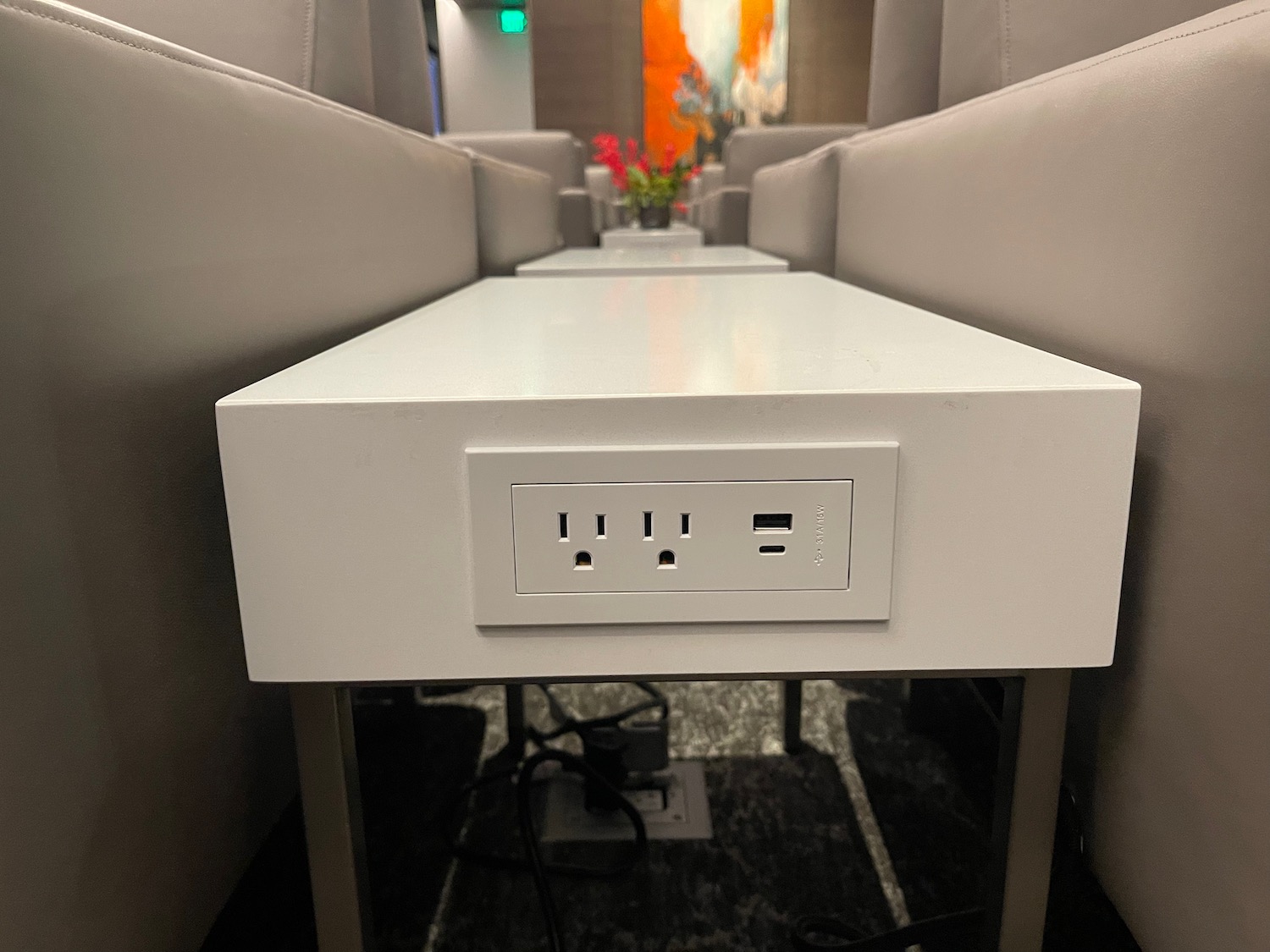 The lounge was not crowded during my visit (frankly, I do not expect it to stay that way once word gets out).
Food + Drinks
This lounge features a full-service bar with barista-made coffee service, offering a wide selection of complimentary drinks including cocktails, beer, wine, and espresso-based coffee drinks.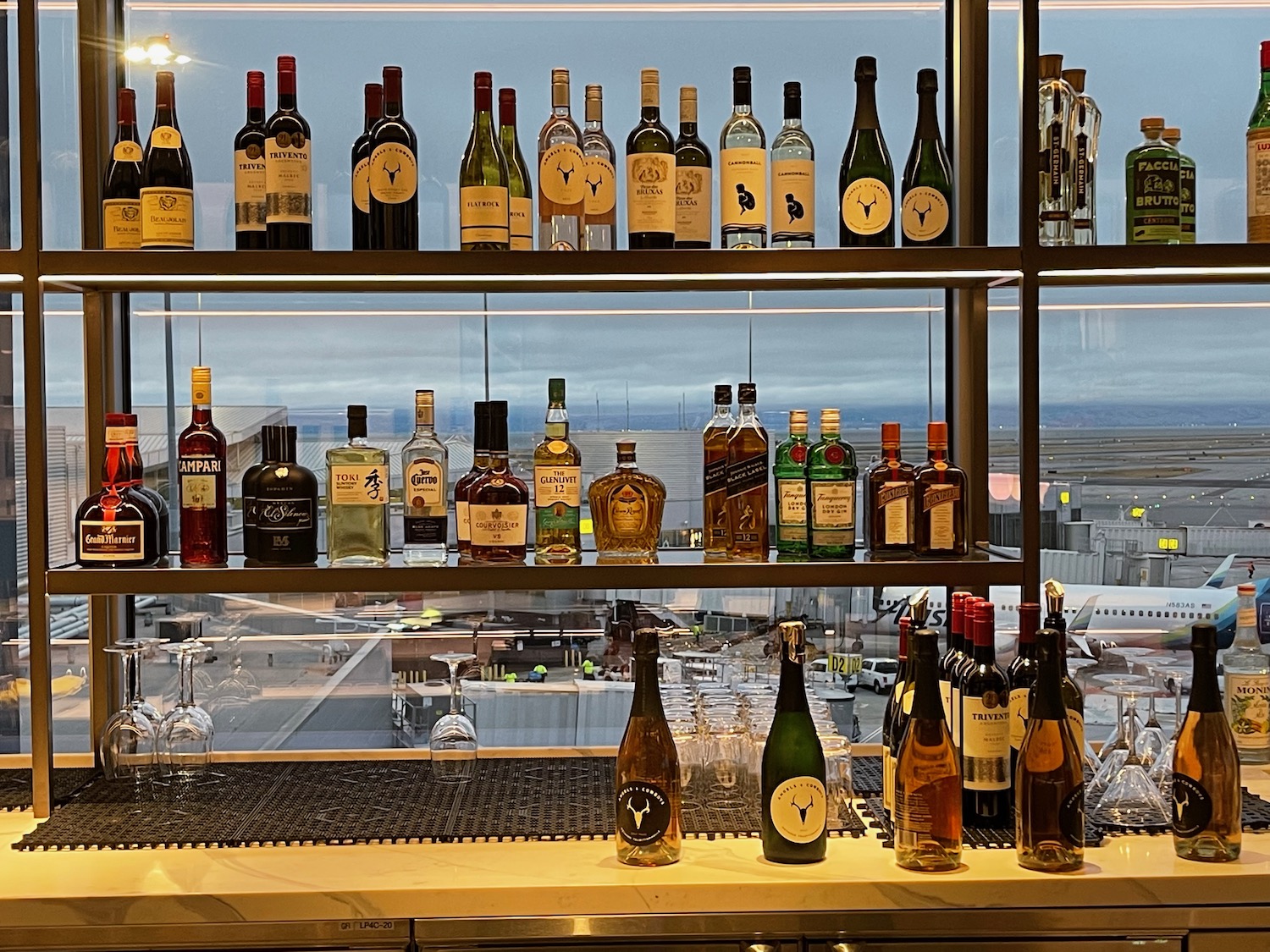 The buffet was quite more substantial than the Los Angeles lounge and I tried a bit of everything including adobo chicken, chimichurri beef sliders, seafood cioppino, lobster bisque soup, and a green salad. High marks for the food: the beef sliders were dried out, but everything else was quite nice.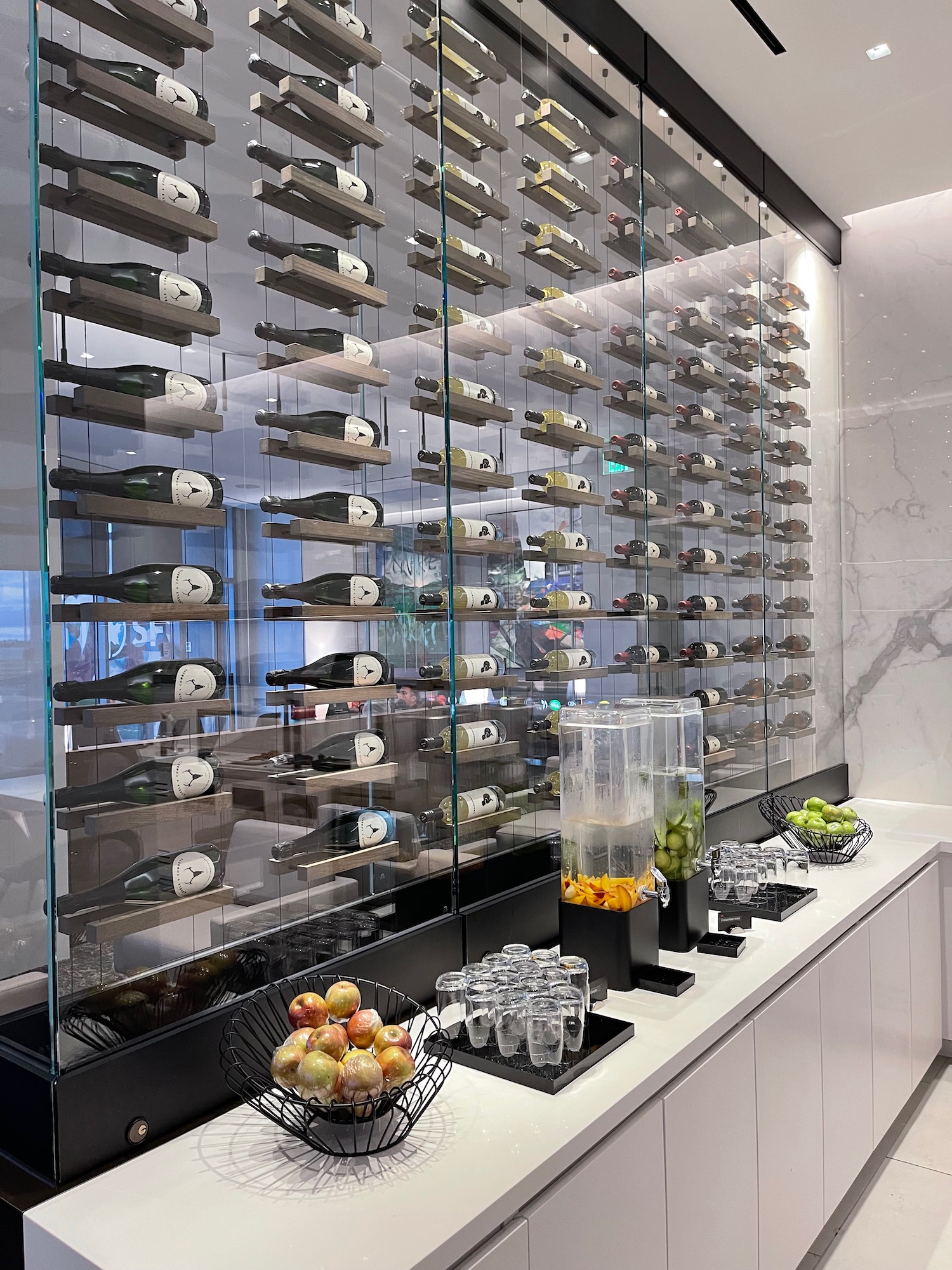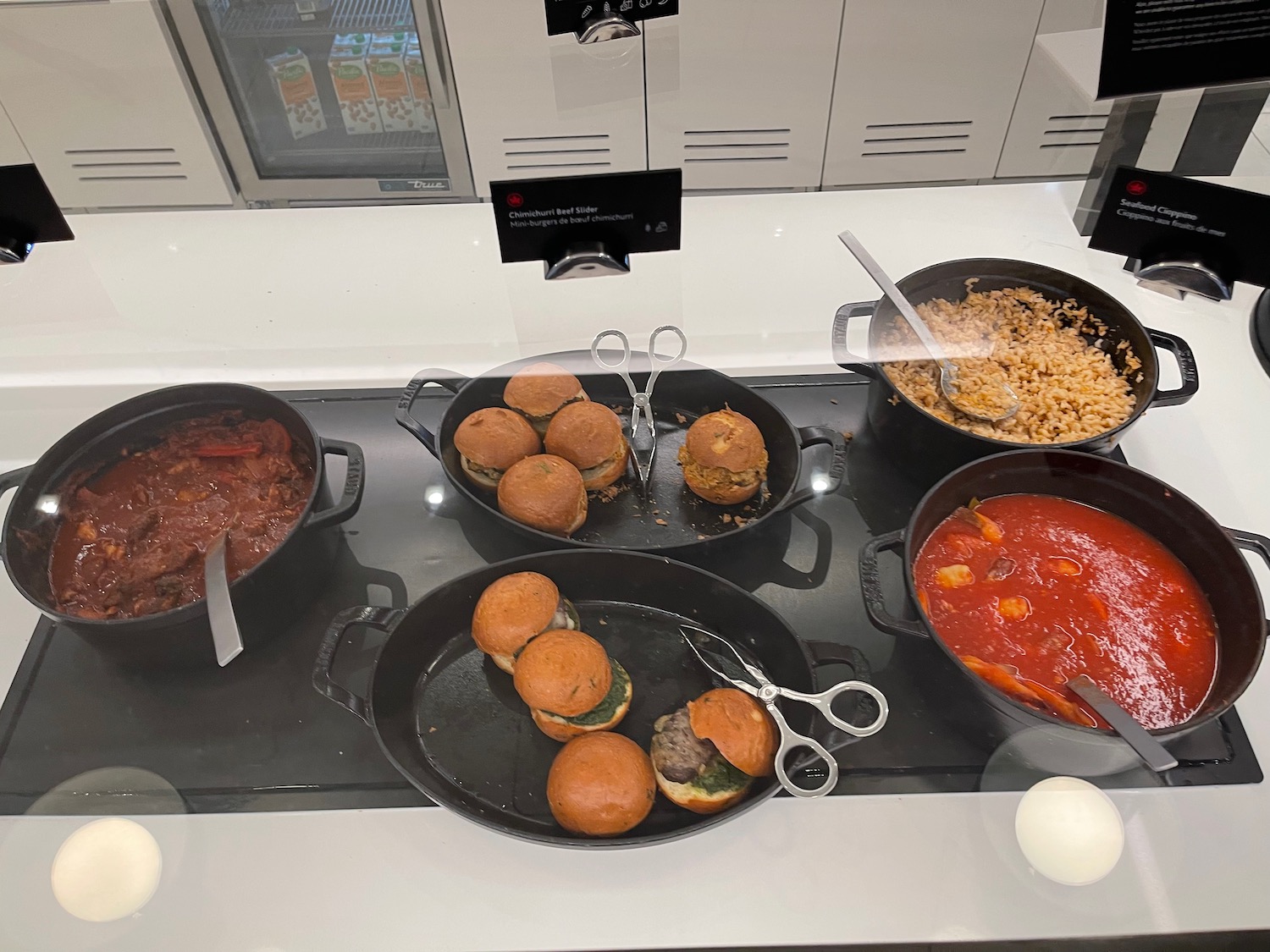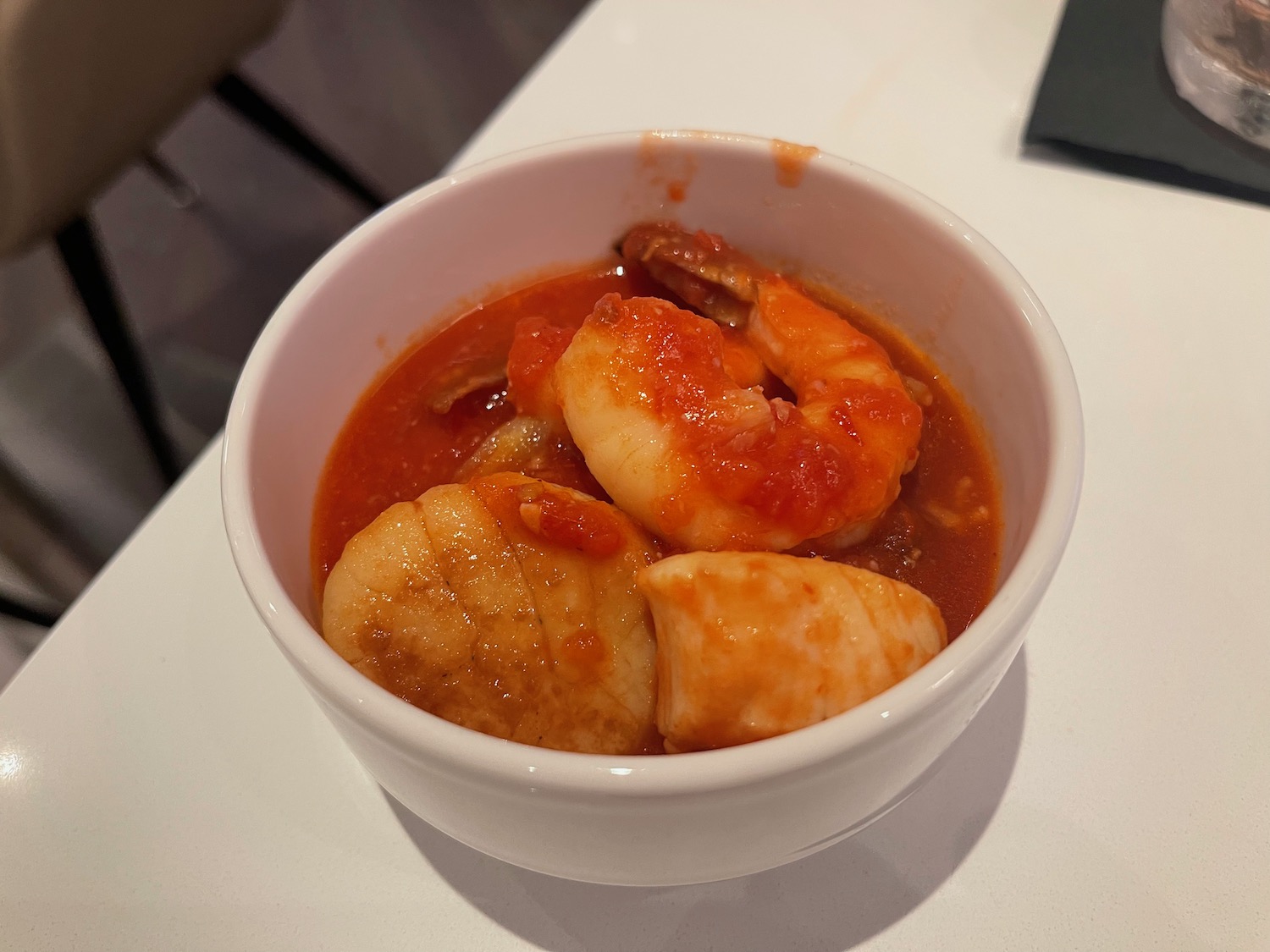 I also tried a smoked Negroni (mescal instead of gin) and later had a cappuccino.
Rather than a Coke freestyle machine, there is a more generic machine that dispenses beverages. There's also a Lavazza-branded espresso machine, but avoid this: the coffee is like sludge compared to the machine at the bar.
Service
I was very pleasantly surprised by the superb service in this lounge. The entire staff was gracious and kind but I want to give particular praise to Ernesto, the bartender who made both an excellent cocktail and cappuccino (with the help of his colleague).
Business Center
There's a printer near the entrance with wireless printing available and also several glass-enclosed workstations intended for mobile phone calls.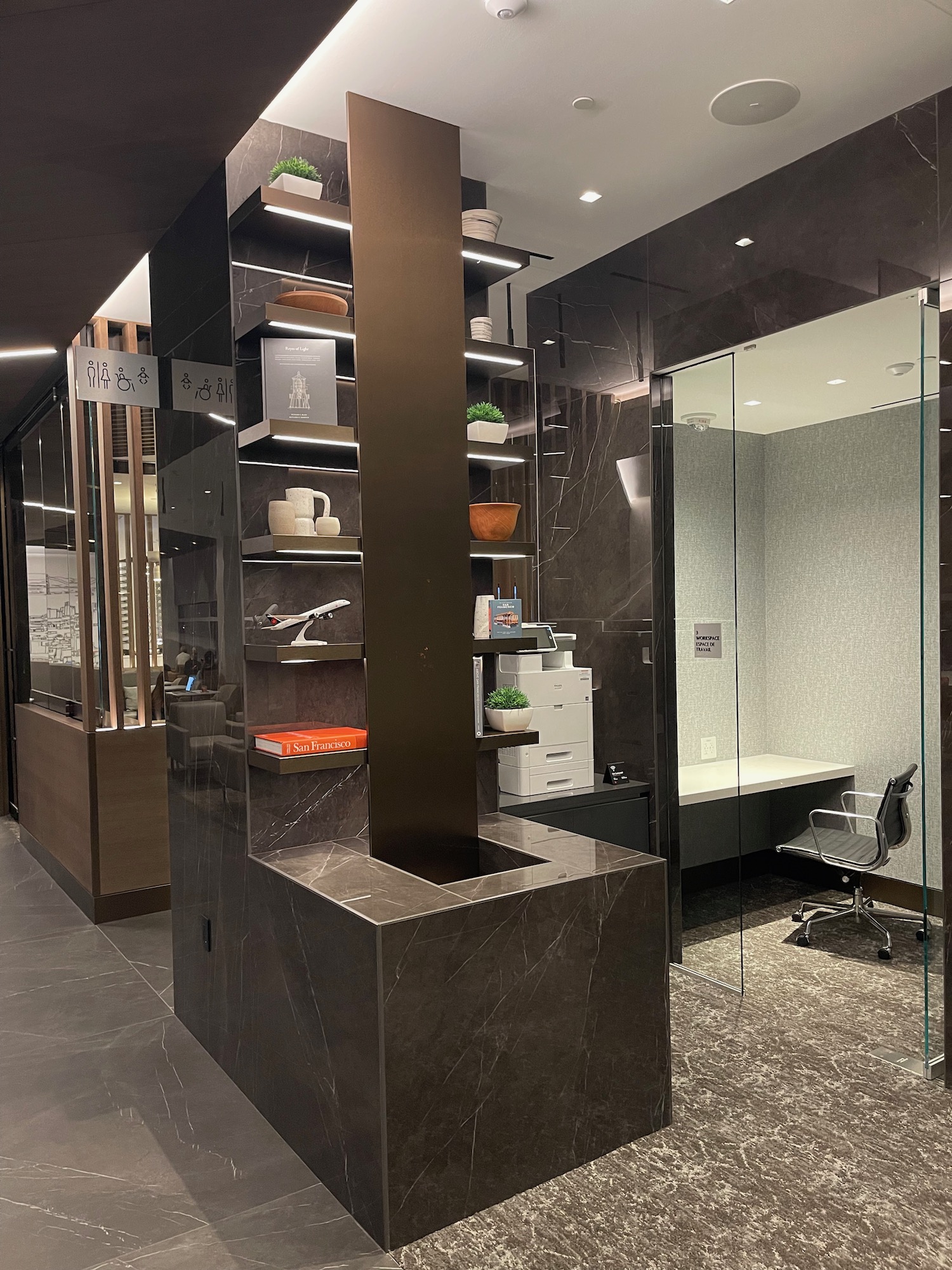 Restrooms + Showers
Both gender-specific and single-occupancy restrooms are available. Those single-occupancy restrooms also serve as shower suites. There are two in total. Showers are available upon request: ask a member of lounge staff for towels. Shower liquids are from Molton Brown.
CONCLUSION
I was quite pleased with this lounge and look forward to returning: it is better than any of the United Clubs at SFO. In fact, I prefer it to the four Priority Pass restaurants that are also spread over Terminals 2 and 3 and International (all connected airside). And until the crowds come, it is arguably even a better experience than the Polaris Lounge. I do expect the lounge will become more crowded as word gets out about it, but it is understandable why: it's a high-quality lounge that is worth stopping at.