I arrived at Cape Town International about two hours before my flight to Johannesburg, leaving me plenty of time to check out the South African Airways domestic lounge in Cape Town. While the survival of SAA remains an unresolved issue, the issue is not with its product, which remains not only adequate, but nice.
South African Airways Lounge Cape Town Review
Access + Locations + Hours
The lounge is temporarily closed during the pandemic, but historic hours were generally from an hour before the first flight departed until the last flight of the day departed.
After proceeding through security, I turned right and immediately noticed a sign for the South African Airways lounge. It was located upstairs and though elevators were available, I took the stairs up…after all, I would be sitting or flying for the rest of the day.
Access is offered to Star Alliance Gold members and business class travelers.
An agent barely looked up as I entered, scanning my boarding pass but not saying anything at all.
Seating
The lounge is spacious, with seating areas to your left or to your right as you enter the lounge.
Food + Drink
I arrived at the tail-end of breakfast, so was able to see both the breakfast and lunch selections. Breakfast included yogurt parfaits, whole fruit, seasonal sliced fruit, cold cuts, cheese, pastries, rolls, bread, cereal. Hot items included hash browns, scrambled eggs, and soft-boiled eggs.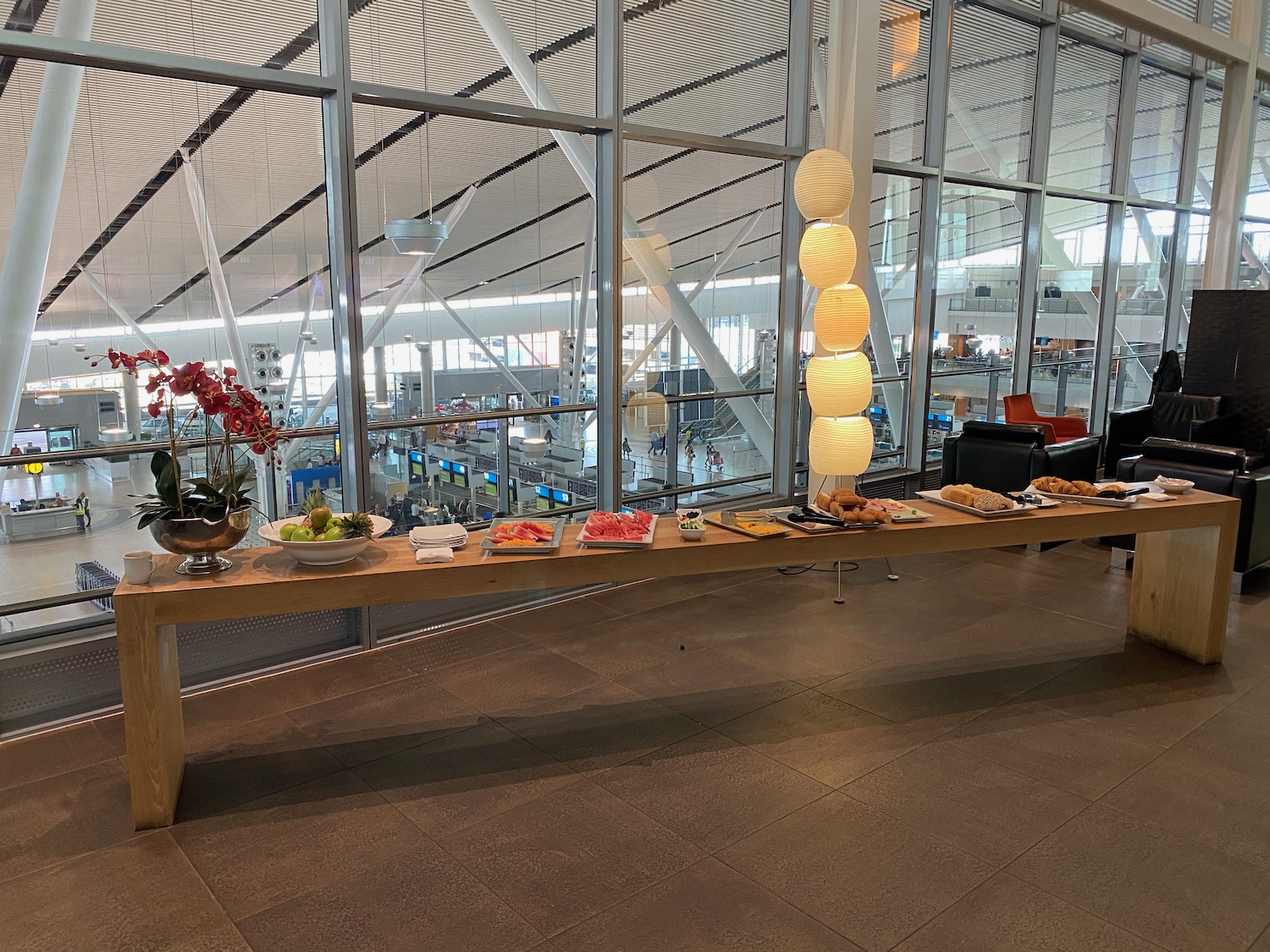 There was also a waffle machine (available all day) in a beverage center that offered water, soft drinks, tea, and coffee.
The lunch transition occurred at about 11:00am. Selections included salads, curried chicken with saffron, marinated roast beef, and stir-fried vegetables.
Around the other side of the lounge, sweets and potato chips were offered:
My favorite part of the lounge was the bar, not for the alcohol, but for the coffee. A barista is available to make the beverage of your choice and I enjoyed a decent cappuccino. Alcoholic drinks are also available, including local beer and wine.
Smoking Lounge
A large, separately-ventilated smoking lounge is available.
Restrooms + Showers
Both restrooms and shower are available. Showers are available upon request from reception.
Business Center
A business center with desktop computers and a printer is available, though I find these are becoming increasingly irrelevant and do not expect it to survive the pandemic.
Newspapers + Magazines
I would also expect newspapers and magazines will not survive the pandemic, but they were available as late as March 2020.
CONCLUSION
There is nothing spectacular about this lounge. Yet it is far nicer than the Bidvest Lounge and with functioning internet and good coffee, was a very pleasant place to wait for my flight.
---
This story is part of my An African Adventure As The World Shut Down trip report.