I returned to Stephanie's for another meal and walked away quite disappointed…though the food was not the problem.
Stephanie's Boston Logan Airport Review, A Priority Pass Restaurant
We're in a tight labor market and it seems that restaurants are really feeling the pinch. The restaurant was woefully understaffed with one poor waiter taking care of everyone (and there were at least a dozen tables occupied). That's simply too much to ask.
I had breakfast at Stephanie's in Terminal B after my United redeye from Los Angeles to London. While I was (eventually) continuing on to Zurich that night (14 hours later), my inbound boarding pass from Los Angeles was sufficient to utilize my Priority Pass benefit ($28 credit for priority Pass Select members via Chase Sapphire Reserve or Citi Prestige).
Google the menu here and you will not receive an accurate indicator of current pricing. In our inflation-fueled economy, prices have gone up quite a bit over the last couple years.
Here's the breakfast menu:
I was excited to see a nice coffee machine at the bar, but was told there was no one to run it…
The regular coffee tased like brown water. I ordered an omelet with with ham cheese.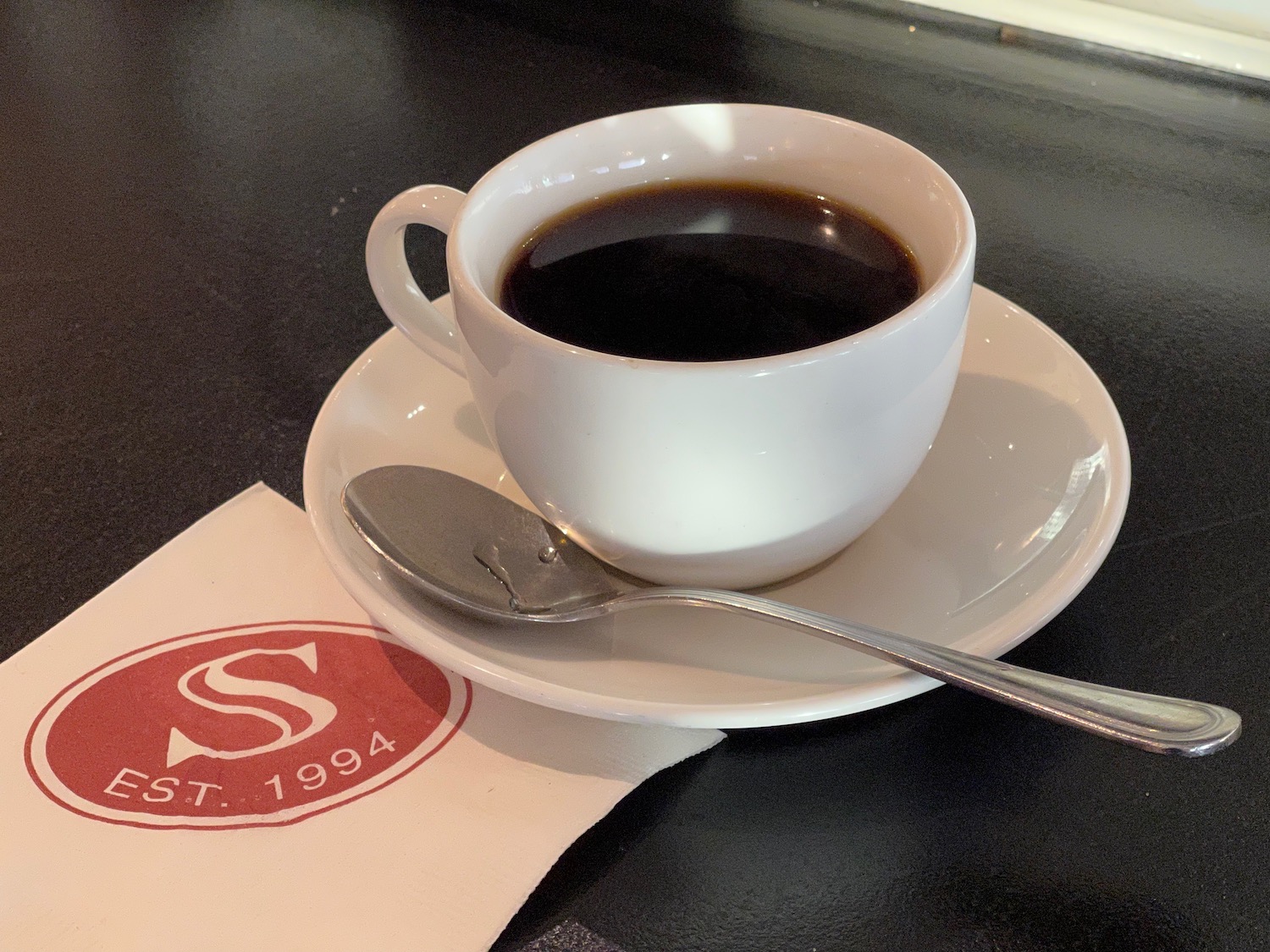 The omelet was not great…too greasy for my taste and the diced industrial-grade ham was still cold. At least the fruit bowl was nice.
I moved to the United Club for a much better cup of coffee.
Hopefully Stephanie's has sorted out its staffing issues. The food, coffee, and service were all unmemorable and I do not plan to return, at least for breakfast.
My original review, from October 2022, appears below.
---
If you're in the mood for a heartier meal than what might be available in an airline lounge, Stephanie's Restaurant at Boston Logan Airport (BOS) is a solid choice. There are two locations, one in Terminal B and the other in Terminal E, and both are Priority Pass restaurants.
Stephanie's Boston Logan Airport Review, A Priority Pass Restaurant
Stephanie's is part of the Priority Pass network and offers Citi, Capital One, or Chase-affiliated Priority Pass Select membership a $28/person restaurant credit (for up to two people) – this benefit is not available with American Express-issued Priority Pass memberships.
You'll find one location in Terminal B opposite Gate B24 and the other, where I ate, in Terminal E, opposite gate E7. The restaurants are open from 7:00 am – 10:00 pm daily.
There was a line of seven people outside when I arrived, about 2:00 pm, but I only had to wait about five minutes to be seated.
Here is the food and drink menu, which includes a large selection of wines, beer, and spirits as well as soups, salads, burgers, sandwiches, and even steak or salmon.
Prices are on the high side – a cocktail and steak will more than double your Priority Pass allowance.
My waitress showed up within moments of me sitting down, which greatly impressed me. But what impressed me even more was that five minutes later my food was served. I ordered a bacon cheeseburger and it came out quickly and was very flavorful. I also noticed that the beef was leaner than what you often receive in a restaurant hamburger.
I ordered a salad with it in place of French Fries…not that the meal suddenly became healthy.
What I'll do at a Priority Pass restaurant is ask for the bill immediately when the food is served. That way, I don't have to chase the waiter or waitress down later. I doubt that would have been a problem here, but it was nice to square the bill (there was no charge, but I left a tip on my credit card) so there was no waiting and wasted time after I ate.
CONCLUSION
Stephanie's is recommended at Boston Logan Airport. I'll be back (hope to try breakfast next time) and recommend it as a superior option to the Priority Pass lounges at BOS.