The St. Regis Amman located in the capital city of Jordan really impressed me. From the great service to the comfortable guest rooms to the luxe spa to the exquisite breakfast, there is much to like about this hotel.
The St. Regis Amman Review
Although I am usually loyal to Hyatt and have had many nice stays at the Grand Hyatt Amman, this time I decided to try out The St. Regis. At around $280/night, the price was right and by booking with American Express Fine Hotels & Resorts, my stay included breakfast and a spa credit. I spent three nights here.
Located in the 5th Circle of Jordan's capital, the hotel is centrally located for tourist activity and shopping in the region.
Check-In
Let me get out my only complaint here: that smell…
If you have stayed in a St. Regis hotel before, you are probably familiar with the proprietary scent that is a fixture of each property. That scent, however, was so strong in the lobby that it was absolutely overwhelming. I'm not a fan.
Rather than a central check-in counter, you check in individually at a desk. I was warmly welcomed and informed that my room had been upgraded to Grand Deluxe guest room, which is essentially a standard room on a high floor.
Guest Room (Grand Deluxe)
My room, 1003, was really posh for a standard room. Details like the wall paneling and the muted color scheme suited me quite well. The bed was comfortable and I appreciated both the desk and chaise lounge.
A welcome gift (popcorn, oranges, Halwa chocolate) sat on an end table.
Plenty of closet space:
Universal plugs and light controls:
I also appreciated the large marble bathroom, with dual sink, walk-in shower, bathtub, toilet, and bidet. As was true at Kempinski and Mövenpick, the soap, shampoo, and conditioner were from Trinatae, a Jordanian company that uses Dead Sea minerals in its products.
My city view:
Spa + Wellness
In order to use the sauna or steam room, you have to make a reservation. I thought this was still a lingering coronavirus-era policy, but that is not the case. The hotel has a beautiful wellness suite with a sauna, steam room, and whirlpool and it is exclusively yours for the 45-minute period you reserve it (complimentary for hotel guests).
I dream of having a room like this in my house one day…
While the communal experience of a sauna or steam room also can be pleasant, it is nice to enjoy the tranquility of your own private spa.
I came down here every evening and every morning…I find few things more relaxing than the ritual of sitting in a sauna and steam room.
On one occasion I used my spa credit for an hour-long full-body massage, which was one of the best massages I have ever received. Nurul was my spa technician and did a masterful job getting rid of some knots in my shoulder without leaving me in pain.
The spa's common areas are also beautiful, with the sound of running water, a large relaxation area, and complimentary snacks like fruit, almonds, and pomegranate juice.
Pool
The outdoor pool was closed for refurbishment during my visit.
Fitness Center
The hotel offered a large fitness center with brand-new equipment from TechnoGym. My daily routine was to workout when I woke up, sweat it out in the wellness area, then have a late breakfast. While the gym was fairly crowded in the mornings, it was never so bad that I had to wait for a machine I wanted to use.
Food + Drink
Of all the hotels I stayed at in Jordan, The St. Regis Amman offered the best food and the best coffee.
Tea Lounge
Drawing on the St. Regis tradition, the Tea Lounge is located in an ornate sitting area down the hall from the check-in lobby. It offers an extensive tea and coffee menu as well as light food choices. I enjoyed cappuccino here on two afternoons.
Mercado
Mercado is the hotel's Italian restaurant and a pizzeria, but also where breakfast is served each morning. In no uncertain terms, let me state that I cannot recall a better hotel buffet breakfast than what I enjoyed here. I'm talking worldwide.
The food was simply perfect. From the eggs to the manakish and falafel to the baked goods to the fresh-squeezed juices to the perfect coffee…this was such a high-quality and delicious buffet.
My diet tends to be rich in nuts. Nuts are high in fat, but it is a healthy fat and eating nuts is far healthier than snacking on chips or bread. I loved the wide section of nuts here, including delicious pistachios, pecans, and walnuts.
Service was also superb in Mercado, with very attentive staff who frequently cleared away dishes and offered refills on coffee and juice.
One other nice feature was complimentary coffee and tea each morning outside the restaurant:
Breakfast runs from 7:00 am to 11:00 am each day and I would show up at about 10:30 am each morning. Unlike some places, the buffet was not quickly removed at 11:00 am but was gradually dismantled, giving guests time to eat without feeling rushed.
Segreta
Segreta offers a mix of French and California cuisine in a beautiful outdoor environment. I did not eat here.
St. Regis Bar
The bar is beautiful, with a mosaic of three horses as the centerpiece and dark leather chairs with wood floors that create a cozy atmosphere.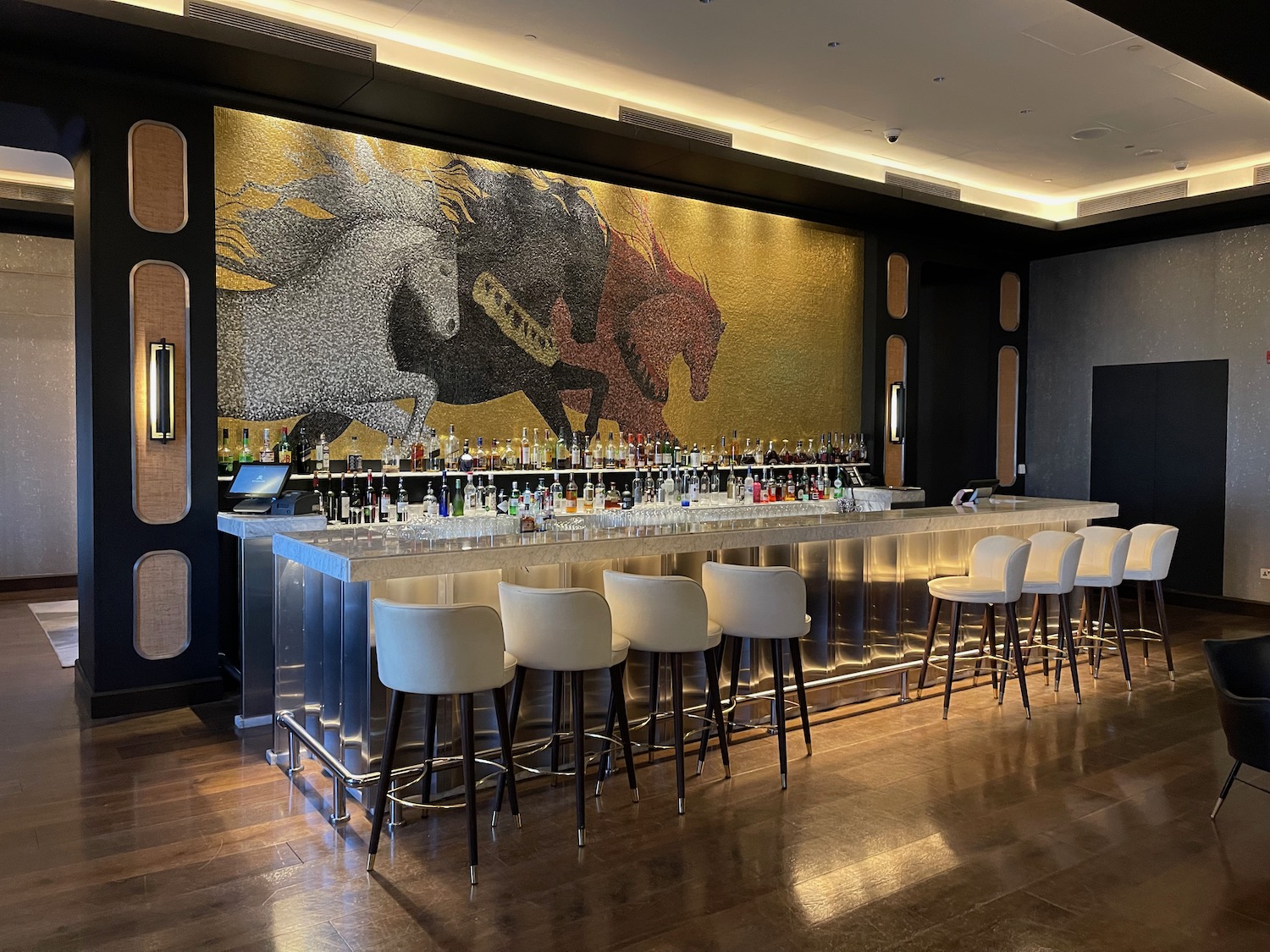 Note, you can smoke inside the bar, though the other indoor areas of the hotel are non-smoking.
Tamara
Tamara is named after the goddess of rivers and water and offers Jordanian cuisine. I did not eat here, but ordered food from here from room service.
Zenith
The hotel's rooftop grill, Zenith, was closed during my visit.
Room Service
I ordered room service all three nights and found the food outstanding. One night I had mansaf with a salad and a green drink of blended vegetables and fruits. The mansaf tasted homemade!
The next night I ordered a filet mignon, cooked a perfect medium rare, along with another salad and some vegetables.
Finally, I also tried the mixed grill (lamb, beef, chicken) and thought every bite was tender and juicy.
My friend ordered a cheeseburger (minus the buns) and did not like it.
We shared some grilled vegetables and a cheesecake (both lovely).
Amman offers lovely cuisine, but you really don't have to even leave the hotel to get it.
Meeting Space
I was impressed at the hotel's ballrooms, which are located on the lower level right next to Irdium Spa.
Shoe Shine
Finally, I love hotels that still offer shoe shine service…and do a good job of it. These old shoes have thousands of miles on them, but I still love them. Best pair of shoes I have ever bought!
CONCLUSION
Without any reservation, I highly recommend The St. Regis Amman. This is a modern, luxurious property with great food, service, amenities, and guest rooms. As tough as it is to deviate from Hyatt when I'm on the Hyatt hamster wheel, I was so glad I did for this trip.