My wife and I had an excellent stay at the Thompson Hollywood, part of the Hyatt family, including a nice suite upgrade and one of the best breakfasts in all of Los Angeles.
Thompson Hollywood Review
As part of our musical chairs of hotels during the tree saga, we spent a couple of nights in Hollywood and tried out both The Thompson and its younger brother Tommie, located right around the corner.
Booking
Our room was $230/night plus an additional $55 for valet parking (street parking is available, but gets a bid tedious). By LA standards that is not too bad. We spent most of our time during this period at the Hyatt Place Pasadena, where the nightly rate fluctuated from $150 to $450, but on this particular night the Thompson was actually cheaper than the Pasadena hotel.
Check-In + Lobby
Upon checking in I was thanked for my Globalist status and informed I had been upgraded a to ninth floor suite (I knew it already, though, since the World of Hyatt app lets you know when you have been upgraded).
I really liked the design and furniture in the lobby, which also has bar.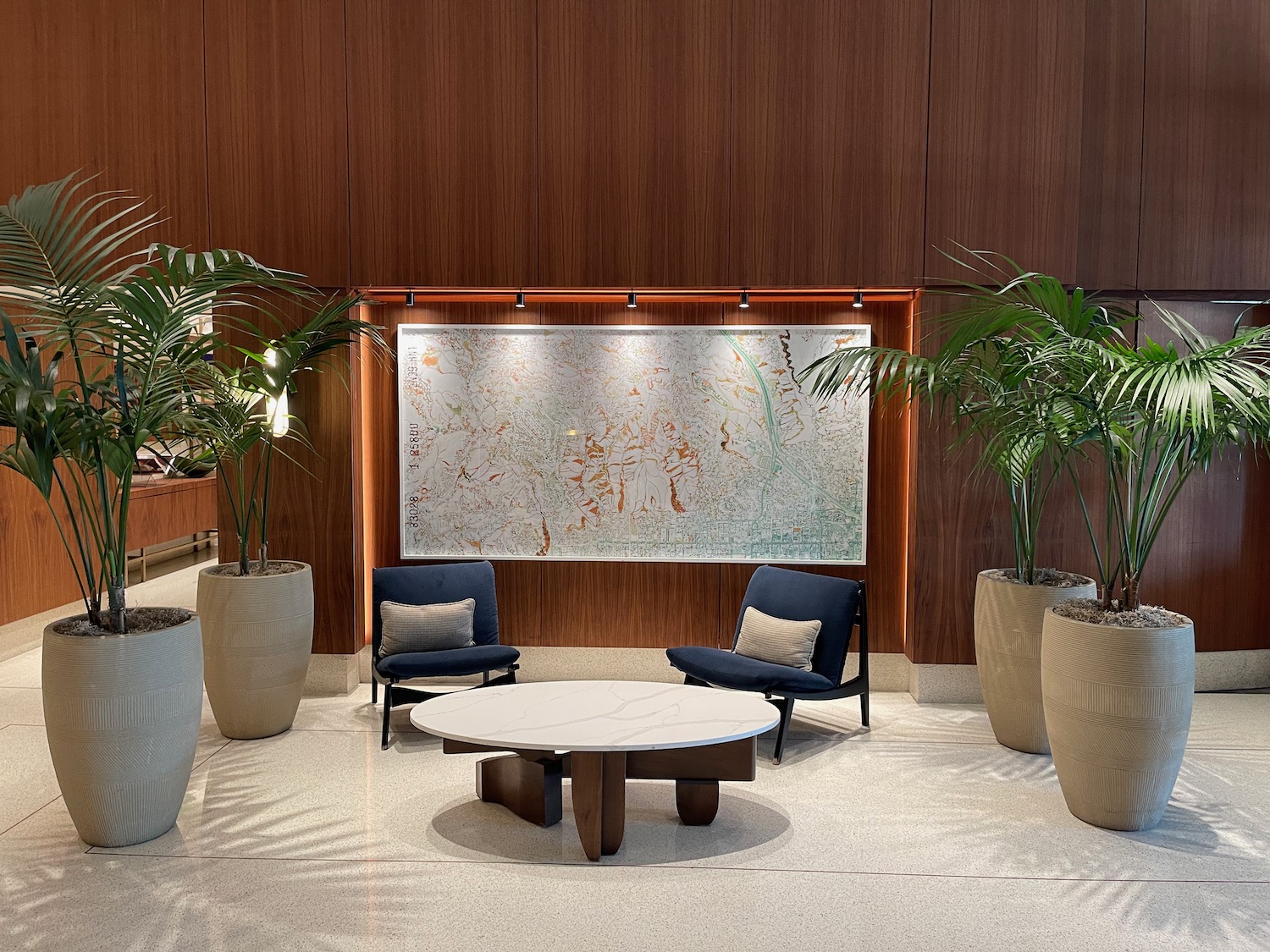 Suite
Our room, 908, was smartly laid out with a bathroom and bed room area on the right side and a living room on the right with floor-to-ceiling windows overlooking Hollywood and further away, the Los Angeles skyline.
While I was not a fan of the artwork in the room, I quite like the Midcentury Modern furniture and the bed was extremely comfortable. 
The suite was equipped with a well-stocked minibar that included a number of snacks and beverages and there was also a Nespresso coffee machine.
The bathroom was on the small side, with a single sink, shower, and water closet, but no tub. Shower amenities were from Bowmakers. Plush robes were also present in the bathroom.
Breakfast At Bar Lis
We enjoyed breakfast at Bar Lis, located on the hotel rooftop. 
I ordered a cortado and orange juice while Heidi had already consumed several cups of coffee and just drank water.
We each began with a bowl of berries and I also had a butter croissant warmed up, which was rich and flaky.
The highlight, though, was the main course. We had shakshuka and I must admit it was some of the best I have ever had. Perfect temapetarue and spice and even the bread served on the side was a perfect accompaniment.
One warning, since it was repeated to me several times. My wife and I generally will fast until 1:00 pm each day, but we are not as strict when staying at hotels because we both love breakfast and at most hotels, including this one, breakfast is not available beyond the late morning.
We sat down at 10:50 am in Bar Lis ahead of the  11:00 am. No less than three times I was admonished that we had to get our breakfast in order in before 11:00 am because the system would not take it after.
As you can see by the bill below, we got our order in just in time (10:59 am). That system limitation is bit annoying, but be aware of it.
Note the hotel adds a 5% "wellness fee" which does not go to the servers…
Want to know how good the shakshuka was? So good I had it two mornings in a row and so good that it made up for the very mediocre coffee, which is the lone weak point when it comes to this hotel's food and beverage portfolio.
The hotel uses Nespresso pods in its restaurants, which are perfectly suitable for a quick coffee in the room but really no substitute for a "real" flat white or cortado made by the hands of an excellent barista with a better machine.
But Heidi and I agreed that breakfast was really great, with the shakshuka being better than many spots I have tried it in the Middle East.
Bar Lis is open for lunch and dinner as well. The previous day I ate at Bar Lis Terrace, which was quite nice (under an umbrella):
Mes Amis
Mes Amis is described as "inspired by a brasserie with Hollywood glam" and the food looks quite good, though we did not eat here (we ate at Whole Foods down the street because we've gotten used to it and that is easier to expense than a pricy dinner).
Don't forget that KA'TEEN (Mexican food) is next door at the Tommie and you can charge food there to your room.
Morning Coffee
Speaking of coffee, free coffee and tea are available in the lobby bar each morning until 11:00 am.
Pool
The rooftop pool was never empty and is open daily from sunrise to sunset.
I've got a rather funny story to share about a family at the pool…I will save that for a separate post.
The entire rooftop area was quite nice, with lot of plants to give it color.
Pets
A lot of dogs here…the cost is $150/week to bring your animal.
Fitness Center
The 24/7 second-floor fitness center was large and comprehensive, with a great collection of equipment from Cyber and Hoist (not the usual LifeFitness or TechnoGym brands we usually see in hotel gyms).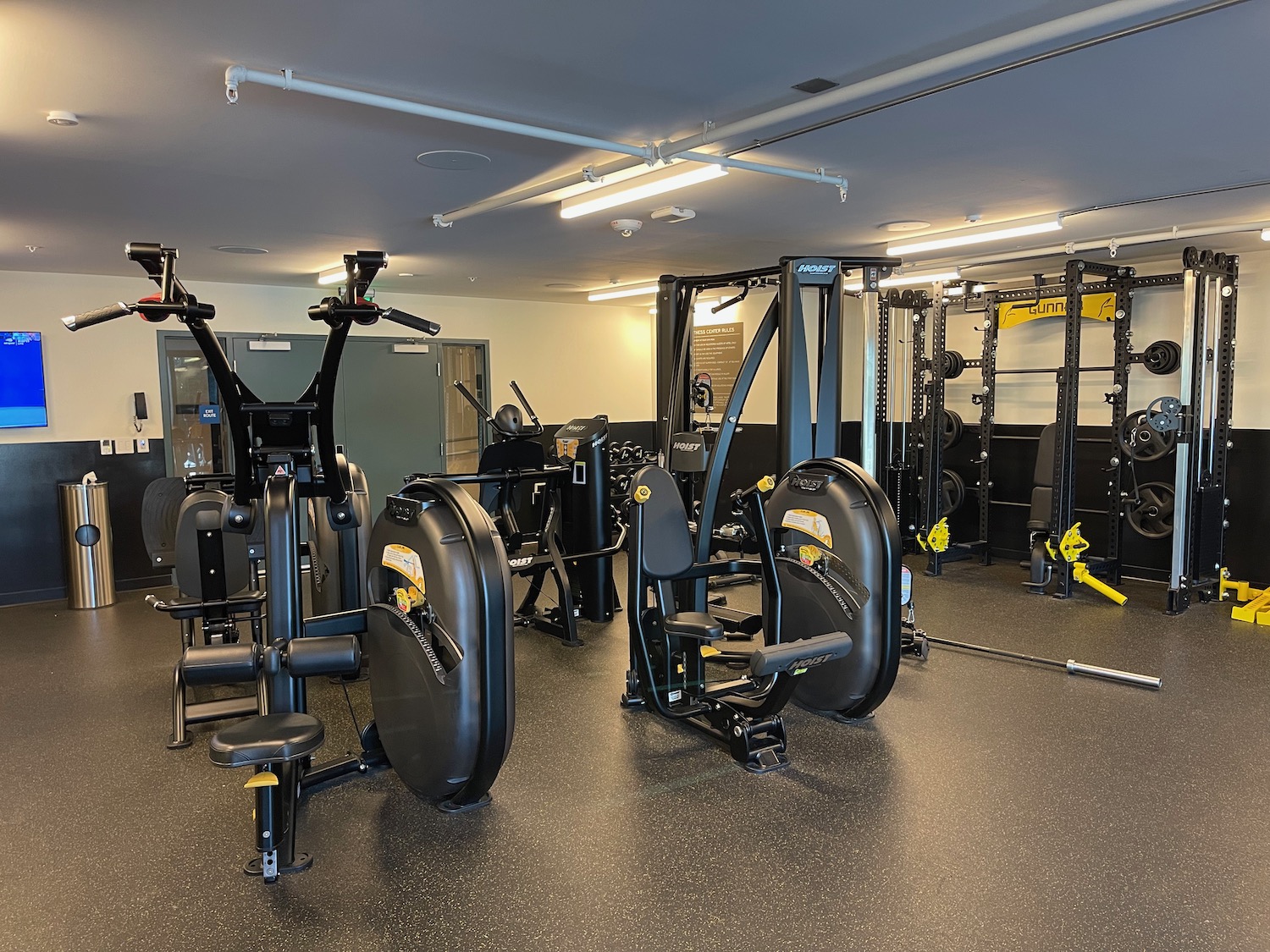 Heidi and I both enjoyed a great workout before breakfast (and the fitness center too).
Sadly, there is no spa (or even just a sauna or steam room) at this hotel, which is a missed opportunity.
Parking
Parking is valet only at a cost of $55/night plus tip (tip is cash only). Pull up on Wilcox Avenue and you can leave your car.
CONCLUSION
This is a great hotel in any city, but is a nice addition to the busy hotel scene in LA and this is the sort of in-town place (like the Andaz in next-door West Hollywood)