My Meal of the Week feature examines an airline meal from my travels over the years. This may be a meal from earlier in the week or it may be a meal served over a decade ago.
I've recently flown both United Airlines and American Airlines on a transcontinental trip from New York to Los Angeles. Which carrier offers the better meals in business class?
Transcontinental Business Class Dinner: American Airlines Vs. United Airlines
My American Airlines flight from New York (JFK) to Los Angeles (LAX) featured a printed menu and four dinner choices:
Beef short rib
Asian-style chicken
Seared salmon
Spinach and ricotta rotolo pasta
Prior to dinner, a bag of pistachios and Biscoff cookies were served.
All dishes came with a burrata cheese appetizer and raspberry cheesecake tart.
I ordered salmon (with basmati rice, peas, baby carrots, and herb butter), and it was delicious and also nicely presented once the foil coverings and plastic were removed.
My wife and son ordered the chicken (with jasmine rice, Asian vegetables, snow peas, toasted sesame seeds, and a marsala shiitake sauce). I tried it and loved it.
A flight attendant also brought my son the pasta choice by mistake (rotolo with pomodoro sauce, basil pesto, and pine nuts), which I photographed before he took it back.
The food was delicious and was presented on a "real" dishes and plates with no plastic containers.
You can read a full review of my flight here.
---
> Review: American Airlines 777-200 Business Class New York to Los Angeles
---
My United Airlines from Newark to Los Angeles did not include printed menus, but choices were Thai chicken or butternut squash ravioli.
On United, premium transcontinental meals include:
Mixed nuts
Packaged bread roll
Salad
Main course
Ice cream or sorbet
The Thai chicken was very tasty, with a coconut ginger sauce and spiced vegetables, though the portion size was small. I appreciated the oversized container of mixed nuts and the salad was fresh and delicious.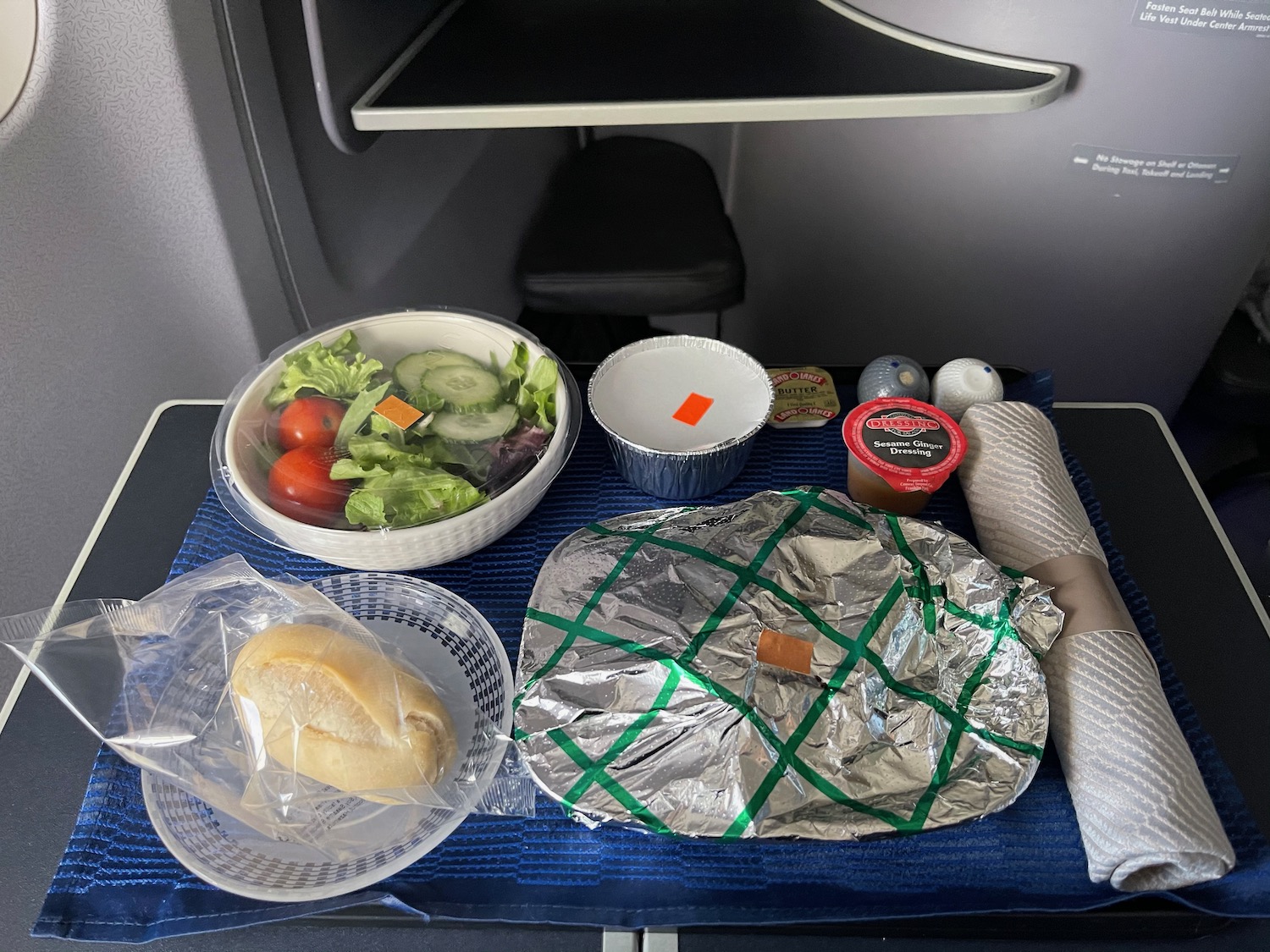 The butternut squash was very sweet, though a nice change from the usual cheese ravioli with red sauce.
I'm not a big sorbet fan and left the mango sorbet behind.
You can read a full review of my flight here.
---
> Review: United 757-200 Business Class Newark To Los Angeles
---
Winner: American Airlines
The good news is that the meals were not just decent, but tasty on both carriers. I preferred the salad on United over the burrata appetizer on American. But the main courses were heartier and tastier on American Airlines and I liked the cheesecake better than the sorbet (though I would have preferred chocolate ice cream to either). Plus, the bread on American was fresher and of better quality than on United.
CONCLUSION
Props to American and United for offering meal service on their coast-to-coast flights. Delta still only offers snack boxes and does not even offer hot coffee. You probably won't fly an airline for its superior meal service, but American Airlines edges out United in this regard.