I thought it would be helpful to take a look at what the current premium transcontinental experience is like on United Airlines in economy class. This review covers my recent United flight from Newark to Los Angeles onboard a 767-300.
United Airlines 767-300 Premium Transcontinental Economy Class Review During Pandemic
On my way back from New York last month, I decided not to upgrade to business class. It wasn't because I couldn't, but because economy class had a lot of open seats and I could spread out and also see how United's economy product has changed.
United 1871
Newark (EWR) – Los Angeles (LAX)
Tuesday, September 15, 2020
Depart: 07:00 PM
Arrive: 10:00 PM
Duration: 6hr, 01min
Aircraft: 767-300
Seat: 22K (Economy Class)
The 767-300 cabin is among United's best in economy class. With a 2-3-2 configuration, your chances of sitting next to a stranger when traveling with a friend or loved on are lower. And on this particular flight, almost no one had to sit next to a stranger. I was assigned an exit row seat in Row 22 and the seat next to me remained opened. In fact, much of the EconomyPlus (United's extra-legroom economy section) remained opened.
If you're looking for the economy class seat with the most legroom, choose 22D,E,F. It's part of the exit row and it reminds me of the old row nine on United's premium service p.s. 757-200s.
Don't expect pillows and blankets onboard during this time.
A flight attendant offered each passenger a greeting and a sanitizing wipe upon entry to the aircraft and these were picked up prior to takeoff.
Once we leveled off, flight attendants again sprang into action, offering a modified service.
Traditionally, EconomyPlus passengers received a complimentary hot meal while those in regular economy class had the option of purchasing snack boxes or meals onboard.
Presently, United does not offer any meals in domestic economy class. In fact, United has suspended the sales of all food onboard, even including packaged snack boxes.
Instead, each economy class passenger receives a bag on flights more than two hours with a salty and sweet snack plus a small bottle of water and another wipe. My bag included pretzels and a biscoff cookie.
One reason I write this review is to urge you to plan ahead. I did not and I was quite hungry. Thankfully I had some mixed nuts and fruit in my bag, though I should have planned better (restaurants are open again in Newark Airport).
In addition to the snack bag, flight attendants performed two full beverage services and water runs in-between during the flight. Service was very pleasant.
One thing I do like about flying economy class is that there are less distractions and I tend to be more productive. I spent the flight reading and it was very productive.
I also checked out United's IFE system onboard. United has a great library of movies and TV shows onboard but I recommend you bring your headphones. Complimentary earphones are provided, but I had to strain to hear dialogue. The IFE system is United's latest and was updated when the new Polaris seats were installed.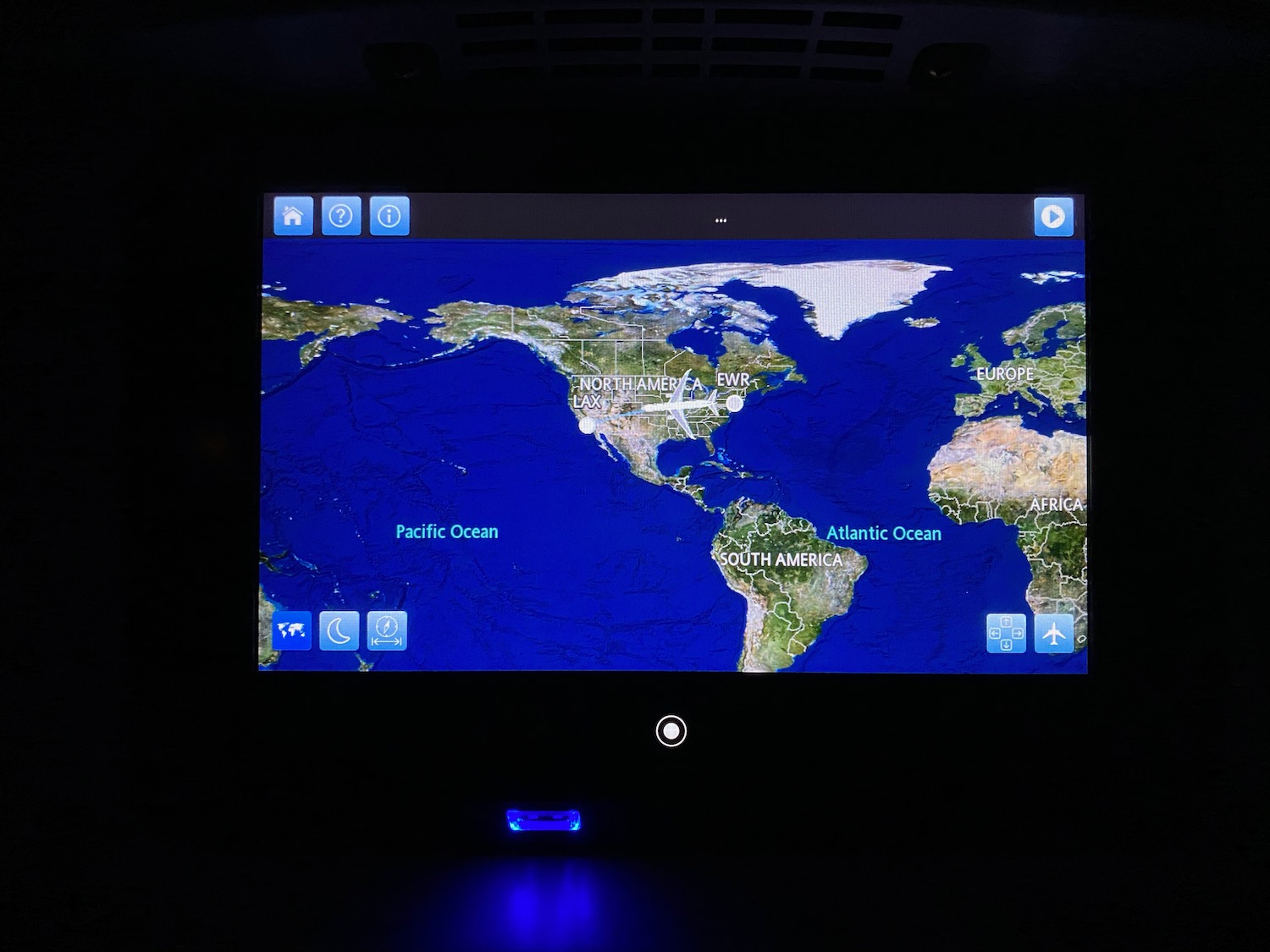 As an added bonus, "From the Flight Deck" air traffic control communication (formerly called Channel 9) was available:
Lavatories were clean…I drank several bottles of water plus two cups of coffee and was therefore a frequent visitor…
The six hours (flight time was closer to five hours) flew by quickly. We landed ahead of schedule in LAX.
Once on the ground, I bolted for In-N-Out on Sepulveda Blvd and enjoyed a double-double animal style with French Fries…my treat for flying economy class.
CONCLUSION
Don't expect much in terms of onboard food these days behind the curtain, but you'll be well watered. Nevertheless, the flight was comfortable, on-time, and service was pleasant. Hopefully we'll see the return of meal service in economy class sooner rather than later, but you've been warned. Overall, a fine flight.