Today United Airlines restored hot, plated meals on several routes after more than a year with much more limited meal service onboard. Here's what to expect onboard if you are traveling in first class.
United Airlines Domestic First Class Meal Service
Hot meals in first class are now served on the following flights:
Domestic flights – over 1,500 miles
Hub-to-hub routes – over 800 miles
"Domestic" includes the following routes:
United States
Canada
Caribbean
Latin America
A reader who works in United's catering department sent me the following menu information.
For June 2020, the menu choices on United Mainline include:
Breakfast

Egg scramble with plant-based chorizo, jack cheese, butternut squash, black beans
Belgium waffle with bourbon bananas foster sauce and berry compote
Both entrees are served with a side of fresh fruit and lemon wafer bites. On flights over 1,500 miles, meals are also served with a side of a peach-flavored Greek yogurt parfait.
Lunch/Dinner

Grilled chicken breast with orzo and lemon basil pesto
Vegetarian enchilada with green chile sauce, served with a side of Spanish rice
Both entree are served with a Southwest grain salad (organic farro, roasted corn, black beans) and mini "Pie in the Sky" chocolate chip pie. On flights over 1,500 miles, a bread roll is also served.
If these options are not appealing, snack boxes will still be available upon request.
On United Express flights, which do not have ovens, breakfast will include coconut chia oatmeal  with bananas and chocolate chips. Flights over 1,500 miles will also include yogurt.
For United Express lunch and dinner flights, choices will include a grilled chicken breast (served cold) or a cheese plate. Both choices will be served with a banana, grain salad, bread roll, and cookie. The menu will be the same on both shorter hub-hub flights as well as flight over 1,500 miles.
This marks a big step up from the hot sandwiches that have been served for the last several months. These sandwiches will remain on non hub-to-hub routes between 800 and 1,500 miles.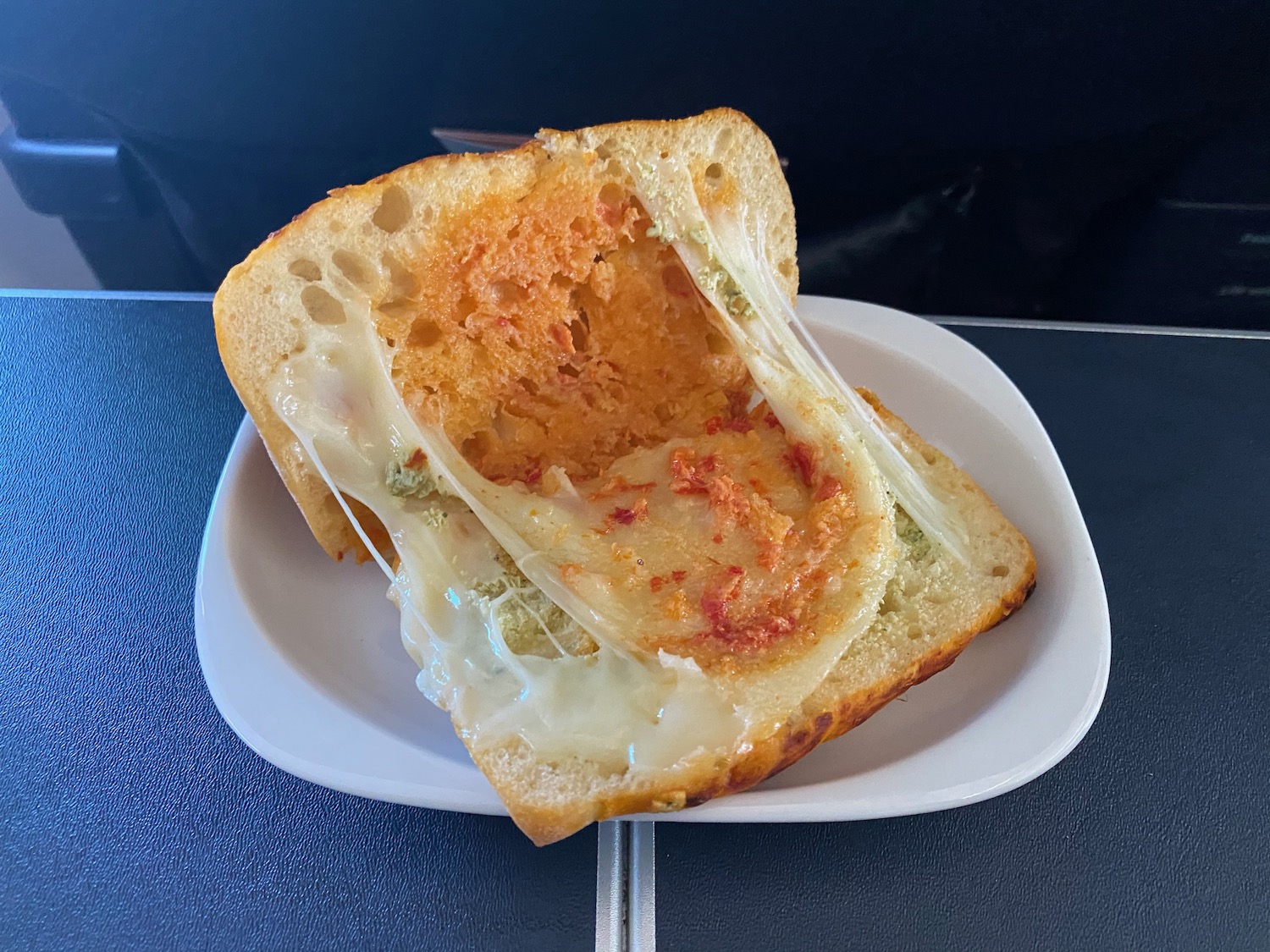 > Read More: United's New First Class Sandwiches
Finally, note that meals will vary on premium transcontinental and Hawaiian routes.
CONCLUSION
I'm looking forward to trying United's new first class meals. While American Airlines has promised that these sorts of meals are likely never to return and Delta Air Lines has only restored meals on a handful of routes, it is nice to see United Airlines be the first airline to bring back hot meals to many shorter routes.
Have you tried United's new first class meal service? How tasty was the food?