My dear readers, some links on this site pay us referral fees for sending business and sales. We value your time and money and will not waste it. For our complete advertising policy, click
here
. The content on this page is not provided by any companies mentioned, and has not been reviewed, approved or otherwise endorsed by these entities. Opinions expressed here are the author's alone.
As my home airport lounge, I do admit a preferential bias toward it, but the United Club at LAX is one of the best in the United system. Here's a detailed review with a fresh update on food and beverage service.
United Club LAX Review
Location + Hours + Access
The United Club at LAX is located in Terminal 7 near gate 71A. It is open daily from 5:45 AM to 11:30 PM.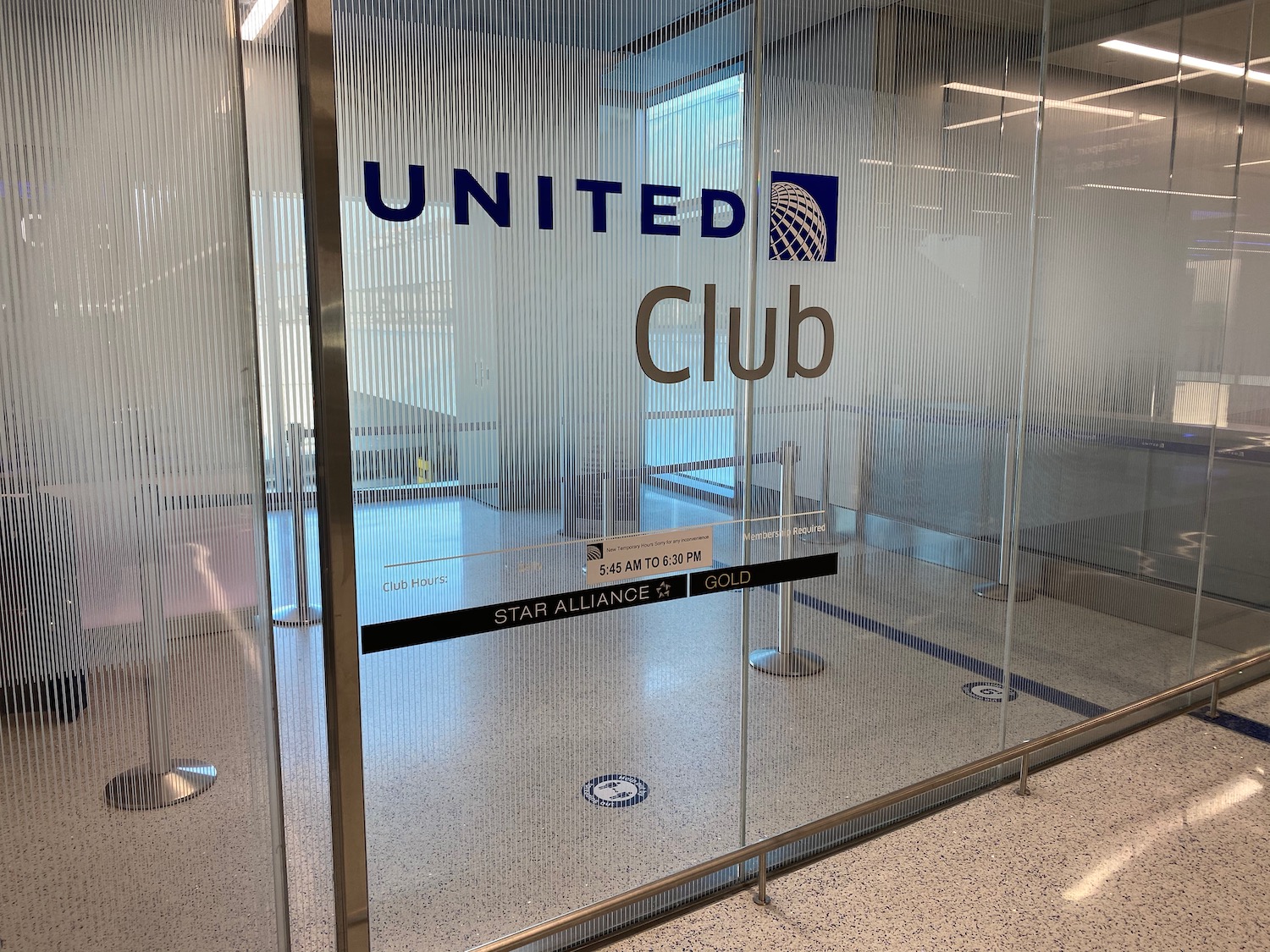 Access is reserved for United Club members, Chase United Club Visa holders, Star Alliance Gold travelers, business class travelers flying to Newark or New York JFK on United's premium transcontinental service, and international business or first class passengers traveling on any Star Alliance flight. Furthermore, one-time passes from Chase are accepted or can be purchased for $59. Note that if you hold a Star Alliance Gold card from United Airlines (Premier Gold or higher), you can only access the lounge when traveling in conjunction with an international itinerary. Those who have a Star Gold card from other programs can use the lounge when traveling on any Star Alliance flight in any class of service. Also note that United does not give premium cabin passengers access on domestic flights, except on the premium transcontinental route noted above. Finally, Global Services members of MileagePlus enjoy complimentary access.
Seating
You'll enter the lounge on the ground floor, where an agent will check you in. From there, you'll take the escalator upstairs to the lounge itself. At approximately 20,000 square feet, there is plenty of space to spread out, particularly during the pandemic. The main seating area consists of chairs and rectangular tables in which you can sit or stand while eating or working.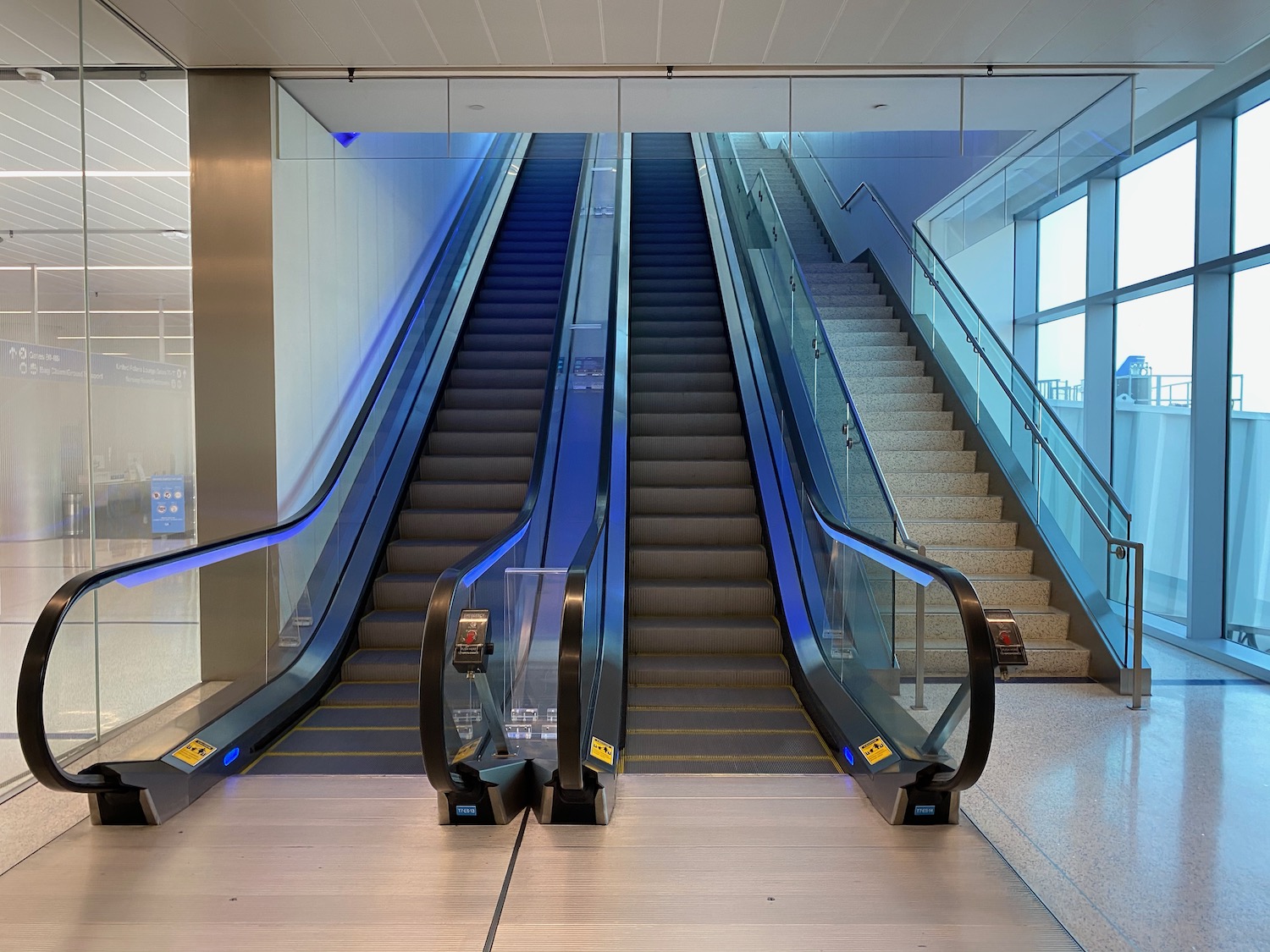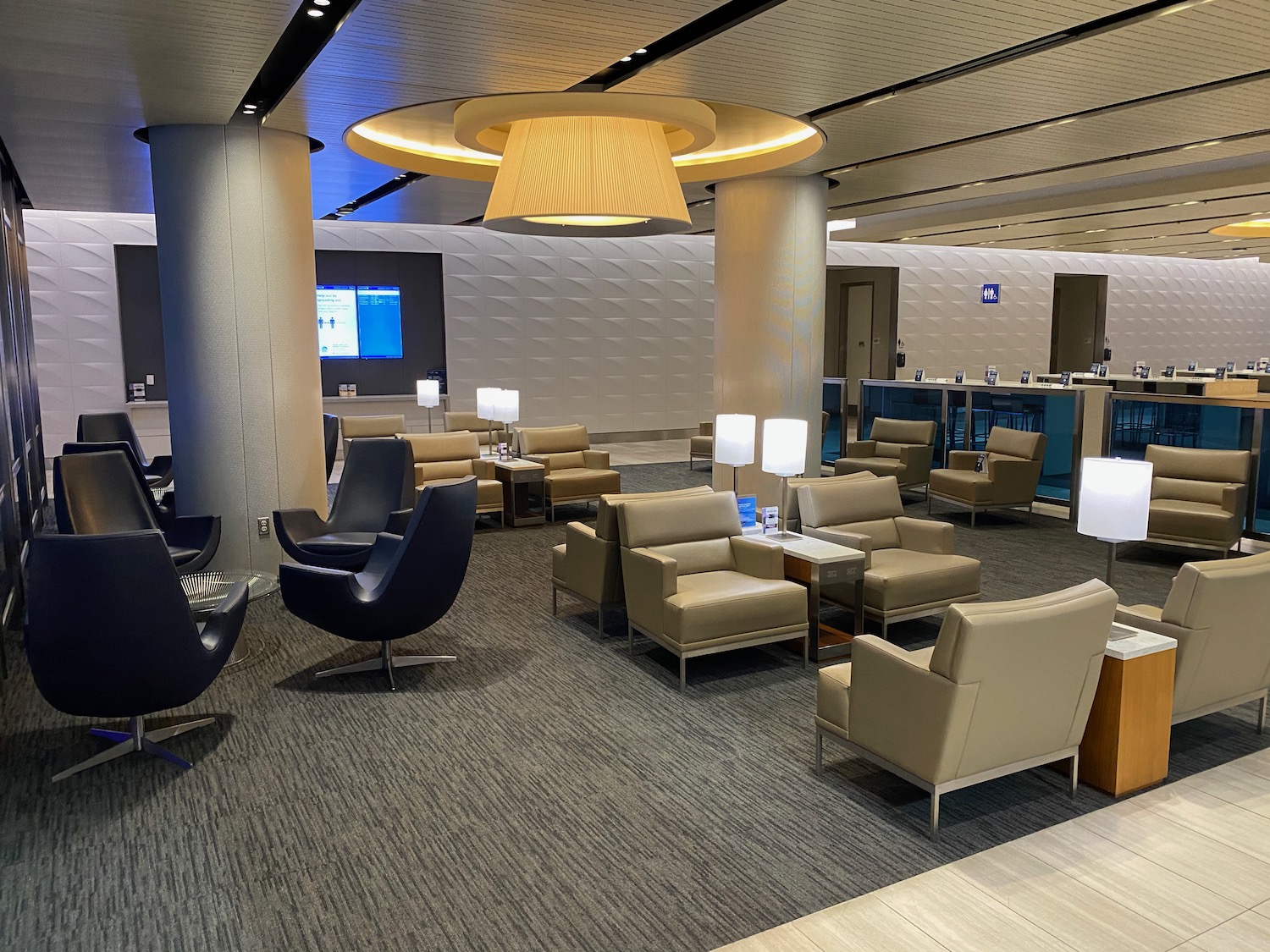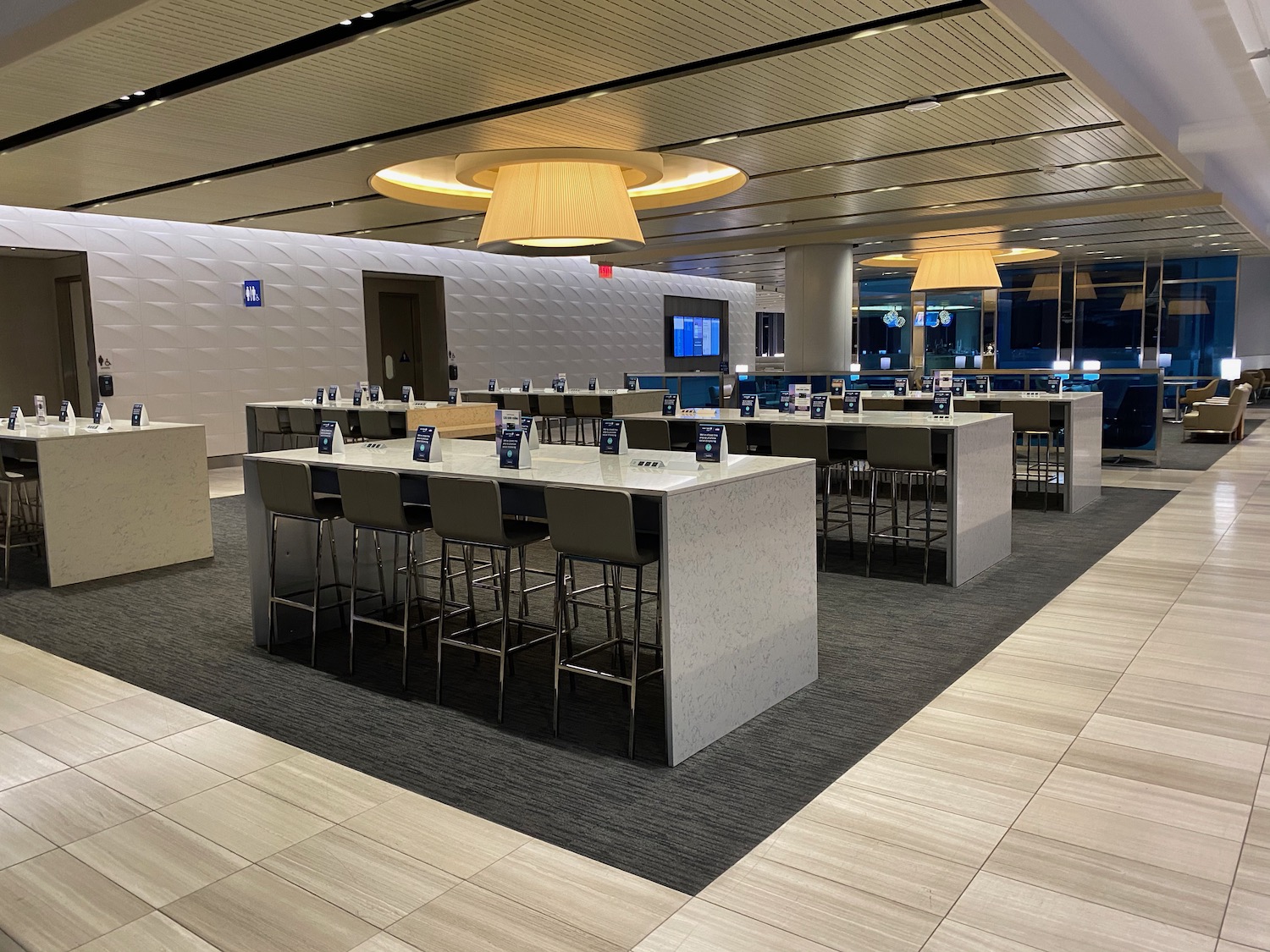 It looks even better with natural light: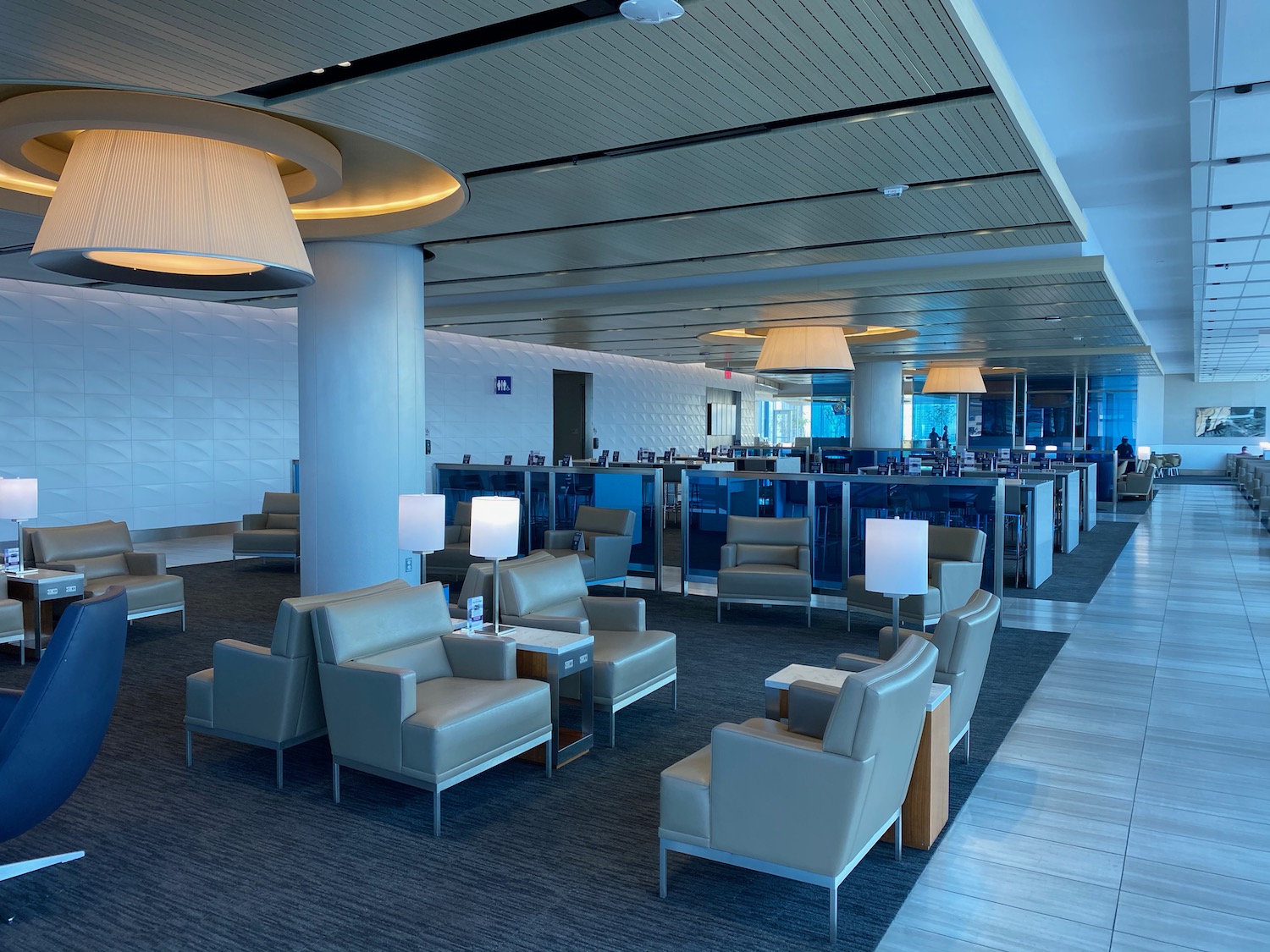 Further back in the lounge is the dining and bar area, which is surrounded by additional seating, both tables and booths.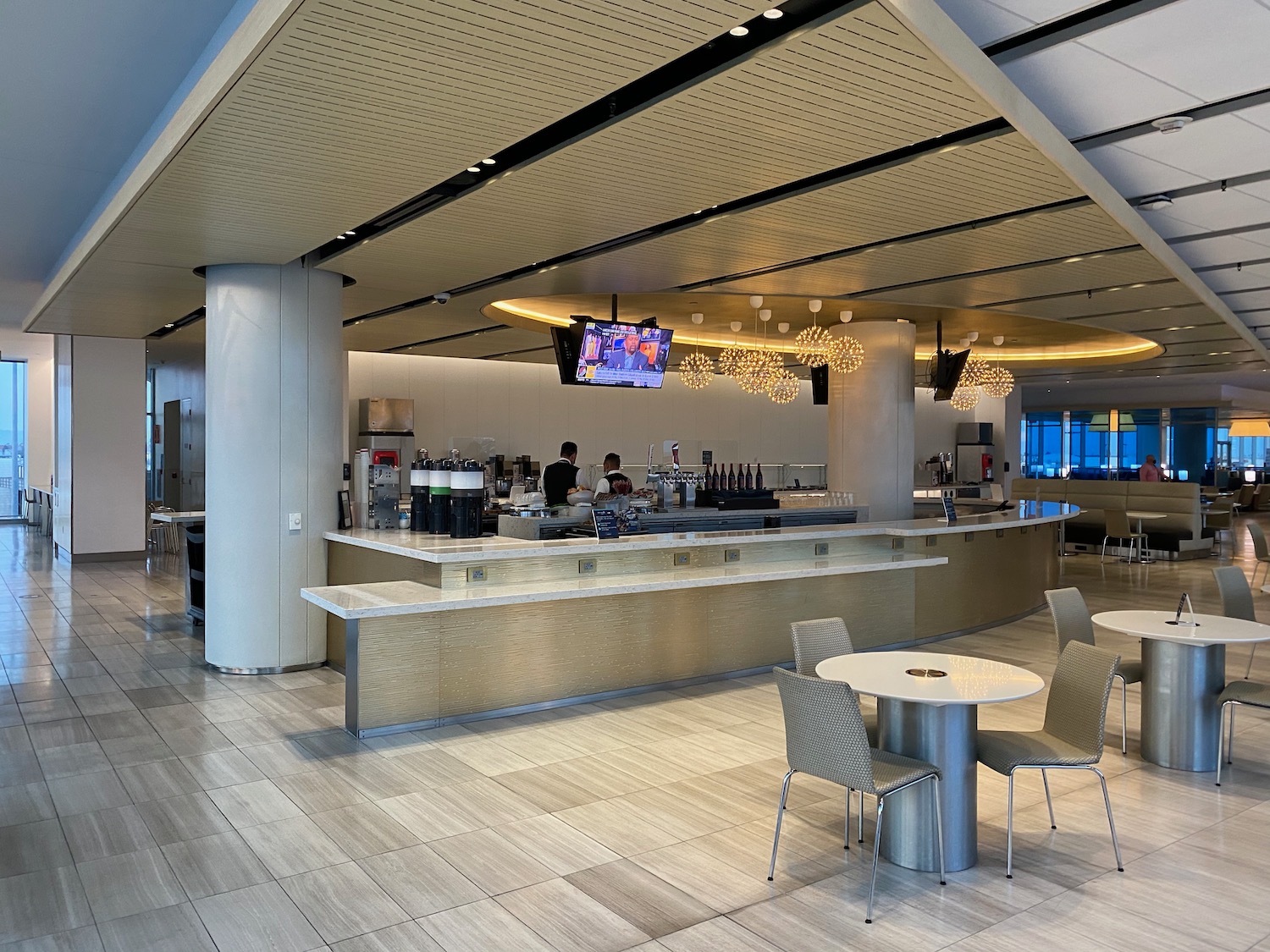 You'll find plenty of power and USB ports throughout the lounge:
Finally, there is a rear indoor seating area that tends to be the quietest part of the lounge. Even when the lounge is crowded, this area reliably has a place to sit.
Terrace
The highlight of the lounge, at least in my opinion, is the outdoor terrace overlooking the tarmac below. Not only can you catch the sunrise, but you can watch airplanes go in and out. You might expect a lot of noise and the pungent stench of jet fuel, but it is fairly tranquil out there.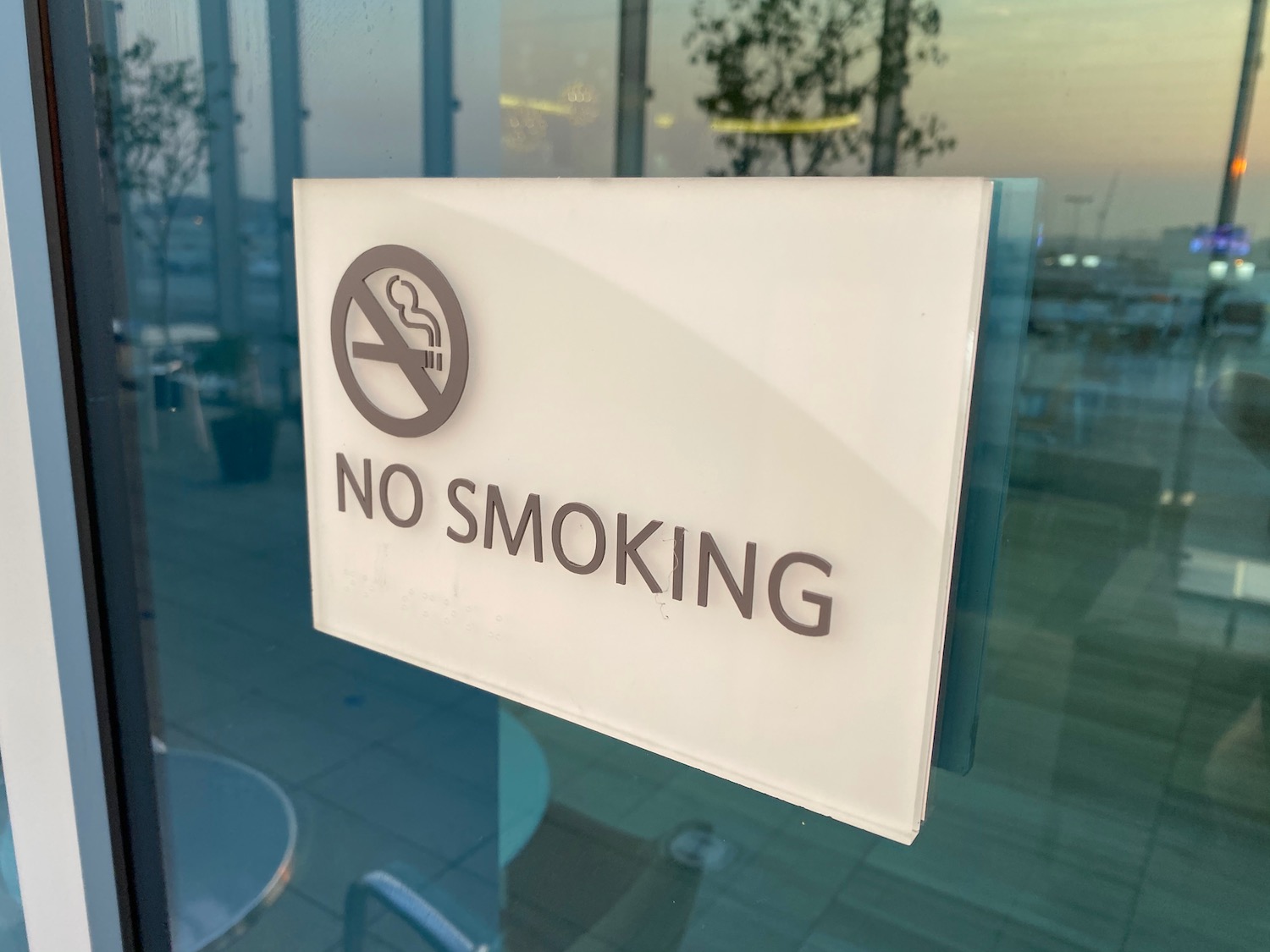 Food + Drink
I dedicated a special post to what you can expect during the pandemic, but we are now (thankfully) past that point. Food selection continues to be improved, with a far greater spread currently available compared to last year.
The buffet, once empty, is now full. Food and non-alcoholic drinks are now self-serve.
Breakfast items include:
Greek yogurt with toppings
Mixed berries
Muffins
Bagels
Scrambled eggs
Sausage
Overnight oats
Fresh-cut fruit
Hardboiled eggs
Cereal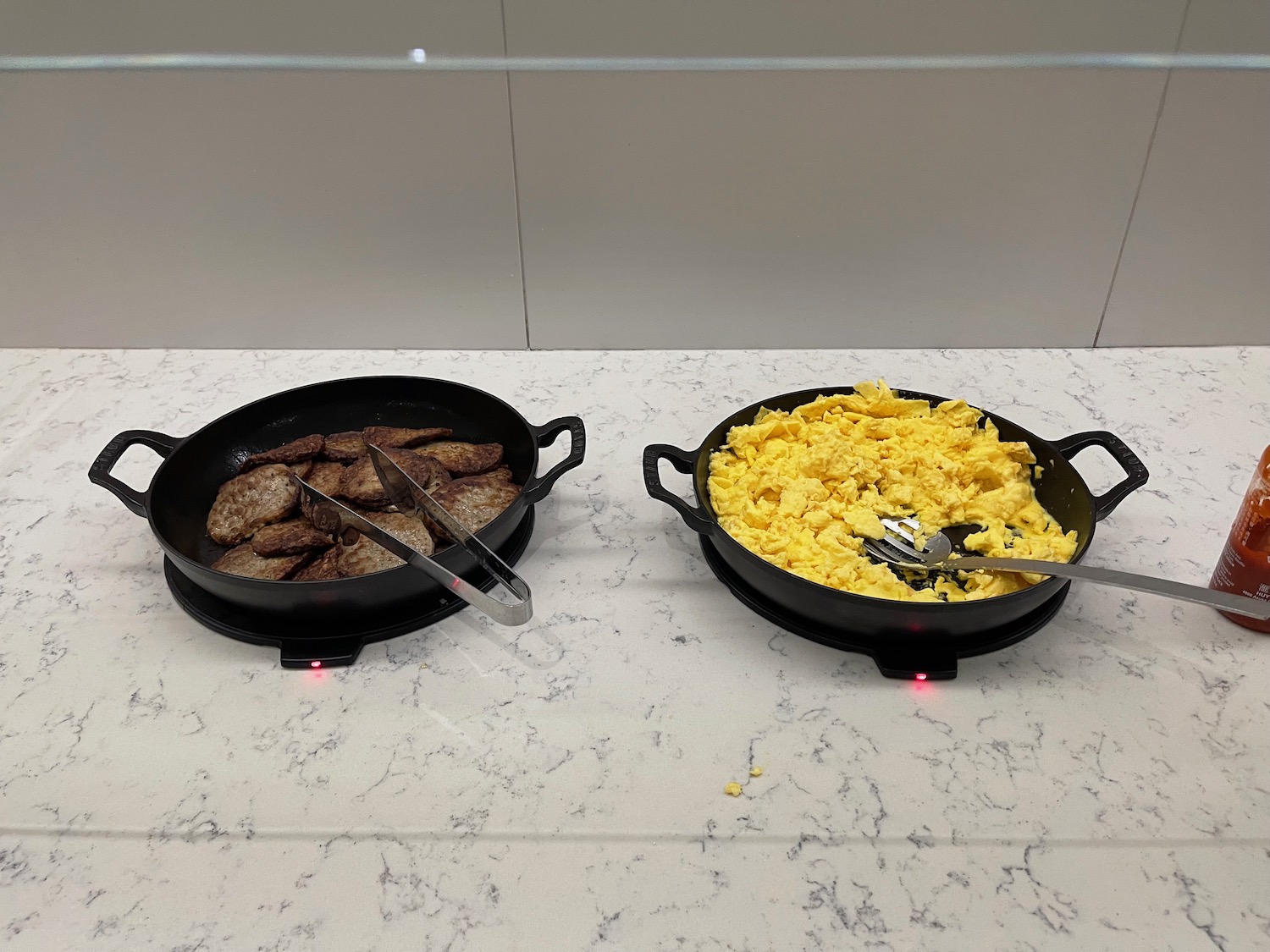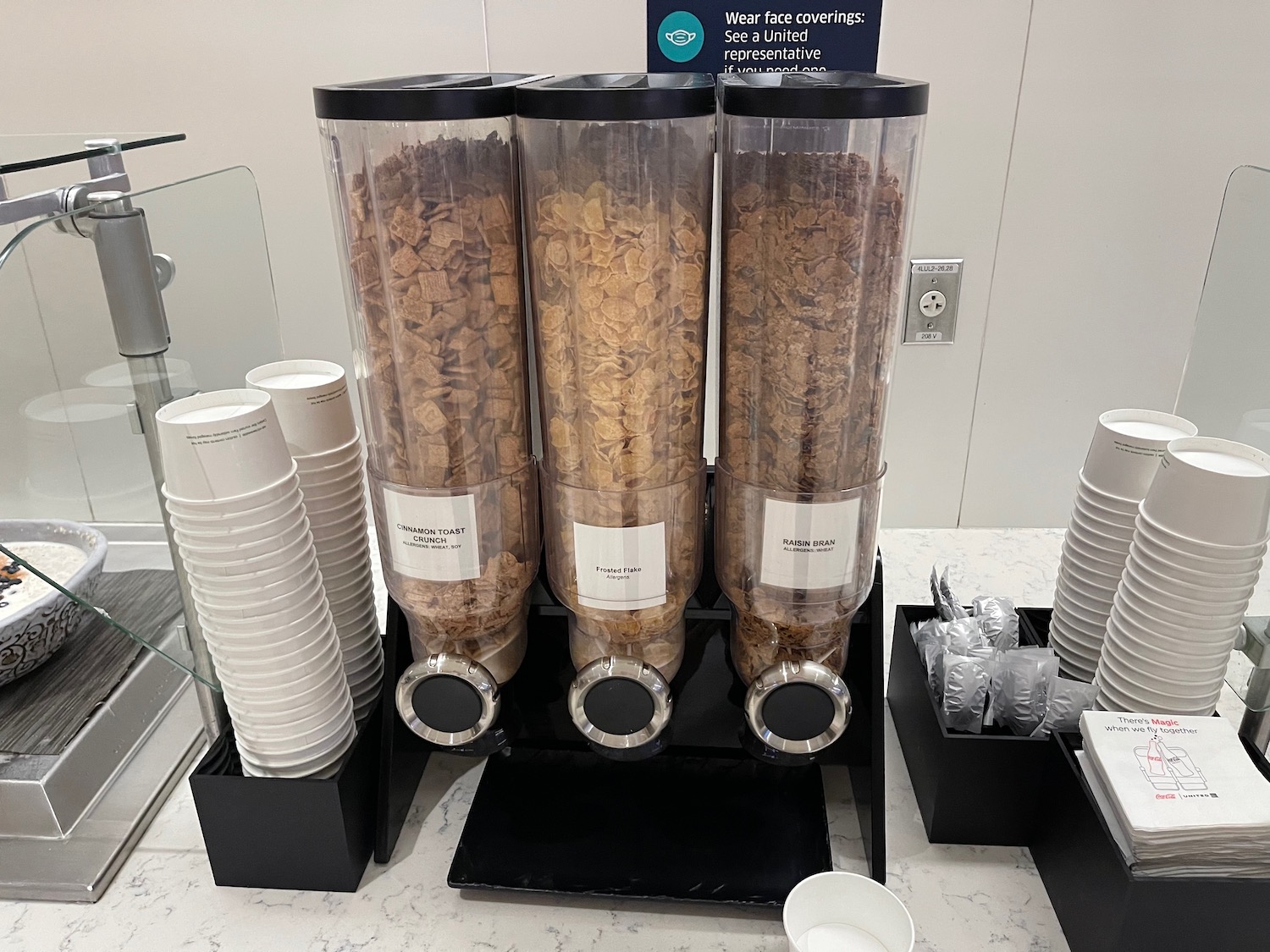 Lunch and dinner options include:
Salad bar
Noodle bar
Soup
Sandwiches
Wraps
Vegetable crudites
Cheese
Chips with salsa and guacamole
Pretzels
Cookies
Brownies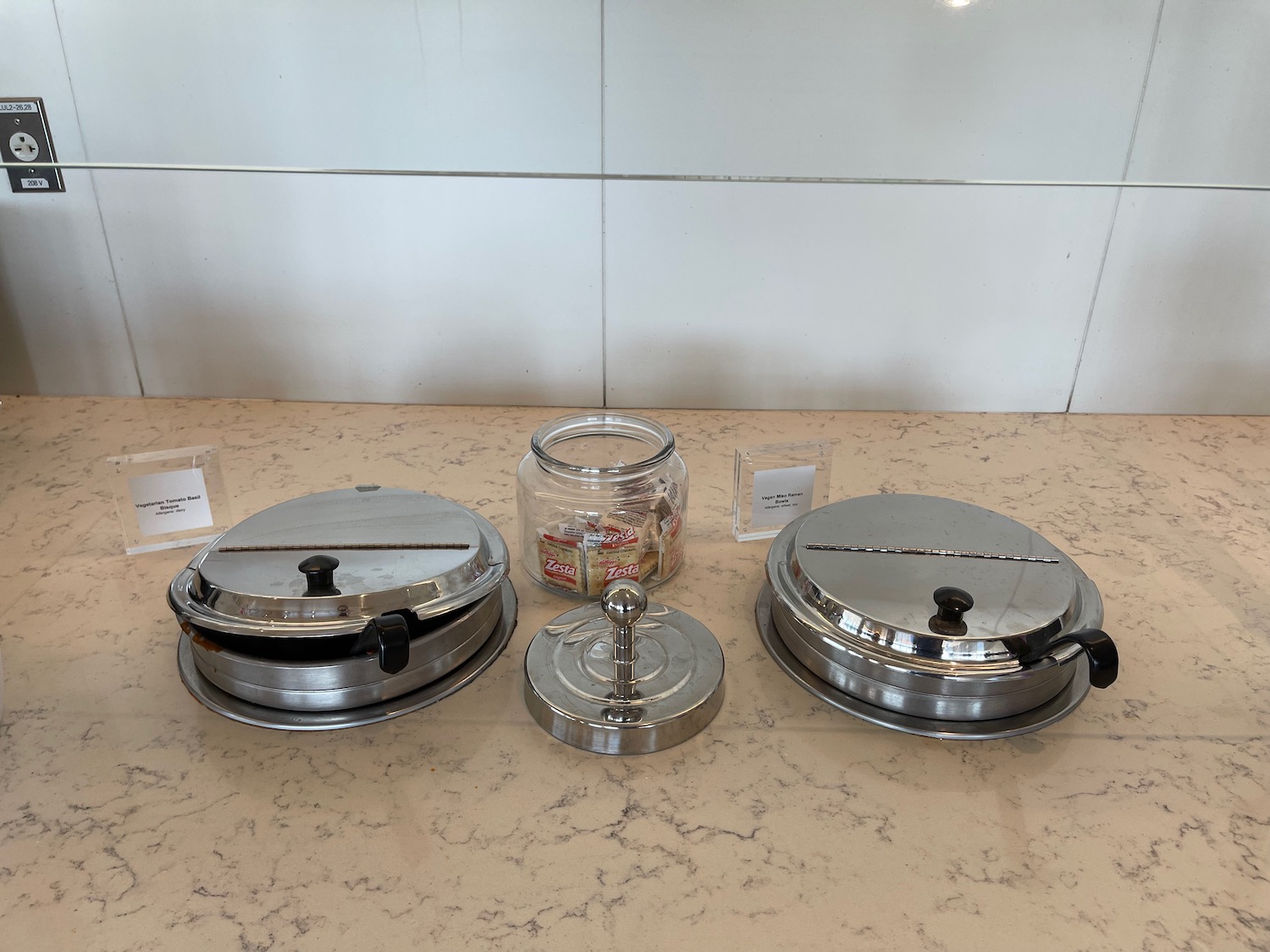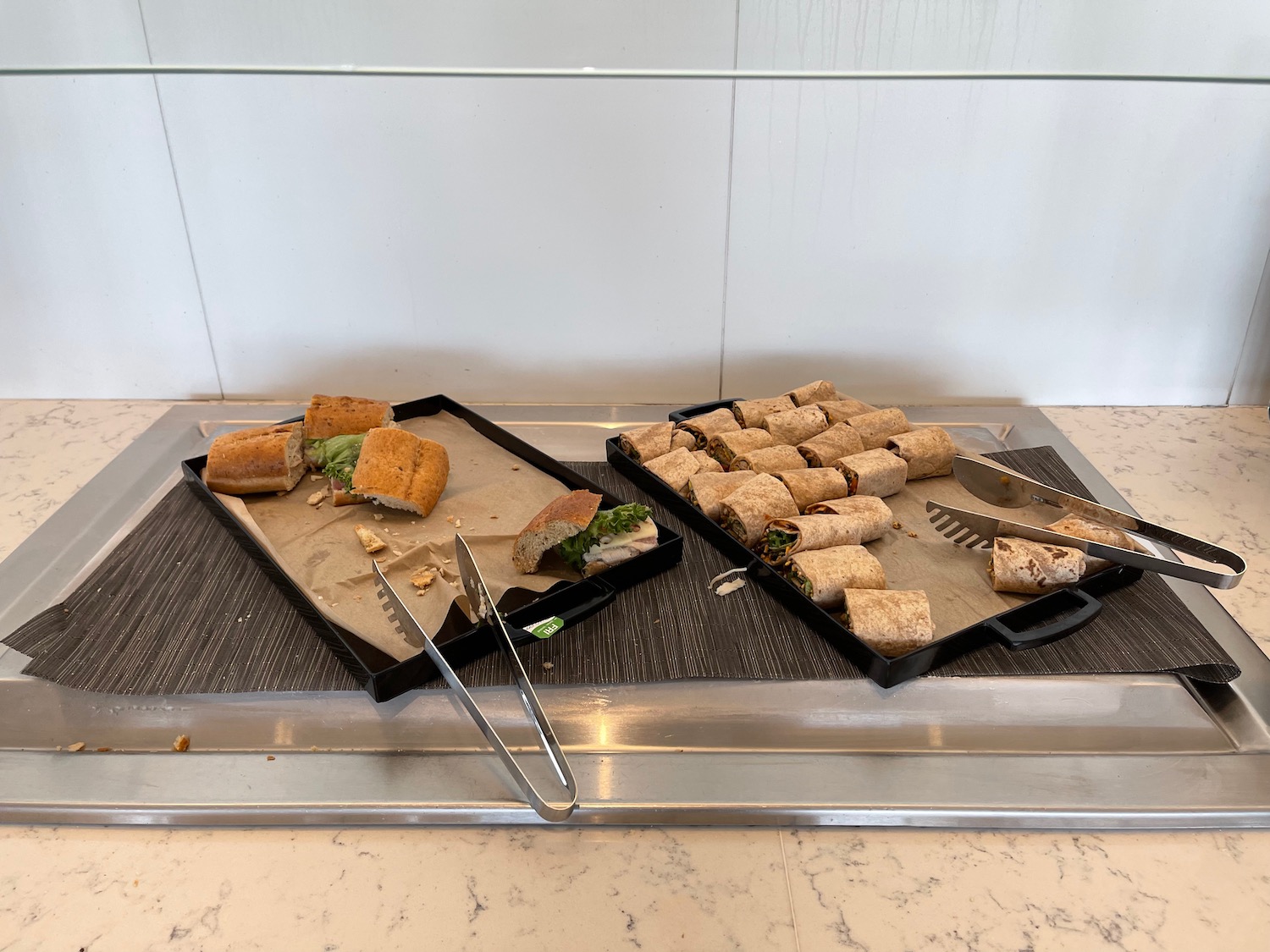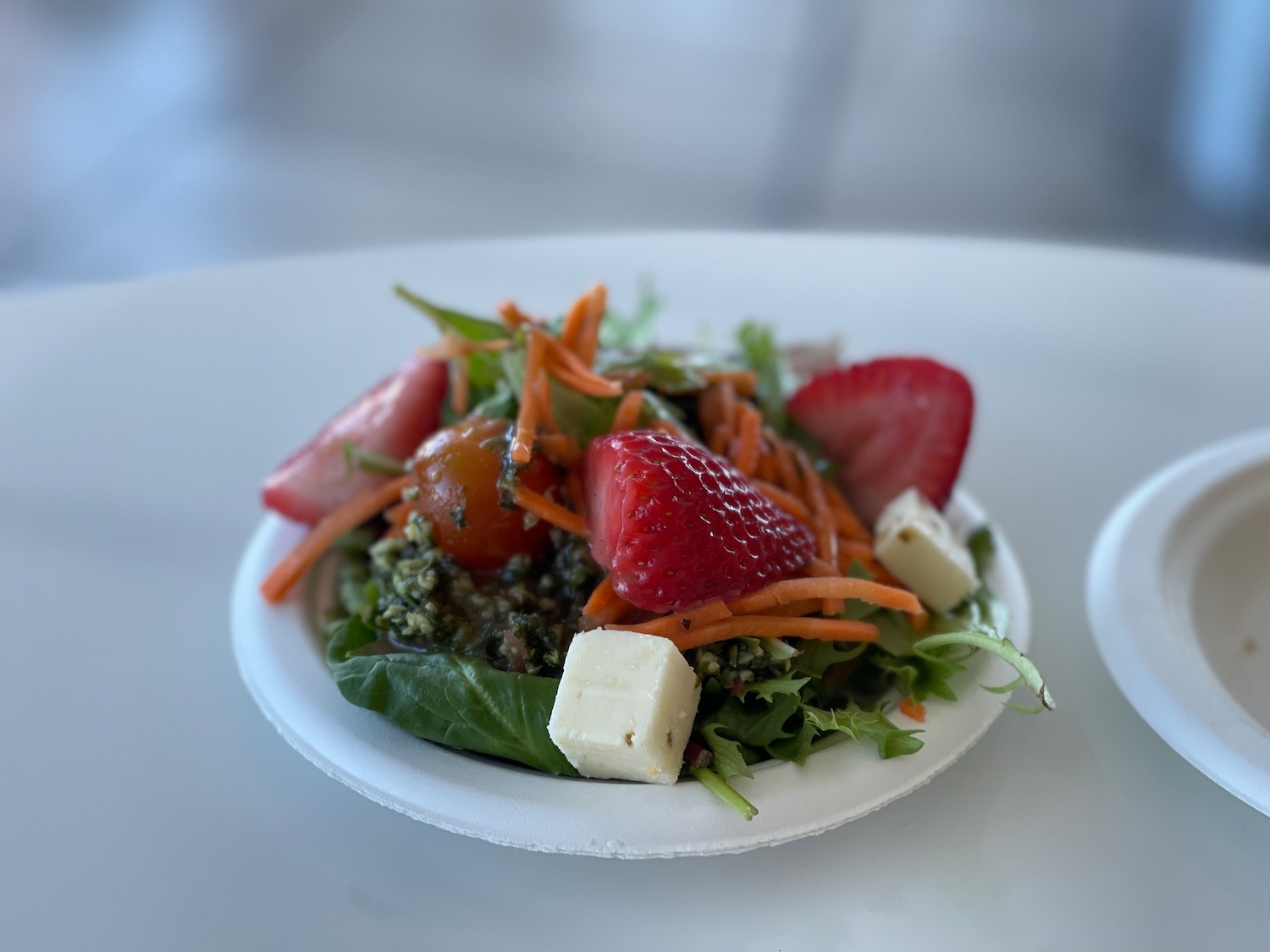 This marks a change from earlier in the year when food items were still individually packaged: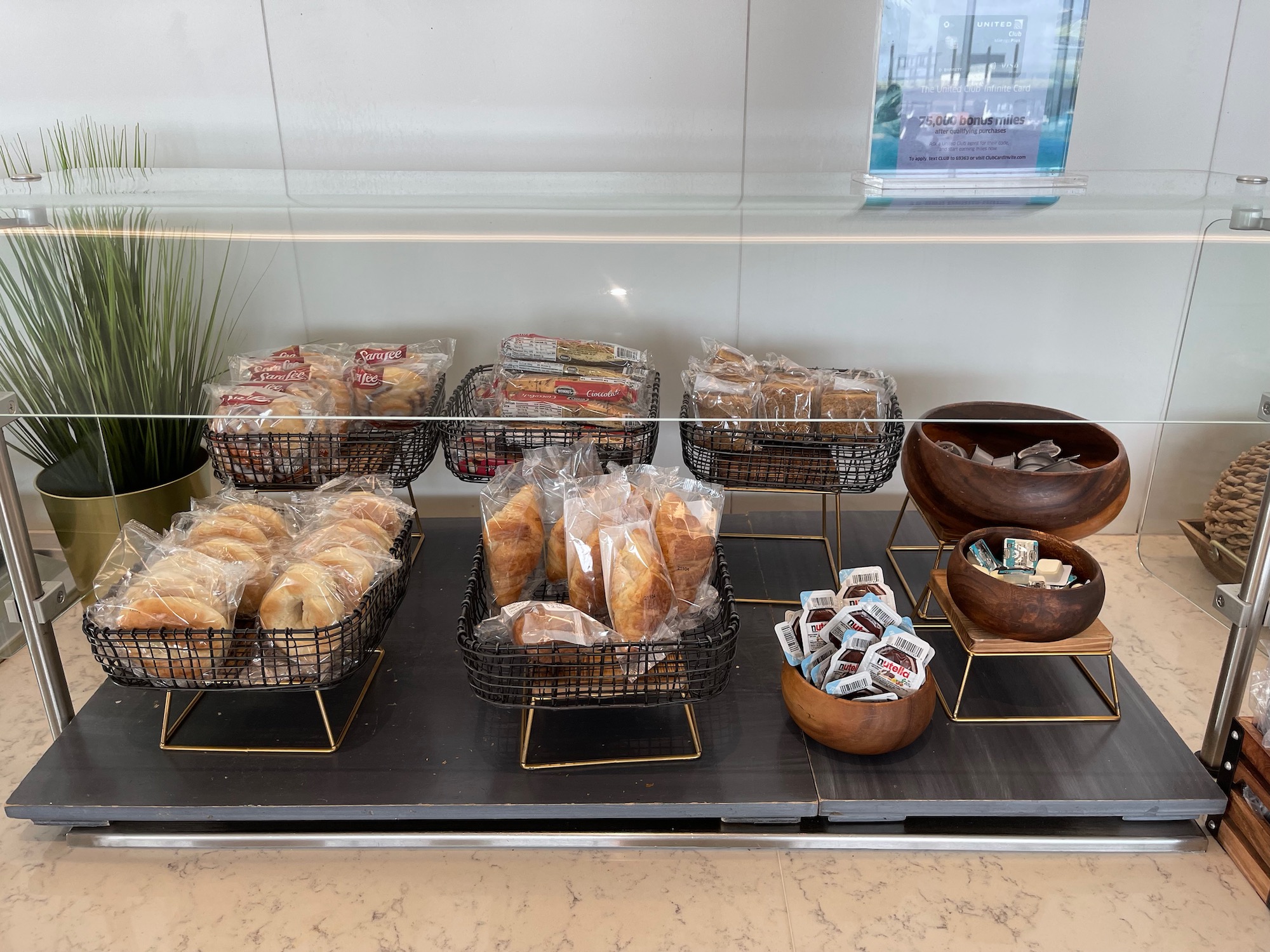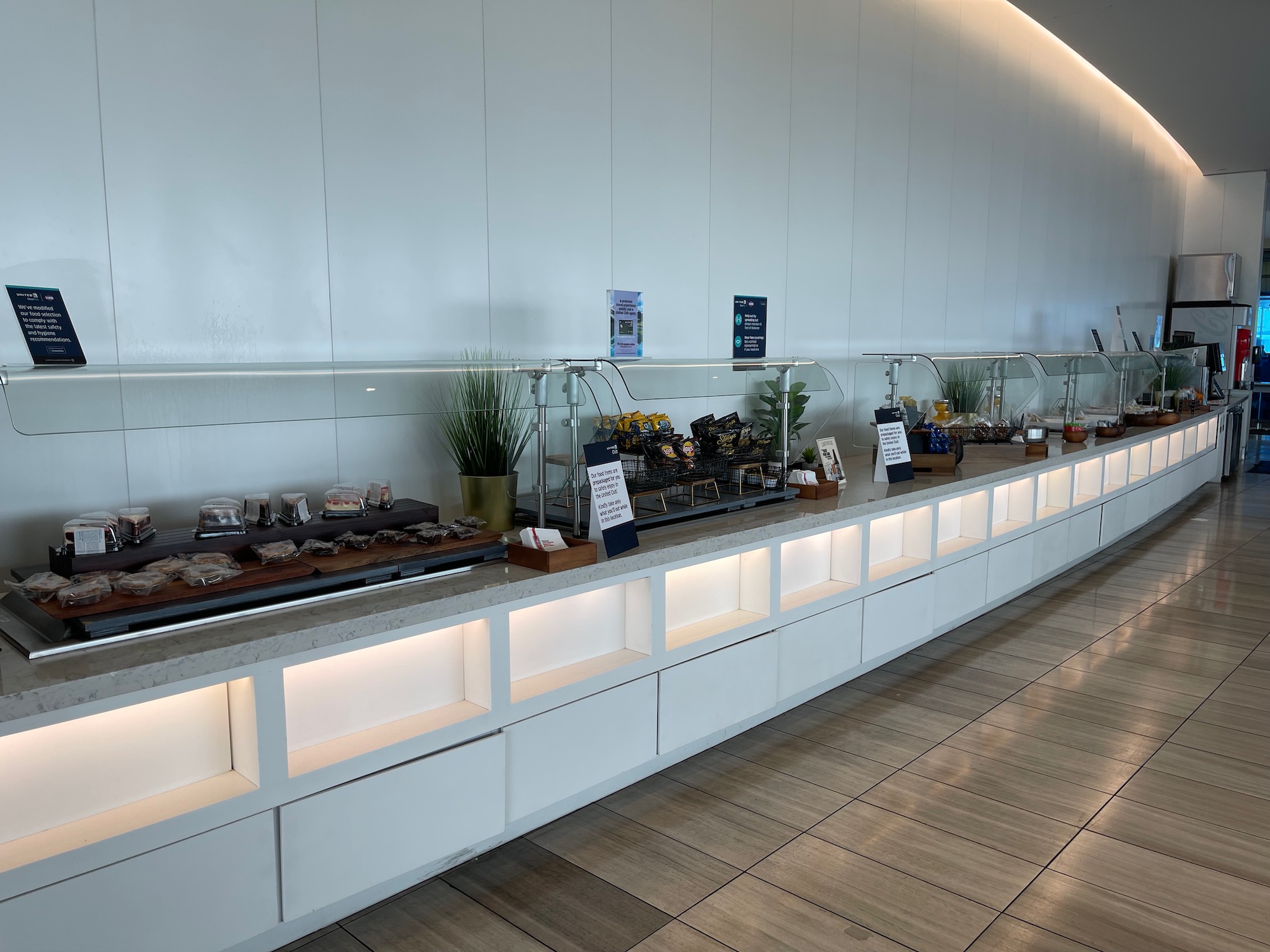 For perspective, this was how the lounge looked before pandemic restrictions were lifted:
Back then, bar staff had both food and drink available behind a plexiglass divider.
We've come a long way since 2020.
Over the years, I have enjoyed many delicious meals in the lounge. From Greek yogurt with berries and chia seeds in the morning to Korean BBQ tacos in the evening, the food offerings in this lounge have generally been above-average (certainly better than the two closest hubs, SFO and DEN). It's nice to see "real" food back.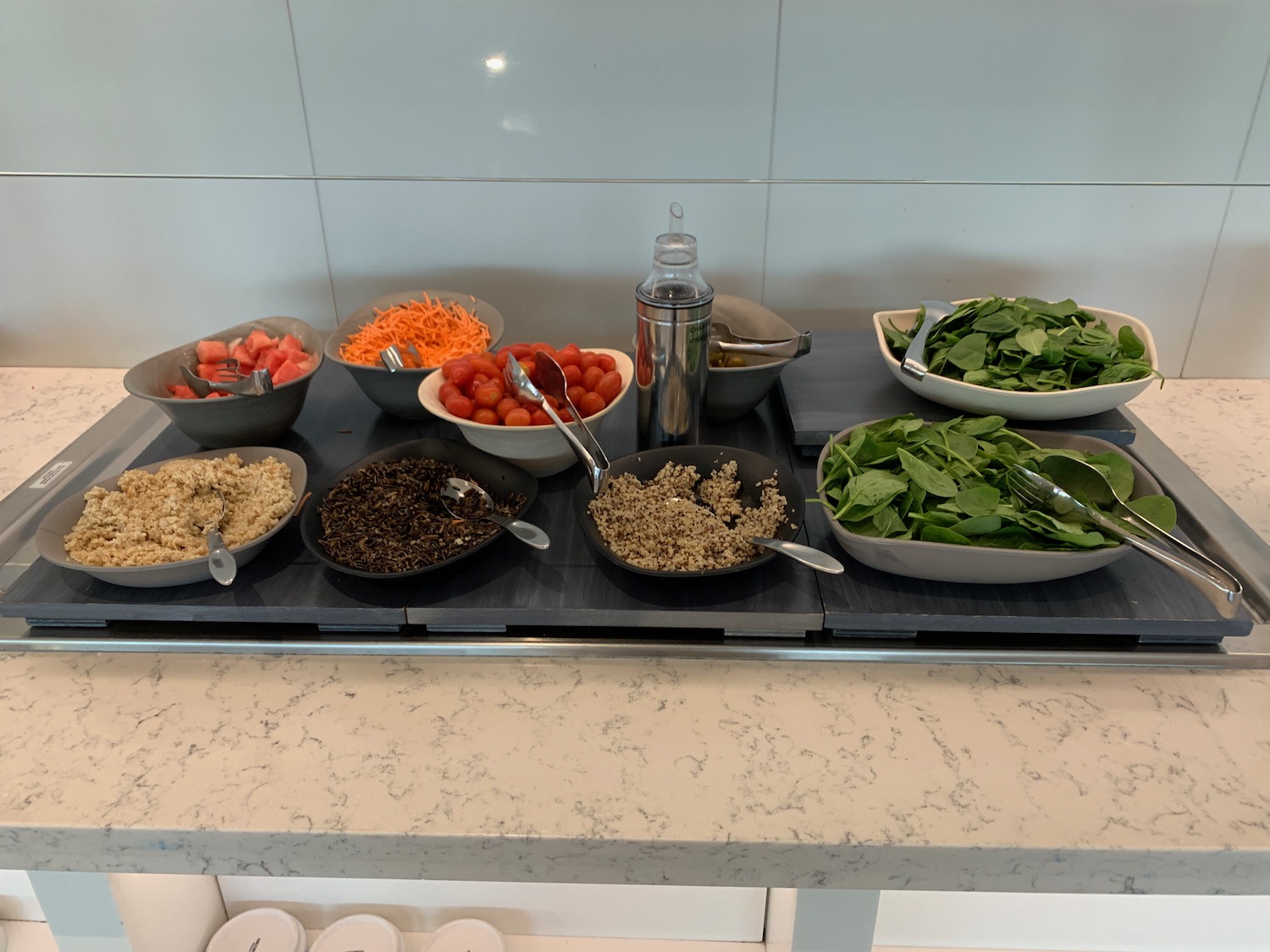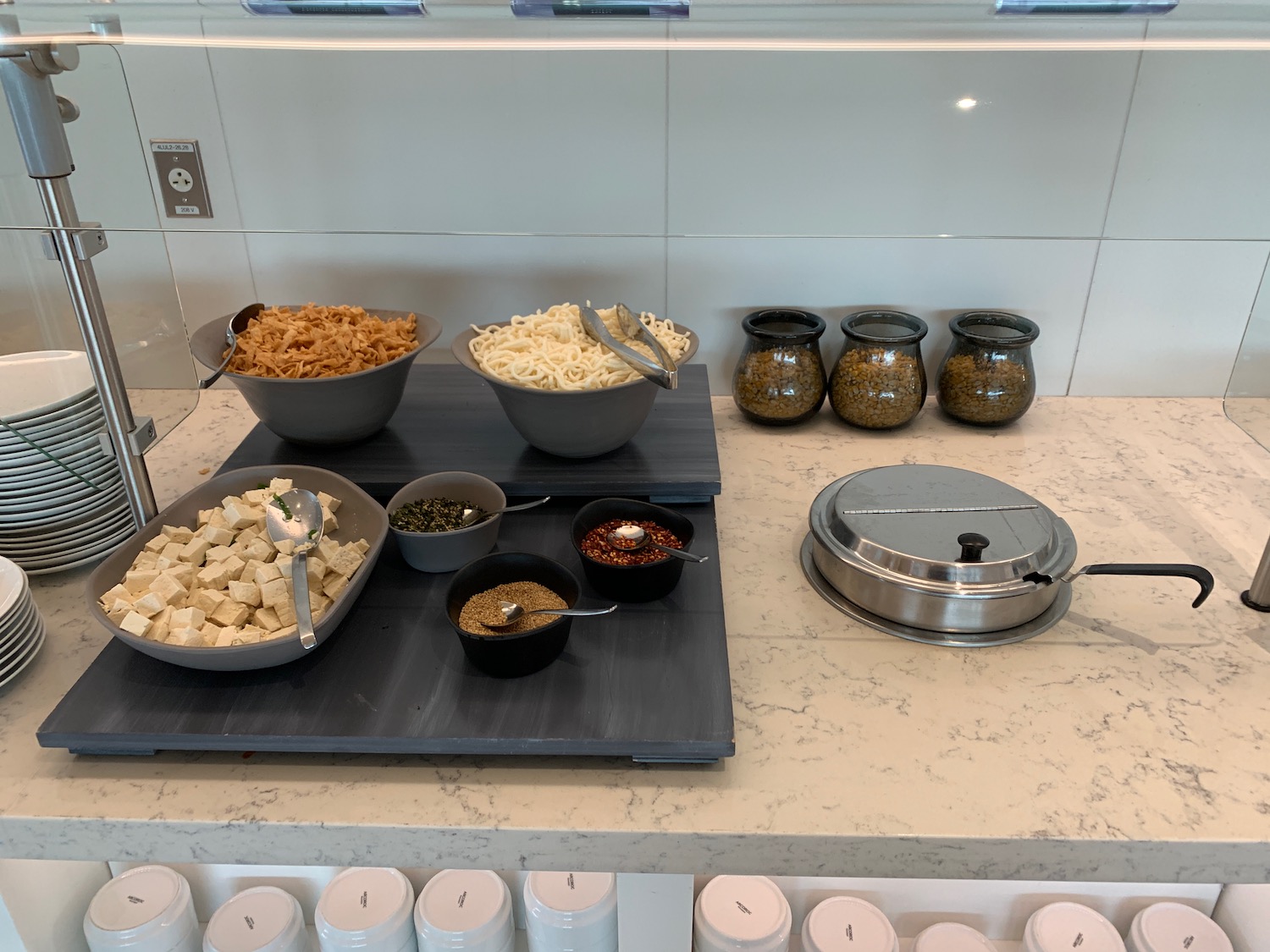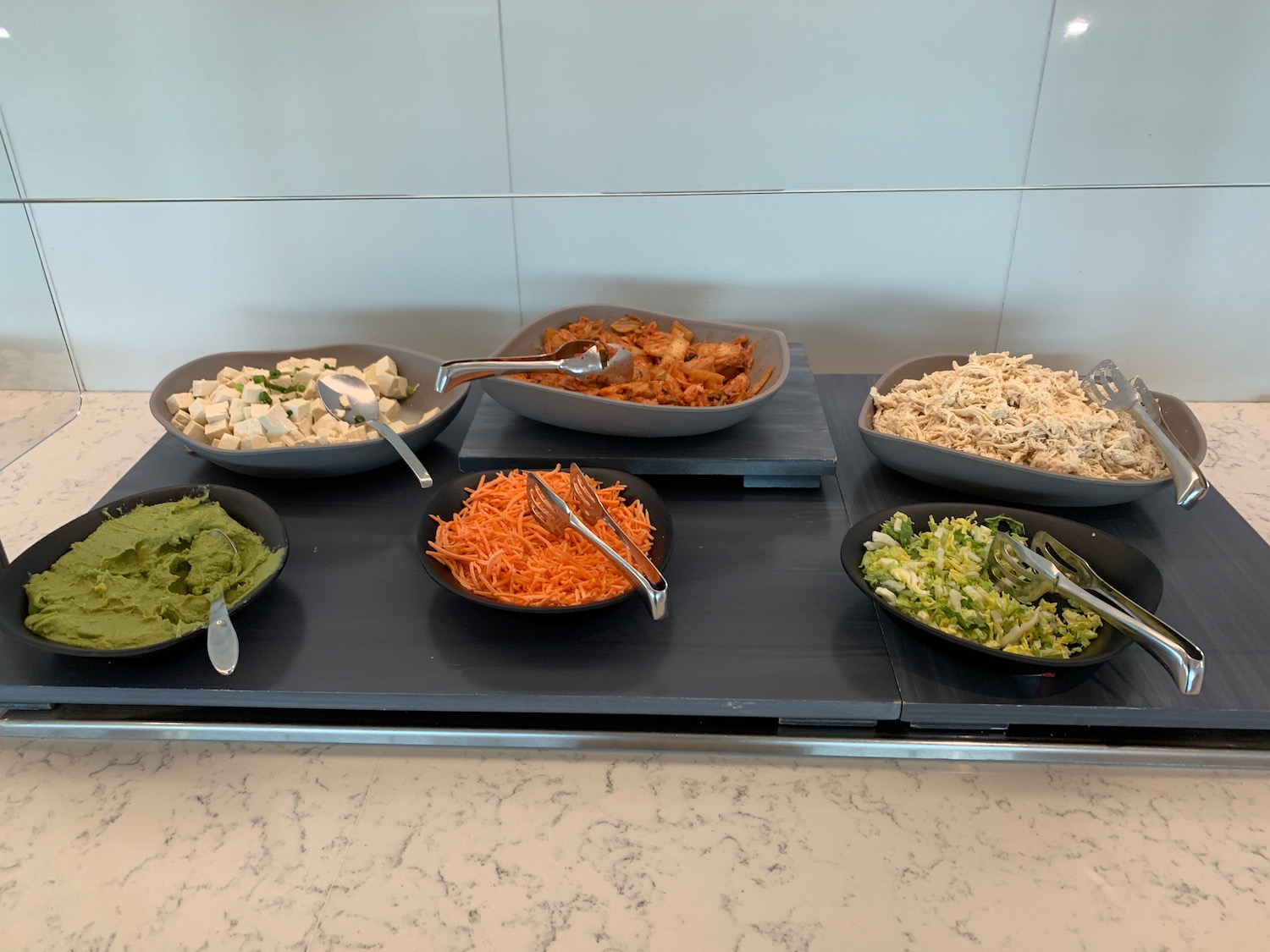 I'm not counting on the holiday Egg Nog and hot chocolate station to return this year, though one can hope…
Customer Service
Customer service agents can help you with ticketing needs. They are located upstairs behind the escalators. Having an agent without a huge line during irregular operations is an under-valued benefit of the club. While united.com and the United mobile app is now able to handle most rebooking, if you need something complex (or want to get booked on another airline), you need to speak to an agent in person.
Phone Rooms
Around the corner from the customer service agents are several phone rooms that act as mini cubicles or private offices. My son lounged out on the floor (sorry germaphobes) during his first visit to the lounge in 2016…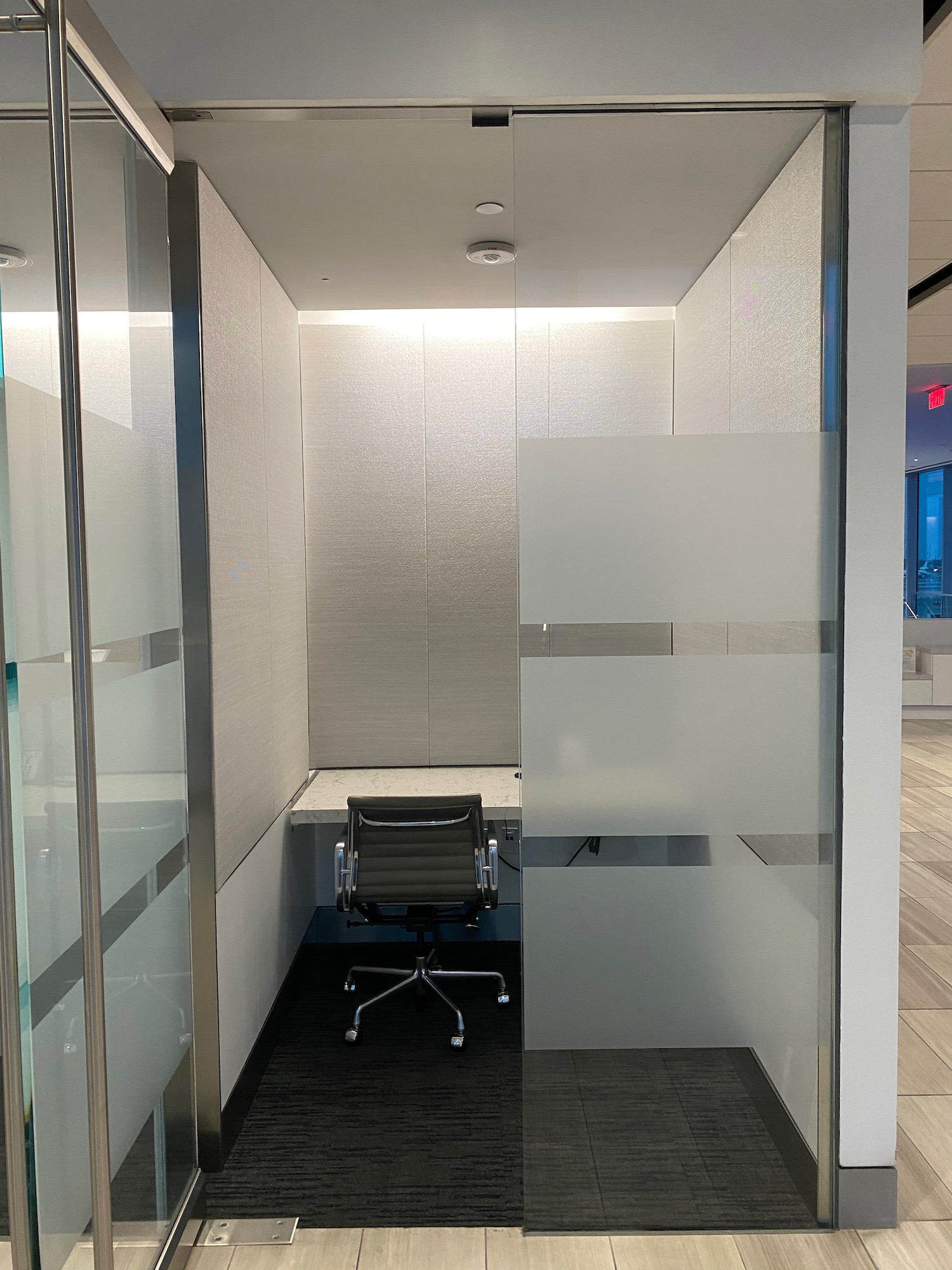 Nursing Room
The last "phone room" is reserved for a nursing room. Hey guys, this isn't a room to chat a cell phone chat…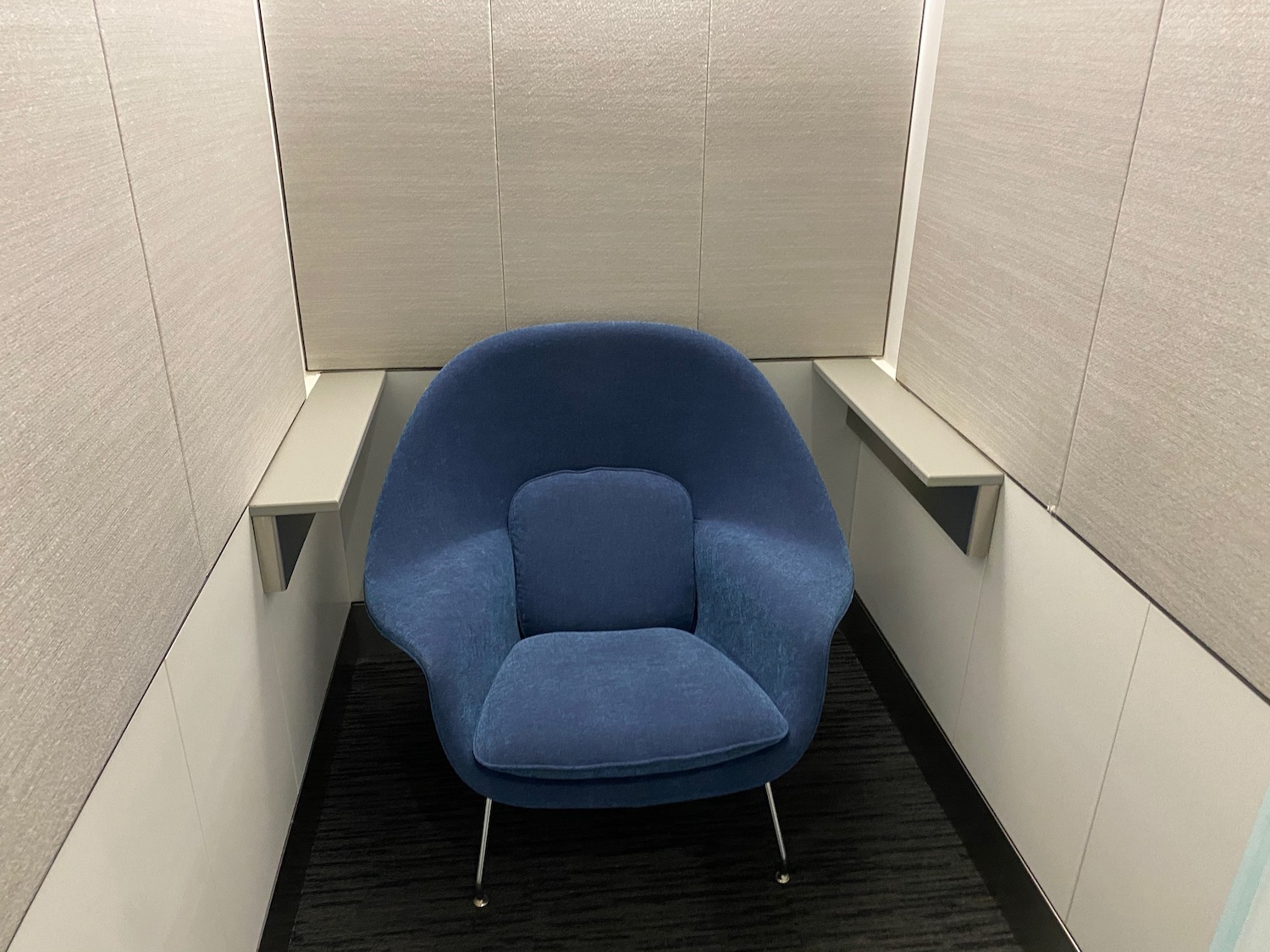 Restrooms
Restrooms are clean and spacious, though the automatic flushers usually don't work…I hate them with a passion.
Wi-Fi
Kudos to United for having fast wi-fi in the lounge. Expect speeds of over 100Mbps up and down.
What I'd Like To See…
There is one thing missing from this lounge and one thing that would make the lounge significantly more attractive, in my humble opinion. United deliberately chose not to install showers in this lounge, knowing it would install shower suites in its nearby Polaris Lounge. In fact, United has removed showers from its clubs in Houston and Newark. I find this curious and regrettable. While it is an extra expense, there's nothing like a shower after a redeye flight. I wish United would offer showers in their clubs like American and Delta do.
Second, the espresso machines are fine, but it would be so nice to have a real coffee machine behind the bar and train the bartenders to be baristas. I'm sure they could make beautiful coffee in no time and it would constitute a real value-add for me.
One can dream…
Service
Finally, let me offer a shout-out to the staff in this lounge. Over the years, I have interacted with many agents and found the lounge staff (both the United employees and the Sodexo service employees) to be lovely. I must give a special shout-out to Bruce, who has served United for 45 years and is a fixture at the LAX United Club.
I love chatting with him and will never forget how he worked so hard to save my trip back in 2013 when I was traveling to Singapore via San Francisco and rolling delays on my SFO flight nearly cost us the trip. But Bruce reached out to Singapore Airlines in SFO and the flight did not depart without us (even though it should have…).
CONCLUSION
The natural light and terrace make this one of my favorite United Clubs and now much of the pre-pandemic food spread has returned. This is my first stop on most trips through LAX.
What has your experience been in the LAX United Club?
---
If you are considering signing up for a new credit card please click here and help support LiveAndLetsFly.com.
---
Responses are not provided or commissioned by the bank advertiser. Responses have not been reviewed, approved or otherwise endorsed by the bank advertiser. It is not the bank advertiser's responsibility to ensure all posts and/or questions are answered.