As United Airlines transitions from a 767-300 to a 757-200 on its premium transcontinental service between the West Coast and New York JFK, I eulogize the loss of my mobile office and express hope I will see it again.
My Office Is A 767-300 Traveling Between New York And Los Angeles At 37,000 Feet
When United resumed service between Los Angeles (LAX) / San Francisco (SFO) and New York (JFK), it utilized its premium-heavy Boeing 767-300 aircraft, which includes:
46 business class seats
22 premium economy seats
47 extra legroom economy seats
52 economy class seats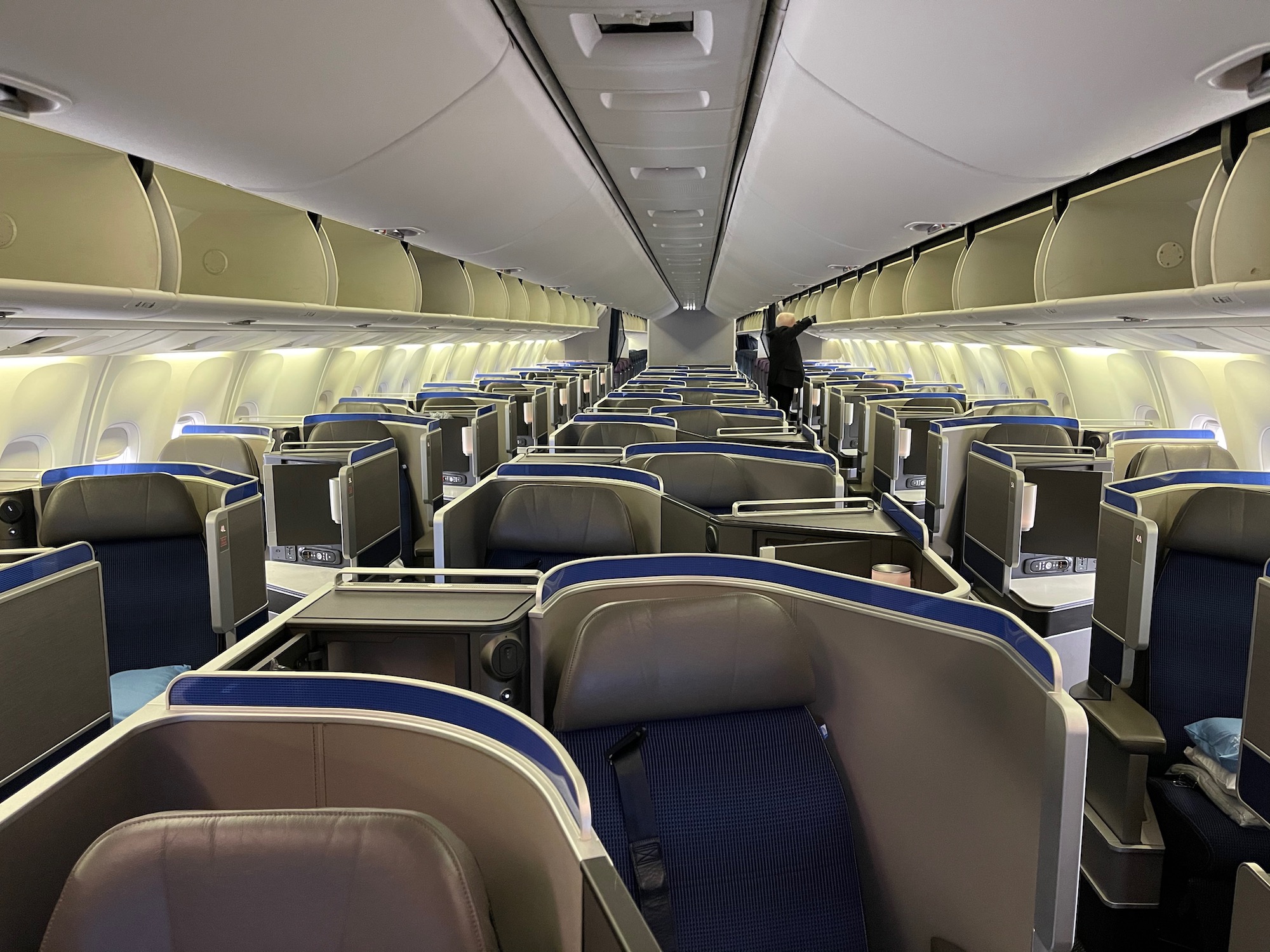 But effective today, those 767-300s have been pulled and United now utilizes Boeing 757-200s on the route, which includes:
16 business class seats
0 premium economy seats
45 extra legroom economy seats
108 economy class seats
I've reviewed the 757-200 here. While the lie-flat seat in business class is comfortable enough, there is not direct aisle access for window seat customers. There is also no premium economy section and economy class, arranged in a 3-3 configuration instead of a 2-3-2 configuration, feels much tighter. These aircraft, holdovers from the Continental era, are also very much showing their age.
This is not about trimming overall passenger capacity. United is trading its 167-seat 767s for its 169-seat 757s, actually adding two seats. Rather, this move totally reorients the focus from premium service (41% of seats on the 767) to economy class (91% of seats are economy class on the 757-200, a notoriously bad ratio for upgrades).
---
> Read More: United Airlines Faces JFK Dilemma
---
The good news for United is that it should mark the end of the era of easy upgrades and open seats in business class. At the same time, I expect United will lose some passengers on this route as long as it is operated by a 757-200, including me.
Since LAX-JFK service began, I've taken this flight at least once a month, only to turn right around and fly from JFK-LAX. I've even written about it before…without fail, it is an extremely productive time.
And while I realize I can just as easily go to the library or even reserve a hotel room for the day, I find that nothing increases my productivity more than being in the air in a spacious, private business class seat.
So I will greatly miss the 767 and hope it returns in the spring. I will miss the Polaris seat and the laughably easy upgrades. I will miss the 7:30am departure and 7:00pm return from JFK, allowing me sleep in my own bed after 11 hours on a plane and three hours at JFK.
And United's food has even come a long way. Back in April, this was meal service onboard:
This is it today:
And there's even a plated pre-arrival snack in both directions:
So my stomach is more content too.
CONCLUSION
Today is bittersweet for me. Perhaps "was" is more appropriate than "is" in the title. The 767-300 was my office…but hopefully it will be again.
If you have not tried spending a day on an airplane working, I encourage you to do so – it is productive and it's a lot of fun!