I recently flew from Los Angeles (LAX) and New York (JFK) and back onboard United's recently-retrofitted "High-J" Boeing 767-300, featuring a whopping 46 business class seats onboard. This review covers both legs of the journey.
United Airlines 767-300 Business Class Review
This was a spur-of-the-moment "study trip" for me, something I got quite accustomed to doing during the pandemic. Even since my trip, however, flight prices have risen so much that I find it virtually impossible to justify these sorts of leisure trips any longer. Expect to pay $200+ each way for transcontinental travel on United if you buy in advance.
But I could not turn down a chance to try United's new service to New York JFK after a five year hiatus. I have such fond memories of flying to/from JFK on United and I wanted to see if the magic was back.
Boarding began for our 7:30am departure began promptly at 6:45am. Even though this was over a week since the inaugural flight, Captain Brian Jackson, the Chief Pilot at LAX, was waiting outside the boarding door to greet every passenger and hand them a special postcard to commemorate the launch of this new service. It was a nice touch and shows how dedicated Captain Jackson is to his position.
United 514
Los Angeles (LAX) — New York (JFK)
Thursday, April 8
Depart: 7:30AM
Arrive: 04:00PM
Duration: 5hr, 30min
Aircraft: B767-300 (76L)
Seat: 16A ("Polaris" Business Class)
Onboard, I was welcomed with a greeting and a hand wipe from a flight attendant stationed at the door.
Seat
This is a huge business class cabin. Huge. There's no partition or galley to divide it. For perspective, look at this picture:
It's a comfortable seat in a 1-1-1 configuration. Every passenger not only has aisle access, but privacy. These lie-flat seats are six feet, six inches when reclined.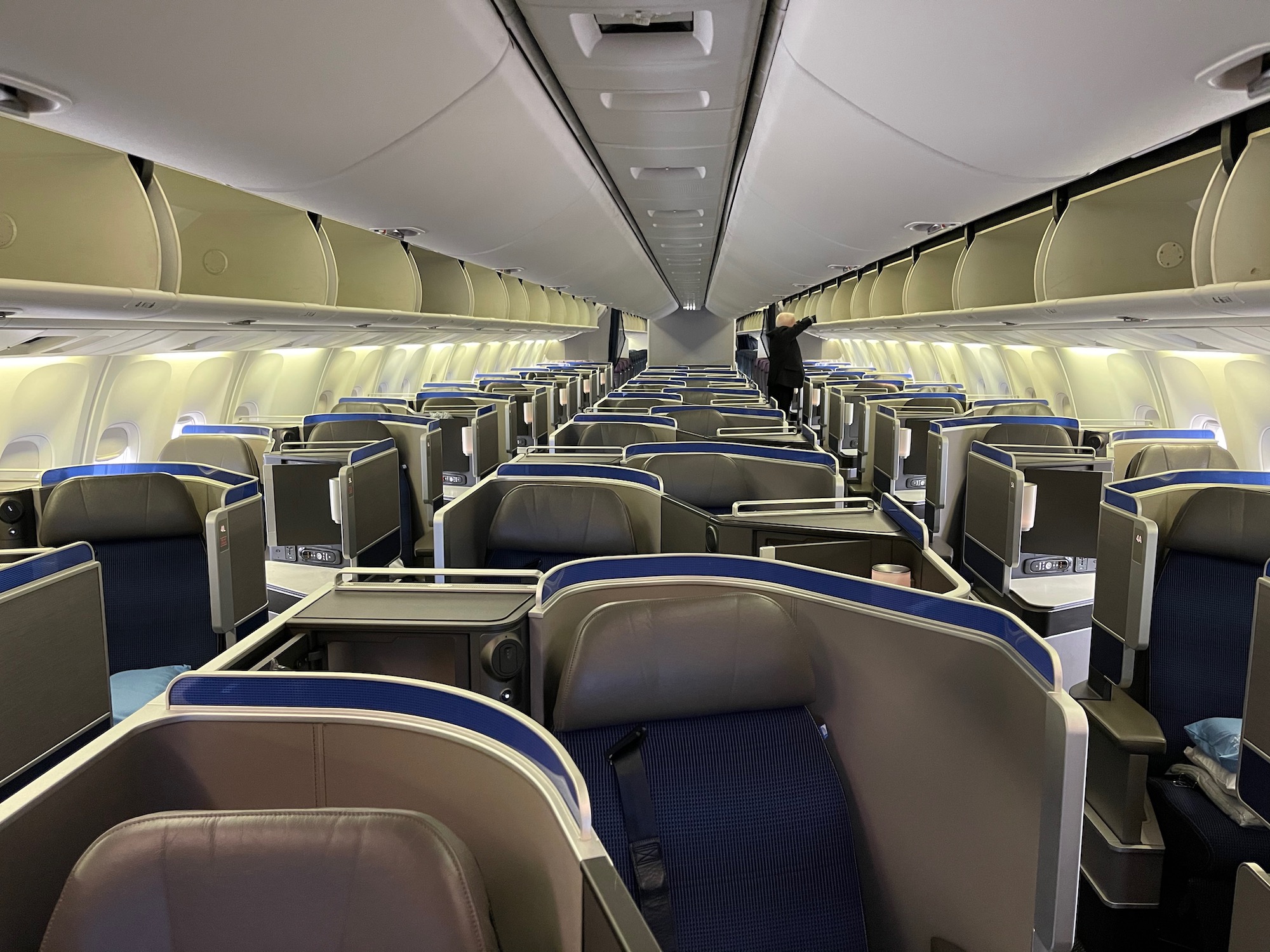 While all seats are comfortable, I recommend odd-numbered window seats (A or L), as these provide the most privacy and give you 2-3 windows instead of just one.
Each seat has two USB rapid charging ports, a power plug, and cabinet for personal storage (not big enough for a laptop computer).
Underseat foot room (with storage for shoes or a laptop underneath):
Waiting at each seat was a:
Saks Fifth Avenue Throw (day blanket)
Pillow
Cooling Gel Pillow
I do miss the large duvets on premium transcontinental routes, but the current throw blankets are still comfortable to curl up in. I did not utilize any of these, however, on the outbound flight and spent the entire time working on my laptop.
I also snapped some pictures of the Premium Plus (premium economy) and economy class cabins:
Amenity Kit
A small amenity kit was waiting at each seat which included:
Eyeshades
Earplugs
Dental kit
Sunday Riley lip balm
I did not even open the kit so as not to waste it.
Food + Drink
Breakfast was served after takeoff, with a choice between an egg white sandwich ("Egg Piadini" but I think they meant Piadina) or French Toast. I ordered the sandwich. While United will win no points for presentation, it was fairly tasty. I left the bread behind (too much) but the egg whites mixed with cheese (including a bit of bleu cheese) really tasted better than it looked.
That said, with only a fruit cup (too much sugar, I skipped it), blended yogurt (too much sugar, I skipped it), and biscuit (too much sugar, so I took it home for my son), I asked if I could have some sugar in the form of French Toast with vanilla glaze. As usual, I was happily obliged and found the French Toast tastier than the sandwich.
Coffee is hit or miss on airplanes and today it was strong…and greatly appreciated. I usually like to get a cup of Intelligentsia Coffee at LAX before my flight, but the lines were outrageous.
Later on in the flight, a snack basket was offered. First, it was simply placed in the front of the cabin. Later, a flight attendant made a round through the cabin offer selections individually to passengers.
The full bar is available on these premium transcontinental flights and I ordered an Old Fashioned before landing, through I ended up not drinking it (too much sugar, I reasoned…I'm weird. I know).
Lavatory
On the 767 in business class, there are two lavatories in the front of the cabin and one in the rear. The rear lavatory is technically dedicated to business class, but I noticed PreimumPlus passengers also using it.
The lavatory included Sunday Riley skin products as well as a stain remover. 
IFE + Wi-Fi
Wi-Fi was available for purchase and very reasonable on this flight at $14.99 for a flight pass.
In-flight-entertainment included a library of movies, TV shows, games, and streaming audio. Noise cancelling headphones were provided.
Oh yes, and one other thing: Channel 9 (at least in theory).
Longtime United flyers will remember that Channel 9 used to be the home of Air Traffic Control communications. I loved listening to pilots speak to other pilots and the tower. Sadly, this channel is offered at the discretion of the captain and was turned off for this flight.
As always, some of the best view from the flight are out the window:
Service
I was a bit concerned that with a business class cabin so large (and nearly full) service would really drag on. It didn't. Breakfast was served about 30 minutes after takeoff, preceded by beverages. 
LAX-based flight attendants were friendly, though not overly-proactive with offering beverage top-ups. That said, when I requested a second cup of coffee it was delivered almost instantly.
*    *.    *
We landed in New York and pulled up to Terminal 7 (my first time there since the last day of UA service five years earlier). It was so nice to see the British Airways and ANA jets. Other than perhaps Cape Town, this is the only UA station where these aircraft are parked next to each other…and it again brought back many happy memories.
The Flight Home
During my layover I visited the TWA Hotel, then headed back for my flight home. United has lost its large sign on the terminal building (Alaska got it), but there was a United sign outside the terminal entrance on the curb.
Inside, United is not using its former check-in area (Alaska is using it). Instead, United is on the opposite side in an area that (if I recall correctly) used to be used by British Airways.
Security screening is still annoying at JFK, with everyone hollering at each other and mixed messages conveyed to passengers. For example, there was a not a dedicated TSA PreCheck line. Instead, I received a card noting my PreCheck status. I was told by the ID checker to keep my laptop and shoes in the bag and simply hand the card over to the screening agent. However, I was yelled at for not removing my laptop from the bag.
"But your colleague told me to keep it in the bag"

"Which colleague?"

"The one who checked my ID." (Pointing)

"What do he know?" [sic]
Some things at JFK never change…
Upstairs, I found our gate right outside the (shuttered) British Airways Concorde Room. Manhattan traffic delayed the crew, so boarding began late. However, the flight back to LA was not nearly as crowded and we boarded quickly and left pretty much on time.
United 517
New York (JFK) — Los Angeles (LAX)
Thursday, April 8
Depart: 7:00PM
Arrive: 10:26PM
Duration: 6hr, 36min
Aircraft: B767-300 (76L)
Seat: 10A ("Polaris" Business Class)
That big block time is not just United padding its schedule, but the to account for the congestion at JFK. We had to wait about 45 minutes to takeoff. Actually flight time was closer to 5.5. hours.
This time I still did not score an odd-numbered window seat, but it did not matter: this flight would be all about sleeping.
By this point, I had been up all since 3:00AM and was quite tired. Dinner was offered after takeoff, a choice of butternut squash ravioli or lobster mac & cheese. I ordered the mac & cheese and found it quite creamy, fatty, but delicious. I love lobster and there were several nice chunks, not just a few. It was served with mixed nuts, a salad with fennel and mandarin oranges, and a bread roll. 
After dinner, mango sorbet was offered, though I skipped it (too much sugar…). 
The crew was really sweet. There was a DYKWIA (do you know who I am?) 1K passenger seated in front of me and he berated them for the limited menu (no appetizers, no ice cream) as if they could snap their fingers and fix it. He wanted a snack and drink prior to takeoff and the flight attendant serving our side of the graciously obliged him (she grabbed him a bag of pretzels and a water bottle). He was not pleasant, making me more impressed by the way the FA handled him.
After dinner I reclined my seat, curled up in a fetal position, and fell asleep…waking up just before landing. I suppose that is as good a testament as any of the product: I enjoyed a good rest.
We landed at LAX on-time, another trip in the bag.
CONCLUSION
I sincerely hope that United's new service to JFK does well. I find the United 767-300 much better than Delta's 767-300s on the same route, though I do prefer the American Airlines 777-200 or JetBlue A321 seats. More competition is good for customers and domestic travel is rapidly resuming.
You can expect a comfortable seat, hot meal, and friendly service onboard….welcome back to JFK United!