Everything about my Air Canada 787-9 flight in business class was lovely. Well, almost everything. I highly recommend Air Canada's "Signature Class" product between Los Angeles and Toronto, but be prepared to be patient.
Air Canada 787-9 Business Class Review
From the transborder Maple Leaf lounge I made my way to the gate, where we encountered a slight delay prior to boarding. The sun was setting, with a beautiful sunset in the western skies.
Boarding commenced and I headed down the jetbridge. Air Canada used two jetbdridges for boarding, one for economy class, one for business class.
Air Canada 793
Toronto (YYZ) – Los Angeles (LAX)
Saturday, February 29
Depart: 6:45 PM
Arrive: 9:01 PM
Duration: 05hr, 16min
Distance: 2,175 miles
Aircraft: Boeing 787-9
Seat: 3K (Business Class)
No one was waiting at the aircraft door when I boarded, but I was warmly greeted as I walked though the front galley and to my seat on the starboard side of the aircraft.
Seating
The 787-9 business class cabin is arranged in a 1-2-1 configuration with comfortable reverse herringbone seats. The cabin features 30 seats in a single business class cabin. Each seat has 80 inches of pitch and is 21 inches wide.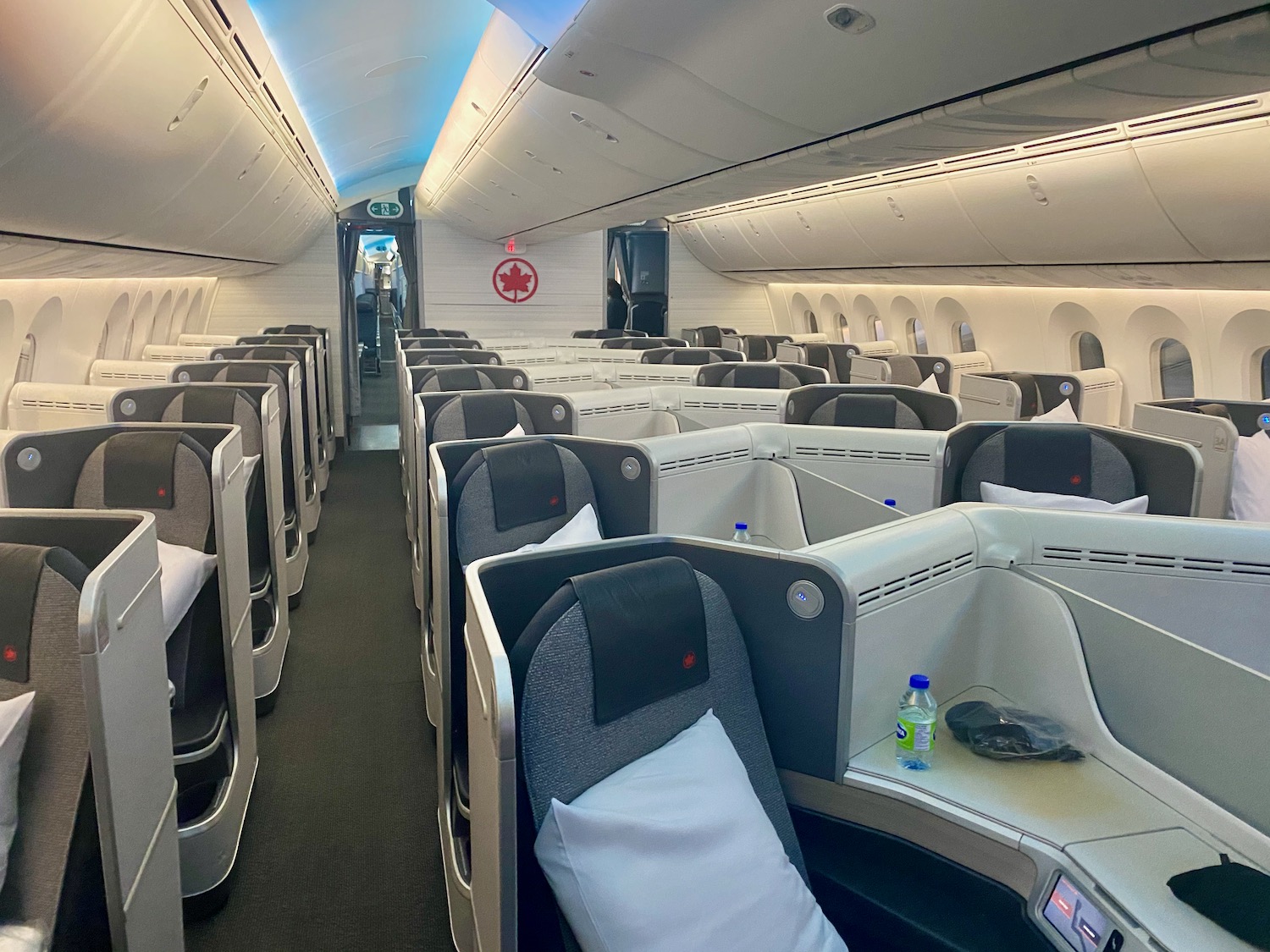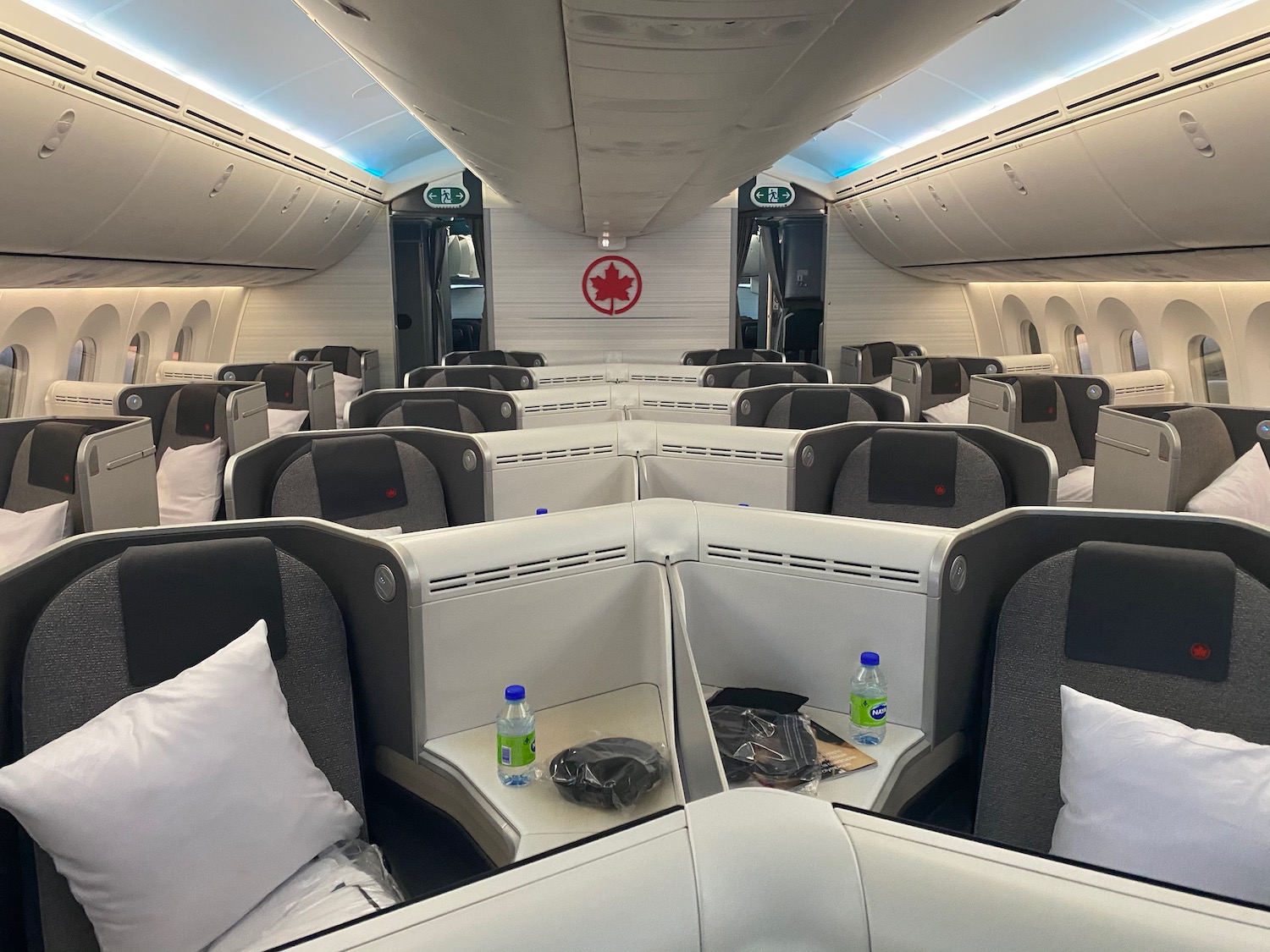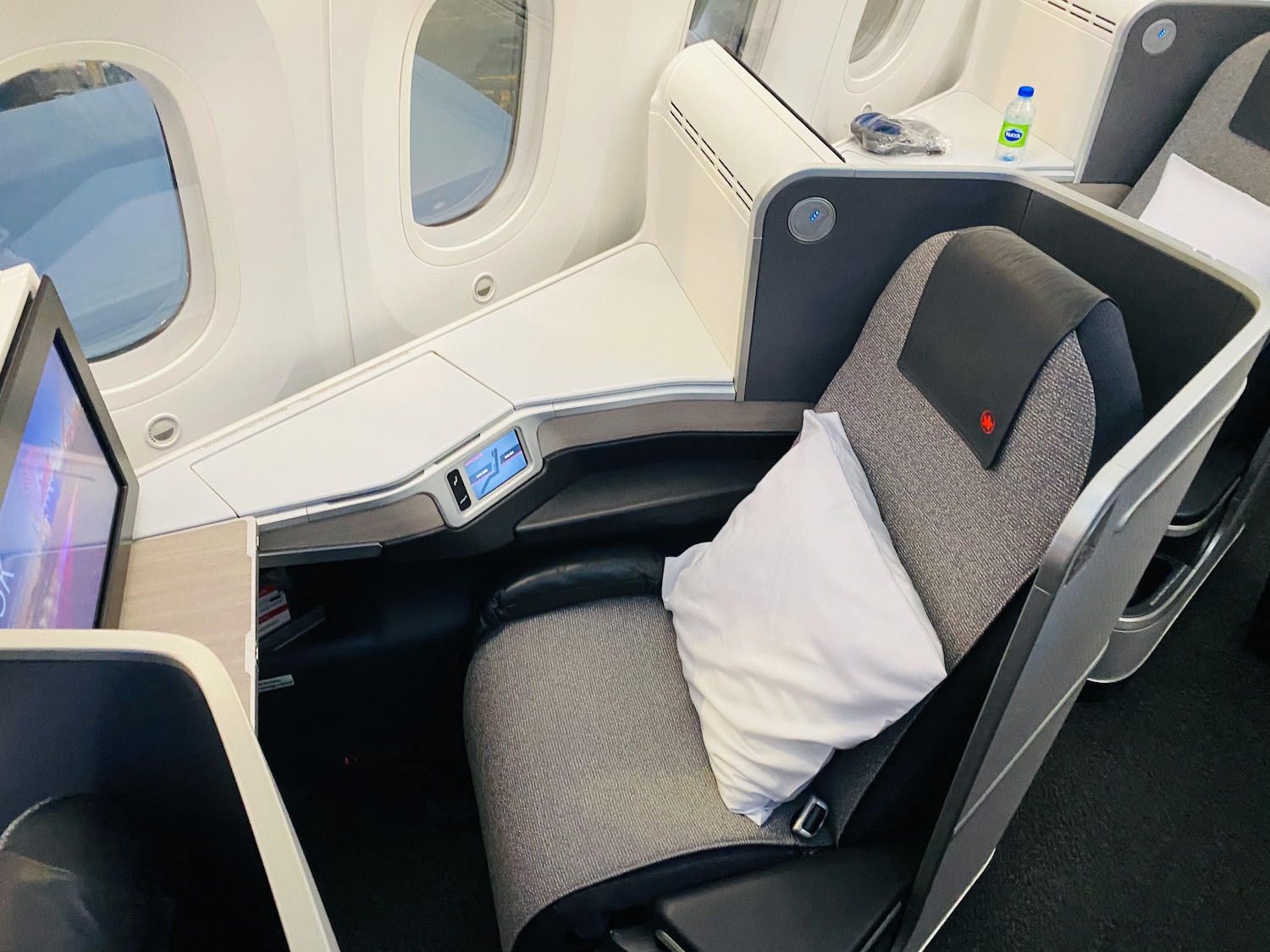 The suite had a few storage areas including under the footwell, in a small side dish (for lack of a better word), in a cubby large enough for a passport or water bottle, and in a storage cabinet that included a plug and passenger service unit.
Seat controls were via a touchscreen just below the storage cabinet. Not only could individual elements of the seat be adjusted, but the lights could also be dimmed (not just turned off or on).
I find these seats quite comfortable for lounging, extremely aesthetically pleasing, but less conducive to sleeping because my knee hits the tray table.
Bedding
Air Canada offers very nice bedding, with a lightweight yet thick duvet that still keeps you very cozy and a large pillow. Mattress pads were also offered.
Amenity Kit
An amenity kit and bottle of water were waiting on each seat. Contents included:
Toothbrush
Toothpaste
Eyeshade
Socks
Earplugs
Dinner
Pre-departue beverages were offered, with a choice of water, orange juice, or sparkling wine.
Menus were also distributed.
Meal service began shortly after takeoff.
Dinner began with mixed nuts and a choice of beverage. Nuts were not warmed (not sure if they ever are on Air Canada). The mix included salted almonds and cashews. A hot towel preceded it.
The appetizer included yellowfin tuna with rice, spinach gomae, and cucumbers. It was topped in sesame seeds with what tasted like a sprinkling of sumac on top. A choice of bread was offered.
I chose salmon for my main course, served in a creamy herb sauce with seasoned farro, tomatoes, bell peppers, zucchini, and fava beans. I've had better, but it was moist and all the ingredients pared nicely with one another.
The cheese plate included Oka, Brie, and medium cheddar.
Finally, dessert featured seasonal fruit (kiwi, orange, grapefruit, strawberry) and a milk chocolate praline cream puff drizzled with a sun-dried cherry compote on top. Cappuccino (with Lavazza espresso) was much appreciated.
As if that wasn't enough, the crew frequently offered snacks to the cabin after the main meal service. S0 much food!
From a taste perspective, I thought the Air Canada meal was wonderful. But there was one issue, which I address below.
Service
The crew was on the young side, quite attentive, quite friendly, and also very professional.
I want to give a shoutout to a couple wonderful crew members on my flight, particularly Babar and Asia who were so kind and professional. Asia had to put up with a particularly problematic passenger…something I want to dedicate a separate post to. Babar was into iPhones and after he saw me taking pictures we had a wonderful conversation about photography and Apple. We're both very loyal customers!
But there was one thing that really annoyed me on this flight. Take a close look at the meal pictures above, paying particular attention to the remaining flight time in the monitor behind the food. That's right, it took more than half of the flight to complete the meal service!
My goodness, that is far too long for a five-hour journey! The crew was great, the cabin was full…I'm not sure if this is just how service flows on Air Canada are or whether this was anomaly, but it was unacceptably long. And it's not like meal service started late and was then served quickly. Meal service started shortly after takeoff and there were long delays between courses. I entertained myself with a couple movies. But if you are flying from Toronto to London, a flight of similar length, be prepared to skip meal service or simply spend the majority of your flight eating dinner. That makes the Signature Suite all the more valuable on a transatlantic flight.
One other note. Even though this flight was in February, some crew members were already wearing masks. I found it so strange at the time…we've come a long way.
Lavatory
I liked that the lavatory had a window. It was also clean. Air Canada offers Vitruvi products, including soap, hand moisturizer, and a spray.
IFE + Wi-Fi
In-flight entrainment featured a library of movies, TV shows, games, music, and info about Air Canada.
Noise-cancelling headphones were offered:
But these were collected about an hour prior to landing. We received disposable earphones in their place.
Air Canada also offers high-speed wi-fi onboard the 787-9. I did not connect, but noticed pricing was on an hourly basis and rather high at CAD12.25/hour for high-speed internet.
CONCLUSION
The prolonged meal service aside, this was a very nice flight. The service levels were certainly international in quality and the bedding extremely comfortable. I would not hesitate to fly Air Canada on a much longer flight in the future.
How would you review the Air Canada 787-9 in "Signature" business class?