The Great Scotland Yard is a lovely Hyatt hotel in central London with small but comfortable rooms, a beautiful tea room, unique Scandinavian restaurant, and great breakfast.
Great Scotland Yard Hotel Review
I spent one night in this hotel, part of the Hyatt Unbound collection, and wish I could have spent longer here…
History
This hotel is in an ornate Edwardian building constructed in 1906 as the Ministry of Defence Library. During the Great War and World War II, it was used a recruiting office. Although the names suggest a connection to the Metropolitan Police, there is no historic connection, though the street was once home to the royal families of Scotland when they visited London (and this dates back to the year 997AD).
Booking + Location
For the night before the Trooping the Colour ceremony (part of the Platinum Jubilee celebration for Queen Elizabeth II), I wanted a hotel close to the action. Located off of Whitehall in the City of Westminster, the location is within a short walking distance of Trafalgar Square, The Mall, Buckingham Place, Covent Garden, Houses of Parliament, and Westminster Abbey.
This is a Category 6 Hyatt property and I booked it using 25,000 points. Nightly rates were running over £400, netting me about two cents per point.
Check-In
I arrived at noon, having checked in already on my mobile app. Even so, I was asked to have a seat in the check-in area (a room off of the lobby area) and my passport was checked before I was handed a room key card.
The lobby itself is small, with seating that stretches in an L-shape down the hall to the Ekstedt restaurant. Specially-commissioned artwork and historical artifacts from the real Scotland Yard are on display (more details here).
I was assigned room 403.
Room
I found my room in the corner on the fourth floor. Although quite small, the room had a fireplace, tables and chairs, and a chifferobe with a refrigerator built in with coffee and tea service on top. I even had a few out the window of Whitehall, where I could have watched the Trooping the Colour from my room.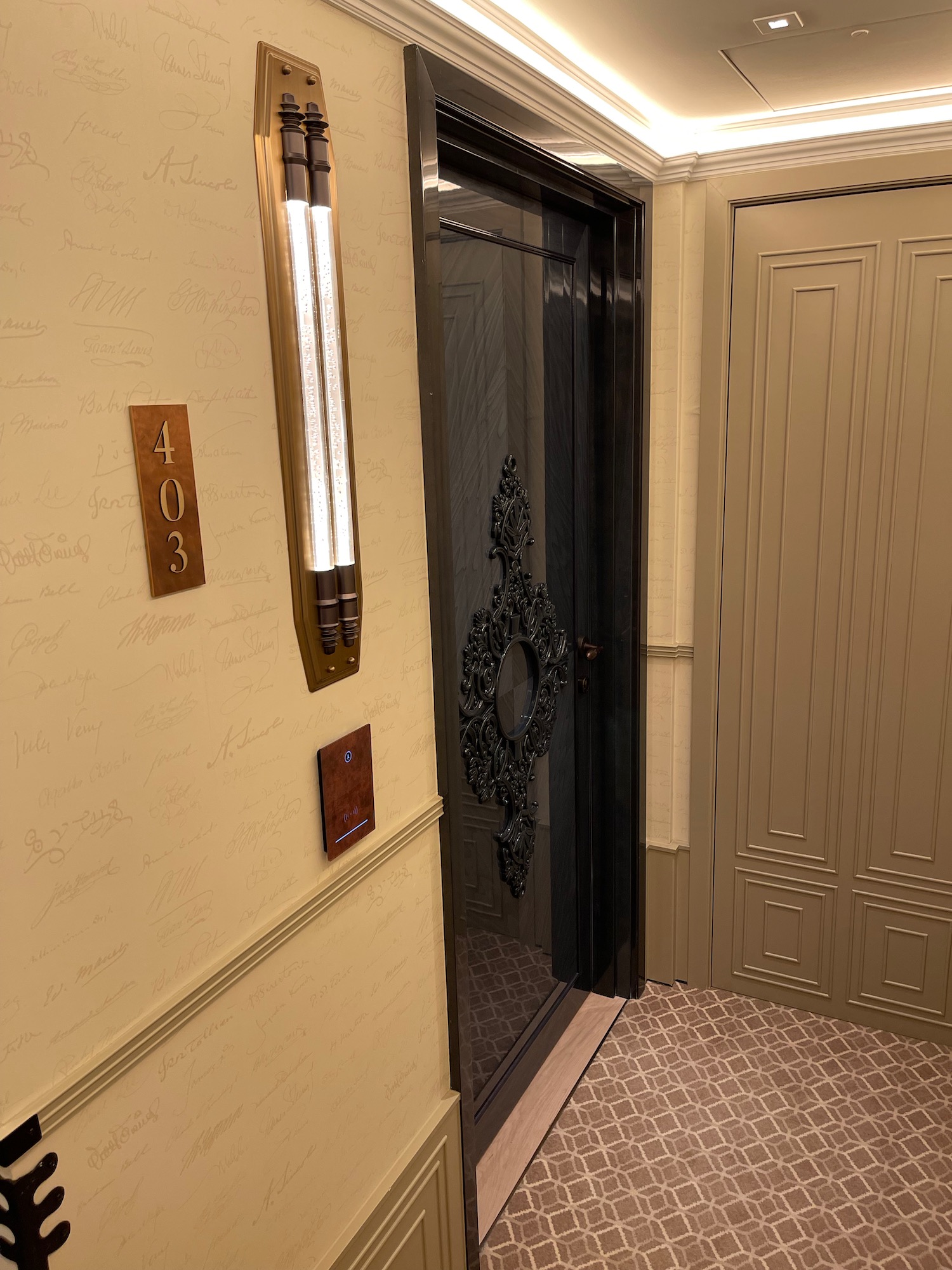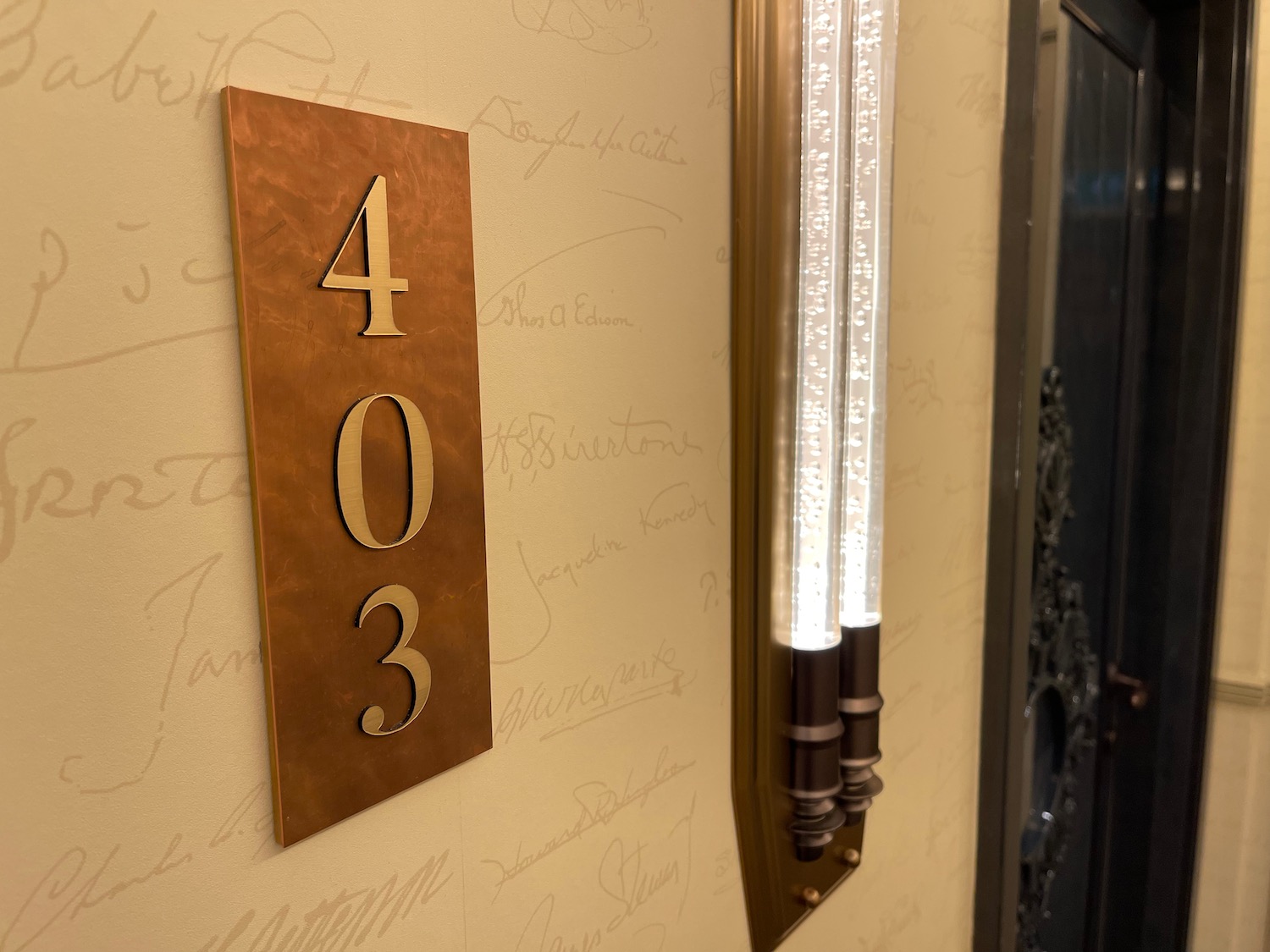 I loved the ceiling medallion and found the room cozy and comfortable.
The marble bathroom included a single sink, Toto toilet with bidet, and a walk-in shower with window. Shower amenities were from the Scottish Fine Soaps Company. Other toiletries were also available.
A welcome amenity (cookies) and note were waiting on my table along with a package of wipes.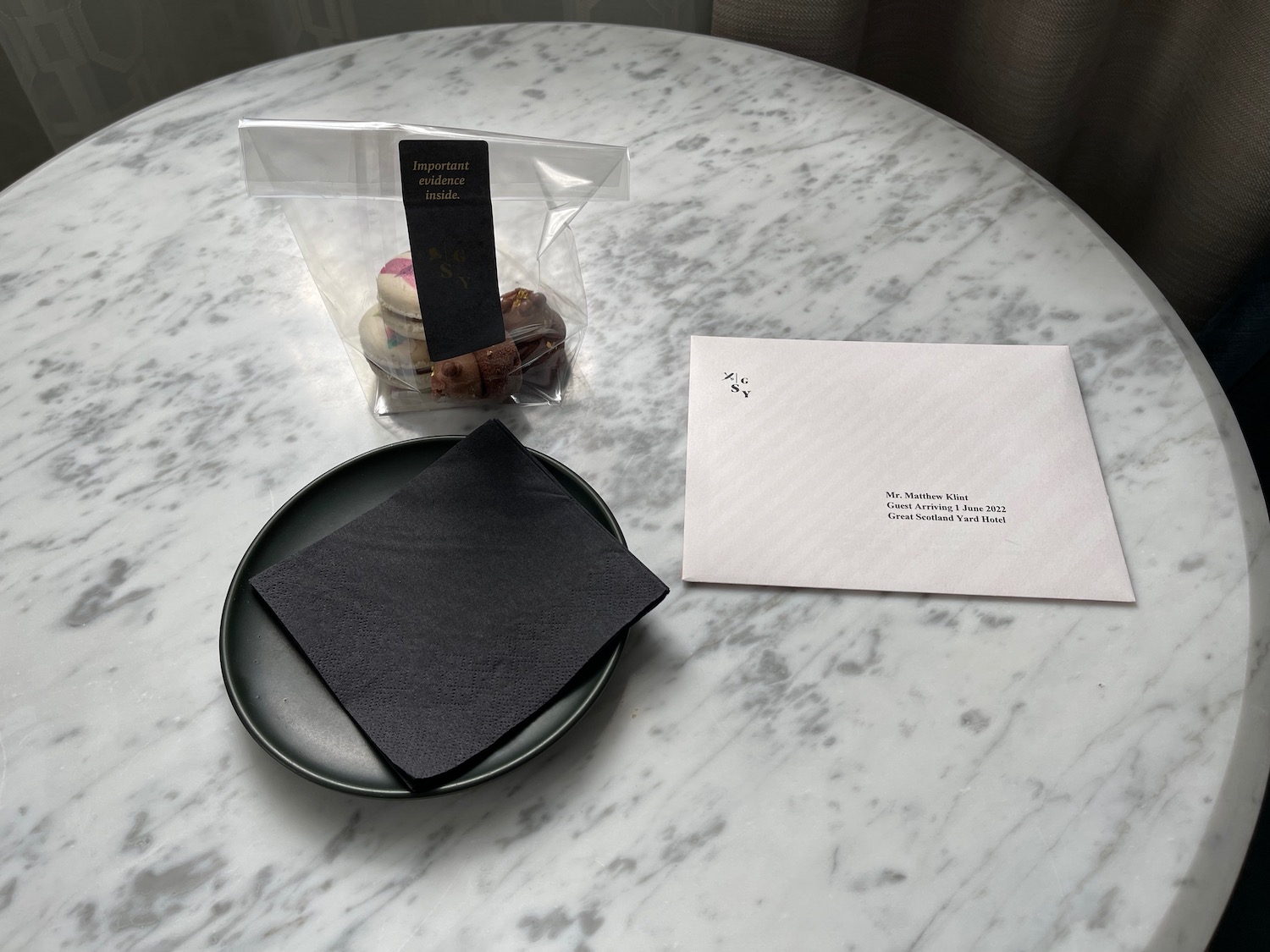 Room service was available from 7:00am to 11:00pm (not 24 hours), but my Globalist breakfast was only available in Ekstedt.
Fitness Center
On the lower level of the hotel, a small gym is open 24/7 with cardiovascular and strength training equipment.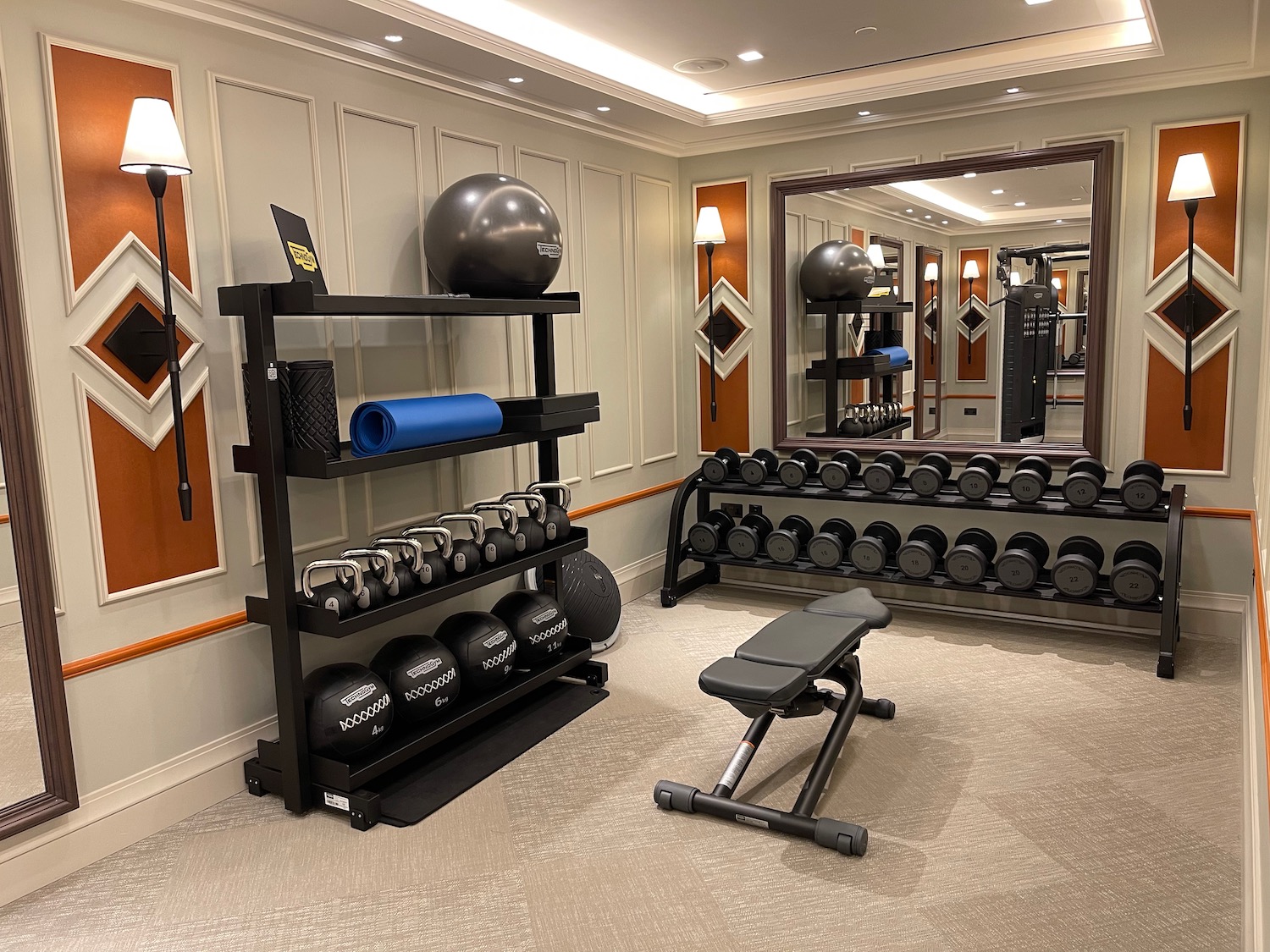 Meeting Space
Conference facilities are available…I stumbled upon these while looking for the (poorly-marked) gym.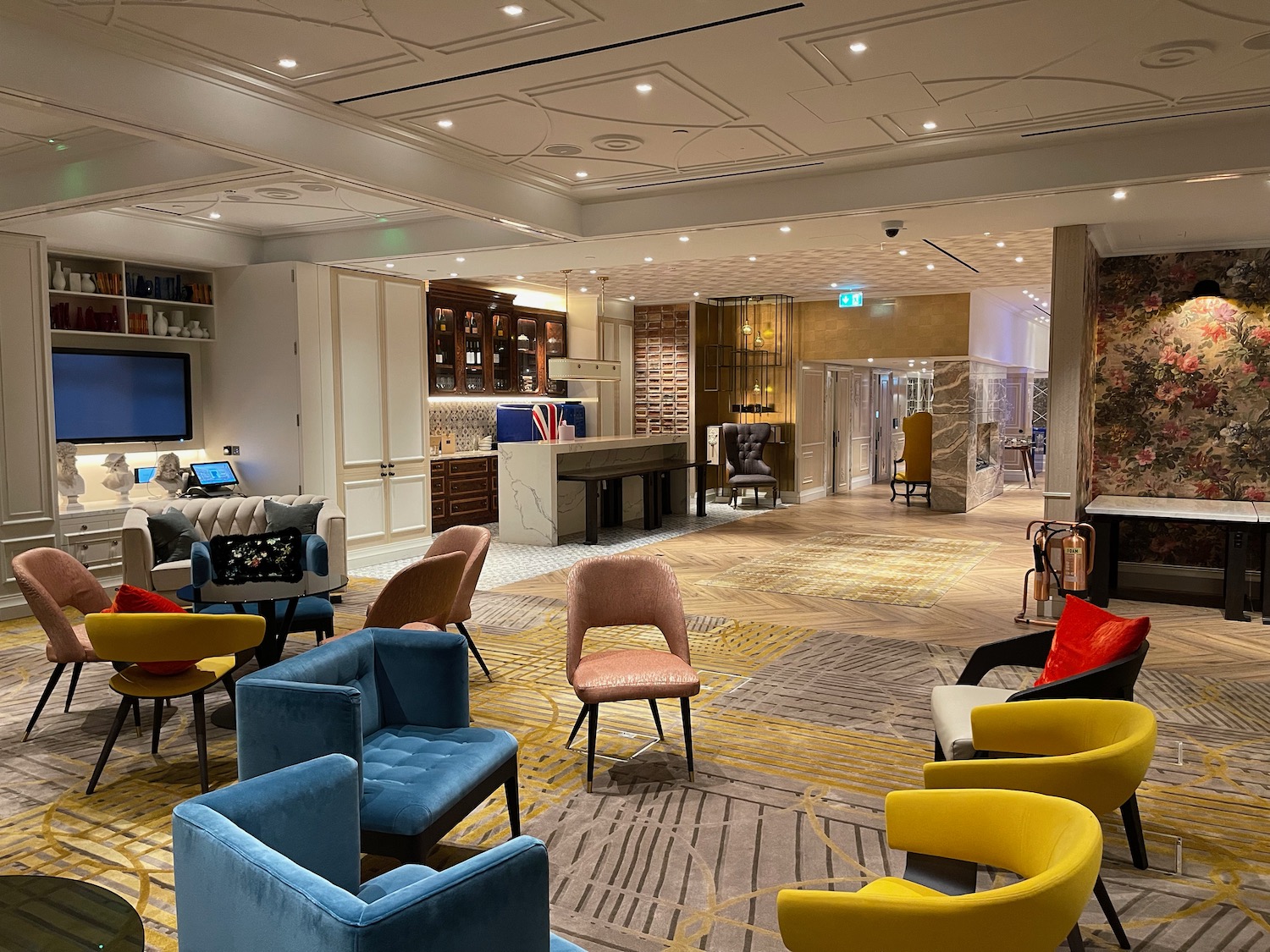 Breakfast at Ekstedt at The Yard
Ekstedt is the flagship hotel restaurant curated by Michelin starred chef Niklas Ekstedt. It focuses on wood fired 'old Nordic' cooking, combining Scandinavian and British cuisines.
I had breakfast here and opted for a classic English breakfast (including black pudding…) with fresh orange juice, cappuccino, and berries. The main course was an unhealthy delight.
Even though every table in the restaurant was occupied, service was quite efficient and I had no trouble ordering two additional coffees.
Full breakfast menu:
Note, while breakfast is open to all, if you want to attend Ekstedt for dinner the restaurant is only open to children 12 years of age and older.
The Parlour
My favorite room in the hotel is The Parlour tea room, a beautiful room with Victorain wallpaper, palm trees, and plenty of natural light.
Here's how the hotel describes it:
Distinctly different, our Afternoon Tea in collaboration with the iconic perfumery Floris London, the only appointed perfumery to Her Majesty The Queen, is quite unlike anything you have ever tried before.

This multi-sensory afternoon tea experience celebrates the Queen's Platinum Jubilee and is inspired by the notes of the historical British perfumiers luxury fragrance, 'Platinum 22', crafted especially to mark the occasion. The scent takes notes from Her Majesty's gardens, which surround her UK residences and is reflected through an assortment of delicious cakes and patisserie that incorporate the key notes from the fragrance.
Lunch is served Monday thru Friday from 12:00pm to 4:00pm while tea service is daily from 12:00pm to 5:00pm.
The 40 Elephants Bar
Another beautiful space in this hotel is The 40 Elephants, which offers not only alcoholic drinks, but barista-made coffee and a small food menu.
The Champagne Terrace
This rooftop terrace is only open Wednesday thru Sunday from 4:00pm to 9:00pm, which meant I did not see it on my Tuesday visit.
Opening is weather dependent.
Síbín
The hotel has as second bar that focuses on whiskey called Síbín that is only open Thursday thru Saturday from 6:00pm to 12:00am.
CONCLUSION
I prefer this hotel to the Andaz Liverpool and Hyatt Regency Churchill. While it depends upon where you need to be, I find this location is perfect for tourism and particularly appreciated the breakfast and simple yet elegant comfort of the room. I look forward to returning.