The Hyatt Regency Monterey is a comfortable hotel on a golf course, ideally located just minutes from downtown Monterey.
Hyatt Regency Monterey Review
Check-In
We arrived in the late evening and found no wait at the front desk to check in. The agent greeted me, swiped my card, and handed me a room key: the whole process took less than two minutes. No suite upgrades were available, though I was upgraded to a room facing the golf course rather than the parking lot.
Guest Room
Rather than one large building, this hotel is spread over 22 acres (most of it being the Del Monte golf course) and includes many smaller buildings, some connected by covered bridges. All buildings are three stories. Our room was located on the top floor of building nine.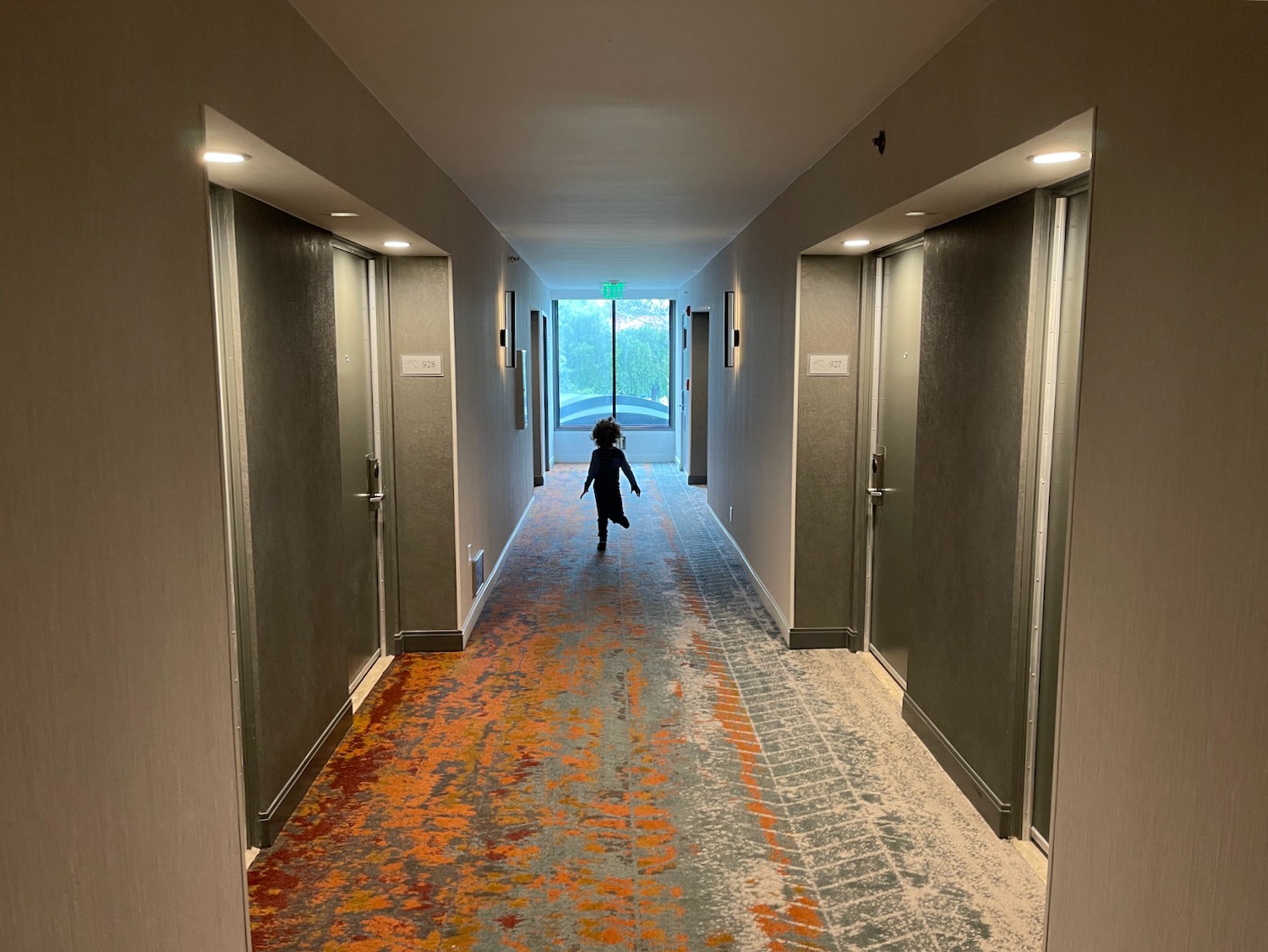 Our room was small, though not tiny. I had reserved a room with two queen beds, but discovered only a single king bed when I opened the door. I had also called ahead to have a crib delivered to the room and it was not there. Perhaps I was assigned the wrong room?
But it was late and rather than make the switch (because I had already lugged our bags up to the top floor), I just called down to again request a crib and my wife and I let my son Augustine sleep between us.
The guest rooms have been recently remodeled and as is becoming common, our bathroom did not include a bathtub (which is a shame because both my kids like taking baths).
It took about 10 minutes to deliver the crib, which was simply left outside my door due to COVID-19 precautions.
We had picked up a snack at Trader Joe's in Monterey and enjoyed that before going to sleep. Thankfully, the baby slept thought the night (which isn't a given now that she is teething!).
Breakfast
In the morning, I rose early to blog and headed down to Central Coast Provisions, the hotel's coffee shop. During the pandemic, it has been the only food and drink available at the hotel (besides room service). The hotel uses Starbucks coffee, but it wasn't too bad and I had a cappuccino while writing my articles for the day.
Later on in the morning, Augustine and I returned downstairs for breakfast. My wife just stuck to coffee in the room. In addition to coffee and pastries, there were a few hot items including breakfast burritos, waffles, and omelet. All were pre-made and simply warmed up by the staff.
Augustine and I shared three main courses. The breakfast burrito and waffles were tasty while the plain omelet was not great. Still, the Highlands Inn, our usual hotel in the area, was not serving food at all, so this was better than nothing. We sat outside.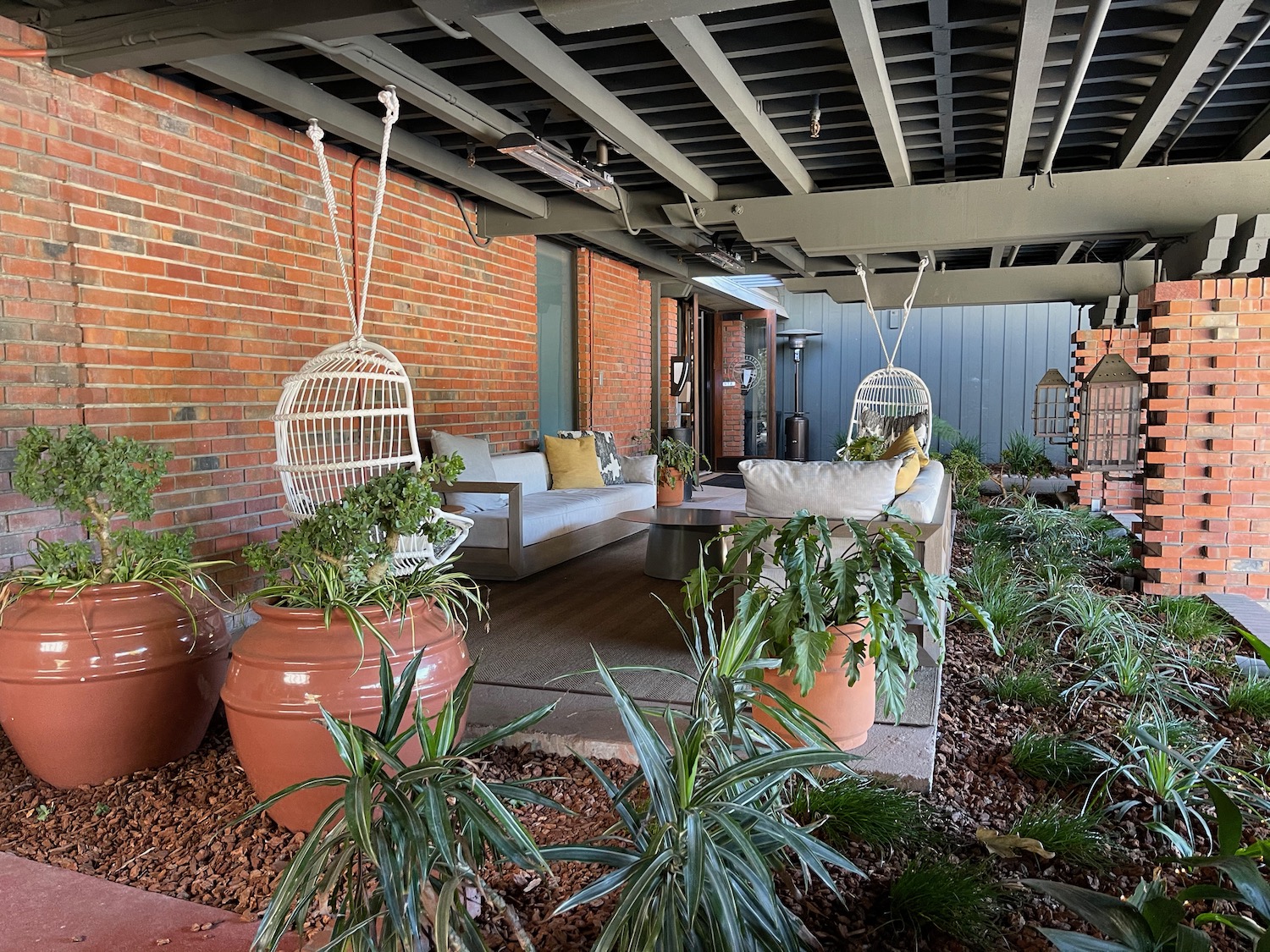 Prior to the pandemic, we enjoyed a nice buffet breakfast at this hotel that included tasty omelets, chilaquiles, and fresh berries.
COVID-19 Precautions
COVID-19 precautions included obligatory masks in common areas. The hotel lobby included many signs advising that eating and drinking were not permitted indoors, though Monterey County has since moved into a tier which allows indoor dining.
Due to the pandemic, the fitness center, hot tubs, and the Marilyn Monroe spa were closed. Fire pits, the pool, ping pong tables, and tennis courts were open.
The spa, when open, includes a sauna and steam room.
Airport Shuttle
A complimentary airport shuttle from Monterey Airport is available. Call the hotel in advance to arrange.
Resort Fee
While the hotel usually charges a resort fee, it has been suspended until May 1, 2021. However, a $20/night parking fee is charged (during our visit, that was waived too).
Pet Policy
The hotel is pet friendly. Dogs under 50 pounds are permitted in guest rooms and common areas (but not restaurants) and cost $100 for a stay of up to six days. Up to two dogs are permitted, but combined should not weigh more than 75 pounds.
Parking
Free parking was available directly outside the building, though since we arrived late I had to drive around a bit before finding a parking spot.
If you have an electric car, free chargers are available.
Lounge
This hotel does not offer a lounge or Regency Club.
CONCLUSION
Despite the poor service concerning bed choice and crib, we had a nice stay at this hotel. The location is ideal, service was generally friendly, and the room comfortable. Breakfast, especially when Sea Root restaurant re-opens, is a treat.
This is a category four hotel in the World of Hyatt program, meaning a room is 15,000 points per night. We paid $126 for our rate, which I found a better deal. You can use a free anniversary night from the Chase Hyatt card at this property, though I expect this hotel will go up in category next year due to the extensive remodel.
Have you stayed at this hotel? What is your impression of it?