Last week I had the chance fly JetBlue from New York to Los Angeles and tried out the Mediterranean Salad from JetBlue's EatUp Café.
Healthy JetBlue Mediterranean Salad
I was seated in the last row of the aircraft (by choice) so I could have an open seat next to me. That meant I stood no chance of scoring a salad by the time the buy-on-board cart moved to the back of the aircraft, so I asked one of the flight attendants before she began service if I could buy one. She was happy to oblige me and commended me for thinking ahead.
Indeed, only five salads were loaded and by the time she reached the last row she confirmed that they had only lasted two rows! (seems like a lost opportunity or additional revenue from JetBlue…when a six-hour flight departs at 6pm, there is going to be many hungry people onboard).
The Mediterranean Salad was served in a plastic container meant to be shaken up so that the dressing and other ingredients could be evenly distributed.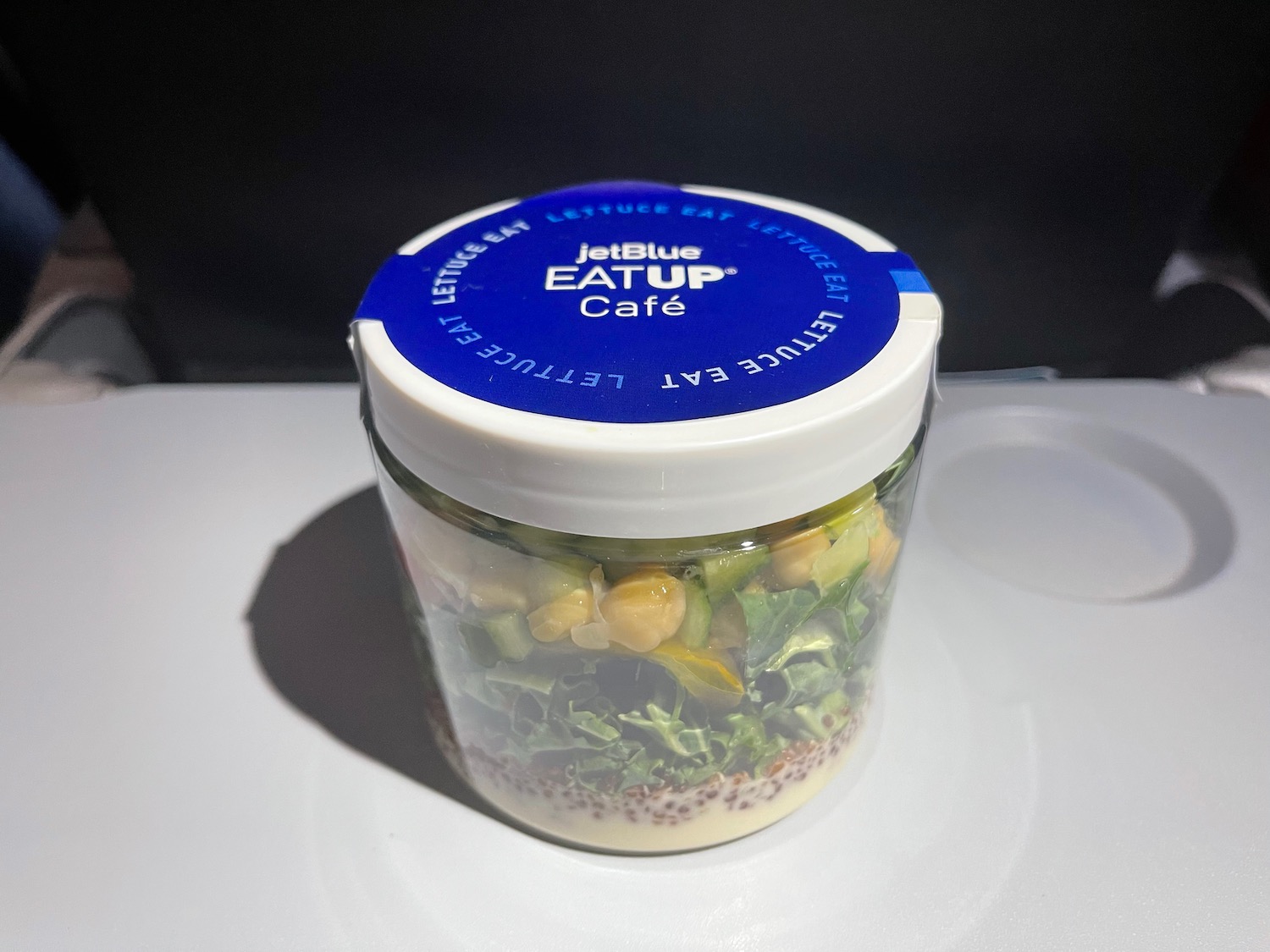 The salad included:
kale
chickpeas
red quinoa
cherry tomato
cucumbers
tahini dressing

lemon juice
tahini paste
agave
olive oil
sea salt

feta cheese (packaged separately)
The salad is 420 calories, including 18g of fat, 53g of carbohydrates, and 13g of protein.
I LOVED the salad. Very flavorful and the tahini sauce was delicious. This is a delicious dish and a great buy-onboard option.
At $13, I thought it was bit pricey for the small portion, but it was quite delicious and I was happy to have a healthy salad instead of a carb-filled snack box on a transcontinental flight.
I do wish JetBlue would sell food from Mint class! I'd pay $30-50 for a nice meal onboard and they could do it Air Canada style, simply boarding extra meals up front and then selling off the extra dishes.
Have you tried the Mediterranean Salad on JetBlue?