My dear readers, some links on this site pay us referral fees for sending business and sales. We value your time and money and will not waste it. For our complete advertising policy, click
here
. The content on this page is not provided by any companies mentioned, and has not been reviewed, approved or otherwise endorsed by these entities. Opinions expressed here are the author's alone.
Re-opening Terminal 1 at Paris Charles De Gaulle Airport (CDG) meant the return of Lufthansa's Senator lounge (defacto Star Alliance). Here's a quick look.
---
If you are considering booking travel or signing up for a new credit card please click here. Both support LiveAndLetsFly.com.
---
If you haven't followed us on Facebook or Instagram, add us today.
Access + Hours + Location
Star Alliance Gold passengers traveling in any class of service have access to the lounge as well as Star Alliance business class passengers. Guests may be required to  Those who neither hold status nor are traveling in business class or first class may be permitted entry for €59 as well as those flying on partnering airlines. Only guests that depart from Terminal 1 gates 60-68 are allowed entry. The lounge notes that children under the age of 2 are permitted for free and that airline staff is not permitted access. The lounge is located inside security (or passport control if connecting.)
While this is the defacto CDG Star Alliance lounge (any qualifying member with a boarding pass for an accompanying flight is permitted), it should be noted that there is a Star Alliance lounge that operates later (until 10 PM) in the Terminal as well. This is a different lounge than the Senator Lounge and that lounge is available for Priority Pass members, the Senator Lounge is not.
Hours of Operation
Sunday 05:45 – 20:30
Monday 05:00 – 20:30
Tuesday 05:00 – 20:30
Wednesday 05:00 – 20:30
Thursday 05:00 – 20:30
Friday 05:00 – 20:30
Saturday 05:00 – 20:30
The Lufthansa Senator Lounge is below Gate 60 and near Duty Free. There is a lift or stairs that bring guests to the lower level. Crowds at both the departure gate above and then waiting for the lift make it kind of a pain to get to. Making my way through an active boarding gate seemed like a recipe for disaster and I wished there was another way.
Seating
Upon entry to the lounge, some seats at a curved table around the wall are available for visitors. High-top tables and chairs fill the space near the food and drink areas with tables, chairs and booths lining the edge of the room.
A secondary room at the end of the U-shaped lounge held more seating but this area was packed with people and not photogenic at the time of my visit. It seemed odd to me that most of the visitors were well away from the door and food in such a crowded area when far more seating was available close to service items and the exit.
There is no smoking area in this lounge.
Food + Drink
During my morning visit, breakfast was available. In addition to croissants, pan de chocolate, and muffins, the lounge also offered an array of pretzels in keeping with a Lufthansa signature item. Yogurt, charcuterie, and cheeses as well as fresh berries, muesli, and cereal were also on offer.
The food was fine but nothing to write home about. It's certainly ample before a short flight to Star Alliance hubs such as Frankfurt, Munich, Istanbul, Vienna, Zurich, Copenhagen, and Geneva for example but if using it to fly partners before a long haul flight, both the offering and its volume would be insufficient.
Coffee, tea, juices, and milk accompanied the breakfast menu but for those imbibing, an array of beer, wine, and liquor was available as well. The drinks were self-serve both alcoholic and non-alcoholic.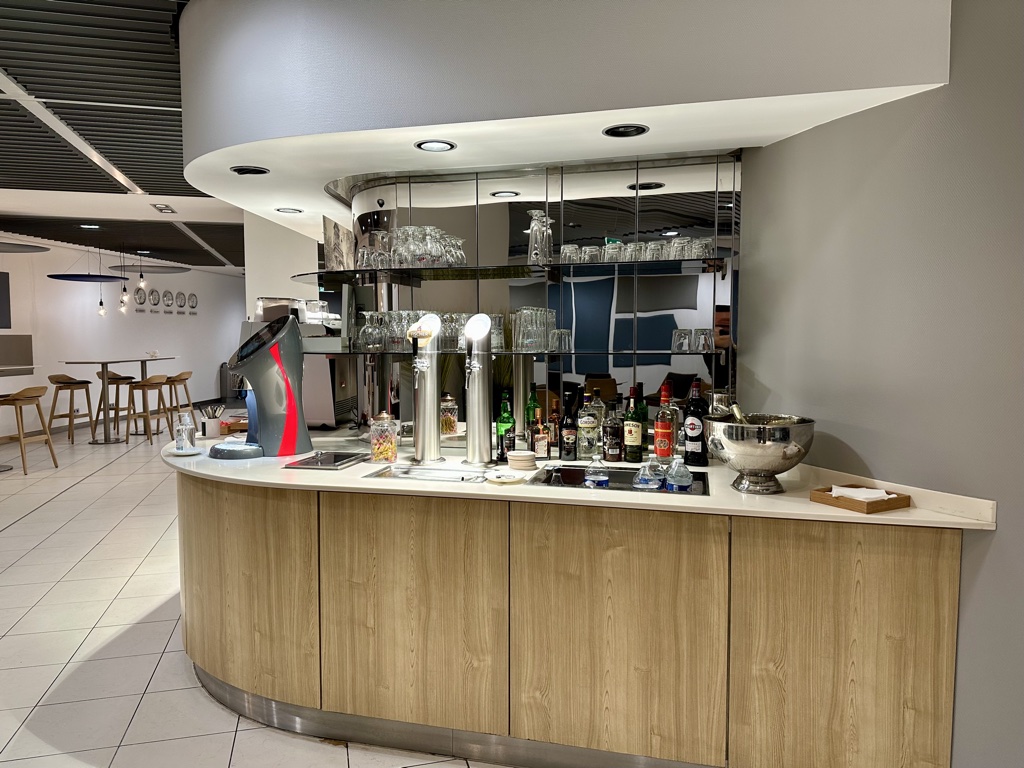 Conclusion
For passengers traveling on Star Alliance flights out of Paris, the Lufthansa Senator lounge is a reasonable solution. There's some seating for limited passengers but a large bank of flights would push this lounge over the edge. The food was good enough for short flights and a limited spread but not enough for a long-haul flight with lots of seats. It's a serviceable option in Terminal 1 at Paris Charles De Gaulle International Airport at the moment.
What do you think? Have you visited the Lufthansa Senator lounge at T1? How was your experience?