In February, I traveled to London on United Airlines to attend a funeral. My outbound journey was via Chicago O'Hare and inbound journey via Washington Dulles. Both flights were on a 787-8, though I had the old configuration on the outbound flight to London Heathrow and new configuration on the inbound flight to Washington Dulles. Rather than write two separate reports, I will consolidate both United Airlines flights into this single 787-8 business class review.
United Airlines 787-8 Polaris Review
---
Outbound: UA931 – United Airlines 787-8 Polaris Business Class Chicago to London (Old Configuration)
---
My trip was on Sunday, February 7th. After arriving from Los Angeles, I crossed the very crowded neon-lit underground walkway to my gate to London.
The gate area was practically empty at boarding time, with less than 10 passengers waiting to board. Up until departure, I was the only passenger in business class. At the last minute, one other passenger upgraded or purchased a ticket.
That meant two passengers in business class and 12 in economy class…on a 787-8 aircraft with 36 seats in business class and 183 seats in economy class.
United is in the process of retrofitting its 787-8 fleet, but work is not complete. This flight featured United's old Rockwell Collins (B/E) Diamond business class seat, configured in a 2-2-2 configuration. The business class cabin was divided in half, with three rows (18 seats) in the front cabin and three rows in the rear. A galley and lavatories separate the two cabins.
I chose seat 3L, the window seat in row three. The other passenger chose seat 1A. I could have moved to the rear cabin and had totally to myself, but there was really no need…I could not even see the other passegner.
The crew was London-based and most had British or European accents. Gun, the purser, welcomed me onboard and took wonderful care of me during the flight. She deserves a post of her own, so stay tuned for that. The entire crew was lovely and attentive (though that was to be expected in a 36-seat cabin with only two passengers).
As we took off from Chicago, I explored the in-flight-entertainment options. Along with noise-cancelling headphones there was a selection of movies and TV shows. My objective, however, was to eat and then sleep, so I did not partake in any viewing.
Amenity kits were present at each seat, but I did not bother to open mine and left it behind…I've got more than enough at home. Contents include Sunday Riley lip balm and skin cream, toothbrush, toothpaste, pen, ear plugs, socks, and eyeshade.
Dinner choices were salmon, beef, or pasta. No menus were distributed. I chose salmon and it turned out to the same dish I had from San Francisco to Sydney in late 2019, served with Thai coconut risotto. Packaged bread, mixed nuts, and a salad were also served, with mango ice cream for dessert.
After dinner, I changed into my pajamas (I usually won't do that for a short transatlantic flight, but since I knew there would be no wait for the lavatory prior to landing, decided to change) and then went to sleep.
United offers Saks Fifth Avenue bedding including a plush pillow, cooling gel pillow, and soft duvet. Slippers were proactively offered and a mattress pad is available upon request. For this flight, I grabbed an extra pillow from the seat next to me and really made myself a cocoon.
Highlight of the flight: I slept until 36 minutes prior to landing. Gun then gently nudged me awake and served breakfast. Talk about personalized service! I've been on far too many flights where the pre-arrival service begins 90 minutes prior to landing, which may be necessary when the cabin is full, but robs you off a lot of sleep on a short 7.5-hour flight.
Breakfast choices were an egg and leek quiche in a tortilla cup with mushrooms and sausage or French Toast. I had both! Coffee was strong and served in a nifty to-go cup. I skipped the fruit cup, yogurt, and croissant. United, please bring back fresh fruit! Still, it was a nice breakfast.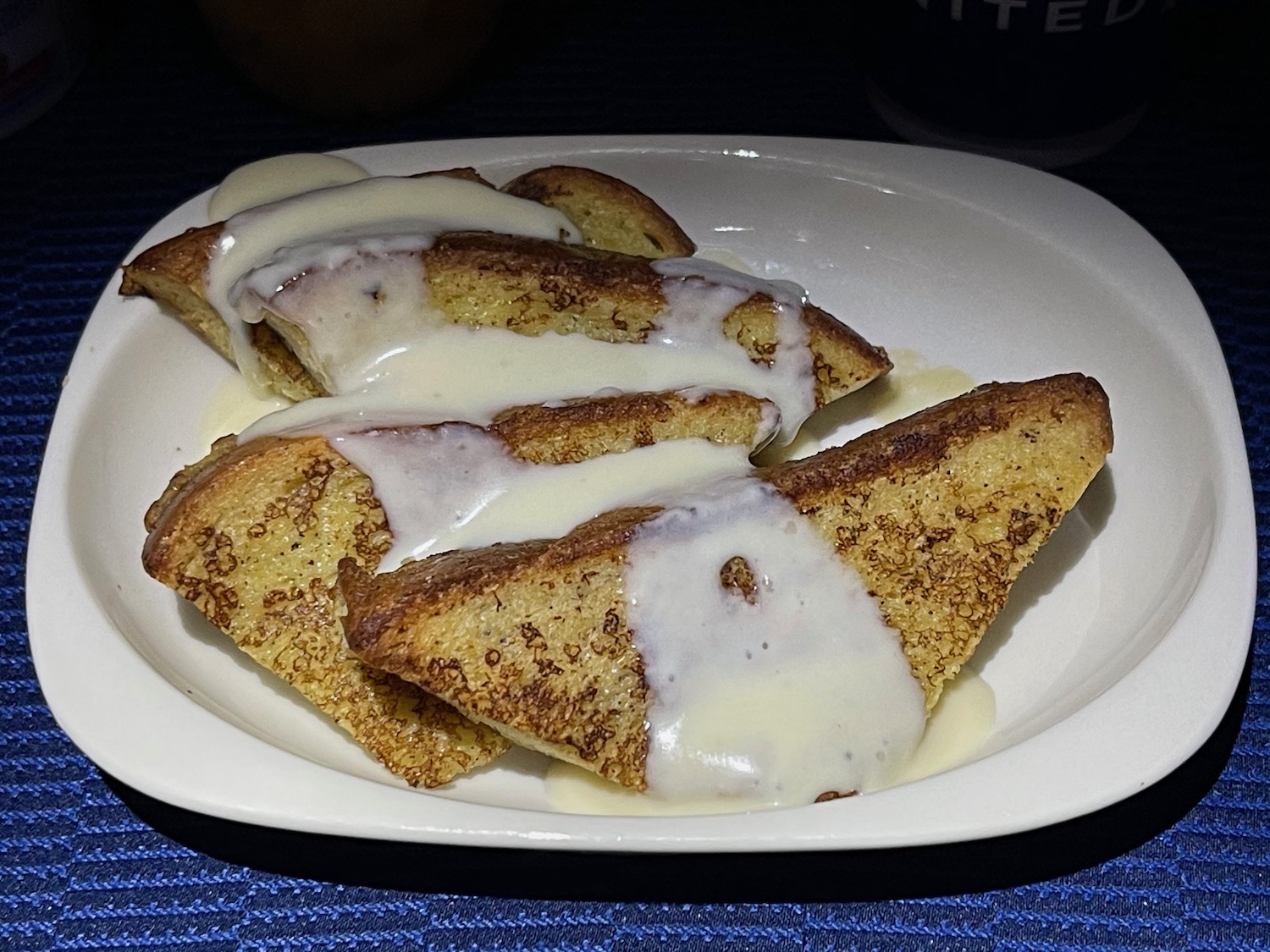 We landed in London before the sun rose and I was soon on my way down to Winchester for my funeral.
Note: the arrivals lounge was closed.
---
Inbound: UA919 – United Airlines 787-8 Polaris Business Class London to Washington (New Configuration)
---
The following day, I headed back home…yes, it was a very short trip, but I was honored to be part of the funeral for a very special man. My original plan was to fly via Newark onboard the 777-300ER and then connect to LAX on the 787-10, but I opted to sleep in instead, have breakfast with my family, then take the later flight to Washington Dulles, even though it meant a 737 from Dulles to Los Angeles without lie-flat beds.
It was snowing outside! First time I've ever seen snow in London…
I took the Tube to the airport, which was a painless ride and I had the carriage to myself for most of the journey.
I did not leave much time, which turned out to be a good thing. Arriving at T2 I presented my negative COVID-19 test at the check-in counter, obtained my boarding pass, and passed thru security with bolding set to commence only minutes later.
Although its website indicated the Lufthansa Lounge was open, it was actually closed. The only lounge in the terminal that was open was the Plaza Premium Lounge, which I have reviewed in the past.
Today, I had no time and proceeded directly to my gate, where boarding had not only commenced, but was complete. The door shut behind me as I walked onboard.
This flight featured United's new business class onboard the 787-8, with 28 seats in Polaris business class (seven rows in a staggered 1-2-1 configuration) as well as a 21 Premium Plus (premium economy) seats and 194 seats in economy class. Yes, United has squeezed a lot more seats in its retrofitted 787-8s at the expense of business class and EconomyPlus (extra legroom economy).
I find the new Polaris seats much more comfortable (and obviously more private) than the older seats. I settled into my seat, took my shoes off, put my slippers on, and sat back.
Prior to takeoff, the aircraft was de-iced, which took over 40 minutes. It seems they are not used to this at LHR!
During that time, I browsed the IFE library which included an updated interface compared to my outbound journey and a more responsive system. The movie and TV selection was the same.
Once again, the flight featured a London-based crew, though these were all Americans (based upon accent). Not that it mattered…they provided excellent service as well.
I was up late and up early to get my work done prior to the flight, so again the goal was to maximize sleep on this flight.
After takeoff, lunch was served. I ordered beef, which is usually very good out of London (and very bad out of other European stations). The meal arrived covered on one tray with mixed nuts, a salad, packaged bread roll, and the main course, with carrots, potatoes, and parsnips.
The cabin went out about half full. I was still hungry and asked if I could have a pasta too and was cheerfully obliged. It was cheese ravioli with tomato sauce and asparagus.
The vanilla ice cream for dessert was very good and frankly far better than the old ice cream sundae service (better quality ice cream).
Inflight wi-fi was available, though I did not need to connect. A flight pass without data cap cost $31.99.
After using the lavatory, I slept for the next several hours.
Prior to landing, a light meal was served, with a choice between hamburger Wellington or vegetables with couscous and pesto sauce. I had not seen the vegetables on the menu before and ordered that. It was delicious! A perfect, simple, light, heathly dish.
I left the muffin, but ate the banana. This new dish is a winner.
I noticed that United has installed permanent hand-sanitizer stations in its cabin. Expect these onboard all flights eventually.
We landed in Washington Dulles on time and another United trip across the pond and back was in the bag.
CONCLUSION
Although the meals are not nicely presented, this was a really nice trip on United. The crews were fabulous, the food tasty, and I slept like a baby on both flights. It's a great time to fly internationally. The 787-8 in either configuration is recommended, though if traveling solo you'll appreciate the retrofitted cabin much more.