I had a lovely two-night stay at the Westin Cape Town, a classy hotel in a great location of Cape Town.
Westin Cape Town Review
My stay was in early March 2020. The world was still awakening to the pandemic and there were no distancing or sanitation protocols in effect at the time.
Booking
Let me start by saying what a good value I found this hotel. My nightly rate was about $125, which may not be out-of-the-ordinary in South Africa, but I found to be an extremely fair price. I only have Gold status with Marriott, but all guests receive complimentary breakfast and access to the pool, fitness, and wellness areas. For me, that was more than enough. I booked one night and was going to move to the Taj after, but elected to stay for both nights.
The Taj, by the way, is located in the very heart of Cape Town and was even cheaper at $100/night. I really struggled whether to book at the Taj or Westin, but ultimately chose the Westin because breakfast was included. I did visit the Taj during my visit and it looked great…but let's return to the Westin.
Guest Room
I was warmly welcomed at check-in and assigned a standard room on the 11th floor. The room had clearly been recently renovated (it smelled a bit like Ikea) but I thought the furniture and dark colors were perfect. The Westin Heavenly Bed was also heavenly in comfort…decades after its introduction it remains one of the best mattresses + bedding in the hotel industry.
The bathroom was also spacious, with two sinks, a large tub, and separate shower.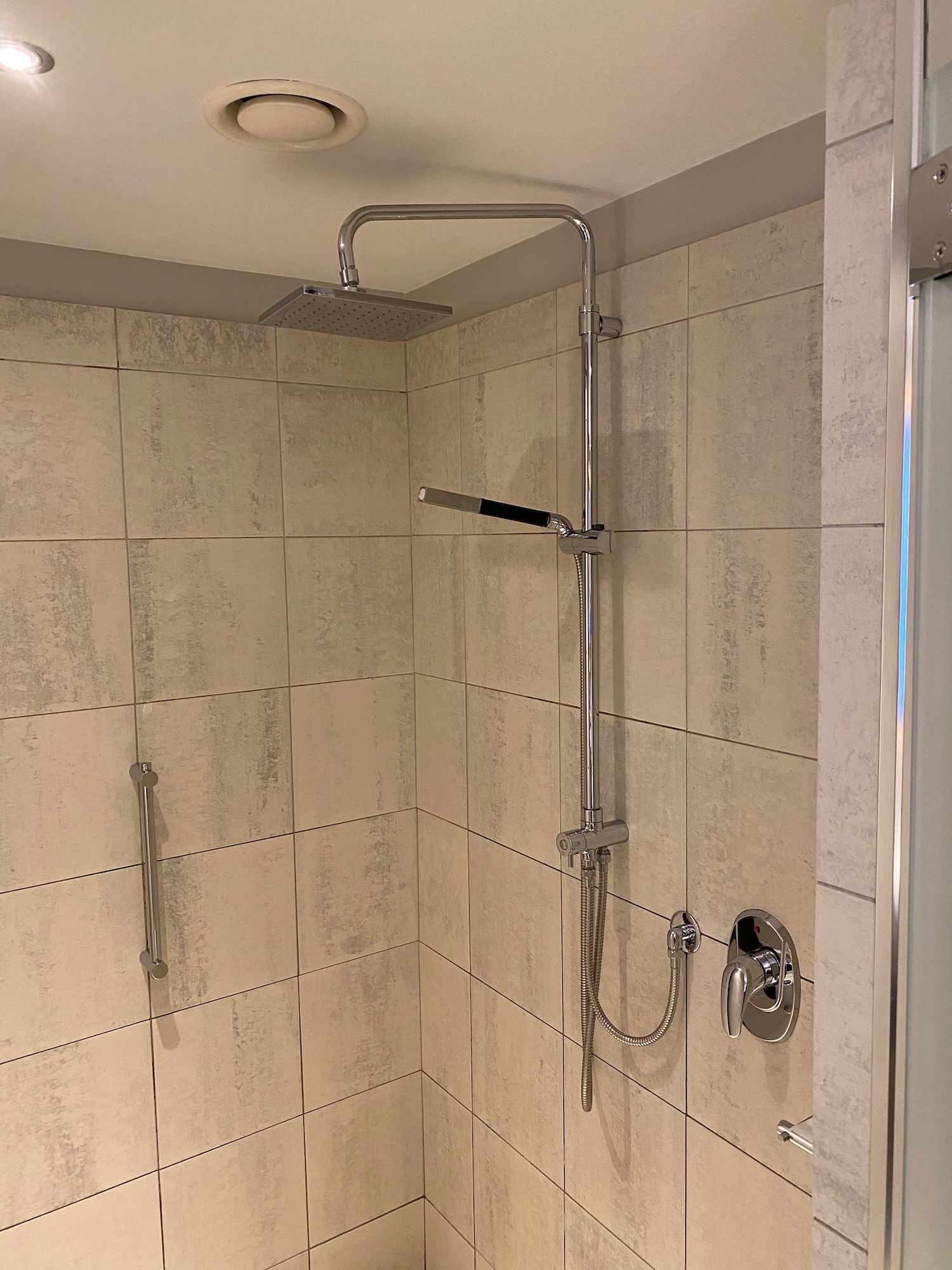 I know there's some disagreement over whether or how often hotel robes are cleaned, but I like using them when I go swimming or to the sauna. I used mine.
The room did not have much of a view:
I appreciated that a room key was required to access the room area on each floor. Not only was a key needed for the elevators, but again to access the hallway outside the elevator bank.
Wellness Area – Spa + Steam Room
One of my favorite amenities of this hotel is the wellness area on the top floor. Adjacent to the pool and fitness center, a large sauna with great views of the city offers a unique experience.
A steam room is also available.
And a locker room with showers:
Guests are advised to keep their clothes on…which I respected though I had the place to myself all three times I used it.
The wellness area, fitness center, and pool are located in the spa area on floor 16:
Fitness Center
The fitness center has late-model Technogym equipment and overlooks Cape Town Harbour and the Victoria & Alfred Waterfront.
Pool
While quite small, the indoor pool also offers great views of Cape Town. While the wellness area was empty, the pool was fairly crowded in the early evening when I used it. Suddenly, though, it emptied out and I had it to myself.



Room Service
Not feeling like venturing out my first night, I ordered "steak" and had it delivered to the room. It was only about $12…amazing. The steak, however, was decidedly not amazing. So "South African" in ways I just cannot describe but if you've lived in or visited South Africa, you know exactly what I mean. The meat was very gristly and it absolutely drenched in sauce that was both necessary and unappealing. The vegetables were rubbery and the bread far too doughy.
Breakfast
Breakfast is complimentary for all guests. The buffet spread is nice enough–there's a selection of international cuisine including crepes, ometles, pancakes, and waffles made-to-order. Best of all, was the juice and coffee bar. Delicious Lavazza coffee and an expert barista made for great espresso drinks. There were also six freshly-prepared juices to choose from.
---
> Read More: Great Coffee in Cape Town
---
Bicycle Rentals
If you want to bike around town, KTM Mountain Bike rentals are available.
Location
The hotel is technically located on Long Street, which is one of the main streets in Cape Town. It was about a five minute walk into town. It was also possible to walk to the Victoria & Alfred Waterfront, though a taxi is easier.
CONCLUSION
I was very happy I chose the Westin Cape Town and look forward to returning, though I may try another place next time just for variety. But the Westin actually checked off all the boxes in terms of amenities that mattered to me. I highly recommend this hotel.
How you would review the Westin Cape Town? What is your favorite hotel in Cape Town?
---
This story is part of my An African Adventure As The World Shut Down trip report.