From Copenhagen to the Faroe Islands I flew on an SAS A320 in Plus, which is a hybrid product that incorporates many business class elements without actually being business class.
SAS A320 Plus Review (CPH-FAE)
Flying from Copenhagen to the Faroe Islands is not only an intra-Europe and intra-Schengen flight, but also technically a domestic flight, as the Faroe Island are semi-autonomous, yet still part of the Kingdom of Denmark.
My Zurich – Copenhagen – Faroe Islands ticket cost 20K Aeroplan points (12.5K had I chosen economy class). Had I purchased this segment alone, the cost would be 7.5K Aeroplan for economy class or 14K for business class plus about $55 in taxes and fees.
After enjoying a cup of coffee in the SAS Gold Lounge, I proceeded to the gate for boarding.
SAS 1777
Copenhagen (CPH) – Faroe Islands (FAE)
Monday, October 23
Depart: 11:20 AM
Arrive: 12:35 PM
Duration: 2hr, 15min
Distance: 642 miles
Aircraft: Airbus A320
Seat: 4F ("Plus" Class)
The flight was lightly booked: everyone had their own row not only in Plus Class, but in economy class. Considering I already had lounge access via my Star Alliance Gold status, I guess you could say I ended up paying quite an "upgrade" fee for a meal onboard.
Seat
Probably the main reason SAS calls its intra-Europe front-cabin product "Plus" instead of "business class" is because you are not guaranteed a blocked middle seat. With seat pitch only at 30 inches, that can create quite a tight environment on busy hub-t0-hub flights between Copenhagen, Oslo, and Stockholm.
But in my experience, the Plus cabin rarely sells out and I can only think of one flight (from Stockholm to Oslo) in my many years of flying SAS that I did not end up with an open middle seat.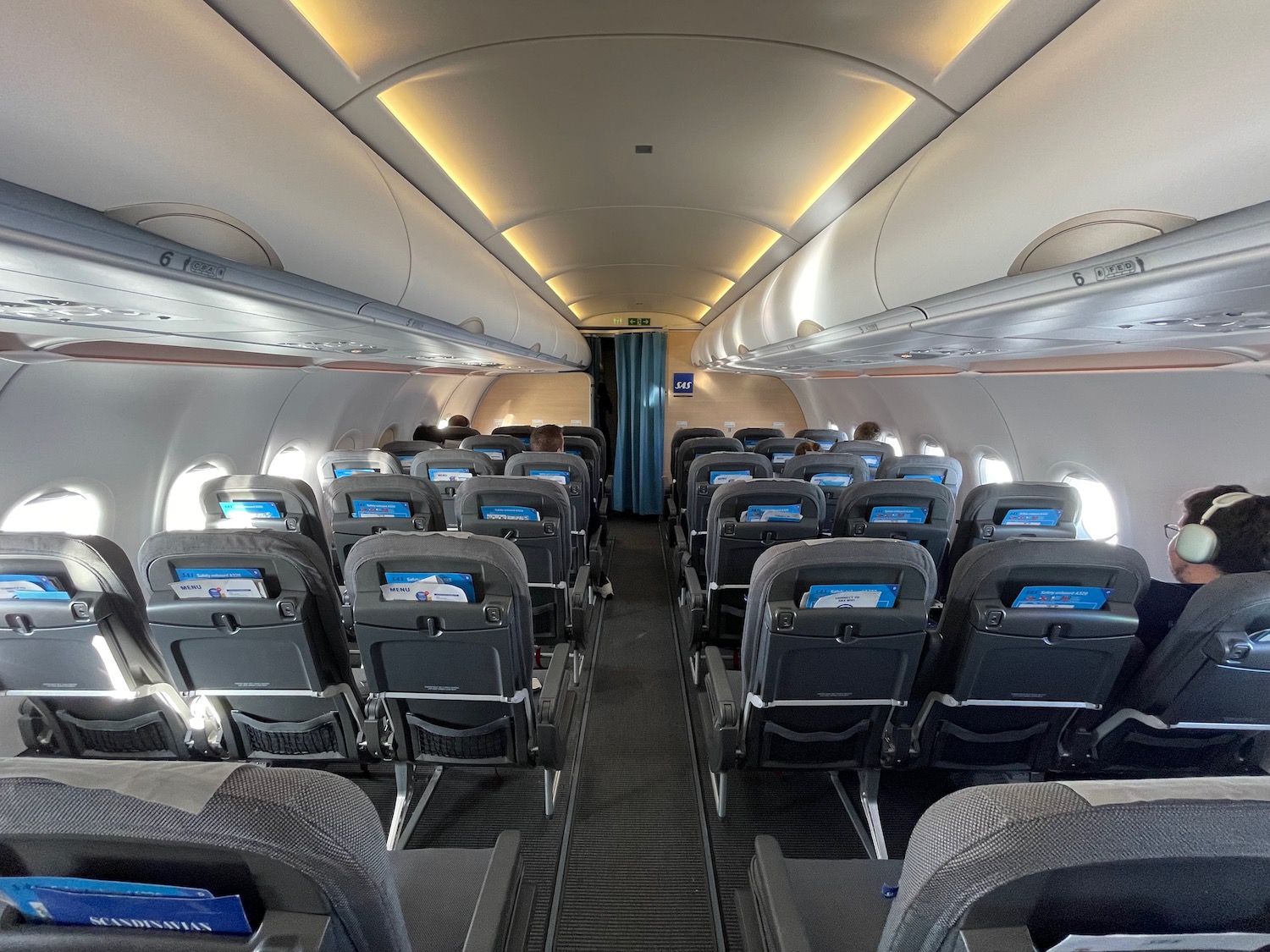 While there are no electrical outlets, each seat back does have a USB-A outlet at eye level.
Wi-FI + IFE
Wi-Fi is complimentary onboard for SAS Plus passengers and functioned well during our flight, most of which took place over the water.
Otherwise, there is no screen-based or streaming IFE. Yet this was one of the most beautiful flights of my life (I'll focus on that on my next post). Take a look out my window:
Food + Drink
SAS Plus passengers are offered a complimentary meal onboard, though it is served in a disposable (biodegradable, as SAS touts) container with wooden cutlery. There is no choice: everyone receives the same meal.
On today's flight, meals were handed out shortly after takeoff. Flight attendants hand each passenger a box while offering a choice of beverages. The box labeled the lunch "Eye of Round" with the following description:
Smoked eye of round, pasta with pesto of kale and Västerbotten cheese, cream of Sörmlands blue cheese and pickled golden beets. Mixed greens and nigella seeds.
Food on SAS always appeals to me and this was a delicious meal. Eye of round is a lean cut of beef similar to a tenderloin, but less tender. The meat itself was delicious, but the salad and toppings were heavenly. So fresh. So delicious. I loved the combination of beets, blue cheese, and pesto and just devoured the meal. Even the crisp whole grain crackers that came with it were so Scandinavian and so delectable.
On every SAS flight, I enjoy a can of Ramlösa sparkling water (from Sweden) and a Froosh smoothie (also from Sweden).
My friend ordered sparkling wine, a Heretat El Padruell Cava from Spain.
After lunch, I enjoyed a cup of coffee with a chocolate bar from Marabou (again from Sweden).
I love how SAS sources its in-flight dining from Scandinavia, which is a distinctive I appreciate.
Prior to landing, chocolate truffles from Hedh-Escalante were offered, yet another Swedish company.
Service
I find SAS crews charming. Far from being robotic or distant, the crew on this flight was engaging and attentive. Multiple refills on drinks were offered right up until we began our descent for landing.
Lavatory
SAS Plus passengers have access to a lavatory in the front of the cabin, which was clean though lacked any special amenities.
Landing At Vagar Airport
Vagar Airport (FAE) does not see many flights each day and although the terminal is brand new, there are no jet bridges.
We landed and taxied by a Widerøe Dash-8 Q400 that was bound for Bergen, Norway (BGO).
The air was cool and crisp as we stepped off the plane.
Flight attendants also stepped off. Although the same crew would be shortly heading back to Copenhagen, apparently the duty free shopping at Vagar Airport is quite attractive and the crew took advantage.
CONCLUSION
SAS offers a consistent, dependable product in SAS Plus. While I will stipulate the "upgrade fee" for what amounted to a meal onboard was steep, I love the catering on SAS and very much enjoyed this flight, not even considering the beautiful views out the window.
Now came the magical part: the Faroe Islands.
Next: the most beautiful flight of my life.