United Airlines CEO Scott Kirby has been adamant that United Airlines will not only become the biggest airline in the world, but the best. However, "best" is in the eye of the beholder and United has taken an unwelcome approach to quality when it comes to its Premium Plus (premium economy) class.
United Airlines Premium Economy Liquor Cutback Exposes Tension Between Competing Goals Of Making Passengers Happy And Controlling Costs
I recently shared with you Kirby's four pillars he maintains are essential for United to become the "biggest" and "best" airline in the world. Those include:
United Next
Operational Excellence
Customer Service (NPS)
CSAMx (i.e., controlling costs)
---
> Read More: Four Pillars That Will Make United Airlines "The Biggest And The Best Airline In The History Of Aviation" According To CEO Scott Kirby
---
From conversations Live and Let's Fly has had with United employees, management believes that the key to attracting loyalty and a revenue premium is a beautiful hard product. That is why "United Next" will transform United's narrowbody fleet, adding more plugs, faster wi-fi, large seatback screens, and mood lighting.
At the same time, management is very concerned with balancing that new hard product with strict cost controls, which it sees as most easily achievable through the synergies that comes through larger mainline aircraft, technology that replaces human capital including many airport agents, and a careful control of soft product costs onboard.
Even as United slowly restores its Polaris business class product to pre-pandemic form, premium economy passengers, a cabin United calls Premium Plus, have faced cutbacks from the pandemic that have yet to be restored. That includes replacing pre-arrival service that used to resemble business class with economy class food.
Breakfast in Premium Plus before the pandemic: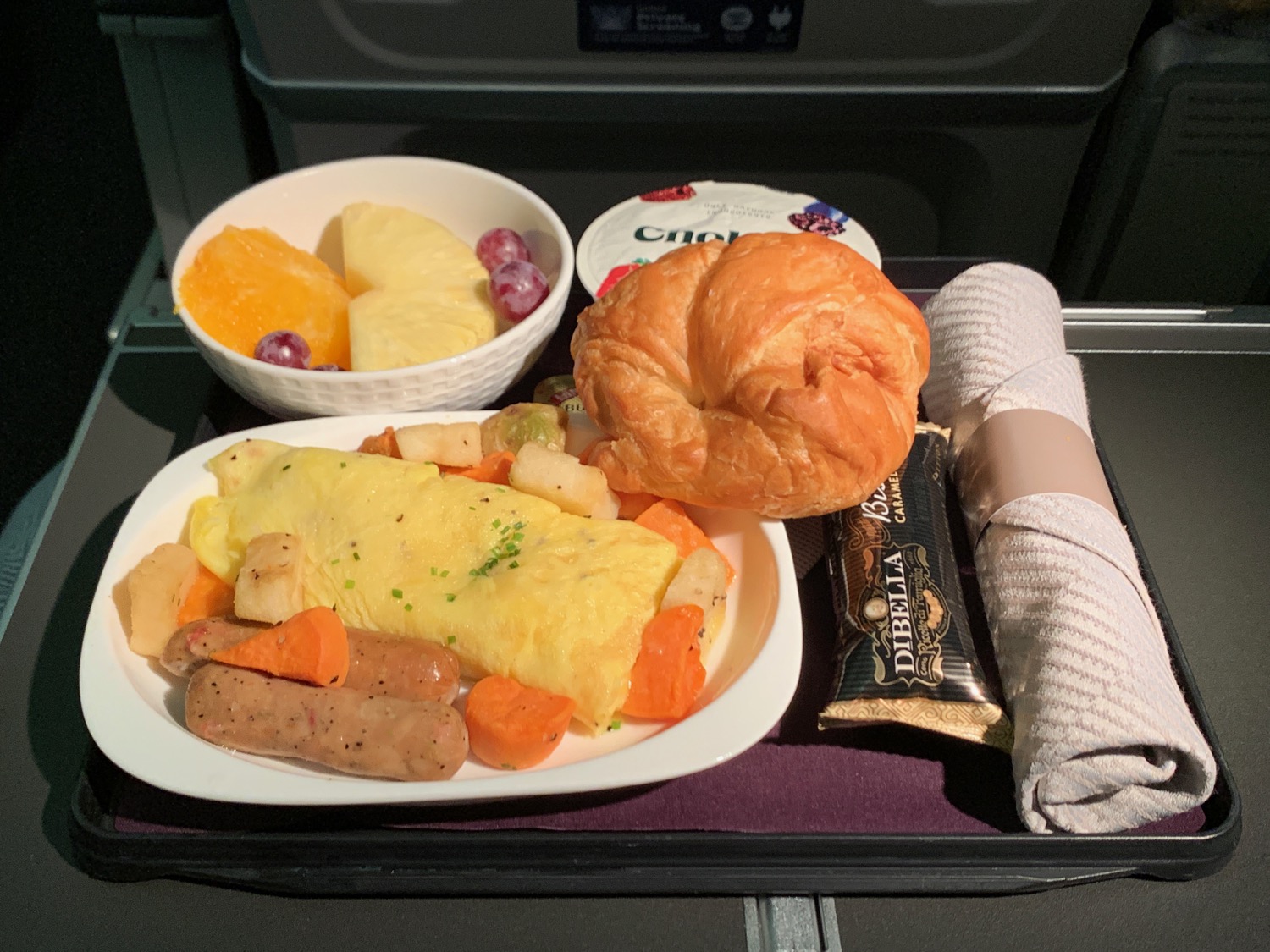 Breakfast now:
But now there is a further cutback: alcohol. Multiple readers reached out to me to express frustration over being denied alcohol minis on transatlantic trips in premium economy.
That seemed quite strange, considering the United website clearly indicated alcohol was included with Premium Plus tickets:
I reached out to United to find out what was going on and a spokesperson told me:
Thanks for reaching out. To confirm, we currently offer the following on United Premium Plus:

Domestic (Hawaii/Premium Transcontinental): complimentary beer/wine/liquor
International: complimentary beer/wine

Note, the webpage you linked to below does have slightly dated information, which we're updating ASAP to reflect the above offerings.
The website has now been updated to reflect this cutback:
Note, passengers on intercontinental flights are not limited to only one beer or wine, but one at a time.
The inconvenient truth for United is that such penny-pinching directly undermines its purported vision to become the "best" airline in the world. Argument can fairly take place over what constitutes best, but charging premium economy passengers (or even economy class passengers on longhaul flights) for liquor is the sort of aggravating nickel and diming that, in my estimation, directly undermines loyalty.
United should be wary of placing all its eggs in the "hard product" basket. While a consistently comfortable seat, fast and reliable wi-fi, plugs within reach, and a large screen with hundreds of movies to choose from will certainly build loyalty, if United cannot do the small things right like offer passengers on pricey tickets a choice of beverage or decent breakfast prior to arrival on a longhaul flight, it will alienate the very people it is trying to attract.
CONCLUSION
United is trying to improve overall quality while cutting costs, a goal that is generally too contradictory to work. The latest "Kirby Kutback" (as frequent flyers wryly call them) may not seem like much, but I've heard from too many people this week angry about their missing alcohol minis to dismiss this as a non-issue. If United wants to be the best in the world and command a revenue premium over its competitors, it is going to have to avoid alienating passengers over food and drink.
top image + screenshots: United Airlines